Ramona Pascual took a leap of faith in early 2021 to Las Vegas and it's paying off. 
Betting Odds
Does Pascual win her Invicta FC debut?
Pascual has spent the past 10 months at Syndicate MMA, one of the fastest-growing gyms in the world, with some of the best female fighters from all levels of the game.
Intertwining herself into many training camps for elite athletes such as Norma Dumont, Joanne Calderwood, and Sarah Kaufman has completely elevated all aspects of her skillset.
"It has been just life-changing," Pascual told The AllStar. "Absolutely phenomenal. The amount of things that I have learned and the level of female training partners that I have. Just to be a part of all these different fight camps has been just a tremendous learning experience for me.
"We have so many high-level girls coming through the gym all the time and just for me to be a body for them. They are with these big promotions. As a measuring stick to justify and validate where my level is at, what else I need to learn, and where I'm strong where I'm weak. It's just so valuable. Even though things haven't been really going my way, it's been truly a privilege to be able to contribute to their camps but also take so much out of it myself."
After nearly a two-year absence from the cage, Pascual returned at iKon Fighting Federation 7 last June in Mexico and submitted Guadalupe Guzman in the first round. The Hong Kong native expected to be back shortly after but was delayed by fight cancellations and an unfortunate nose injury.
Kicking off 2022, the 33-year-old featherweight will be making her promotional debut on Jan.12 against Courtney King at Invicta FC 45. She understands the opportunity on the horizon to display a complete game.
Pascual predicts: "It's gonna be entertaining. I'm definitely planning on being able to express myself creatively and really just nothing too fancy. Use the fundamentals that I gained over the years and everything that I learned throughout my career as well.
"I feel like there are so many different aspects of my game. I have had a lot of exposure to techniques but to be able to utilize those techniques in a setting where I need to in a high-pressure fight or spar. I guess I wasn't able to do that before but just with little tweaks to different things like my stance, my posture, the way that I do certain things.
"I'm just a lot more well-rounded right now. My fitness is at a good level. My confidence is high. I know that I will be able to execute all the things that I want to and I feel like I can pick and choose what I want to do. Not really go in with a big game plan and just react to what she's doing and just freestyle from there."
Watch this interview on The AllStar's Youtube channel.
---
Fighter profile
Ramona Pascual is a 33 year old female fighter from Hong Kong with 5 pro wins and 2 losses. Pascual is scheduled to fight Courtney King at Invicta FC 45: Zappitella vs. Delboni 2 on Wednesday January 12, 2022.
Recent form coming into this matchup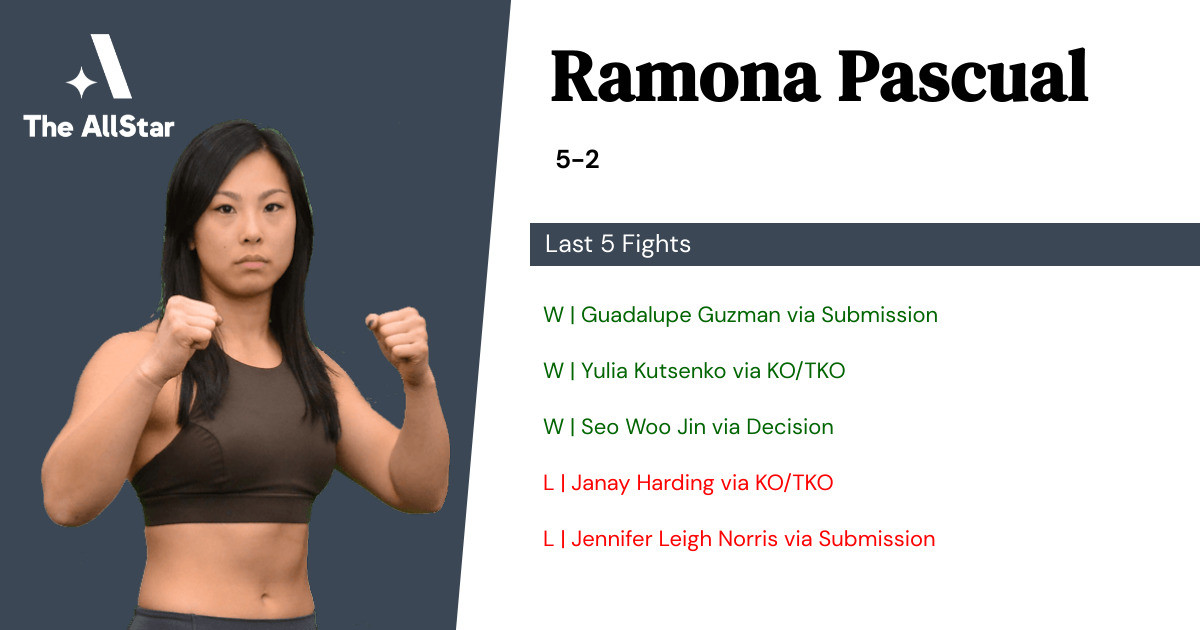 Ramona Pascual has gone 3-2 in the last 5 professional MMA fights.
Win vs Guadalupe Guzman • Submission R1 2:50 • 2021-06-11
Win vs Yulia Kutsenko • KO/TKO R1 0:26 • 2019-11-15
Win vs Seo Woo Jin • Decision R2 5:00 • 2017-12-23
Loss vs Janay Harding • KO/TKO R2 1:43 • 2017-05-31
Loss vs Jennifer Leigh Norris • Submission R3 1:57 • 2017-04-01