Sound the Horn of Gondor – Manchester United have actually gone and bloody signed someone.
After more than two months of reading dribs and drabs on Twitter about how our club was "interested", "monitoring", "opening talks", and "following the situation", we've finally put some money on the table and brought in a player.
It's frankly a disgrace it's taken this long, given the shower of shite we saw under Ralf Rangnick at the back end of last season.
But promising 22-year-old Feyenoord left back Tyrell Malacia is first through the door in the Erik ten Hag era, and it looks like more big names will quickly follow him.
The boring and seemingly interminable Frenkie de Jong saga seems to be coming to an end this week, and a positive end at that, with United reportedly agreeing a 65 million euros fee with Barcelona – a steal for a world-class central midfielder in his prime, even with add-ons.
Christian Eriksen is also set to finally make his decision – hopefully not announced in a self indulgent documentary like that departing dimwit, Paul Pogba – over whether he will join United or re-sign with Brentford.
And talks with Ten Hag's old Ajax duo, the forward Antony and centre-back Lisandro Martinez, could also ramp up.
The Ronaldo effect
You can call it the Frenkie Effect, with the Dutch maestro's imminent arrival seeming to spark the rest of our transfer business.
But really, we should all be thanking a certain Cristiano Ronaldo.
Because if it weren't for him we might still be reading our millionth update about how United are "tempted" by a move for De Jong.
No, Ronaldo lit a fire up our incompetent board's collective arses last week, by getting his camp to put it out there that he wasn't going to put up with playing at Old Trafford for another season, if serious moves weren't made in the transfer market.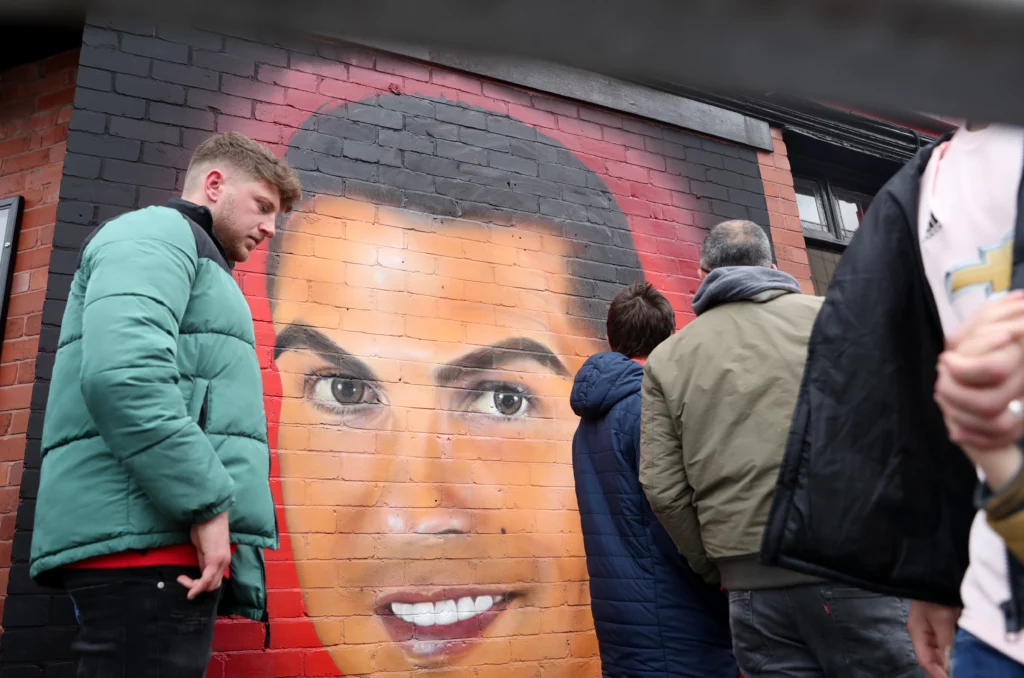 Reports that Ronaldo could move to Chelsea, with his influential agent Jorge Mendes meeting the club's new American owner Todd Boehly, seemed to do the trick, and we miraculously found that extra few quid down the back of the sofa for Frenkie.
That must have worried the Glazers – we know they only think with their wallets, and losing a prized commercial asset like Ronaldo, especially to another Yank billionaire, would've looked like bad business.
How would we sell all our extortionate new replica kits, too, without CR7?
We have already seen Paul Pogba, Jesse Lingard, Edinson Cavani, Juan Mata and Nemanja Matic walk out of the door for free, and another big name binning us off would've been very bad optics.
Successfully hijacking Lyon's bid
So after taking another 11 million quid in dividends out of the club on Friday, the Glazers finally put a similar amount down on Malacia on Tuesday, snatching him from the clutches of Lyon at the 11th hour, in somewhat of a coup.
Don't give them any credit, of course – this seems to be the work of John Murtough and Richard Arnold, who may finally be delivering on their promises of changing the shambolic recruitment we have seen over the last 10 years, when United had wasted over a billion pounds and sacked four managers, with largely nothing to show for it.
It also helps that we now have a manager – a beautiful, bald Dutchman – who can spot a talented young player before they are a big star, and get them in for a cheap price.
Ten Hag reportedly heavily scouted Malacia during his time at Ajax, appreciating his speed, positional awareness, high interception rate and ability to attack space according to Sky Sports' Melissa Reddy.
Now I may have only seen a three-minute video clip of him on YouTube, but I'm ready to proclaim United have made the signing of the summer.
More good news
After months of unbearable inactivity and the thought that we may be facing another season of discontent the good news only continued on Tuesday, with United also agreeing an 11 million pound fee with Fulham for the sale of Andreas Pereira.
The Keeper thought we were in for another summer where the "Pre-Season Pirlo" wowed us with some good performances in Thailand and Australia, before looking absolute crap when the real games started, and inevitably going out on loan again to Flamengo before we lost him for free next summer.
But Tony Khan is splashing the cash in a bid to keep his club from suffering another quick slide back down to the Championship, and bizarrely seems to think Pereira is the man to do it.
Never mind, just take the money and run.
That all but covers the fee for Malacia, and is an unexpected boost to the budget as Ten Hag looks to overhaul this rag tag mob of overpaid underperformers on a relative shoestring of 120 million pounds, plus any money from player sales.
Plenty to do
There's still plenty of work to do if Man United are to compete with Manchester City and Liverpool next season, let alone Arsenal, Spurs and Chelsea who are all strengthening too.
But some promising first steps have finally been taken, which will hopefully lift the doom and gloom that had begun to take hold of the fanbase.
So thank Cristiano Ronaldo, who clearly, truly cares about this club and wants to see it do well – but understandably won't hang around if his ambitions aren't matched.
Hopefully Ten Hag gives him the captaincy when he turns up at Carrington next week. Then just watch as Eriksen, Malacia and De Jong start dropping crosses on his bonce and he racks up 50 goals next season as we win the quadruple.
Getting carried away you say? Never.
Do you agree with the Keeper? Comment below, or tweet him @DevilsKeeperUtd.