Trey Ogden's looking forward to some well-deserved rest after a grueling fight camp.
For a total of sixteen weeks, the 32-year-old had been preparing for his most recent test opposite Daniel Zellhuber; a young Mexican prospect who'd stayed undefeated through his first 12 fights. At UFC Vegas 60, Ogden, the sizeable underdog heading into the bout, broke that streak and earned himself a spot back in the win column.
Now, riding high on momentum stolen from Zellhuber with that unanimous decision performance, Ogden's eyes are set on cementing his name in the UFC's lightweight division in 2023 – after some R'n'R and time with his growing family, that is. However, 'The Samurai Ghost' has revealed one name that would entice him off the couch and back into camp before the year is out – and the pairing isn't that far-fetched.
Ogden wants to milk the promotion's new 'cash cow', Paddy Pimblett, for all he's worth in front of a packed crowd at UFC 281 in Madison Square Garden.
"The only thing that would entice me to fight this year – because my wife is due [with our child] in December," Ogden shared with The AllStar following his recent bout at the UFC Apex. "So with our first baby, the only thing that would get me going is [if] somehow I got Paddy [Pimblett] on the pay-per-view card November 12th."
"He talked about me a lot in his last fight week," the lightweight submission artist continued.
Pimblett had indeed slighted Ogden in the build-up to the Scouser's July clash with Jordan Leavitt, an opponent the pair both have in common. In an attempt to discredit Leavitt's finishing ability, 'Paddy the Baddy' took aim at Ogden, dismissing him as an easy out.
"I can't believe he's talking shit about my opponents," Pimblett said of Leavitt at the UFC London media day. "That Trey Ogden lad, my nan's dead and she'd finish him."
Ogden, it seems, may have taken that line personally.
"We'll see what happens but that would get me off off the couch and back in the camp."
Pimblett, now riding a three-fight win streak since entering the promotion, and with a growing crowd of supporters at his back, has expressed that he's in no rush to face ranked opposition in the UFC; as such another unranked contender may well be on the cards for the Liverpool native.
With the momentum of his recent win, Ogden believes he's in a prime position to have his name drawn for the next round of the 'Paddy Pimblett sweepstakes'.
"It's just good credentials for me to finish with somebody that's [undefeated]. I don't know what his amateur record was, but he was on a minimum of a 12-fight win streak when he fought me – and to beat that is great for me. I love it."
---
Fighter profile
Trey "Samurai Ghost" Ogden is a 32-year-old male fighter from the United States with 15 pro wins and 5 losses. Ogden is scheduled to fight Daniel Zellhuber at UFC Fight Night: Sandhagen vs. Song on Saturday, September 17, 2022.
Trey Ogden's recent form coming into this matchup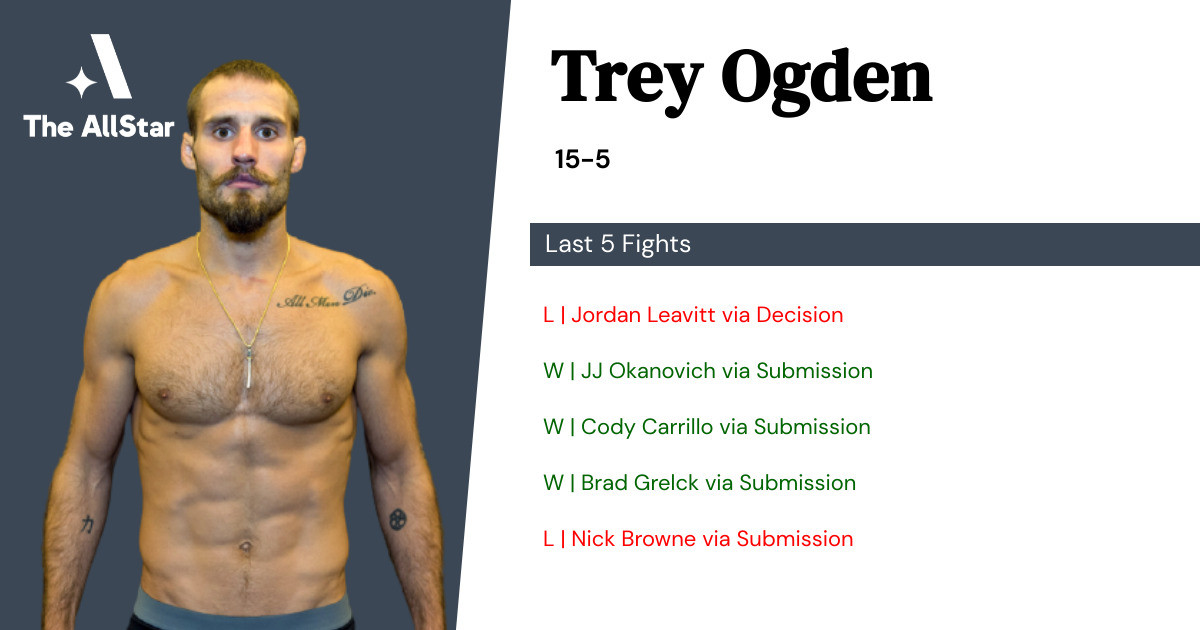 Trey Ogden has gone 3-2 in the last 5 professional MMA fights.
Loss vs Jordan Leavitt • Decision R3 5:00 • 2022-04-16
Win vs JJ Okanovich • Submission R2 3:43 • 2021-11-14
Win vs Cody Carrillo • Submission R1 4:30 • 2020-08-14
Win vs Brad Grelck • Submission R2 1:40 • 2019-12-06
Loss vs Nick Browne • Submission R1 2:24 • 2019-09-13
Trey Ogden's next opponent: Daniel "Golden Boy" Zellhuber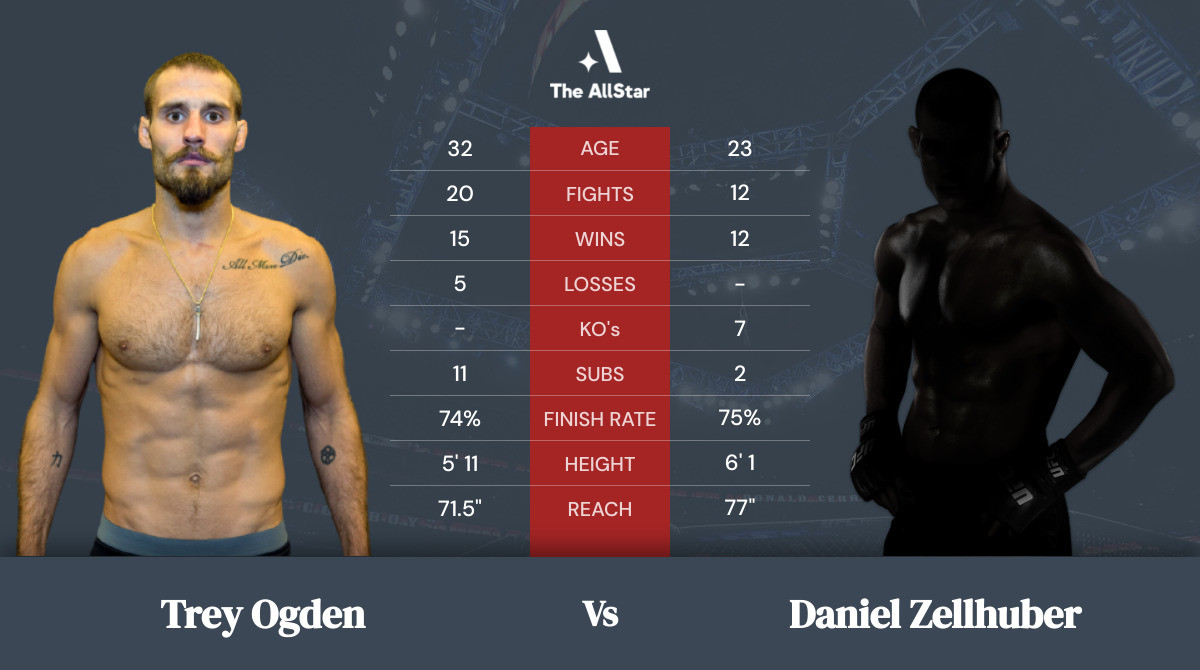 Daniel "Golden Boy" Zellhuber's recent form coming into this matchup
Daniel "Golden Boy" Zellhuber is a 23-year-old male fighter from Mexico with 12 pro wins and 0 losses. Zellhuber is scheduled to fight Trey Ogden at UFC Fight Night: Sandhagen vs. Song on Saturday, September 17, 2022.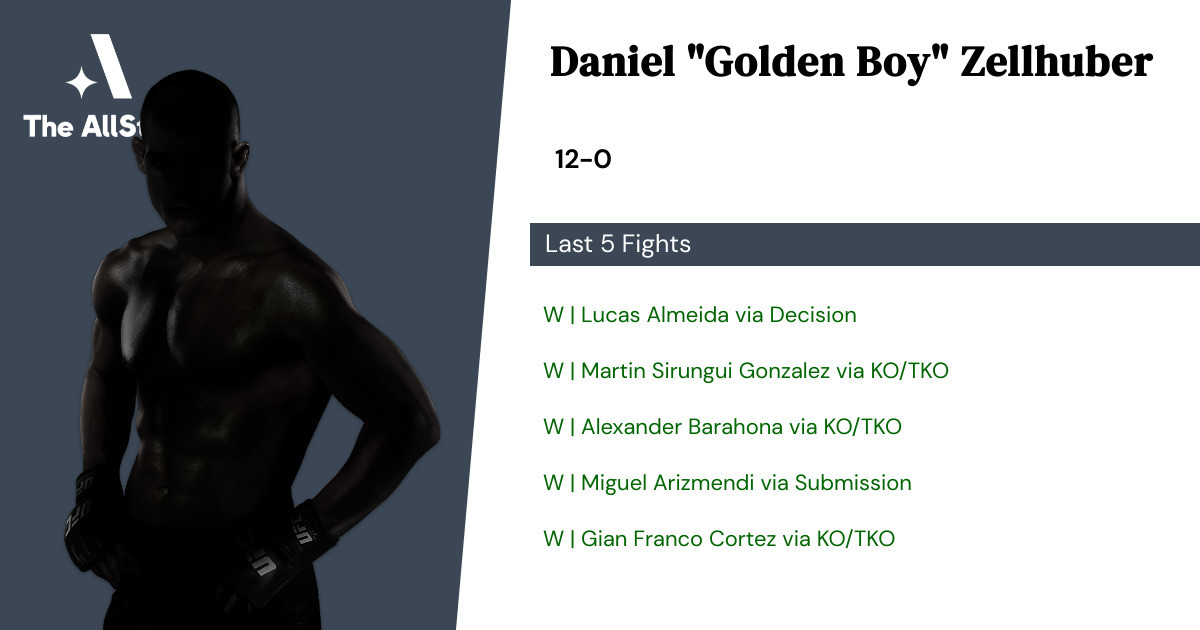 Daniel Zellhuber has gone 5-0 in the last 5 professional MMA fights.
Win vs Lucas Almeida • Decision R3 5:00 • 2021-09-28
Win vs Martin Sirungui Gonzalez • KO/TKO R1 1:12 • 2021-05-07
Win vs Alexander Barahona • KO/TKO R1 2:17 • 2020-12-11
Win vs Miguel Arizmendi • Submission R1 4:45 • 2020-09-18
Win vs Gian Franco Cortez • KO/TKO R3 1:32 • 2019-05-31
How to watch and bet on Trey Ogden vs Daniel Zellhuber