The AllStar's John Hyon Ko covers Road to UFC: Episode 1 & 2 live from Singapore. His commentary on the weigh-ins, follow the fight blog, and results.
Fight results, commentary – Thursday, June 9
6:55 pm: I am out. See you tomorrow for Road to UFC 3 & 4 starting at 2:30 pm local time.
6:49 pm: The boys are all over the place. Clipping each other. Beautiful sweep by Matsushima with two minutes left. He is grinding with the wrestling exchanges. Matsushima with the SD.
6:42 pm: Hong clips Matsushima and he looks hurt. Hong swarms but Matsushima wrestles and slows the pace. Back up and they are going wild. Another takedown by Matsushima and Hong looks tired. Left hand keeps landing and another takedown.
6:36 pm: Heavy kicks by Hong to begin. Matsushima tries to wrestle. Hard left lands for Matsushima. Both guys attack the low leg with precision. Good exchanges by both guys. Solid hooks land for both but Matsushima looks more phased. He gets the takedown and has the body lock. Flying knee lands for Matsushima but Hong eats it. Teeps working for Matsushima and another takedown. Two up elbows land on Hong.
6:26 pm: Featherweight main event up with Jun Young Hong taking on Koyomi Matsushima. I'm hearing that even fans in Korea are picking Matsushima to win. Let's see.
6:20 pm: Very confusing that Rosario is not initiating the grappling after some success in the first round. Rosario with the nut shot. Back to the action and Lin is just landing at will but nothing significant. Nice little fancy kick. Lin with the UD. He advances to the next round.
6:12 pm: Lin is winning all the exchanges on the feet. Rosario bleeding from a cut above his left eye. Lin is looking for that kill shot counter. Nice combo ending in a body shot by Lin. Rosario down two rounds.
6:06 pm: A lot of missed shots so far. Nothing landing clean yet. Lin getting the upper hand on the kicks. Nice barrage by Lin. Rosario completes a takedown and moves to mount. And then takes the back. Slick grappling. Lin locks down the arms so Rosario has nothing. The round is over.
5:56 pm: The flyweights are up next. Qiu Lun takes on Wallen Del Rosario now. Rosario repping for the Philippines.
5:46 pm: Big spinning backfist to end the fight. Jeka with the KO finish in the 3rd round.
5:43 pm: Maan initiates the clinch immediately to start the second round. Ref stops the action and takes a point from Maan for 12-to-6 elbows from bottom. They get back to tussling and throwing hard. Maan keeps laying on his back and Jeka is making him pay with heavy punches. Maan has the body lock after trying for a leg attack. Maan continues to engage in the clinch. Jeka is just more effective.
5:35 pm: Jeka with some solid kicks to start off. Maan clinches. Jeka with the toss and he lands in side control. He is attacking the arm. Maan escapes a straight armlock. Maan gives up his back and Jeka with some big punches. Maan is taking shots. Hard shots.
5:26 pm: A lightweight clash between Jeka Saragih and Pawan Maan is next. Indonesia against India. This might turn into a brawl.
5:19 pm: Uchida jumps head in first for a takedown. Etchell defends well along the fence and lands on top during a failed takedown. Uchida looks good off his back and reverses position. They are back to their feet but Etchell puts his opponent back down and takes the back. Uchida gets out and works to the back. He has the neck and it is over. Rear-naked choke for Uchida. The 19-year-old has some promise.
5:11 pm: We are back! Episode 2 kicks off with Australian Shaun Etchell facing Japan's Takeru Uchida in a non-tournament flyweight matchup. Uchida looks like a middle school student. Babyface assassin. While Etchell has a huge chest tattoo.
4:30 pm: Road to UFC Episode 1 is over. Episode 2 starts at 5 pm local time.
4:16 pm: Yi and Sasu start off with some grappling exchanges with Yi controlling. He takes him down and takes the back. It is over. Rear-naked choke victory for Yi. Slicked through him like soft cheese.
4:07 pm: Main event time! A featherweight clash between Yi Zha and Keisuke Sasu. Non-tournament bout.
4:00 pm: Huge size advantage for Ki. Looks like a welterweight fighting a bantamweight. Kashimura pulls guard and attacks the legs. He is trying for any submission. Another heel hook attempt and back up to the feet. Ki is pressing. Kashimura catches a kick and gets the takedown but back up. Flying triangle attempt by Kashimura. Fun fight. Kashimura just eating shots trying to leg attacks. Knee on belly for Ki and elbows dropping down. Crowd going wild. Ki gets the first-round TKO.
3:50 pm: Jinnosuke Kashimura and Won Bin Ki walk out. Kashimura stepped in last minute. He usually fights at featherweight. Also a huge experience gap.

3:42 pm: Kamaza pulls guard and tries to grapple. He is working hard to take MK to the ground. The scramble and MK on top. Kamaza is an excellent grappler or MK is lacking in that department. He pulled the X-guard. Even on his back, Kamaza is in control and sweeps. On top, with some shoulder strikes. Kamaza with the UD.
3:36 pm: The second round starts with a left hand clean on the jaw by Kamaza. They continue at a high pace. Lots of clinch work and exchange of knees. Kamaza tries for the neck and ends up on his back. MK in side control but that did not last long. Kamaza tosses MK over his head with a sweep. They are clinching again. And Kamaza is back on top working. Kamaza is likely up two rounds.
3:30 pm: High pace action to start off. Front kick by MK flush on the chin and Kamaza eats it easy. Kamaza with the nice slam takedown. Very surgical on the ground. Moves slowly but effectively to the half guard. Kamaza chipping away but MK back up. They separate and MK landing shots.
3:18 pm: A bantamweight matchup between Maimaitituoheti Keremuaili and Toshiomi Kazama is next.
3:10 pm: Rama pressing forward. Left hook lands clean for Rama. I love the different languages in each corner. Just shows how international this sport is. Choi drags Rama to the ground and is controlling the fight. Hard punches from the top position. Rama back up and chases Choi. The crowd cheering for Rama to push. They wrestle for the rest of the round. Choi should take it easy on the judge's scorecards. He wins via UD and advances to the next round of the flyweight tournament.
3:04 pm: The calf kick is working for Choi. Rama pulls guard after a failed takedown. Choi is on top with peppering shots. Choi rides out the rest of the round on top with punches and elbows. He is likely up two rounds. Rama needs a finish.
3:00 pm: The Korean Zombie protege pressing forward. Kicks working well for Choi and Rama. Huge left lands for Rama and he starts to grapple. A few slick punches got through for Rama. Head kick lands flush for Choi. Late takedown for Rama.
After the bell rang, Rama laid on the ground a little longer than need be. His leg looks beat down.
2:50 pm: Seung Guk Choi and Rama Supandhi up next. Rami walks out first, then Choi walking out to 'Zombie' due to him being a fighter at Zombie MMA. Very interesting what the Indonesian fighters can bring. Koreans are known for their toughness but I would like to see some skills.
2:46 pm: Tokkos just getting up after that knockout. Nasty knockout.
2:43 pm: Tokkos is aggressive from the start but gets clipped. They clinch. Tokkos already bleeding. He reverses and gets the takedown. Zhang right back up. They are brawling now. Zhang showing a better chin. They are going blow for blow. Very entertaining so far. Left hook and some extras. Zhang gets the finish in an exciting fashion. Sign him! 'Mountain Tiger' is a great name.
2:30 pm: A light heavyweight clash between Zhang Mingyang and Tuco Tokkos up first. Tokkos walks out first with Henry Hooft and UFC middleweight Brendan Allen in his corner. Zhang with some a Chinese banger for his walkout song. A non-tournament bout.
2:00 pm: Just got to the Singapore Indoor Stadium. The arena playing some dope hip hop from the 90s. Killing it! Ole Dirty Bastard blaring through the speakers.
12:05 pm: Good afternoon as we prepare for hostilities to commence at Road to UFC: Episodes 1 & 2. I will be providing the results and commentary from the Singapore Indoor Stadium as the fights unfold starting at 2:30 pm local time.

Bit of drama yesterday with one fighter scratched because of Covid protocols and another finding himself without a first-round opponent. You can catch up with all of that from my commentary yesterday.

For now, time for lunch. I'll be back later when I'm in the stadium. Here's a picture of the venue: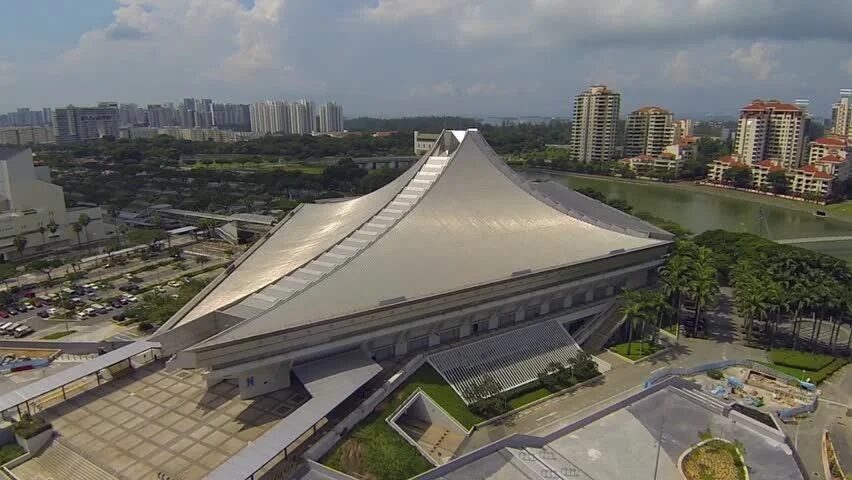 Weigh in commentary – Wednesday, June 8
11:52 am: Weigh in and face offs concluded.

11:45 am: That's about it for the face offs. Nothing super controversial. We're still awaiting word on MinWoo Kim's opponent. It seems he will have no fight.
And to round out the theme. It wouldn't be a pandemic-era UFC event without at least one Covid protocol case, in this case, WonBin Ki's original opponent. Jinnosuke Kashimura steps into the breach, but as I mentioned earlier, he's way underweight.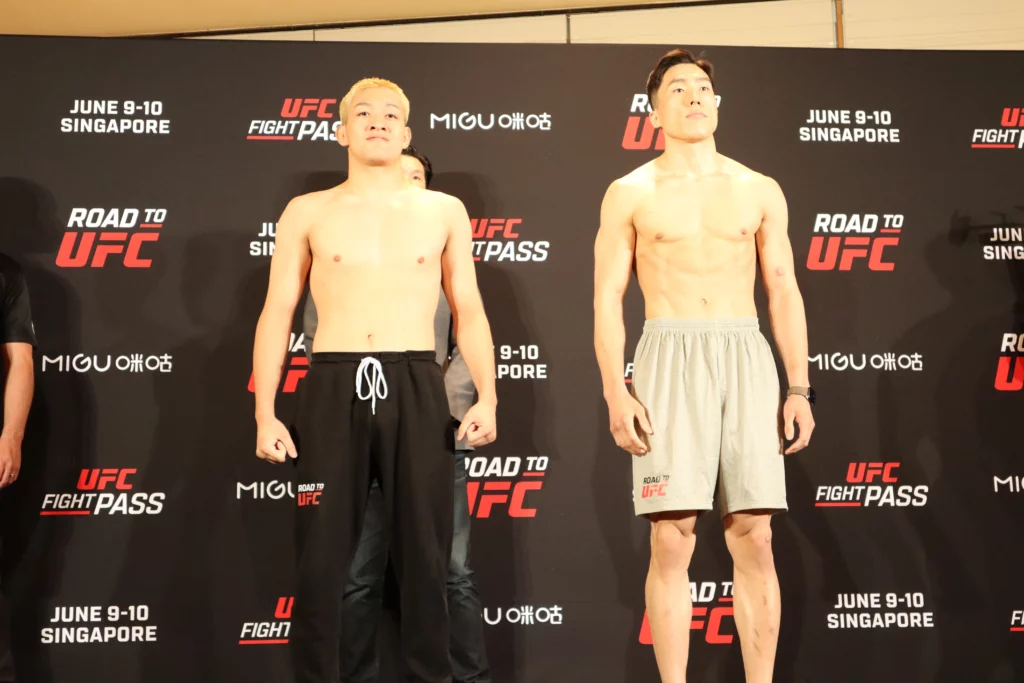 Speaking of Covid, intentionally or not, Maimaitituoheti Keremuaili and Toshiomi Kazama maintain a socially appropriate distance from each other. They will be mixing it up in a much closer fashion tomorrow.
Zhang Mingyang provides a stark reminder that we live in Covid times.
11 am: Road to UFC: Episode 2 Weigh-in Results are all in now:
Bantamweight: MinWoo Kim (135) vs TBA

Bit of drama. Kim's original opponent Xiao Long did not make it to Singapore due to injury earlier this week so Young Jin Hwang was tapped as the replacement yet the matchup never materialized.

The promotion scrambled to find an opponent but no takers. Kim makes weight and will be the alternate for any bantamweight that is pulled from their fight. If Kim does not fight, he will advance to the semi-finals while receiving his show and win money.

Featherweight: JunYoung Hong (146) vs Koyomi Matsushima (145.5)
Flyweight: Qiu Lun (126) vs Wallen Del Rosario (124)
Lightweight: Jeka Saragih (153) vs Pawan Maan (155)
Flyweight: Shaun Etchell (126.5) vs Takeru Uchida (125.5)
10 am: Road to UFC: Episode 1 Weigh-in Results are in:
Featherweight: Yi Zha (145.5) vs Keisuke Sasu (145)
Lightweight: Jinnosuke Kashimura (152) vs WonBin Ki (155)

*Balajin was originally pitted against WonBin Ki but the promotion took him out of the matchup due to COVID protocol. Even though Kashimura is a late replacement for Balajin, he is way underweight. Very interesting.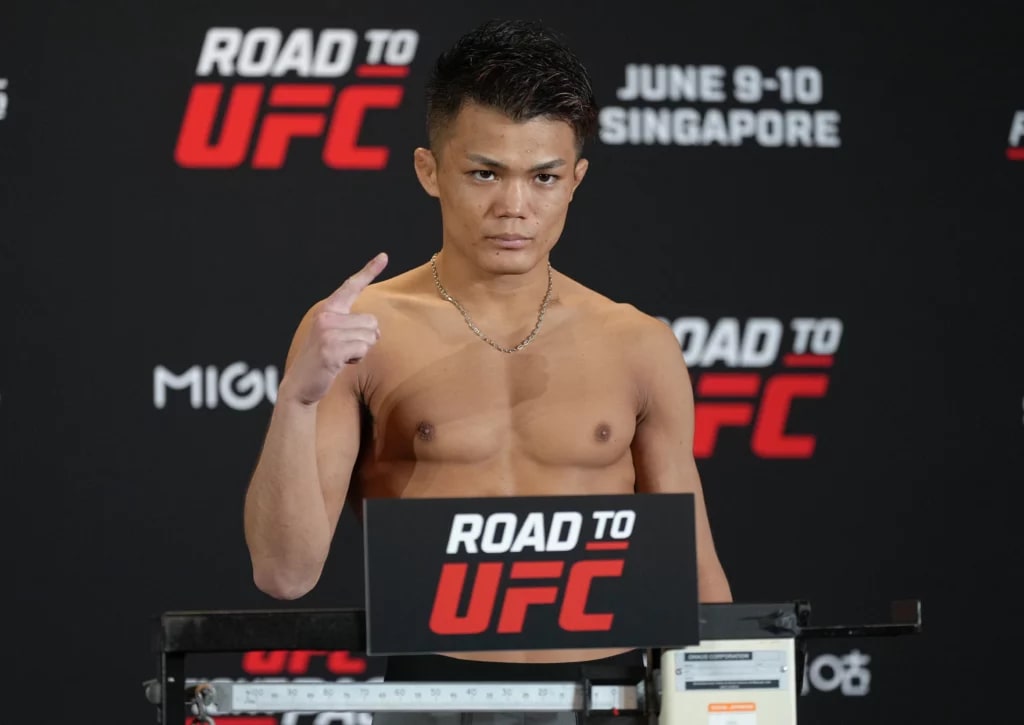 Bantamweight: Maimaitituoheti Keremuaili (136) vs Toshiomi Kazama (135)
Flyweight: SeungGuk Choi (126) vs Rama Supandhi (125)
Light Heavyweight: Zhang Mingyang (206) vs Tuco Tokkos (206)
8:30 am: Getting ready for the action