Judging is difficult, but it could be simplified. MMA fighters, fans, and promoters are running into a lot of trouble with judging lately. If a fight goes to a decision, often the judges aren't even on the same page.
A few weeks ago when judging the Jared Cannonier-Sean Strickland fight, two judges ruled it unanimously for Cannonier, and the other for Strickland. Not one round was scored the same between all three individuals sitting cageside. How can that be?
Judging is too objective.
The judges are supplied by the athletic commission, not the UFC, promotion, or any other kind of ruling body. Not always but often, they are judges who specialized in boxing. Are they educated enough to properly judge an MMA fight? Probably, but that's not the answer to the problem.
Opinion over facts
I know several judges personally who have gone through training for such a thing. I'm not saying all judges suck. The Unified Rules have been updated and people are trying to abide by them. Efforts have been made, but I think they are over-complicated. There's too much opinion involved rather than facts.
"Damage" is apparently now the first criterion for judging a fight. It didn't use to be that way when I first started fighting in 2003. Takedowns don't count unless they lead to damage. Well, that's kind of biased against wrestlers and jiu-jitsu fighters. This is supposed to be Mixed Martial Arts.
What about people who get damaged easily? I bruise easily, and my nose always swells up. That's because my style is that of a forward-pressure fighter. I can eat a lot of strikes without being knocked out. They don't bother me so much, but a judge says my opponent earned a significant strike because they threw a straight right hand and I walked into it.
What if it didn't feel significant to me? Lots of fighters have thin skin and cut easily. Cuts don't bother fighters unless blood gets in their eyes. We can be cut up and win a fight. But judges say that's a huge factor?
A significant strike should be a strike that causes a change in the flow of the fight.

Roxanne Modafferi
There's too much gray area. A significant strike should be a strike that causes a change in the flow of the fight. It should make the opponent stumble, slow down, or stagger. It should cause the audience or commentators to say, "Ooooh! That's a strong right punch." Otherwise, how exactly do you measure that? How much force do I need to apply? How many newtons exactly are required? If everyone isn't screaming "OMG!" it shouldn't be called "significant."
Fighting Casey O'Neill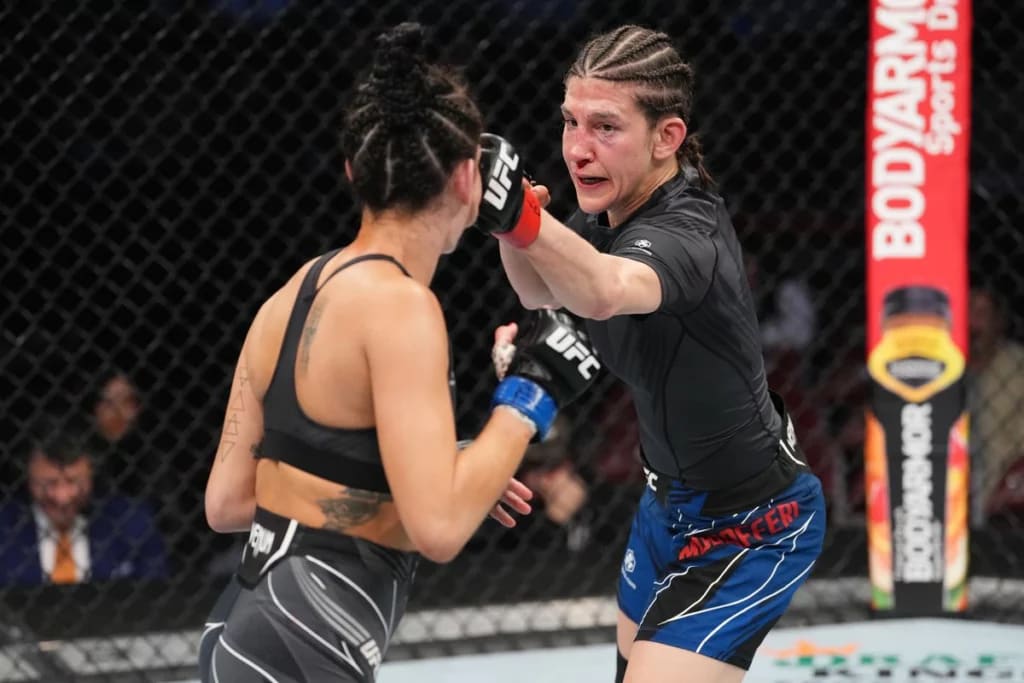 When I fought Casey O'Neill, I hit her more and harder than I ever hit anyone. She had bruises and a bloody lip. I knew I was hitting her hard. She was counter-striking me a lot, so moving backward as I came forward. Of course, when the force of her strikes hit me, it caused me to stop my forward movement. After the fight, the stats said she had many more significant strikes than me. I had thought we were more similar than they gave us credit for in that regard.
The stats also mentioned she threw 395 strikes and I threw 390. Apparently, she landed more. If that's the case, I can accept that loss. However, how exactly do they figure that 229 of hers were significant strikes but only 120 of mine were?
Revamping the scorecard
Try this method: make four categories on a piece of paper with "strikes," "takedowns," "knockdowns/significant strikes," and "submission attempts" on the y-axis, along the side. Across the top x-axis should be the two fighters' names.
The judge should mark down with dashes, or by holding clickers, or however they want to accumulate the numbers. Whoever wins the most in that category wins that category. Then whoever wins the most categories wins the fight.
If Fighter A (Alf) landed fifty strikes, significant or not, and Fighter B (Bob) landed fifteen, Alf wins that category. Let's say Alf gets one takedown, and Bob gets five. Bob wins that one. Alf got one knockdown and Bob got two. Bob wins. Alf tried zero submissions and Bob tried three. Bob won. Bob's face was all bruised and bloody from Alf's strikes. That's three categorical wins to one – Bob won the fight. If it is tied up, aggression should be the next and only factor to decide.
I feel the way it is now, scorecards are too arbitrary and opinion-based. They can be argued with. "That wasn't a significant strike!" "Judges aren't supposed to count takedowns but they counted it even though she didn't do damage." "What were the judges looking at?" There should be none of that.
Fighters shouldn't have to guess what judges want to see.

Roxanne Modafferi
Fighters shouldn't have to guess what judges want to see and what they value the most. Judges of course don't want to be put on the spot and criticized. They have to make decisions under pressure so let's make it easy for them. People should be able to re-watch the fight, count the techniques done, and come up with a decision concretely. If a fight is close, make it a tie.
More former fighters should be hired to do the judging. Their eyes are the most attuned to the techniques of the sport. There are tons of fighters who've retired and need jobs. That's more important than commentating, and plenty of retired fighters are given commentating jobs.