I remember years ago when I heard the UFC would hold fights in Abu Dhabi, I wondered if they'd let women fight.
The UFC entered a deal with the Abu Dhabi government-owned Flash Entertainment and held its first event there in 2010. They constructed a temporary open-air venue to house UFC 112. It drew 11,000 fans.
The next event was in 2014. Then, the UFC and UAE created a five-year partnership from 2019 through 2024. We have seen it in action as event after event was held at the newly-built Etihad Arena on Yas Island, including last weekend's UFC 280. By official accounts, the partnership is going very well.
UFC in Abu Dhabi
Combat sports are thriving in the UAE. The story goes that the influential Sheik Tahnoun Bin Zayed Al Nahyan, who is part of Abu Dhabi's ruling family and is also the UAE's national security advisor, fell in love with jiujitsu in the late 1990s while studying in the US and brought the sport home. 
He created the ADCC (Abu Dhabi Combat Club) grappling competition for the highest-level of grapplers on the planet. With such high-level support, it comes as no surprise that the UFC would thrive there.
I was certainly curious about how women would be viewed in MMA in the Arab states. I thought women had to wear a hijab and were not allowed to show skin. I was mistakenly under the impression female fighters would be in danger fighting because they show a lot of flesh.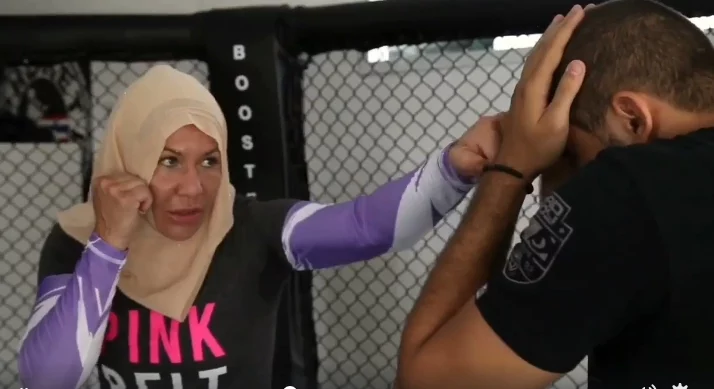 Without going into a full culture lesson, I'll just say that this is often not the case anymore, especially in modernised areas with western-influenced fashion. And I learned this after my own Yas Island experience in January 2021, when I fought Viviane Araujo on the Chiesa vs Magny card. 
Women fighters welcome
No women fought on the first two UFC cards, but in 2019 my teammate Joanne Wood fought there without a problem, and that gave me confidence to go. At least I no longer feared that I wouldn't be welcomed.
Abu Dhabi has welcomed female fighters along with the men in equal fashion. It's wonderful that they are flexible and open their arms to the UFC and females in athletics. Abu Dhabi has always favored and supported combat sports, and for this, we fighters are fortunate. When I visited, I was treated with as much respect as the next male fighter.
So when I got the fight offer, my first thought wasn't really about being a woman on the card, it was about Covid and the strict protocols on Yas Island. I thought: "Oh no! It's so far! And I won't be able to go anywhere to go sightseeing because I'll be quarantined."
Unfortunately that's how it played out. I would have liked to have met Emirati fighters, especially the women, and been able to have had lots of great personal reflections on what it's like to be a fighter in the UAE. But I didn't meet anybody. I wasn't allowed to go anywhere outside the hotel.
Covid on Fight Island
I understand why they did this. Remember, it was the high-alert covid era. They wanted to prevent and contain any trace of the virus. It was better to have extreme precautions than not fight at all.
Everything was extremely well organized and professional. As soon as we got off the bus taking us from the airport to the host hotel, we were greeted by staff completely covered in Hazmat suits. They planned where each group of fighters was going to go at what time. They told us exactly where to stand, and where our bags would be placed for our pick up.
We were to report to get rapid Covid tested immediately upon arrival, and then 5 PM the next day. After we got our snot sample taken, we'd receive a red band. Once we found out we were negative, they'd cut off the band and put on a blue band on our wrists. We had to return downstairs to the testing area by a certain time the next day to find out the results and do the switch.
You get the picture. Were they organised for Covid? Heck yes, they were.
After a certain number of days (I think three), we could leave the actual room and walk around the hotel, but not leave the hotel grounds. I often ran outside around the grassy front lawn and parking lot.  
Modafferi vs Araujo
We were given a small portable mat to lay down, but it was too small to really move around on. I stretched on it. I remember trying to hit mitts with my coach on the hard, stone floor and hurting my heel because I stomped so much as I stepped. It continued hurting for the next month and I limped a bit.
Reflecting back on the way my fight went with Viviane, I don't think the circumstances surrounding the fight affected my performance because she had better footwork and a good game plan. She was able to back up out of range and outstrike me.
I will say, though, that the quarantine protocols did make my experience very stressful. I couldn't go for my normal jogs and do cardio like usual. I worried about my weight more. I felt I had to put the breaks on my preparation and felt all out of whack. I just told myself that it's better than nothing, and it turns out my physical condition was fine. My weight cut turned out fine. It was just more stressful.
I wonder what it's like for a UFC fighter in Abu Dhabi these days, now that mask mandates and restrictions are lifted in the USA. Probably less stressful.
I wish I could have gone there during an era where I could do a little sight-seeing and get a better taste of the culture. Maybe someday!