Roxanne Modafferi, one of the pioneers of women's MMA, recently retired from the UFC after an 18-year professional fighting career. This is the first in a series of columns "The Happy Warrior" is writing about the challenges women fighters face in MMA.
One of the first UFC events I watched was UFC 35: Jens Pulver vs BJ Penn, in 2002. I was a college student who had been doing Judo, followed by Brazilian jiujitsu. I was an MMA fan before I myself started fighting, a career which lasted about eighteen years! Women didn't fight much back then, and the Octagon wasn't even an option.
Slowly, the UFC grew in popularity and the number of female fighters increased.  We needed support, sponsorship, branding, and marketing just as much as our male counterparts.  Our situation was similar in some ways but very different in others.
MMA is a sport but it's also entertainment. Back in the early 2000s, ladies who utilized their good looks got more fight offers. They would pull more viewers to a broadcast and more fans to a crowd. It was very common to see glamour shots of female fighters all dressed up and plastered with make-up.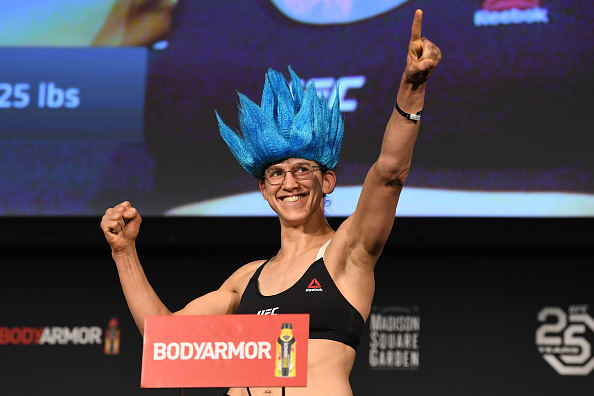 Booty shots
Just as popular and maybe more common were booty shots, with the lady dressed scantily, posing on the beach or in the gym.  She might be leaning against the heavy bag she was just hitting or resting against the ropes.  Sometimes, they wouldn't wear anything at all, and hold boxing gloves over their breasts. 
Guys don't do things like that.  At all.  Men's marketing was based on their entertaining fighting style and if they finished fights with knockouts or submissions.
I used to look down on the women exploiting their sexuality, but in hindsight, it was smart because it furthered their careers.  Of course, they had to make sure they backed up their image with skill and won their fights.
The other option for a woman marketing herself to get fight opportunities was to knock people out or win in a unique or spectacular fashion.  Then you had those fighters, like myself, who weren't gorgeous or deadly, but made herself available whenever to fight whoever wherever, and more often than not, won. 
Sponsorship
My manager found gear and clothing companies to sponsor me when I competed. I received shorts and rash guards, along with cash, and I got other logos printed on them. My manager got me sponsors based on my high ranking and my position on the fight card.
I got more money when I fought in Strikeforce since it was televised.  When I went back to fight in Japan on smaller cards not broadcast in the States, I only got sponsored by friends who knew I needed support.  Fightchix was an extremely loyal brand run by a single family, and they always helped me out.
However, fighters like me might not have pushed female fighters into the UFC. Gina Carano was both beautiful and vicious.  She had the looks, the body, and legitimate skill which made her entertaining, popular, and exactly what female fighters needed at that point in history.  Her fight against Julie Kedzie in Elite XC in 2007 catapulted female fighters into mainstream viewing and helped with acceptance. 
It was a slow process, but once women were recognized for their skills, fans paid attention to them in addition to looks. Certain fighters are famous for certain skill sets.  For example, Ronda Rousey armbarred people. Joanna Jedrzejczyk awed fans with slick, technical striking battles.  Amanda Nunes defeated her opponents in a variety of methods.
Now fans on message boards have heated debates about who could beat up who, rather than only comparing who is hotter.
The bottom line is, now sponsorship and branding opportunities for female fighters have expanded from what it once was. We, women, are more judged by our skills and fight outcome, just like the men. It is indeed still easier for a promotion to market the more attractive fighter, but there are way more options for women now.