Making your UFC debut is often a moment one can cherish. It's one that exhibits the sacrifice and hard work it took to reach that moment; the living epitome of 'making it'. Yet for some, making their debut on the biggest stage is anything but ideal.
"I almost missed the flight, it was the craziest moment of my life," explained Saidyokub Kakhramonov, the young bantamweight prospect who debuted in the UFC last August.
"I left my baggage in the airport and got it [back] two weeks ago. For three months I [never] had my luggage, all my clothes were in Russia."
In late August, Kakhramonov was called upon at extremely short notice – four days to be exact – to face bantamweight up and comer Trevin Jones, a two-fight UFC veteran who sat without an opponent on fight week. Despite the sudden notice or trials and tribulations that awaited him, the 26-year-old was more than ready to make his shot count.
---
"I was back home in Uzbekistan, training and not training, just enjoying my life. [Unlike] in America when I go home it's like a vacation for me, so I was enjoying my life [when] the call came in, and I just took it. I had no time to think about anything else other than make weight and fight."
"I didn't know who he (Trevin Jones) was. I knew he finished some good guys but at the end of the day, I didn't think about any of that. I had to go out there and perform good."
Saying he performed good would be an understatement. With little time to prepare, the first two rounds were evenly contested, both men showcasing their skills and striking ability. By the third frame, however, Kakhramonov began to get the upper hand and would soon find the guillotine chokehold. The submission was enough to render Jones unconscious, scoring the Uzbeki the biggest win of his young career.
Now entering the new year, Saidyokub has his sights set on a different type of fighter, one with a mountain of experience on the grandest stage.
On January 15, he's scheduled to face gritty vet Brian Kelleher in a fight that'll determine where he stands in the bantamweight landscape. And regardless of the disparity in experience, is ready to showcase the best version of himself.
"I'm gonna run through him," he told The AllStar. "Maybe you believe me or not, but I'm gonna run [through] that guy."
"He's a good fighter, he's one of my toughest opponents. But I believe I'm going to run [through him]."
Both Kakhramonov and Kelleher's last appearances came on the same night in August 2021, with each man picking up wins. In spite of competing on the same card and having no previous interactions, Kakhramonov knew he'd find himself across from Kelleher at some point, stating that he'd been a dream matchup for quite some time.
"He didn't even notice me, [but] I noticed him right there. I knew I wanted him right there. I've been wanting to fight this guy for three or four years, [and I knew] one day I was going to fight him. But as soon as I had the opportunity I called him out."
"If I want to strike with him, I'll strike. If I want to take him down, I'll take him down."
Watch this interview on The AllStar's Youtube channel.
Fighter profile: Saidyokub Kakhramonov
Saidyokub Kakhramonov is a 26 year old male fighter from Uzbekistan with 9 pro wins and 2 losses. Kakhramonov is scheduled to fight Brian Kelleher at UFC Fight Night: Kattar vs. Chikadze on Saturday January 15, 2022.
Kakhramonov's recent form coming into this matchup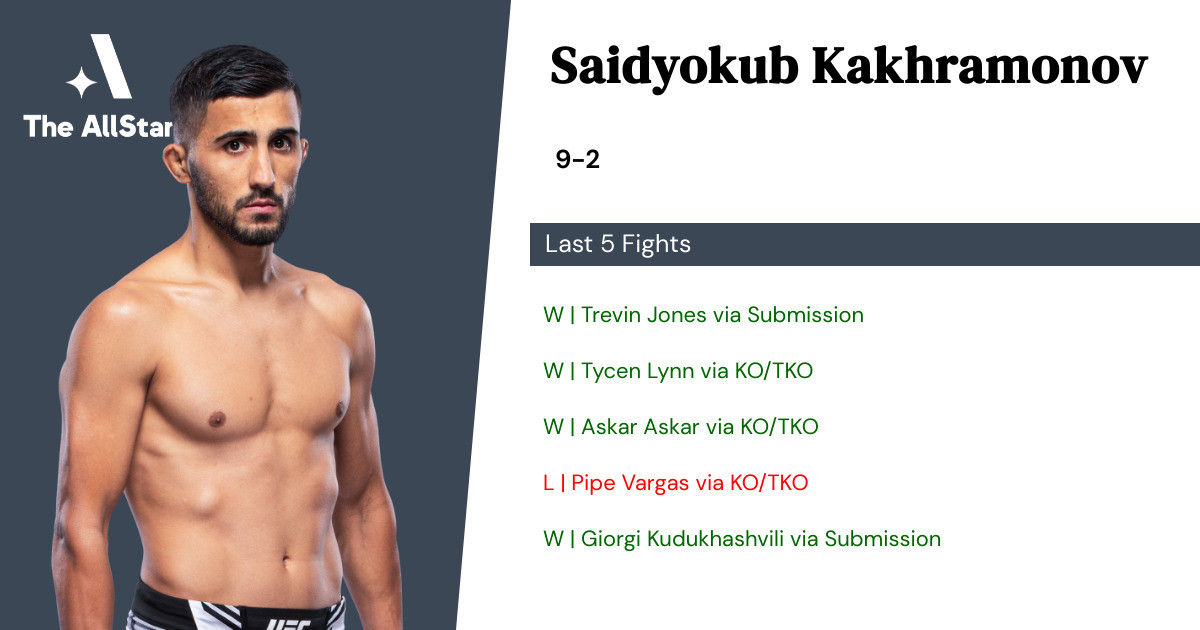 Saidyokub Kakhramonov has gone 4-1 in the last 5 professional MMA fights.
Win vs Trevin Jones • Submission R3 4:39 • 2021-08-21
Win vs Tycen Lynn • KO/TKO R2 0:45 • 2021-03-11
Win vs Askar Askar • KO/TKO R1 0:39 • 2020-02-07
Loss vs Pipe Vargas • KO/TKO R3 3:17 • 2019-02-27
Win vs Giorgi Kudukhashvili • Submission R1 3:48 • 2018-09-21
Kakhramonov's next opponent: Brian "Boom" Kelleher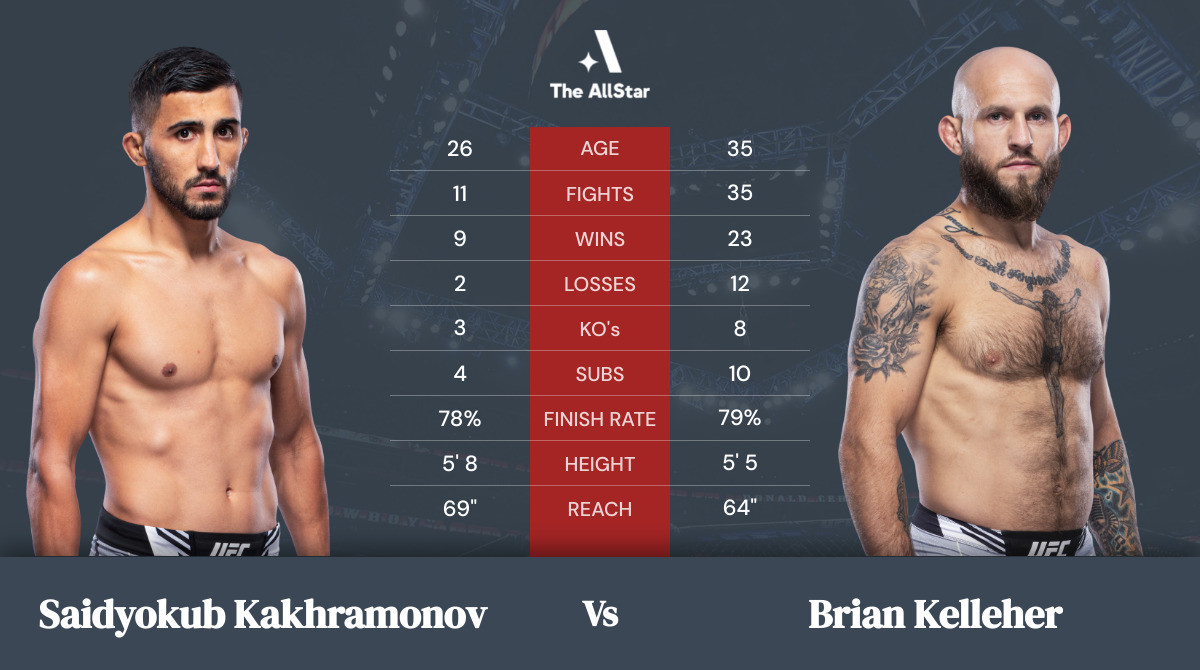 Brian "Boom" Kelleher's recent form coming into this matchup
Brian "Boom" Kelleher is a 35 year old male fighter from United States with 23 pro wins and 12 losses. Kelleher is scheduled to fight Saidyokub Kakhramonov at UFC Fight Night: Kattar vs. Chikadze on Saturday January 15, 2022.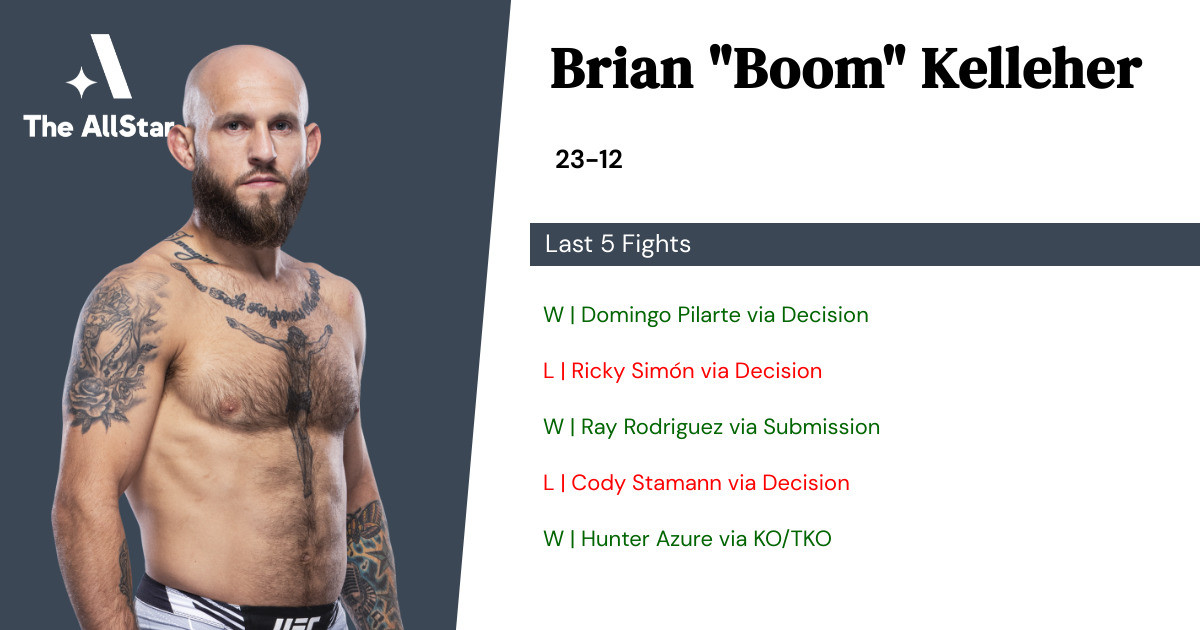 Brian Kelleher has gone 3-2 in the last 5 professional MMA fights.
Win vs Domingo Pilarte • Decision R3 5:00 • 2021-08-21
Loss vs Ricky Simón • Decision R3 5:00 • 2021-02-13
Win vs Ray Rodriguez • Submission R1 0:39 • 2020-09-05
Loss vs Cody Stamann • Decision R3 5:00 • 2020-06-06
Win vs Hunter Azure • KO/TKO R2 3:40 • 2020-05-13
How to watch and bet on Saidyokub Kakhramonov vs Brian Kelleher
Keep track of all the latest odds and line-movements at our bout page for this matchup.