Sam Alvey takes pride that he'll be remembered in the UFC for who he is- the happy ginger- rather than a copy of someone else.
His UFC journey has been long and full of highs and lows- but there's only one "Smilin" Sam Alvey. Ahead of his next fight with Michal Oleksiejczuk on August 6th, Alvey discussed his mentality and training with The AllStar.
On the last fight of his UFC contract, Sam stated, "I'm fighting for a job…I've been in a slump. Of my last eight fights, I haven't won any of them. However, if you watch them, I've won at least four at them, maybe five- it's ridiculous that the judging is allowed to do what they did, but I gotta stop blaming the judges."
This year, Alvey moved across the country from California to Tennessee. He recounts seeking a better life for his family, including allowing his six kids to have more space to play and explore. However, Alvey still retains loyalty to his longtime gym, Dan Henderson's Team Quest gym in Temecula, California.
Of the move, Alvey said, "I found a gym out in Tennessee- very good gym- it's called Guardian MMA. It's in Murfreesboro, Tennessee, it's right where I live, it's about twenty minutes from my house. Great coaches, great atmosphere. I've really enjoy working out there. But, you can't replace my team that's been with for the last eleven years- twelve years- something like that. So I did the first half-ish of camp out there, you know getting into shape, getting into sparring shape, and then I came out here to California."
His fight with Oleksiejczuk will determine his fighting future, and it's also Oleksiejczuk's first at middleweight in the UFC. As someone who's floated between weight divisions, Alvey believes that even though the Pole is moving down, he'll have the size advantage.
Commenting on Oleksiejczuk- who he calls a "European middleweight", Alvey said, "I think I'm way bigger than him. So this is his first fight at middleweight, I'm been – most of my career's been at middleweight. And I'm a big middleweight…He's not a big dude. He's coming down to middleweight, he's probably expecting to be huge, but he's not as big as me".
Alvey believes Michal will try to use his range to keep the fight at arms' length and pin him up against the cage. In return, he seemed to be keen on using his size against Michal with his wrestling and his power. And at the end of the day, he puts the fight into perspective, realizing its importance in his career: "I'm gonna go in there and I'm gonna have a great time. I'm gonna fight for whatever future career I have in the sport, whether it's for UFC or somewhere else. I hope it's the UFC, I love this organization. I'm looking forward to fighting for them for another tenure."
As far as a prediction for this fight, Alvey gave his opinion along with a massive grin: "I'm gonna knock him out in 4:43 in the first round, it's just gonna happen, I've got it timed out, planned out."
---
Fighter profile
"Smilin" Sam Alvey is a 36-year-old male fighter from the United States with 33 pro wins and 17 losses. Alvey is scheduled to fight Michał Oleksiejczuk at UFC Fight Night: Santos vs. Hill on Saturday, August 6, 2022.
Sam Alvey's recent form coming into this matchup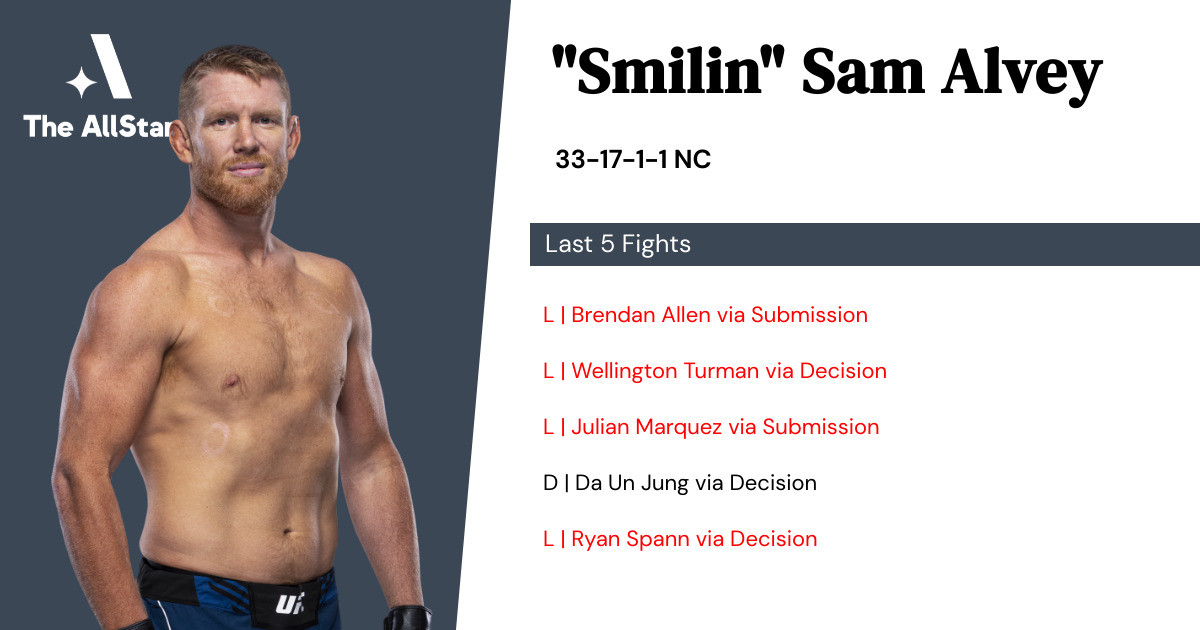 Sam Alvey has gone 0-4-1 in the last 5 professional MMA fights.
Loss vs Brendan Allen • Submission R2 2:10 • 2022-02-05
Loss vs Wellington Turman • Decision R3 5:00 • 2021-08-28
Loss vs Julian Marquez • Submission R2 2:07 • 2021-04-10
Draw vs Da Un Jung • Decision R3 5:00 • 2020-10-24
Loss vs Ryan Spann • Decision R3 5:00 • 2020-05-09
Sam Alvey's next opponent: Michał "Lord" Oleksiejczuk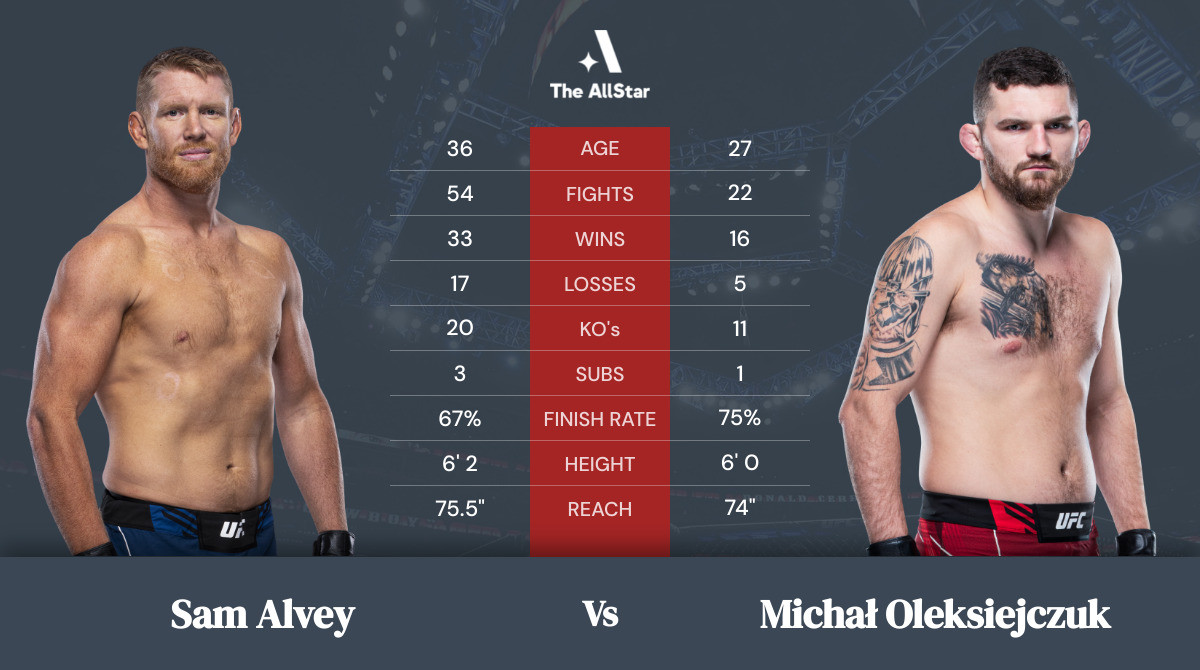 Michał "Lord" Oleksiejczuk's recent form coming into this matchup
Michał "Hussar" Oleksiejczuk is a 27-year-old male fighter from Poland with 16 pro wins and 5 losses. Oleksiejczuk is scheduled to fight Sam Alvey at UFC Fight Night: Santos vs. Hill on Saturday, August 6, 2022.
Michał Oleksiejczuk has gone 2-3 in the last 5 professional MMA fights.
Loss vs Dustin Jacoby • Decision R3 5:00 • 2022-03-05
Win vs Shamil Gamzatov • KO/TKO R1 3:31 • 2021-10-30
Win vs Modestas Bukauskas • Decision R3 5:00 • 2021-03-27
Loss vs Jimmy Crute • Submission R1 3:29 • 2020-02-22
Loss vs Ovince St. Preux • Submission R2 2:46 • 2019-09-28
How to watch and bet on Sam Alvey vs Michał Oleksiejczuk
Keep track of all the latest odds and line-movements at our bout page for this matchup.