After a trio of back-to-back losses to start her UFC journey, Sam Hughes is overjoyed to find herself back in the win column following her UFC Vegas 51 war with Istela Nunes.
The 29-year-old has had a turbulent run in recent times, both inside the cage and out, and found herself overcome with emotion once the final horn sounded on Saturday night – breaking into tears in the arms of newfound coach Sayif Saud.
'Sampage' ultimately came away with a majority decision on the judge's scorecards – though, similar to the past few years of her life, it was a hard-fought battle that led to that point.
A slow start in the opening round for Hughes saw her opponent rise as high as -3500 on the live betting odds. Things looked dire for the American strawweight in those first five minutes as she struggled to build any sort of momentum, taking multiple heavy shots in the process.
"She hits very hard," Hughes told The AllStar.
"I just felt like I was too slow, too hesitant, and not firing first – which was the game plan."
As Nunes started to slow in the second round, however, Hughes began to find her stride. Midway through the 15-minute bout, the opposing Brazilian striker began taking deep breaths; it was at that point the American knew the fight was hers for the taking.
She recalls thinking "alright, I got you. I got your ticket."
"It definitely felt like the momentum shifted once I saw that."
A last-minute takedown in the second saw Hughes secure a crucifix position and rain ground and pound that, if the round had ended 30 seconds later, may have notched another stoppage win on her resume. "I keep kicking myself," she admitted, regretting not taking the fight to the ground a minute earlier.
"She was obviously stuck… if I just had thirty more seconds, I think [the referee] would have stopped it."
Despite multiple eye gouges that resulted in a point deduction for her opponent, Hughes continued making adjustments and went on to walk away with the third round, earning her the judge's nod on two of the three scorecards.
Hughes attributes this win, in part, to her new team at Fortis MMA in Dallas, Texas – where she relocated to from Washington earlier this year.
"I went out and I had a goal, and Saif and Charles and Alex they all helped me, everybody at Fortis they were so amazing, so I couldn't be happier."
Quizzed on what progress she'd made since her previous loss to Luana Pinheiro and the subsequent change in gyms, the 29-year-old confessed to having some hard talks with herself over the last six months.
"There's a lot of things I had to work through in that process of getting better as a martial artist – as well as dealing with a lot of trauma and things that happened in my previous camps…"
A 'toxic' culture in Hughes' previous camp, she feels, contributed to poor performances inside the cage, and left her miserable outside of it.
"I wasn't happy out there for about three or four years," she began, noting that the idea of cross-training with different gyms was always a contentious topic.
"It [boiled down] to control and manipulation and things like that…"
Hughes hit a breaking point with her former camp late last year around the time of the Pinheiro fight and used the earnings from that short notice bout to uproot her life in the US capital, and head for greener pastures in Texas.
While a part of her regrets accepting such a tough fight on eight days' notice, she believes it was the right decision to make at the time.
"Unfortunately I needed money at that point. That's never a good thing – you never want to accept a fight for that reason… but it got me to where I am right now and I'm so thankful."
Looking ahead, Hughes is currently waiting with bated breath to discover if her most recent showing did enough to earn an extension on her UFC contract, as that bout was her final with the promotion under her previous deal.
"Saif and I had talked about it this weekend, and he said that he was gonna talk to the UFC… If I have to prove myself, if I can just get one [fight] and show my performance level and show truly what I can do – that would be a great thing for me."
"As of right now, I don't know what's going to happen."
---
Fighter profile
"Sampage" Sam Hughes is a 29-year-old female fighter from the United States with 6 pro wins and 4 losses. Hughes most recently fought Istela Nunes at UFC Fight Night: Luque vs. Muhammad 2 on Saturday, April 16, 2022.
Sam Hughes's recent form coming into this matchup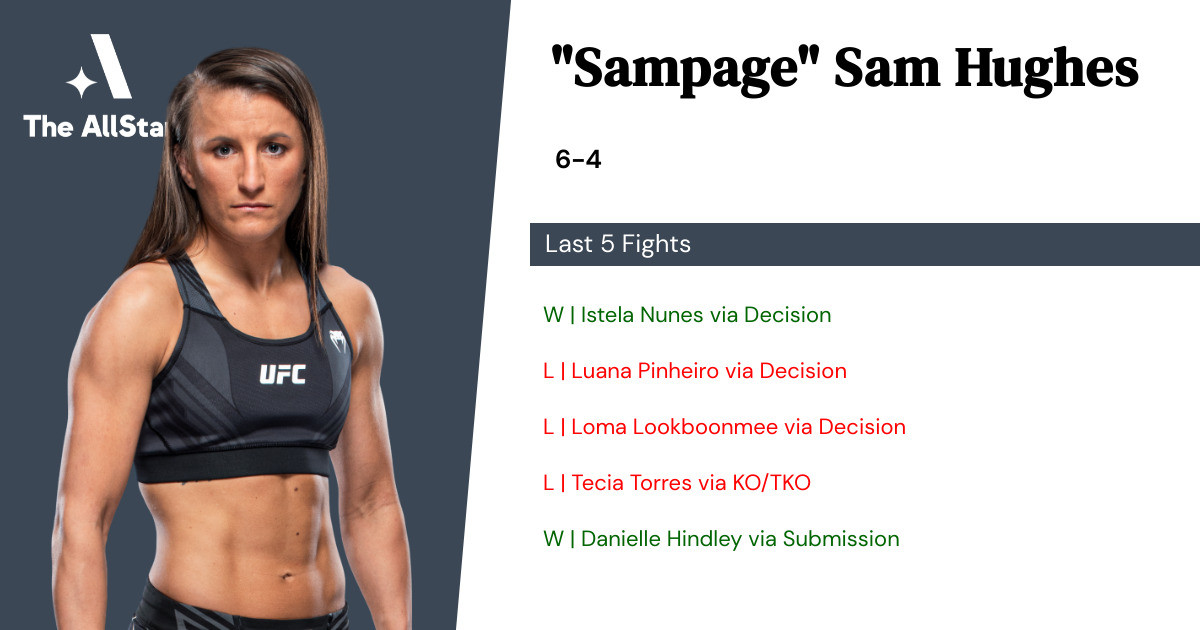 Sam Hughes has gone 2-3 in the last 5 professional MMA fights.
Win vs Istela Nunes • Decision R3 5:00 • 2022-04-16
Loss vs Luana Pinheiro • Decision R3 5:00 • 2021-11-20
Loss vs Loma Lookboonmee • Decision R3 5:00 • 2021-05-01
Loss vs Tecia Torres • KO/TKO R1 5:00 • 2020-12-12
Win vs Danielle Hindley • Submission R1 5:00 • 2020-10-16