Sarah Kaufman is on cloud nine.
The Canadian bantamweight is heading into her second fight in two months – a title fight, no less – after enduring a frustrating two-year period of inactivity.
The Pallas Athena Women's Fighting Championship is slated to have its first-ever show on Jan.15 with Kaufman pitted against Claudia Leite for the inaugural bantamweight title in the main event.
Having had trouble finding opponents, Kaufman is dropping back down to the weight class for the first time since 2018. Nevertheless, she is excited to challenge herself against a young prospect.
"She kinda has that Chute Boxe style," Kaufman told The AllStar. "She wants to be in your face. She wants to throw hard strikes. She doesn't shy away from a tough fight and a gritty fight. Looks like she likes body lock takedowns.
"I think at one point she said she wants to finish me by rear-naked choke. I think that she is more on that grappling end of things, ya know, which for me, sure that's great. You can get lucky on a punch but you're not gonna really get lucky on a submission. If that's where she thinks the fights going, I have some solid wrestling and really good jiu-jitsu behind me and I'm happy to tap her out or knock her out or TKO."
Even with the possibility of her Brazilian foe trying to drag the fight to the mat to search for the choke, Kaufman leans towards her improved striking to dictate the exchanges.
"When someone comes forward and they're willing to engage, it allows me to engage as well," Kaufman said. "When someone is running away and they're playing more on that stick-and-move game, it doesn't allow you to plant your feet and throw with power as much. So I definitely think that this style and the style matchup is gonna play well into being able to land with some good power and really utilize that full well-rounded game that I have."
Coming off a devastating first-round TKO over Jessy Miele in late November at BTC 13, the 36-year-old Kaufman will be looking to get back-to-back wins since 2019.
"First-round finishes are the way to go," the Zuma Martial Arts staple said. "I've now had three. It's so much easier. You put in all this hard work and you just go in there and make it happen.
"Ideally, a first-round finish would be great. Do I ever really envision that? No, but I always know that can happen and I have the skillset to make it happen."
Watch this interview on The AllStar's Youtube channel.
---
Fighter profile
Sarah Kaufman is a 36 year old female fighter from Canada with 22 pro wins and 5 losses. Kaufman is scheduled to fight Cláudia Leite at PAWFC 1 on Saturday January 15, 2022.
Kaufman's recent form coming into this matchup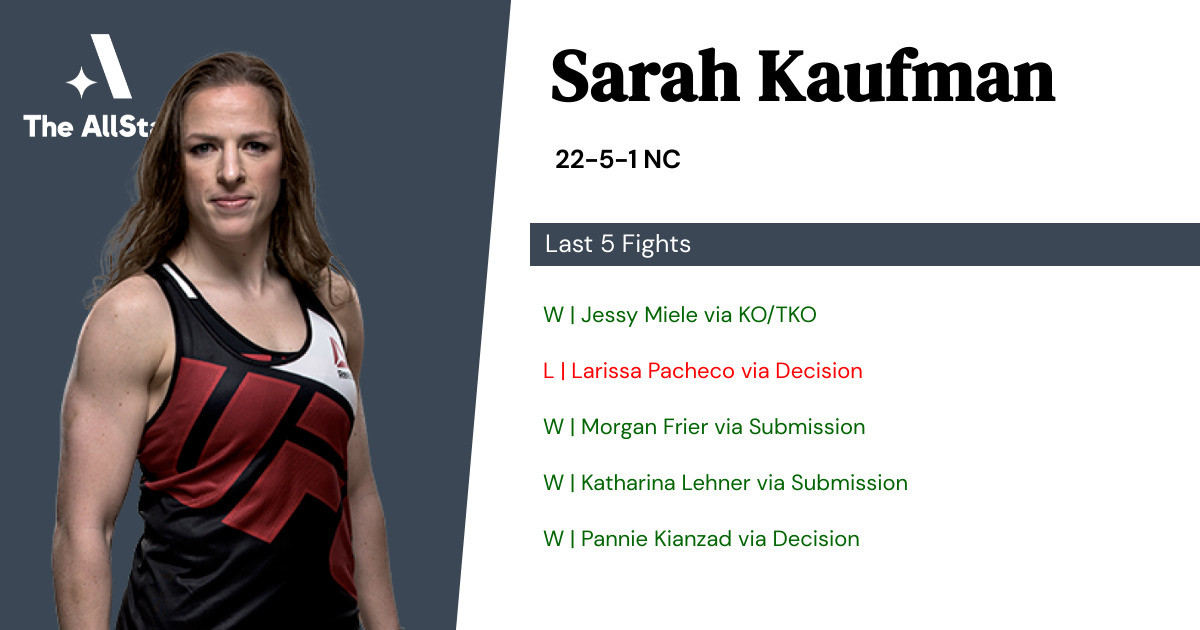 Sarah Kaufman has gone 4-1 in the last 5 professional MMA fights.
Win vs Jessy Miele • KO/TKO R1 3:56 • 2021-11-20
Loss vs Larissa Pacheco • Decision R3 5:00 • 2019-10-11
Win vs Morgan Frier • Submission R1 2:22 • 2019-05-09
Win vs Katharina Lehner • Submission R3 4:30 • 2018-05-04
Win vs Pannie Kianzad • Decision R3 5:00 • 2018-01-13