Sergio Pettis is already preoccupied with what lies ahead in 2022. 
Pettis, the undisputed Bellator bantamweight champion, successfully defended his title at Bellator 272 by knocking out Kyoji Horiguchi in the fourth round with a spectacular spinning backfist. During the broadcast, the organization announced a 8-man bantamweight tournament with a $1M prize up for grabs as well as the coveted gold belt. 
On top of Pettis, the participants are former champ Juan Archuleta, Raufeon Stots, James Gallagher, Magomed Magomedov, Patchy Mix, Leandro Higo, and the aforementioned Horiguchi. There have been much speculation about the first round matchups which have not been revealed yet.
"Personally, I think Raufeon Stots and Juan Archuleta need to go at it to really see who's next in line," Pettis told The AllStar while playing matchmaker. Probably me and Horiguchi again too. I think he deserves a rematch personally. He was dominating me for three rounds, four rounds and I hit him with that move. I think that would be a good matchup. 
"Leandro Higo and Patchy Mix. I think those two should fight. And Magomed Magomedov and Gallagher. I think that would be a good matchup, probably not for Gallagher." 
The Milwaukee native has his preferences but really does not care who is next. 
Pettis added, "I fought two of the toughest guys in the division right now. I fought Juan Archuleta, Horiguchi. So whoever they give me. Preferably the harder fights. I'm here for the hard fights. I'm not here to have no easy wins. I'm here to test myself. Whoever they give honestly. I'm not going to say no."
Even though the 28-year-old Pettis is nursing some bumps and bruises from his last outing, the Roufusport representative is plotting a return since sitting around is not in his nature.
"End of March, April," Pettis revealed. "I already went back to the gym on Tuesday. I had to stay busy. Normal life isn't……this is not what I want to do. Playing video games and chilling out all day. So I went back to the gym. I feel good. I probably won't be kicking for a little bit of time but I think within three weeks I'll be able to fully get back into training camp."
Before the spinning backfist put Horiguchi's lights out, Pettis was clearly down on the scorecards. The Japanese striker was quicker, faster and controlled the pace. Dominating almost every aspect of the exchanges. This frustration has become fuel for improvement. 
"He gave everyone a game plan of what they can do to me now," Pettis said. "The next couple of guys I'm gonna face are really wrestling-based fighters and grappling-based fighters. I see a little sparkle in their eye like, 'Okay, this is what we're going to do to Sergio.' 
"I'm very realistic out there. I know what I need to address and what I need to work on. I'm not afraid to tell other people as well."
Watch this interview more on The AllStar's Youtube channel.
---
Fighter profile
Sergio "The Phenom" Pettis is a 28 year old male fighter from the United States with 21 pro wins and 5 losses. Pettis is scheduled to fight Kyoji Horiguchi at Bellator 272: Pettis vs. Horiguchi on Friday December 3, 2021.
Pettis's recent form coming into this matchup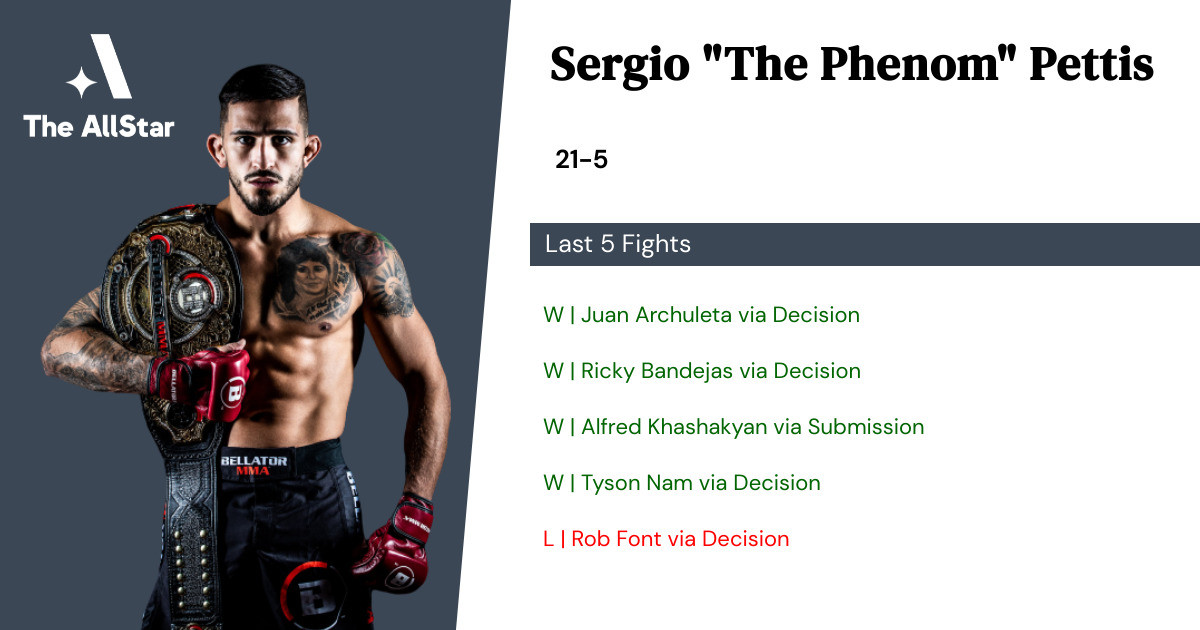 Pettis has gone 4-1 in the last 5 professional MMA fights.
Win vs Juan Archuleta • Decision R5 5:00 • 2021-05-07
Win vs Ricky Bandejas • Decision R3 5:00 • 2020-07-24
Win vs Alfred Khashakyan • Submission R1 3:00 • 2020-01-25
Win vs Tyson Nam • Decision R3 5:00 • 2019-09-21
Loss vs Rob Font • Decision R3 5:00 • 2018-12-15