Stake may well be the savviest marketed online sportsbook, known for making big splashes with its commercial tie-ups, sponsorship deals and brand ambassadors – but does the product live up to the hype? Or is this a case of style over substance? We'll take a look in this Stake Sportsbook Review.
Stake has been operational since 2017 as a bitcoin casino and added its sportsbook in 2020. As a result, this legacy heavily informs the structure of the loyalty program – the Vegasy sounding 'VIP Club'. That said, sportsbook wagering does count towards VIP play.
That legacy also means Stake remains a crypto operator – offering players 20 cryptocurrencies to bet with. It does not offer gameplay in fiat currency (but it can be used to purchase crypto on site). First-time users of the Sportsbook can enter our code ALLSTARSPORTS to receive a $1000 Welcome Bonus and a 5% instant rakeback for casino play.
Stake Sportsbook Review
One of the first things you notice about the sportsbook at Stake is that it looks very tidy. Design and navigation is clean; not too messy or overly cluttered. The site is stylish and looks slick – which may seem a superficial thing, but makes for a nice user experience.
The dominant header on the sports lobby page is a carousel of promotions and offers, along with big brand news, such as recently retired Argentinian soccer star Sergio Aguero becoming the latest brand ambassador. It is certainly slick marketing, but more on the sports promotions below.
---
| | |
| --- | --- |
| Pros | Cons |
| Good sports offering; engaging promotions | Unavailable in US |
| Interesting bet combos – eg, 1×2 and O/U in one ticket | Possible holes in sports offering |
| Eight cryptos to chose from; easy to buy on site | 40x Welcome Bonus playthrough requirement |
---
Sports Betting Experience
Stake offers the opportunity to bet on most all of the major sports you would expect to find at a comprehensive bookmaker. Although the Super Bowl recently closed the current NFL season, the football offering remains strong with NCAA college coverage. The same applies to basketball, along with the All-Star game. Baseball, tennis and hockey are all well represented too – along with soccer and MMA, but more on those two later.
Stake offers all the mainline markets you would expect to find – moneylines, point spreads and totals markets, as well as prop bets and specials where available.
That said, when we were doing this review we did notice one hole, specifically, that Formula 1 wasn't available. Now, this could just be because it's the off-season, with Formula 1 returning in March, but we would still expect to find futures and outrights for the Constructor's Champion and Driver's Champion markets.
At the time of this review, Stake had the following sports listed on its page:
| | | |
| --- | --- | --- |
| America Football (NFL, NCAA, +) | Field hockey | Snooker |
| Aussie Rules | Floorball | Soccer (all major comps) |
| Badminton | Futsal | Stock car racing (Nascar) |
| Bandy | Golf (PGA, DP World Tour, +) | Table Tennis |
| Baseball (MLB, +) | Handball | Tennis (ATP, WTA, +) |
| Basketball (NBA, NCAA, +) | Ice Hockey (NHL, +) | Volleyball |
| Bowls | Kabbadi | Water Polo |
| Boxing | MMA (UFC, Bellator, +) | |
| Cricket | Olympics | Esports |
| Cross-country | Politics and Entertainment | |
| Darts | Rugby (two codes in one) | |
Stake's sports offering.
Over the course of our Stake Sportsbook Review, we had no issues with speed of site, lag on any pages or failed page loads.
However, one cool feature worthy of a hat tip is that should connectivity or speed prove to be an issue, Stake has seven official mirror sites – replicas of the main site that can be used if you are experiencing difficulties due to network traffic. We haven't yet seen such sites listed on other sportsbooks we've reviewed.
Your odds of choice
Most any sportsbook provides the option of choosing the odds format that is most natural to you. In the UK, for example, that is generally decimal odds, maybe fractional; in the US, unsurprisingly, this would be American odds. Stake goes an impressive extra yard – undoubtedly as a nod to it's Asian user-base – and also offers the far less common Indonesian, Hong Kong and Malaysian formats too. It's a nice touch from the operator.
Another small touch, but one's that also appreciated, is that the current bitcoin price can be found displayed in the footer of every page. May not seem like a big deal but that volatility may even help shift your betting decisions.
---
A Wealth of Sports Promotions
One thing Stake does do very well is offer a host of different promotions. Some, like the big ticket 'Stake Races' of $100,000 daily and one that's $50,000 weekly, are designed to engage players – you're automatically entered as soon as they place a wager. Terms and conditions apply, and you should read them clearly to understand how the promotions work. But rest assured, the more you wager, the greater the chance you have to rake back your funds.
Speaking of rakeback, if you open a Stake account and enter THEALLSTAR2022 code, you immediately receive a 5% rakeback bonus. We explain this in more detail below.
Others are designed more towards encouraging players to have a go, while protecting them to the downside, such that the risk-reward seems favorable enough to have a go.
A Watford / Soccer Focus
Perhaps unsurprisingly, given Stake is the main sponsor for English Premier League team Watford FC, that many of these focus around soccer.
Watford First Goal Payout: Place a bet on Watford and, if they score first in the game, all Watford bets are paid as winners. Given that at the time of writing the team is sitting 18th (of 20), with 24 goals for in 24 matches (and 43 against), that could make for an interesting proposition.
Sticking with the EPL, the 15′ Special offer sees your bet paid out if your selection scores within the first 15 minutes.
Moving into the Champions League Round of 16, there's also a Multi Insurance offer that allows you to create a 4-leg multi bet (aka, a parlay). Each leg must come from one each of four next-round matches. Unlike a regular parlay, where one miss busts your ladder, this promo means you can still get up to $100 back.
Of course, it's important to realise that all of these promotions have terms and conditions attached. There's generally a bet minimum and a maximum payout involved, plus they probably wont work in conjunction with any other promotion. Still, the fact remains that Stake has taken the time and effort to create these offers to promote player engagement, and for that it deserves some credit.
It's not just soccer though – for NBA fans you can get paid out a winner, even if your team loses, if it happens that they blew a 16 point lead. That might be small consolation, but at least its money back in your pocket!
The Last Stylebender and a World Class UFC Stable
In March 2021 Stake became the first Official Betting Partner of the UFC in Latin America (ex-Brazil) and Asia (a Brazil deal was cut earlier this year). The Stake stable boasts some big names in the sport.
The big splash came with the announcement that UFC Middleweight champ Israel Adesanya had been signed as a global brand ambassador – only to be later joined by UFC Heavyweight champ Francis Ngannou. Most recently, Mexican flyweight Alexa Grasso and Ecuadorian bantamweight Marlon Vera have joined the heavy-hitting roster of MMA star power.
But Stake also has the MMA betting platform to live up to expectations, with some markets for UFC 273 up already. UFC aside, when we did our review the site also had markets up for KSW – the Polish MMA organization.
As a result of their partnership, you can also watch all the UFC fights live-streamed to Stake.com – a massive bonus for any fight fan. Plus, Stake has exclusive UFC content that you wont find elsewhere.
The Stake Community
In line with their use of brand ambassadors, Stake makes a lot about engaging with its community. And it encourages members of its community to engage with each other.
There's a live chat function on-page, which players have access to after they've wagered $500. This is also where Stake makes it rain – with free crypto drops every hour, though to qualify you have to have wagered $4000 in the past 7 days, be an active player, and a chat user.
There's also a dedicated community forum page, on which mods post weekly competitions too – another unique feature to Stake.
---
Stake Sportsbook Review – Live Betting
Every sportsbook these days must offer live betting in real time – and Stake's offering is up there.
We keep coming back to the ease of navigation with this site, and the Sports lobby page design includes a banner, with an icon for each sport and a number to indicate how many live events for that sport are currently in play. It makes it really very easy.
Of course, the live markets on offer depend on the sport in question, but for sports like soccer, as we've already seen, the number of markets is impressive. While there's no live stream of the soccer action, there is a visual graphic of the ball moving around the pitch, showing bettors who is in possession and what's happening in the game.
When UFC fight cards are in action the site live streams the fights.
Tennis is another hugely popular sport to be on live, and Stake offers main markets such as specific game winners, set winners and the over/under on total games; all the way down to the winner of the point being played in real time – for example, Set 2, Game 2, Third point.
Tennis is another hugely popular sport to be on live.
Stake offers live main markets such as specific game winners, set winners and the over/under on total games.
If you want, you can even bet on each point as it's being played – for example, Set 2, Game 1, Third point.
Alongside the markets Stake does display live data – see the middler section here – as well as some data on the head to head, including world rankings and form based on the last five matches played.
---
Bonuses and Rewards
Stake's Welcome Bonus – $1000 and 5% rakeback
Sign up using our code ALLSTARSPORTS and receive a 200% matched deposit bonus up to $1000, as well as immediate 5% rakeback if you chose to play in the casino.
To take full advantage of the offer, deposit $500 and receive the full 200% match of $1000 – leaving you with an opening balance of $1500. Depositing anything more than $500 worth of cryptocurrency does not mean you receive more from the operator in return. Minimum deposit to activate the bonus is $100.
Rollover / Playthrough requirements
Stake's Welcome Bonus may be an eye-catching $1000, but of course "free" money always comes with a catch. Playthrough or rollover requirements – meaning you literally need to play through those funds a number of times before you can make a withdrawal – are the industry norm, so the fact that they exist is not a surprise.
However, the 40x playthrough (bonus and deposit) requirement on the Welcome Bonus is hefty. This means that if you take full advantage of the offer and deposit $500, and receive the full 200% match, you would bank $1500 but would need to wager 40x that before being able to withdraw.
Stake says your account will be credited with bonus funds within 24hrs.
That's $60,000 of wagering – so perhaps it's a very good thing that Stake offers all its other promotions in the meantime.
If you compare that to say the Bovada Welcome Bonus and its, by comparison, mere 5x requirement, that's undeniably steep.
Stake
Welcome Bonus
Bovada
Welcome Bonus
BetOnline
Welcome Bonus
BTC
200% matched up to $1000 (40x playthrough)
75% matched up to $750 (5x on sports and horses)
100% matched up to $1000 (14x on sports)
How Stake's bonus stacks up against the competition.
What is rakeback?
"Rakeback" is a technical term used by casinos to describe how some players – usually big-betting VIPs – can essentially receive money back from the house.
The house always wins – for good reason. And that reason is the house edge.
Stake refers to rakeback as a way to passively earn, because every time you place a casino wager, 5% of the house edge is returned to you immediately under the rakeback offer.
Let's assume a game has a 2% house edge. The 5% rakeback, courtesy of signing up via The AllStar, means that 5% of that 2% is returned to you on every bet – regardless of the size of bet too.
For example, you place a $100. The edge is $2. Your rakeback on that wager would be 10c. If you were to wager 1BTC, at the same edge, you would get 0.001 BTC returned to you.
---
Deposits, Withdrawals and Limits
American Express
Bitcoin
MasterCard
MoonPay
Visa
Deposits
As a crypto-only sportsbook, players can chose to play with 20 cryptocurrencies, including: Bitcoin (BTC), Bitcoin Cash (BCH), Ethereum (ETH), Litecoin (LTC), Ripple (XRP), Dogecoin (DOGE), Tron (TRX), EOS, Binance Coin (BNB), BUSD, Tether (USDT) and USD Coin (USDC).
Depositing crypto at Stake is as easy and straight forward as any other crypto transaction. Once you have registered, clicking on the Wallet icon – which remains front and centre regardless of which page you navigate to – opens your wallet window.
The default tab is the Deposit tab, and your account's address for your selected currency automatically displays (though we've greyed it out). When you chose to change the currency of your choice, , the wallet adddress automatically changes with it. We illustrate here using DODGE.
If you are depositing from your crypto exchange account, all address can be easily copied, or you can chose to scan the corresponding QR.
If you don't own any crypto, take has made it easy to buy onsite using your credit card via a third-party called MoonPay. This is the same company that Cloudbet, another leading crypto-based online sportsbook uses. You can read our Cloudbet Sportsbook Review here.
Withdrawals
When withdrawing from Stake, the process is as simple, just in reverse. Insert your wallet address for the relevant currency selected form the dropdown menu, double-check to ensure you have selected the correct blockchain, and submit your request.
One of the main benefits of using cryptocurrency is that most transactions are near-instant, once on-chain confirmation comes through.
Buying BTC on site with MoonPay
Step 1: Click the Wallet button on the header and it opens the top level window to access your account. From here you can choose to Deposit, Withdraw, Buy Crypto or Tip another player.
When you click "Buy Crypto" you can choose your currency of choice from the dropdown menu and insert the amount of fiat currency you wish to spend. The site offers eight currencies to choose from. For illustrative purposes we've stuck with BTC and USD500.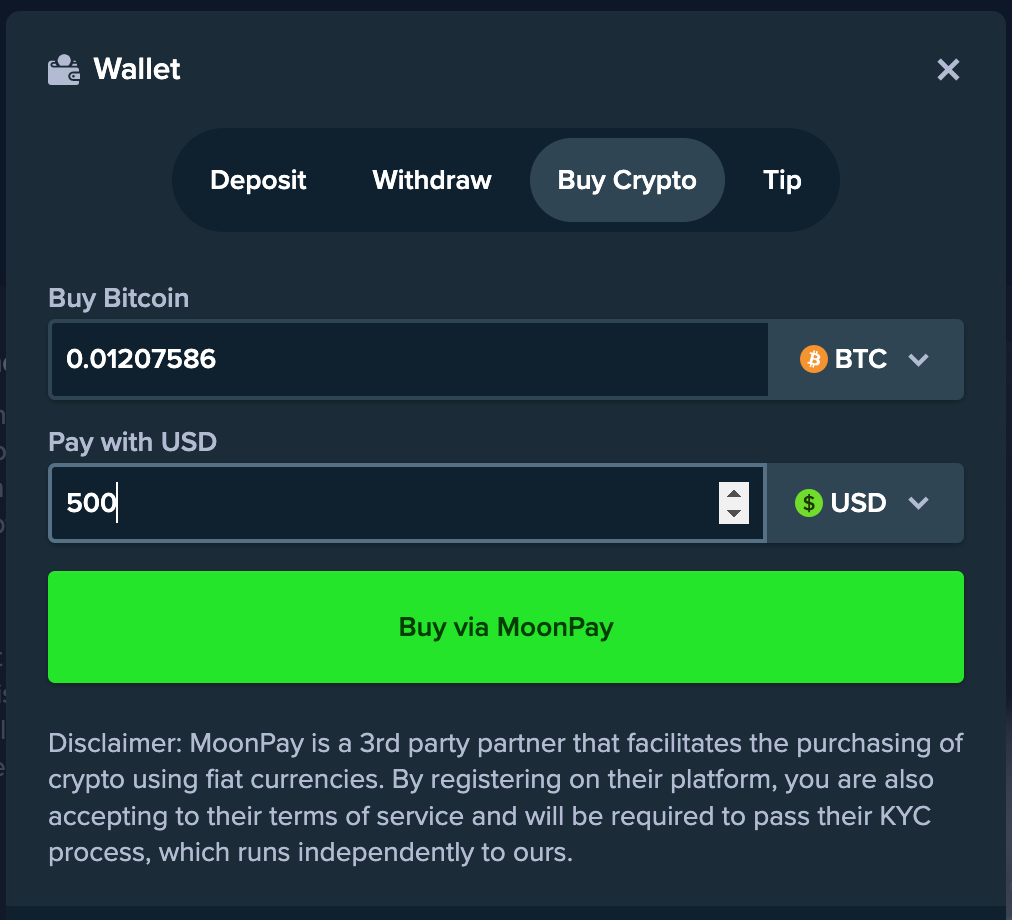 Step 2: Clicking on the green CTA button opens up the MoonPay site where you are asked for your wallet address.
In fact, this auto-populates with you Stake hot wallet address, which we have just greyed out here. You can click on the option to see any fees charged, so the whole process is transparent.
After continuing, enter an email address – we suggest the one to which your Stake account is linked – and your MoonPay account is up and running.
Deposit and Withdrawal Limits
As far as deposit limits are concerned, it is only Ethereum that has a minimum. The site has a message up that it is currently unable to process deposits that are less than 0.003 ETH. No other cryptocurrencies have specified minimum deposits.
However, every currency does have a minimum withdrawal limit.
Stake has a minimum withdrawal limit of 0.0005 BTC and charges a 0.00007 BTC transaction fee. If we take a BTC price of $38,500 that means a minimum withdrawal of (roughly) $20 incurs a $2.70 fee.
The minimum ETH withdrawal is 0.01, to which a 0.003 ETH transaction fee will be deducted from your balance. At an ETH price of $3000, that's a $30 withdrawal minimum and a $9 transaction fee.
Every cryptocurrency has a minimum withdrawal limit, and an accompanying fee, but this information is clearly shown when you make your withdrawal request.
The good news, especially for the sharps among you, is that there are no maximum withdrawal limits.
---
Customer Service and Support
Stake has a Live Support function where you can opt to search for the answers to your questions, or message a support team member to start a conversation. There's also an email address if you want to drop them a line. However, there is no support number to call should that be your preferred method of reaching out.
Security / Trustworthiness
Stake's efforts to encourage good individual security best practices are easy to see. For example, when making a withdrawal, the system requires a second level of Google verification before a transaction is green-lit.
When setting up your account, the system takes every opportunity to encourage you to use Two Factor Authentication (2FA). Indeed, the CTA button remains visible (albeit ignorable) until you choose to do so. To some, these measures may seem like the sensible everyday minimum; to others, they might be extra steps that have until now they have been unaware of.
Is Stake Legit?
In two words, for sure. The operator, while one of the younger kids on the block, has made a big splash for itself and its credibility is seriously strengthened by the number of commercial deals it has made with its partners. Its main sponsorship deal with an English Premier League team, and its ties with the UFC, the premier MMA organisation, lend the brand enormous credibility.
Stake operates under a Curacao license.
---
Is Stake a good sportsbook?
Stake's sportsbook is a relatively new offering at only a couple years old, but was built on the back of its hugely popular casino site. The sports offering is comprehensive, boosted by a number of promotions designed to engage users, and provides players with much of what they will be looking. The dollar value of the Welcome Bonus stacks up against competitors, although the playthrough requirement is high. Site security is important and the operator is trustworthy.
Deposits are safe, and deposit and withdrawal times are reasonable.
Yes. Stake is widely accessible from countries all over the world, although this does not include players from the US. Stake is licensed in Curacao..
How long does it take Stake to get you your money?
Most blockchain transaction should settle almost instantly once the necessary on-chain confirmations are received, although some withdrawals may take longer.
Withdrawals may take longer if the amount being withdrawn is a huge sum, and occasionally transactions will need some form of manual processing. However, Stake says even manual processing does not mean a long wait – just that it may not be immediate.
What customer service options does Stake offer?
Stake's Customer Service team are available either via live chat on the site, or by email if necessary.