Heading into UFC Vegas 44, Daniel Vreeland takes an in-depth look at a particular technique or group of techniques that could influence the fight. This week, he digs into Jose Aldo's vicious leg kicks and rips to the body.
The Basics
Somewhere over the course of his history, and it has been a long and storied history, Jose Aldo got a reputation as a guy who lands a ton of leg kicks. This might date back to his time in WEC. During his WEC 48 main event against Urijah Faber, 35% of the strikes that Aldo landed were to the legs. Not only was his focus clearly there, but he landed at a 93% clip on those strikes and left us with a social media post from Faber that still haunts our dreams. Despite that performance, working legs over so regularly is not necessarily one of the key parts of Aldo's game. Even back in the WEC days, he rarely threw more than ten leg kicks. However, the work his attacking to places other than the head is elite.
To The Body
Perhaps the most relevant and devastating of all the work he does from the neck down is his two-punch combination to the body. In that combination, he leads with a rear right hand straight to the body. The punch typically will do one of who things. The first option is that it will draw the opponents' hands to the front of their bodies. The opponent does this to protect from being hit in the solar-plexus or sometimes to defend the front of the head on a misread. The other reaction is to stay in range and try to land a counter with their own right hand. With this particular punch, Aldo is leaving himself partially open to that punch coming in over the top. However, Aldo is looking for his opponent to counter because that means they did not move away, which is where the second punch comes in.
The Follow Up
The follow-up strike to this combination is a left hook to the body. Generally, it appears that he's looking for it to hit the liver, but the damage it does regardless is worth going back to. This punch became the beginning of the end for Jeremy Stephens in their bout (Aldo landed it at 1:05 of the first round). However, we see Aldo go to it regularly in other bouts as well. One of the fights where it is easiest to see his intentions with these punches is his UFC 245 bout against Marlon Moraes – which was his bantamweight debut. In that fight, he lands the combination and backs Moraes up (3:07 mark of the second round).
It isn't just that he lands it though, it's that you can see him looking for it on more than one occasion. For instance, at both the 2:11 mark of the first round and the 1:52 mark of the second, you can see that straight right to the body begin the combination before he abandons it. The reason that he pulls up on it, has largely to do with the defense.
Integration
Using this combination in an effective manner is far more than just firing it off enough to get it to land. It also requires more than just leading an opponent into it using some other attack or a feint. Instead, one of the more important parts of this combination is not to throw the follow-up hook to the body if it is properly defended. You can see in a lot of the instances that Moraes avoid the blow, or rather stops Aldo from throwing it in the first place, it's because he circles to the power hand of Aldo. For a lot of people, this is counter-intuitive. You're often taught to circle away from the bombs that come from the dominant hand. That is some of what makes this combination so deceiving though.
Not only is Aldo's use of leading with a long body shot designed to draw out a counter and/or to lull his opponent into a false sense of security. After all, the rear hand has already been thrown and has not been left in a good place to be thrown a second time. Again, this is why it's important not to throw this when the opponent circles correctly. The sense of security an opponent gathers from not seeing the follow-up is enough to potentially open it up to future times, as we see with Moraes.
Match-up: Aldo vs Font
Over the course of a five-round fight, you have to assume that Aldo is going to put in work to the body and legs. Racking up damage will be an integral part of his strategy when it comes to slowing down Font. So then the question begins to be whether or not Font is the type of person who is susceptible to the shot/shots in question.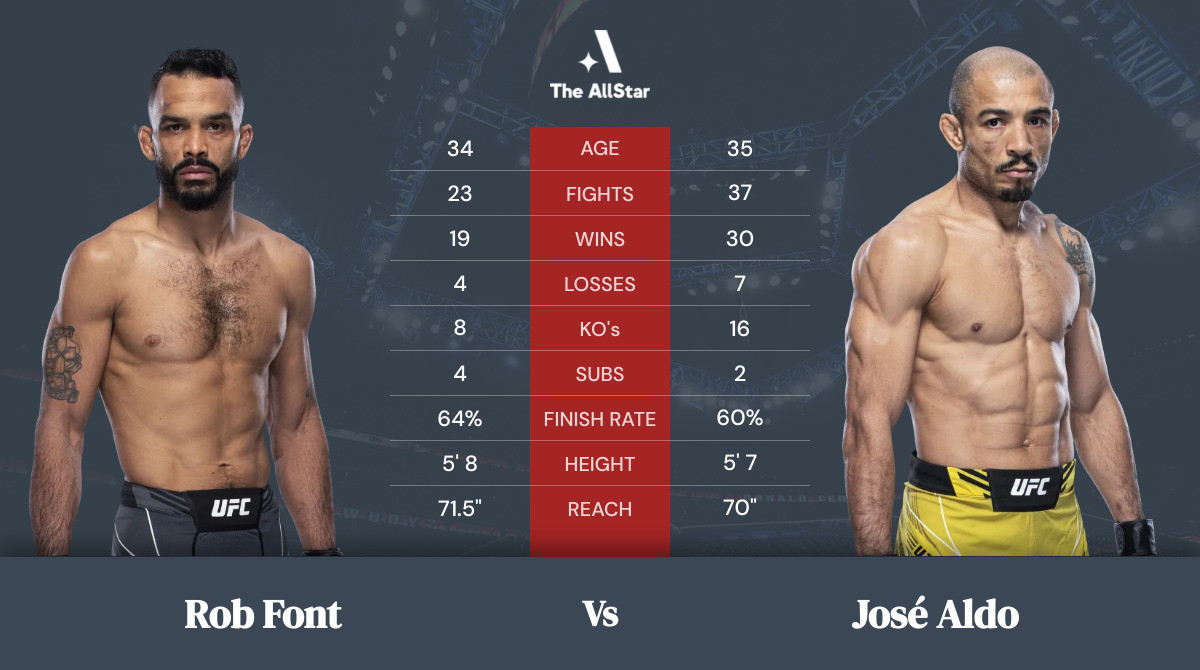 It's hard to get a good read on font's ability to do so as he has not really faced a prolific body puncher. Cody Garbrandt, who was Font's last opponent, is a head hunter and worked in quite of a bit of wrestling last time out. His fight with Marlon Moraes didn't last long enough to get much of a read. What you could see in both of those bouts, though, was that Font typically moves straight back when his opponent feints. He does create good distance when doing so, but it will be interesting to see if just the distance and not the angle deters this particular combo from Aldo.
Do you think Aldo is going to land the big body shot on Font? Will it be enough to end the fight? You can bet that right here if you think it could.