Heading into UFC Vegas 40, Daniel Vreeland takes an in-depth look at a particular technique or group of techniques that could influence the fight. This week, he digs into Aspen Ladd and her affinity for tripping opponents.
The Basics
If you take a look at Aspen Ladd's fights as a whole, there isn't a real clear way to categorize her as a fighter. She isn't particularly heavy on the wrestling or doesn't lean on kickboxing more than other arts. She really is the definition of what we consider to be well-rounded. However, I think part of the reason that her grappling is overlooked is that she is typically not hitting flashy high-angle double leg takedowns or powerful slams to get her opponents to the mat. Instead, she leans on a variety of trips to get the fight down.
There's a number of different types of trips you'll see out of Aspen Ladd. If you go back to her last fight with Yana Kunitskaya, you'll see multiple different ones in that fight along. Just over halfway into the first round (with roughly 2:01 on the clock), Ladd locks up a body lock and hits an outside trip. For those not familiar with this move, this is when you wrap your leg around the outside of your opponents and pressure them into it until they trip – typically into half or full guard. She then follows this up with the opposite – an inside trip (at 1:37 left in the first).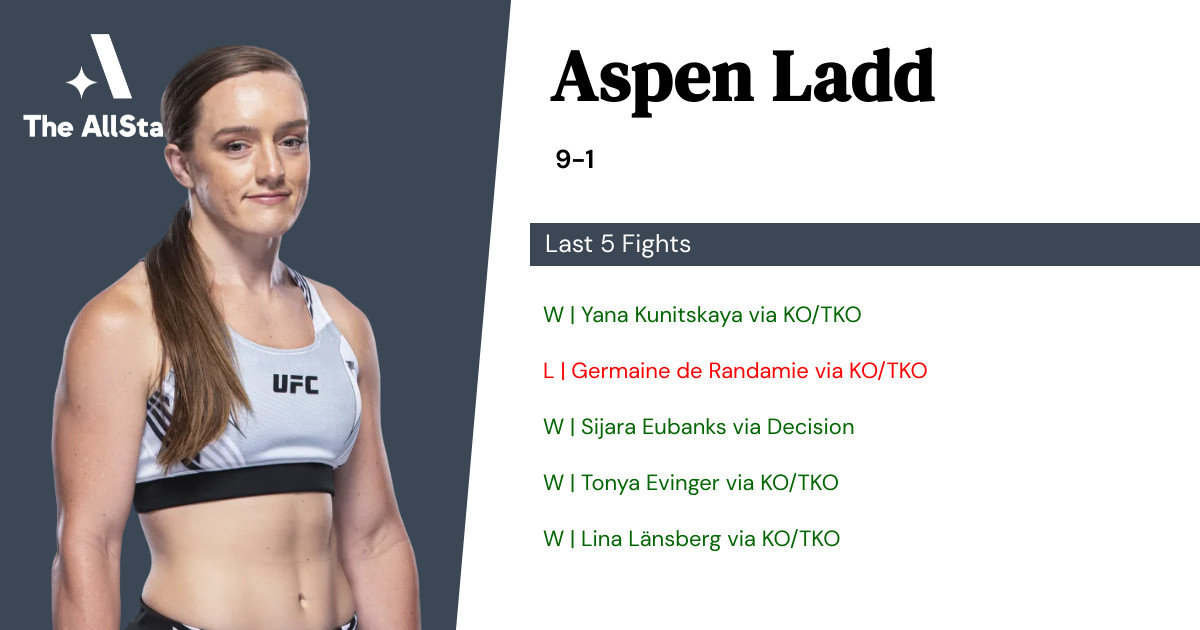 These aren't the only ones that you'll see from her either. In the Sijara Eubanks fight, she switch the position in an over/under clinch against the cage and then tripped her to the mat (at 3:26 left in the second round). On this one, she used a variation of the outside trip that almost had elements of judo's Tani Otoshi technique – a move where you almost leave a leg stagnant in order to trip your opponent over it.
Integration
The impressive aspect of these trips and perhaps why they are so under the radar is that they come so well integrated into other aspects of her game. The second of the two aforementioned Kunitskaya takedowns actually came from an attempted double leg. She got in on the hips, but Kunitskaya, being a very strong woman, was able to keep her feet until Ladd was able to make the trip happen. You can also see her working some of the trips into keeping her opponents off balance – even if they don't score the takedown. Before the Eubanks trip, you can see Ladd hitting her with some misdirection by stepping in between the legs, which gets Sijara to move.
What's also important about all of this work is that it plays well into her style of fighting after she gets the takedown. Ladd is the type of fighter who is looking to hit some ground and pound far more than she seems to seek out submissions. A lot of these trips end up in half guard, which we've seen as one of the best ways to anchor yourself to land some big blows without letting your opponent get away.
This will be Aspen Ladd's first trip up to featherweight in the UFC. Being as such, we expect her to be at a bit of a size disadvantage – although Norma Dumont used to be a bantamweight as well. Still, it's going to be difficult for Ladd to get Dumont down due to Dumont's strong base that she creates with her powerful legs. However, trips are part of that takedown game that isn't easily countered with power or strong hips.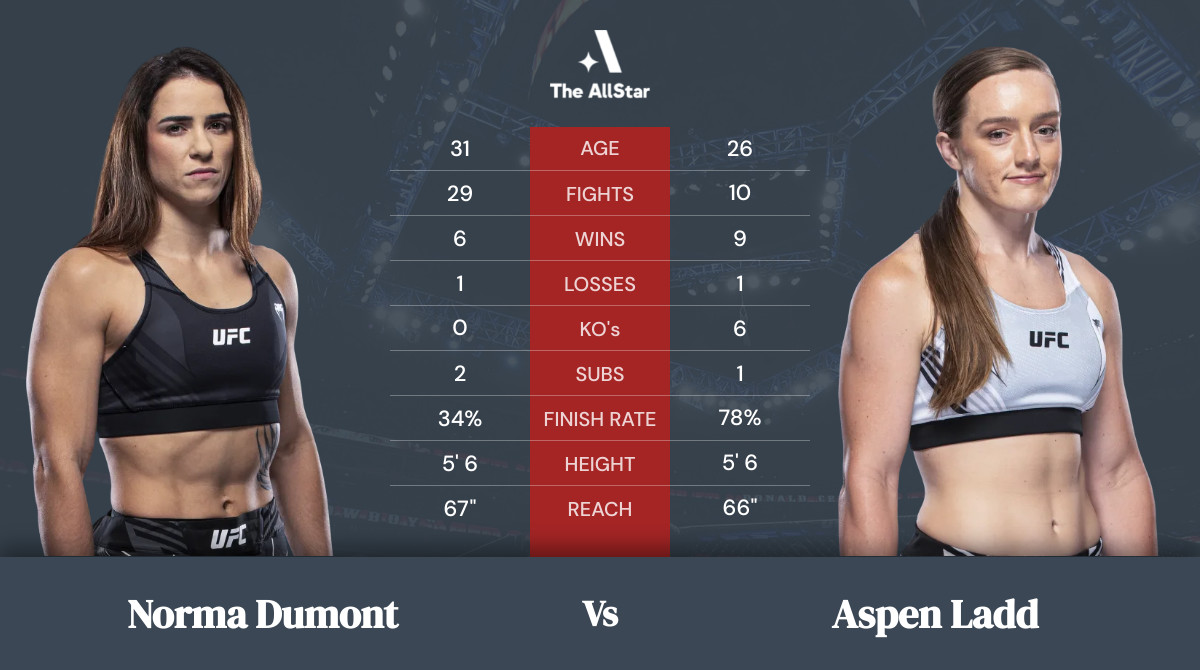 So far Dumont has stuffed 100% of the takedowns thrown her way. Many people consider Felicia Spencer to be a better pure grappler than Ladd, which is why we see the odds so close in this one (Dumont is just a +120 underdog). However, it's really all about the takedown style here. If Ladd can land a few takedowns, we may see an aspect of Dumont's game that has gone completely unchecked in the UFC.