Heading into UFC 267, Daniel Vreeland takes an in-depth look at a particular technique or group of techniques that could influence the fight. This week, he digs into Cory Sandhagen and the way in which he grabs wrists.
The Basics
Even just looking at the raw stats from the early part of Cory Sandhagen's career, it was easy to see that wrestling defense could wind up being his undoing. Early on he struggled with Iuri Alcantara, who held him down and nearly submitted him. Sandhagen would go on to win that fight by TKO. He also gave up an early takedown to Mario Bautista, who was taking a fight on short notice. Again, his finishing abilities made us all quickly forget, as he hit an armbar off of his back.
He continued to make us forget about the slip-ups with spectacular finishes and even some takedowns of his own. That is, until he ran into Aljamain Sterling, who seemed to put it right back in the forefront of our minds as a weakness. Then came the TJ Dillashaw fight. In the TJ Dillashaw fight, Cory Sandhagen showed a marked improvement in the number of takedowns that he stopped.
Dillashaw, who is an impressive wrestler, went just 2-19 in his attempts. The big change may have been Sandhagen's commitment to wrist control. Controlling the wrist is something that has always been a part of his game, in both the striking and the grappling. However, many times in the past, he'd start a defense by trying to control the wrist and bail on it immediately. You can see an example of this in round 1 of the Marlon Moraes fight. Towards the end of the round (0:16 left on the clock), Sandhagen throws a kick, which gets caught. You can see him immediately reach for the wrist control to pry Moraes off, but a brief adjustment from Moraes causes Sandhagen to bail on the defense entirely and look to lock his hands around Moraes' legs. He fails to stop the takedown.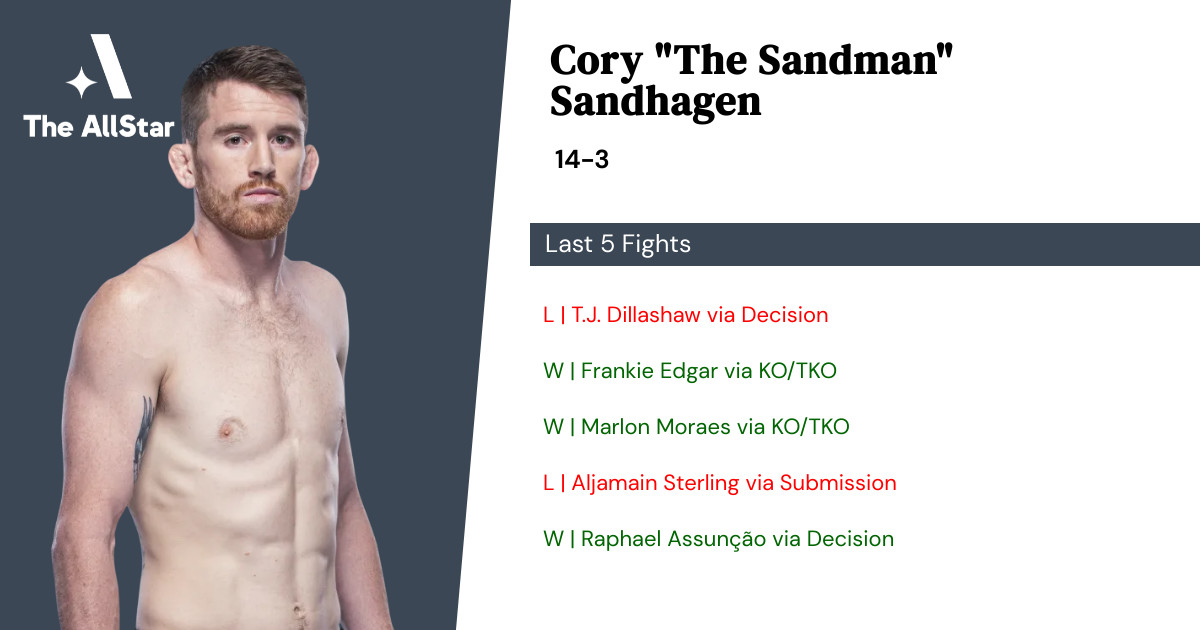 That style changed for the Dillashaw fight – with the best examples coming in the second round. Right at the beginning of the round (4:46 left on the clock), Dillashaw works him back against the cage and shoots a takedown. It appears to be a double, but he settles for a single due to positioning. In addition to getting an underhook, Sandhagen goes right to the wrist to prevent Dillashaw from gaining leverage. This is not all that different than the Moraes fight, except when Dillashaw switches the single to the other leg, he grabs that wrist control again and holds it until the attempt has failed. You see it again later in the round at (0:55), when it seems to thwart Dillashaw quickly.
Integration
The integration of this wrist control to Sandhagen is not so much that he uses it, but how he's used it. In the past, he seemed to doubt himself when he has wrist control. He acted as if it wasn't a good enough use of that hand. However, when he committed to it against Dillashaw it allowed him to stop pretty much all of Dillashaw's attempts. The couple takedowns that did get finished were off of spinning attacks from Sandhagen. Those left him with no way to get to the wrist.
The other reason why wrist control is really important to his game is that he lands strikes off of it. Not nearly as much in the clinch, but in open space Sandhagen likes to grab his opponent's wrist with one hand and strike with the other. You see him land a right hand on Dillashaw in the third round of their fight (2:28 remaining). The real question is whether or not he can put these together. Can he take the wrestling defense that seems to have served him better and pair it with the offense that he usually gets in open space? While there are traces of this already happening, making it more constant and seamless will be important for this fight and his career beyond.
Match-up: Yan vs Sandhagen
If you just look at the stats on paper, Yan is a tough match-up for Sandhagen. In his last fight, the famed DQ loss to Aljamain Sterling, Yan landed clinch takedowns at will. He was able to hit trips and foot sweeps. Then on the ground, he was ferocious with his attacks. Being able to keep his feet will be essential for Sandhagen. The wrist control would be a big part of that. Not only would it help him keep the fight where he wants it, it'd also allow him to do damage.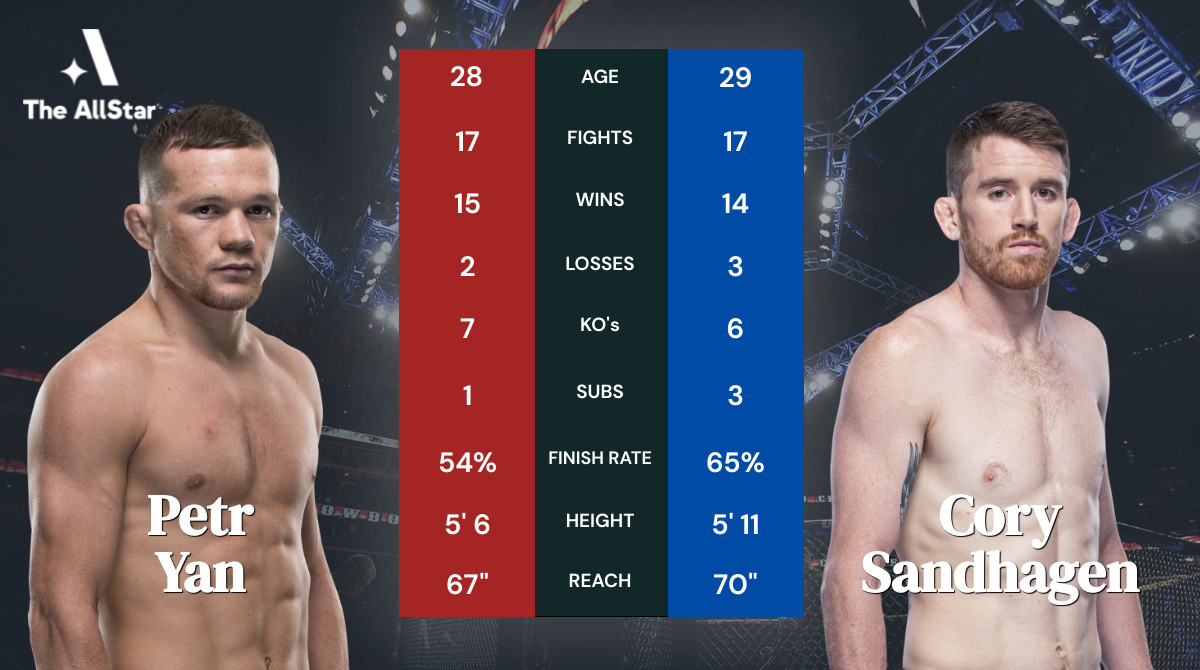 Additionally, I think it's worth noting that he needs to be in a place where this defense can work. Like Dillashaw, Yan has the ability to take Sandhagen down on ill-timed spinning attacks. While that's been a big part of Sandhagen's game, I think sticking to the basics would serve him better.