Heading into UFC 269, Daniel Vreeland takes an in-depth look at a particular technique or group of techniques that could influence the fight. In this week's edition, he takes a peek at the takedowns and takedown attempts of Charles Oliveira.
The Basics
Charles Oliveira has been submitting people in the Octagon for over a decade. When he made his UFC debut, all the way back in August of 2010, he submitted Darren Elkins in under a minute with an armbar. He followed that up with a rear-naked choke of Efrain Escudero. In the subsequent years, he's racked up fourteen in total – which puts him at number one in UFC history. However, the problem for Oliveira was never his submission game, but rather getting to it. In the early part of his career, he struggled with taking his opponents down. This is part of why we see just a 44% takedown accuracy now. That number is somewhat deflated by early attempts and failures. However, since then, his takedowns have not only improved but have brought his game to a new level.
The Types
The beauty of the takedown game of Oliveira is that it is diverse in method. Over the last two fights, those that led him to the title, he's gotten takedowns with a number of different techniques. For instance, in his fight with Michael Chandler for the belt, he used the typical double leg takedown (which you can see at 4:23 of the very first round). He attempted to lock his hands in finishing it, but Chandler's hips were a bit too strong. In addition, Chandler also gave up on defending it and went for an ill-advised guillotine.
In the fight prior, against Tony Ferguson, Oliveira used several others. He scored one in every round. In the first, he snagged a body lock and dragged Ferguson to the mat (you can see that at 3:40 of the first round). In the second round, he came back with a trip rather than a standard takedown. After catching a kick, Oliveira backed Ferguson up to the cage and dropped him there (at 4:07 of the second round).
The Reason
While the types of takedowns varied from fight to fight from him, the situations all mirrored one another. In each instance, the attempt came as a product of his opponent overextending themselves with a strike. In the case of Ferguson, in the first, he had literally fallen down by throwing too hard just before a failed elbow led to the body lock. The same goes for Ferguson's failed leg kick that sent him to the mat for the second consecutive round. In the case of Chandler, he threw a semi-predictable straight right that Oliveira easily ducked underneath for the finish. So regardless of what is being thrown his way, Oliveira manages to counter that aggression in such a way that benefits him.
Integration
Obviously, the major implication of the takedown is Oliveira being in his own realm. Against Tony Ferguson, these takedown attempts were simply all that was needed. He easily won all three rounds of a decision by controlling the former interim champion on the ground in each round. He also threatened with plenty of submission attempts. Similarly in the Chandler fight, Oliveira took the back of Chandler. He was able to control the talented wrestler for 1:42. Plus, he made the grappling exchange last even a bit longer than that. The threats of a rear-naked choke were never particularly close to ending the fight, but hard enough work to make it a fear.
While getting to attack with submissions is a huge part of what Oliveira was doing, it was not the only benefit. The threat of this counter to the striking is a defensive measure in itself. Although the constant grappling never scared Tony Ferguson away, as seemingly little does, it did affect the striking of Michael Chandler. At the end of the fight, Chandler attempts the same straight right as he did when he got taken down. However, instead of staying in the exchange and risking getting taken down again, he hastily moved away. This is when Oliveira hits him with the shot the wobbles him and is eventually the beginning of the end (at 4:53 of the second round). Although we cannot say without a shadow of a doubt that the takedown and subsequent submission threats are why he retreated so carelessly, it's a pretty reasonable conclusion to make.
Match-up: Oliveira vs Poirier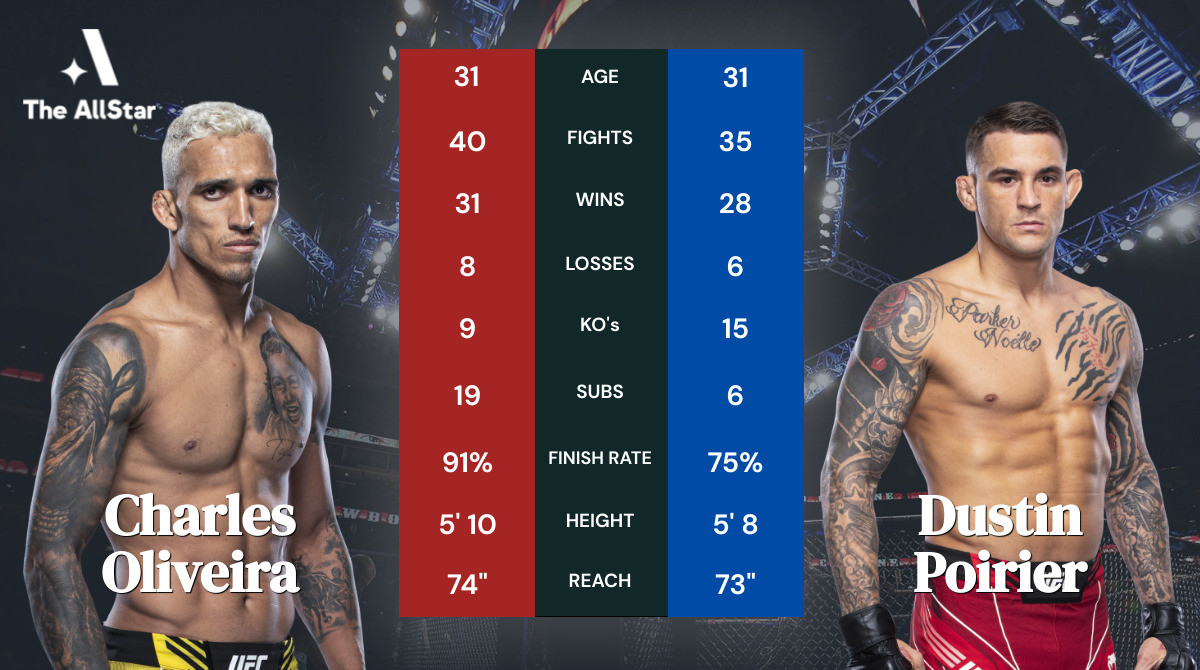 The fact that Dustin Poirier is a tight technical striker brings doubt into whether this can be replicated. He tends not to over reach with shots and is smart defensively. However, he has shown that he does like to go with leg kicks. Also, the diversity in which Oliveira attacks makes it difficult for Poirier to avoid all his attempts. Doing so would seemingly nullify a lot of his striking offense in the first place. This would be to the advantage of Oliveira.
The other thing to think about is Poirier's penchant to jump guillotine. He's done it before and even jokes about it on social media. Doing so would give Oliveira the opening to score some of that daunting top game. The ultimate decider of this fight might be whether or not Poirier provides him with an opening such as this. For me, regardless of how safe he's being, I think Oliveira still finds an opening. Whether he gets a submission or not, I think it'll be enough for him to win rounds, open up his striking, and ultimately take this fight.
---
Do you think Oliveira will be able to get Poirier down in this fight? Will it be enough to steal some rounds or even get a submission? Oliveira by Submission is going for +280 right here at Stake.com.