Western Sydney's native son, Tai 'Bam Bam' Tuivasa, is confident Jon Jones will emerge triumphant over Stipe Miocic in the rumored UFC heavyweight super-fight, but claims it's still the fight to make.
Though he considers Miocic the 265-pound GOAT, the Australian heavyweight contender believes father time is catching up with the soon-to-be 40-year-old; and that a prime Jones is a dangerous opponent for anybody.
"Jones is probably the best MMA fighter of all time," Tuivasa stated on the most recent episode of Fine Dining With Fighters.
"…[but] he's still a dickhead, you know what I mean?"
The bout was originally targeted for 'International Fight Week' with a July 2 date, however, according to Jones in an interview with MMA Fighting, it now seems he's eyeing a September return.
As it stands, Miocic has chosen to remain silent on the subject, leaving the future of the highly anticipated matchup uncertain – though Tuivasa remains optimistic the clash will materialize.
"I think it'll happen."
"It's good for Stipe as well. [he] deserves a good exit," the 29-year-old continued, alluding to the payday that comes along with such a fight. "Even though he's not famous… He's beat everyone – and a couple times. He's the man."
A far cry from the praise the Australian heralded for the Columbus, Ohio MMA legend, Tuivasa didn't shy away from sharing his personal feelings toward 'Bones' and his past antics outside the cage.
"In my personal opinion – yeah, he's the greatest MMA fighter of all time… But If you're a fucking idiot then you're an idiot – and that's it."
The Aboriginal superstar claims, however, that he'd still jump at the chance to test his mettle against Jones, should the offer be made.
"If I ever got the opportunity I'd fight him – just to be a part. I do this to say like 'fuck, I did that you know what I mean?… maybe I might win, maybe I might lose, but at least I can say I got to have a crack."
"Whatever happens, happens… I think I'm gonna be around for a little bit, and obviously, he's got a bit left in him," he posited.
Turning his attention back towards how he imagines Jones in his 265-pound return, Tuivasa presumes the 34-year-old is carrying somewhat more power with his new frame, but concluded that everyone in the heavyweight division is powerful; and with his agility in question, having to carry more weight, that could spell trouble for the former light-heavyweight champion.
"That's the biggest difference from light-heavyweight to heavyweight, is the punching… Anybody at heavyweight can knock anybody out…"
"Time will tell."
---
Fighter profile
Tai "Bam Bam" Tuivasa is a 29-year-old male fighter from Australia with 15 pro wins and 3 losses. Tuivasa most recently fought Derrick Lewis at UFC 271: Adesanya vs. Whittaker 2 on Saturday, February 12, 2022.
Tai Tuivasa's recent form coming into this matchup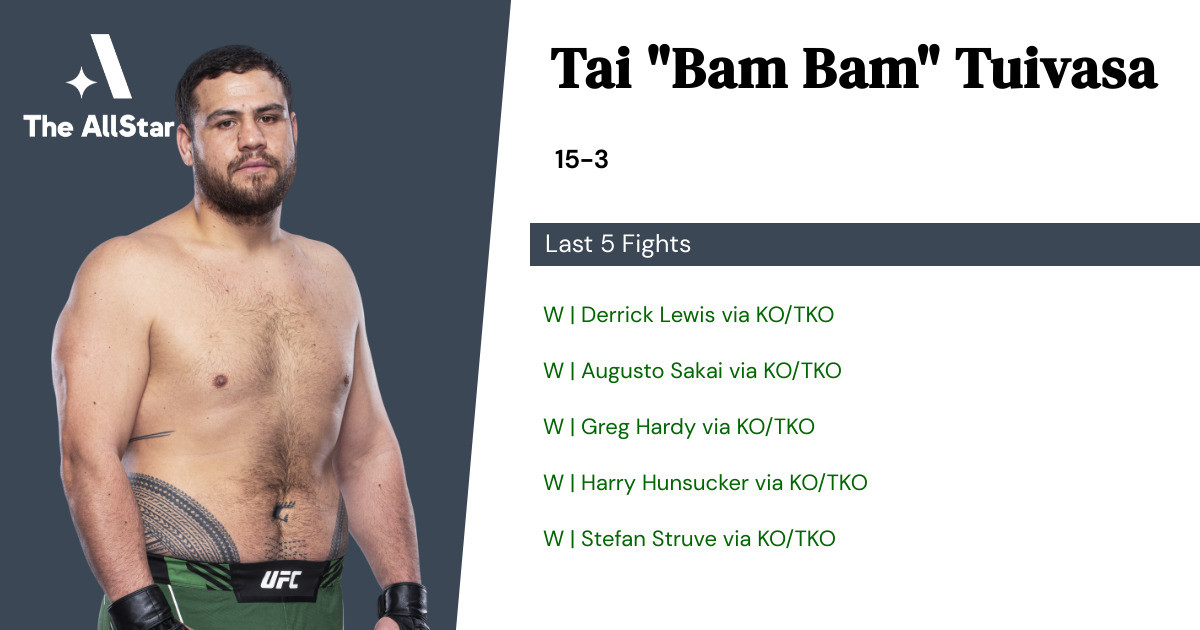 Tai Tuivasa has gone 5-0 in the last 5 professional MMA fights.