The AllStar MMA Picks app is a must for any MMA fan.
Make your picks. Level up. Invite and challenge friends. Shout about your victories on your socials. Spread the word and see if you've got what it takes to be the best.
Comprehensive Coverage
Mixed martial arts (MMA) is one of the most exciting and fastest-growing sports in the world. As an MMA fan, you need to stay updated with the latest news, rankings and statistics for all fighters.
Luckily, The AllStar MMA Picks app is here to help.
The AllStar MMA Picks provides comprehensive coverage of all major MMA events, including UFC, Bellator, and ONE Championship. Get access to the latest news, rankings, and statistics for all fighters, and detailed analysis and commentary from experts in the field.
With The AllStar MMA Picks, you won't miss a beat in the world of MMA.
Expert Analysis
The AllStar MMA Picks provides expert analysis and predictions from some of the most knowledgeable and experienced professionals in the game.
The AllStar's own JHK (@JHKMMA) leads the charge.
Subscribe to The AllStar's YouTube channel to get notifications for new drops. Check out The AllStar MMA Picks Show with JHK, and MMA junkie and friend of The AllStar, Rob "JSpec" Nakamura.
Watch videos that cover everything from big UFC PPV fight night previews, picks shows, post-fight review shows, fight breakdowns and analysis, and fighter interviews for the inside scoop on the sport.
Let our expert insights help you make better picks and more informed decisions when placing your bets.
Best Odds Provided
Let the Odds Inform your MMA Picks
To help you make your picks on every fight, The AllStar MMA Picks gives you the best online odds available from a selection of leading online sportsbooks.
If your guy's a +900 underdog, you may not want to back the farm on him. But hey, there's nothing quite like backing an upset…
If your favorite's sitting at -900, you want to Power up to earn double XP on that MMA pick.
Once you've made your MMA dfs picks, you might want to take those best odds in real life. Link directly to that sportsbook from the app to place your bets.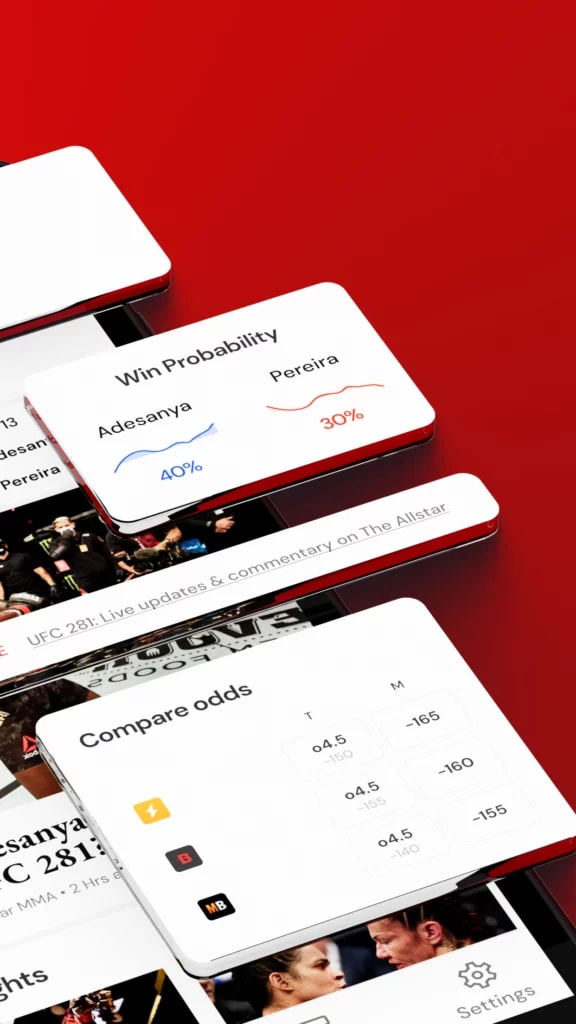 Customizable Notifications
The AllStar MMA Picks allows you to customize your notifications.
Choose the notifications you want, for the UFC, Bellator and ONE Championship, or for specific fighters or events. This means you stay updated only with what's most important to you. Avoid any other noise that's an irritating distraction.
User-Friendly Design
The user-friendly design makes it easy and enjoyable to use the app. It's intuitive, with a clean and modern interface. You can navigate easily and quickly find the information you're looking for.
Moreover, there's a range of features and tools that enhance your user experience. Get notifications on upcoming fight cards, or when challenged to go head to head. Set up a group competition and battle it our with your buds. Put bragging rights on the line.
Integration with Social Media
Share your MMA Picks Easily
Seamless integration with social media means you can share content with your friends and followers easily. Share an achievement or tweet your domination – it's simple to spread the word and get others involved.
Refer a friend level up faster. Each buddy that signs up using your code brings you a step closer to your next belt.
Conclusion
This is the ultimate app for MMA fans wanting to have some fun with MMA fantasy picks.
With its comprehensive coverage, expert analysis, in-app best odds and integration with social media, this app is everything an MMA fan wants, and more.
So why settle for anything less?
Download The AllStar MMA Picks now and start using the best app for MMA picks.