According to championship-winning coach Frank Hickman, size will play a deciding factor in the lightweight championship headliner at UFC 280.
When Charles Oliveira meets Islam Makhachev on October 22nd in Abu Dhabi, the vacant 155-pound title will hang in the balance. Query any sports book as to who will be crowned in one of the most highly anticipated bouts of the year and they'll tell you to flip a coin. Fans, similarly, are split down the middle – torn whether to favor Makhachev's dominance or Olieveiras grit.
Hickman, the wrestling coach of UFC featherweight champion Alexander Volkanovski, has a better read than most. Having studied both parties on the off chance that Volkanovski should be called to replace either contender on the pay-per-view event, he's poured over the intricacies of the two elite fighters.
In that regard, he admits it's a close call – but technique and ability aren't the be-all and end-all in this match-up. Hickman is certain that Makhachev will walk in the heavier fighter, and that is what gives the Dagestani wrestler an edge.
 "I think his size will play a significant role," Hickman shared with The AllStar recently. "It's no secret Islam cuts a lot of weight – he's big for the lightweight division."
That puts Oliveira, who isn't averse to playing jiujitsu off of his back, at somewhat of a disadvantage. Couple the weight advantage with an unrivaled wrestling acumen, and Hickman can see the chips stacking up in Makhachev's favor.
"Unless Oliveira catches him with something – maybe in a transition, maybe as he's getting taken down or maybe in a scramble – if Islam gets him flat on his back it will be very difficult for Oliveira to maneuver him off of him and sweep him, you know, or catch him with something like that, because once he gets on top I think his top pressure is something serious."
"I think he has some of the best top pressure not only in the lightweight division," he continued. "But in the whole UFC roster."
Home Field Advantage
That's not where the disadvantages stop for Oliveira though. On top of the relentless aggression he'll likely face from his heavier opponent, there'll also be pseudo home-field advantage in favor of the Dagestani. While the event isn't held in Russia, support for Muslim fighters is deafening in Abu Dhabi Hickman says.
He recounted a tale of his prior trip with Dan Hooker and walking into the UFC-provided weight-cut room only to find it completely occupied by Makhachev's countrymen.
"You open the door to check your weight and they all just stare at you and you're like – that's when you realize, like man, we're really in their neck of the woods. These boys, this is their party."
"The [hotel] lobby all that week in Abu Dhabi was just getting flooded with people from all over the Caucasus you know Dagestan, Chechnya, all the boys from all over Russia were just flying in and the energy that they brought, like, they let you know they were there and they let you know who they were there to support as well."
All this is not to say Hickman isn't impressed by Oliveira's recent run – quite the opposite. To see the Brazilian put away Michael Chandler and Justin Gaethje in the fashion that he did blew the coach away. He just can't imagine Khabib's prodigy folding to the same pressure.
"In my opinion, I just don't see Islam being finished."
---
Fighter profile
Islam Makhachev is a 31-year-old male fighter from Russia with 22 pro wins and 1 loss. Makhachev is scheduled to fight Charles Oliveira at UFC 280: Oliveira vs. Makhachev on Saturday, October 22, 2022.
Islam Makhachev's recent form coming into this matchup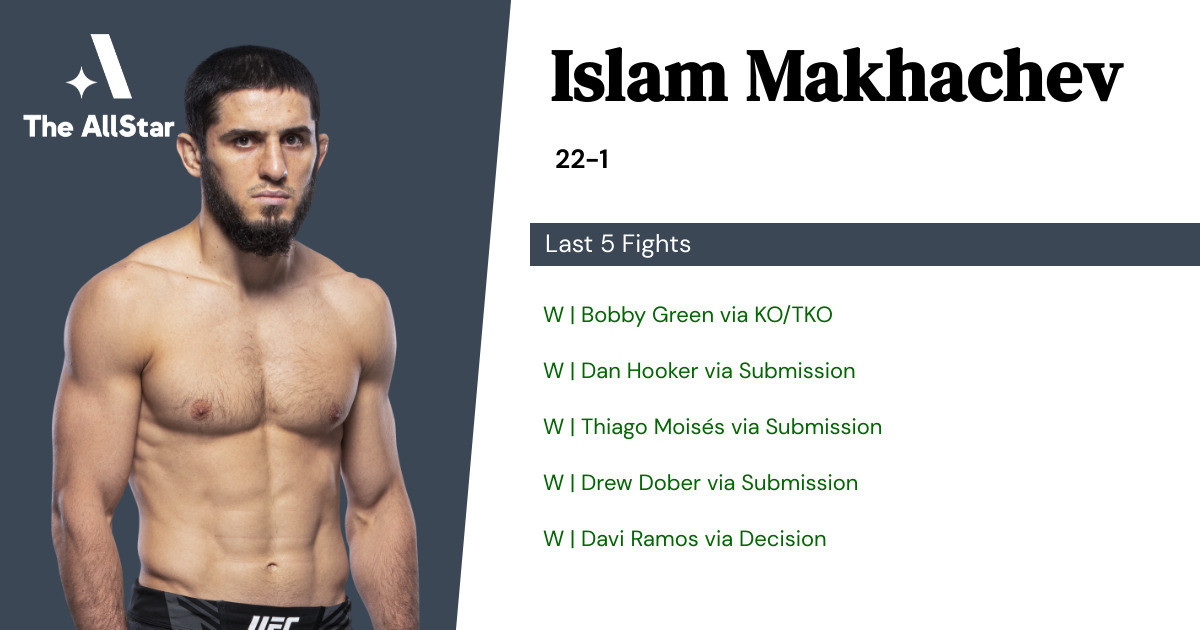 Islam Makhachev has gone 5-0 in the last 5 professional MMA fights.
Win vs Bobby Green • KO/TKO R1 3:23 • 2022-02-26
Win vs Dan Hooker • Submission R1 2:23 • 2021-10-30
Win vs Thiago Moisés • Submission R4 2:38 • 2021-07-17
Win vs Drew Dober • Submission R3 1:37 • 2021-03-06
Win vs Davi Ramos • Decision R3 5:00 • 2019-09-07
Islam Makhachev's next opponent: Charles "Cipriano" Oliveira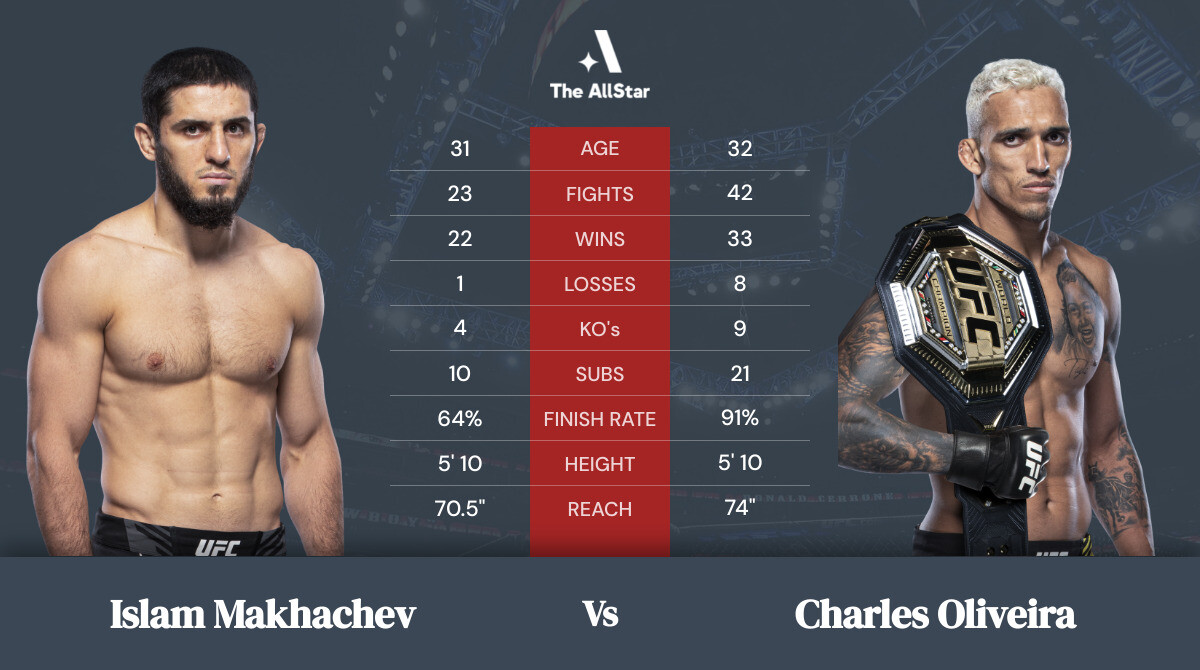 Charles "Cipriano" Oliveira's recent form coming into this matchup
Charles "Cipriano" Oliveira is a 0 year old male fighter from Brazil with 8 pro wins and 4 losses. Oliveira most recently fought Carlos Prates at SFT 37: Prates vs. Oliveira on Saturday September 3, 2022.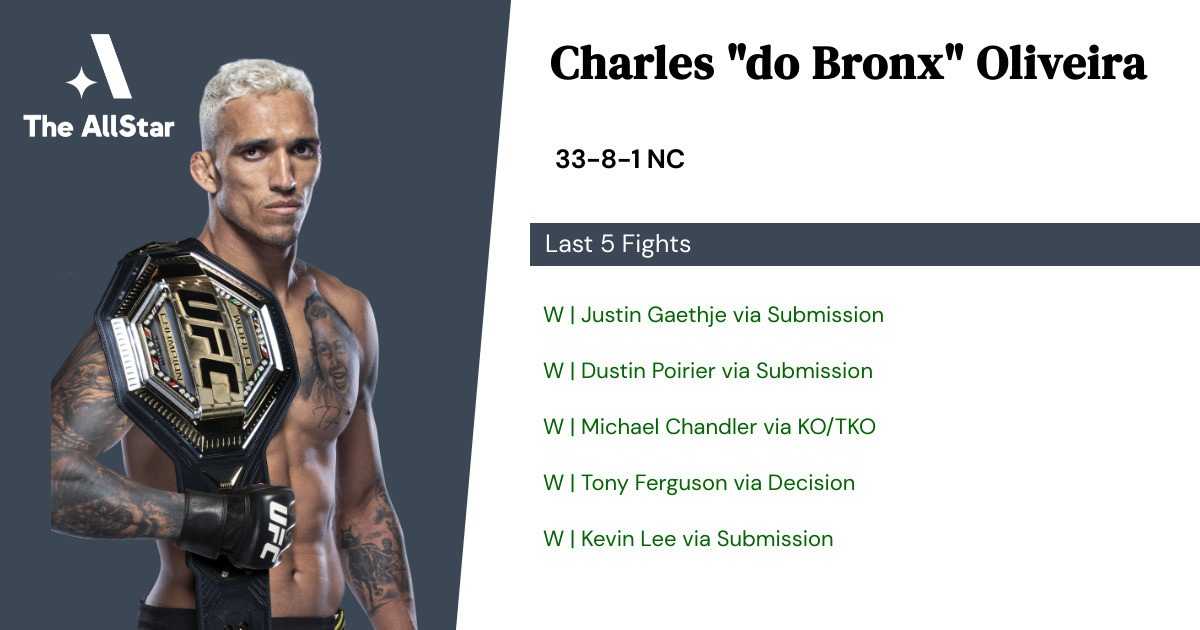 Charles Oliveira has gone 5-0 in the last 5 professional MMA fights.
Win vs Justin Gaethje • Submission R1 3:22 • 2022-05-07
Win vs Dustin Poirier • Submission R3 1:02 • 2021-12-11
Win vs Michael Chandler • KO/TKO R2 0:19 • 2021-05-15
Win vs Tony Ferguson • Decision R3 5:00 • 2020-12-12
Win vs Kevin Lee • Submission R3 0:28 • 2020-03-14
How to watch and bet on Islam Makhachev vs Charles Oliveira