Daniel Vreeland takes a deep dive into one of UFC Vegas 43's fights. This week: Michael Chiesa vs Sean Brady – a fight sure to be a grind from beginning to end.
The Stats
| Michael "Maverick" Chiesa | Sean Brady |
| --- | --- |
| 18-5 (11-5 UFC) | 14-0 (4-0 UFC) |
| Spokane Valley, Washington | Philadelphia, Pennsylvania |
| 6'1" – 75.5" Reach | 5'9" – 72" Reach |
| Sik Jitsu | Renzo Gracie Philly |
Michael Chiesa vs Sean Brady – Tale of the Tape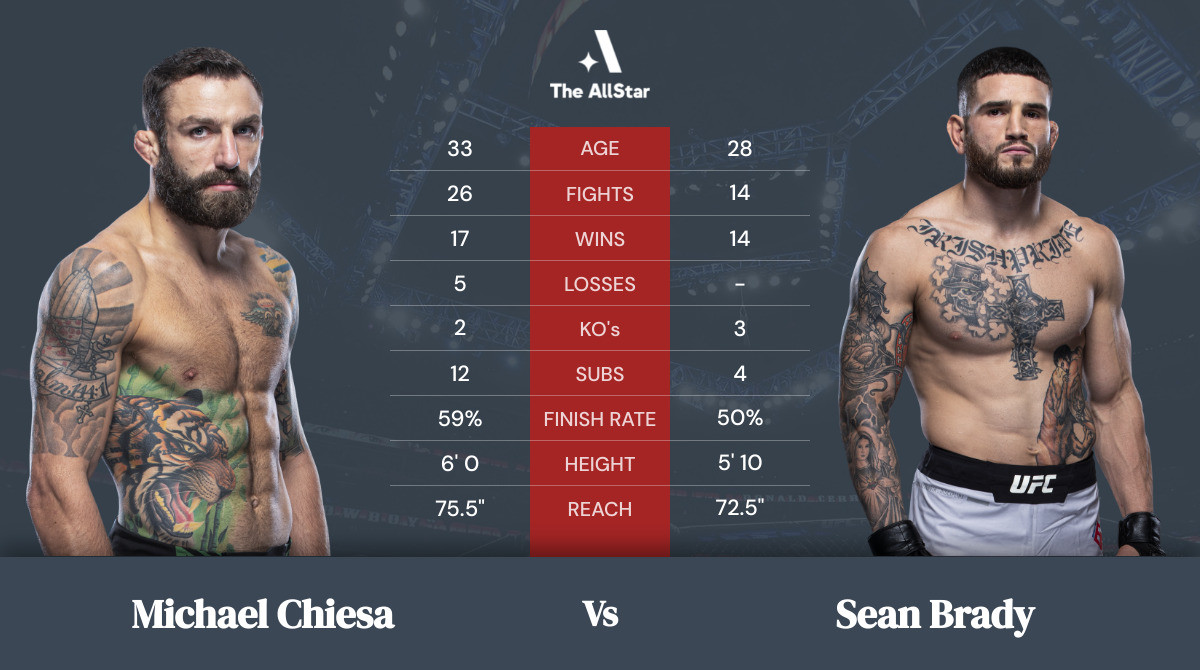 Leading Up
Styles Make Fights
Maverick
Michael Chiesa, despite being very long and lanky for the welterweight division, does not prefer to strike with anyone. While his build might read striker, he much prefers to get in close and ignore that reach advantage that he has in most fights, including this one at UFC Vegas 43. The way he does use that length though is by pumping out a consistent jab. Standing in a southpaw stance, Chiesa throws out his right hand to frustrate his opponents. The intended outcome of this approach is two-fold.
Firstly, it reduces the amount of output from their opponent, who has to spend mental and physical energy defending the jab. Secondly, it gets his opponent moving backwards, which is the real thing he wants. Chiesa does great work with his takedowns, especially against the cage. The jab plays an important role in getting that started. It is worth mentioning that he does occasionally open himself to counters, as he did in the Rafael dos Anjos fight. However, the success has largely been worth eating a couple of shots so far.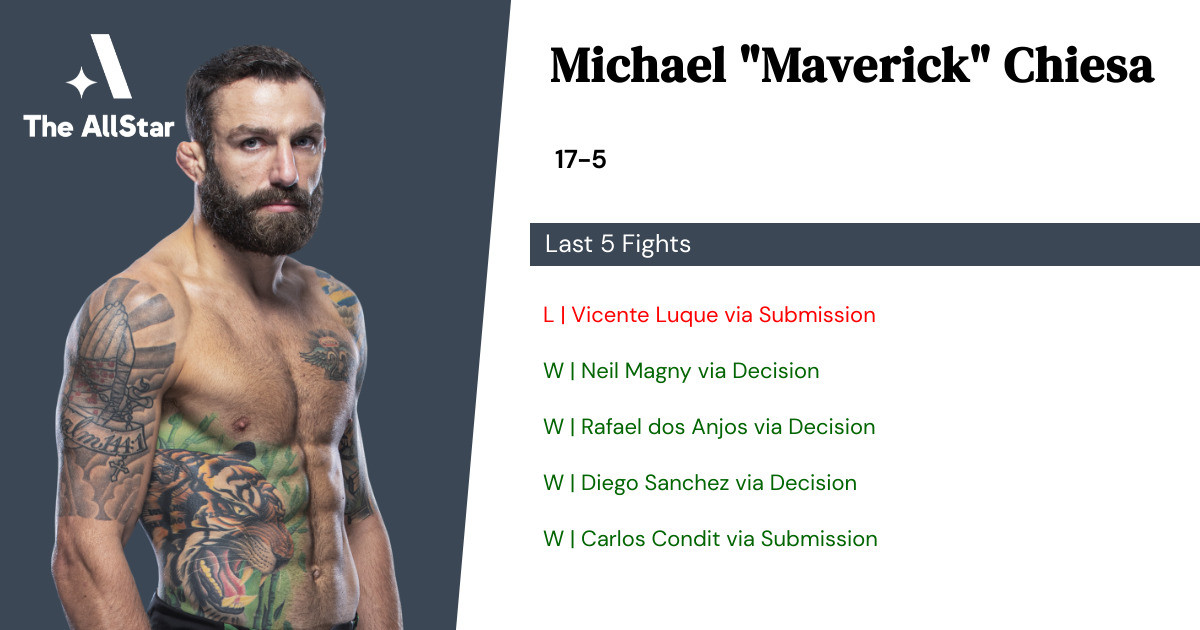 The aforementioned length of Michael Chiesa has been a large part of the success in his grappling. Not only do the long and skinny arms lend themselves well to chokes like the rear naked and d'arce, which he has plenty of on his record, but his long legs aid the process as well. Perhaps one of the most dangerous parts of Chiesa's game is his ability to take the back and stay there. His long legs help him get his hooks in, especially when he has the first and he is working over the back to get the second. From there, he uses the leverage created by that length and his well-placed hip pressure to rack up control time and submission opportunities. He also is willing to dabble with the body triangle. His ability to hold the position even without it leads him to focus on it much less though.
Brady
Sean Brady was not blessed with the same type of length that his UFC Vegas 43 foe was. However, he is naturally big in terms of frame with broad shoulders and brings some incredible strength to the fight. Similar to Chiesa, he doesn't care too much for the striking side of things. He stands in an orthodox stance, and from there likes to rip kicks to the body. It'll be interesting to see if this tool stays around considering he'll be fighting the best wrestler he's ever faced at UFC Vegas 43. Outside of that, his biggest tool on the feet is his defense. Even when he's throwing shots himself, he has an uncanny ability to catch kicks and to defend against blitzing opponents. When he does these things, it takes him very little time to counter and get the fight to where it belongs.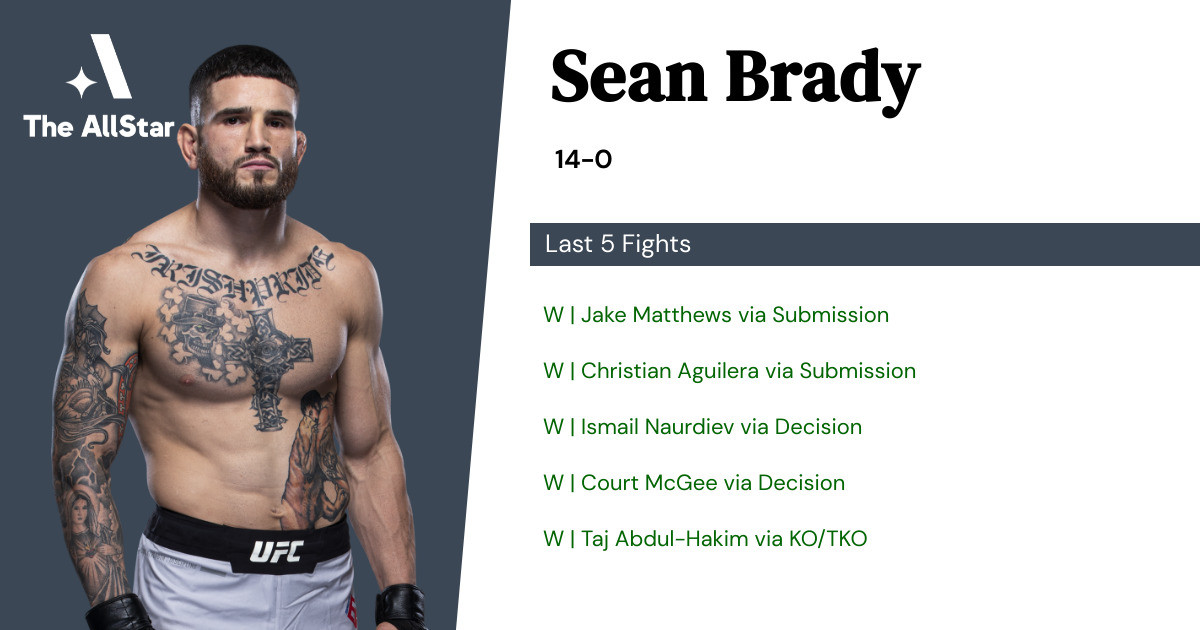 The former CFFC champion has made his career with his grappling skills. Like a lot of the other fighters coming out of Renzo Gracie Philly, he combines a great wrestling base with really strong jiu-jitsu. Perhaps the best aspect of this jiu-jitsu is how tight it is. He has a great ability to control position without letting it affect the number of submissions he attempts. Some of this is due to the fact that he leans on high-control submissions. Things like mounted guillotines and arm triangles often do not lend themselves to being reversed or giving up position. In addition, he is excellent in using his head position to manipulate his opponents into the movement he wants them to make. This makes it so that he does not have to make large movements himself that might be forced.
The Clash
Should this fight stay on the feet, I favor Brady. Chiesa might land more often and frustrate his opponent more, but Brady is the one who will land more impactful strikes. The fact that Brady doesn't seem to fear being taken down, and for good reason, typically gives him more confidence on the feet as well. This could cause some issues with the jab game that I mentioned before that Chiesa likes to use.
From the ground perspective, it's difficult to determine how Brady is going to react to another high-level wrestler at UFC Vegas 43. The toughest out he's had on the mat so far is Jake Matthews and he passed that test with flying colors. However, while we may not have a good read on Brady against someone like Chiesa, we do have something to draw from in the reverse. Chiesa's loss to Kevin Lee, although at lightweight, could be a telling point. Lee has that stockier wrestlers build, like Brady. He also isn't shy about letting things fly and trying to get it to the mat. When he did get Chiesa to the mat, which he did a number of times, he got the submission finish.
Final Verdict
When you look at the fact that these two want to wrestle, you have to wonder who will have more offensive success in that department. While I like Chiesa's ground game, I have a tough time imagining him as the one who is on top in this contest. Could he get a submission off of his back? Anything is possible in MMA – but the way that Brady prioritizes his head position makes me feel like it's a long shot. In addition, with four of Chiesa's last five losses coming by submission, I feel like the road to an arm triangle is there for Brady at UFC Vegas 43.
If you agree with Gumby on UFC Vegas 43's main event, you can find Sean Brady as a modest -150 favorite. If that line tickles your fancy, you can bet on it right here. Drop your predictions in the comments below.