Daniel Vreeland takes a deep dive into one of UFC Vegas 44's fights. This week: Brad Riddell vs Rafael Fiziev – a fight guaranteed to be a barn-burner to a fan's delight.
The Stats
| Brad "Quake" Riddell | Rafael "Ataman" Fiziev |
| --- | --- |
| 10-1 (4-0 UFC) | 10-1 (4-1 UFC) |
| Auckland, New Zealand | Bishkek, Kyrgyzstan |
| 5'7" – 71.5" Reach | 5'8" – 71.5" Reach |
| City Kickboxing | Tiger Muay Thai |
Brad Riddell vs Rafael Fiziev – Tale of the Tape
Leading Up
Riddell
Brad Riddell enters this weekend's contest on the heels of a four-fight winning streak. Since coming to the UFC, each of those wins has come by decision, including his recent back and forth affair with Drew Dober back in June. Prior to coming to the UFC, he had fought primarily in the welterweight division, making the move down to lightweight just once. He also has quite a bit of experience as a kickboxer and in Muay Thai. He holds a win over Glory kickboxing champion Cedric Doumbe and also beat famous Australian kickboxer, John Wayne Parr. Although he has been in the UFC since October of 2019, this will be just his second bout in the United States and the first in Las Vegas. His previous US trip was the aforementioned bout with Drew Dober in Glendale, Arizona.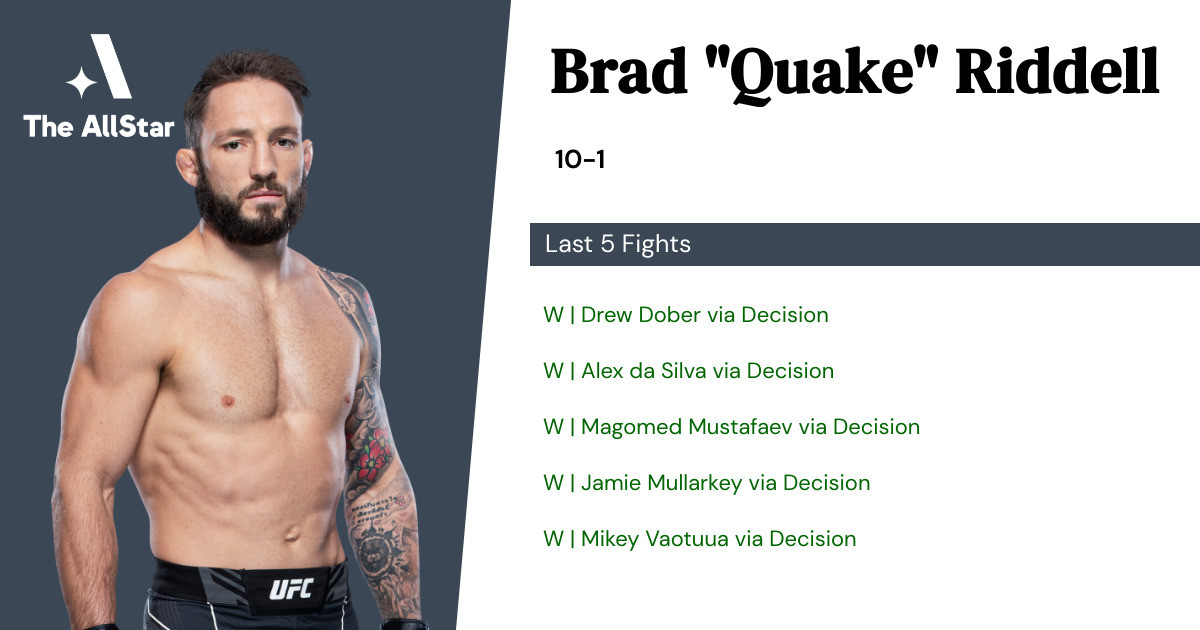 Fiziev
Like his opponent, Rafael Fiziev also enters the octagon this weekend on a four-fight winning streak. Also like Riddell, Fiziev has the majority of those wins by decision. He has just one finish in the UFC, a knockout of Renato Moicano last December, which earned him a performance bonus. He also has two Fight of the Night bonuses as well from his bouts with Marc Diakiese and Bobby Green. Unlike his opponent, his UFC record is not spotless. In his first UFC contest, he took a TKO loss to Magomed Mustafaev by spinning back kick. Mustafaev would then go on to lose his next bout to Brad Riddell. Prior to coming to the UFC, 100% of Fiziev's wins were by way of finish. Just one of those was a submission with the other five coming with the hands.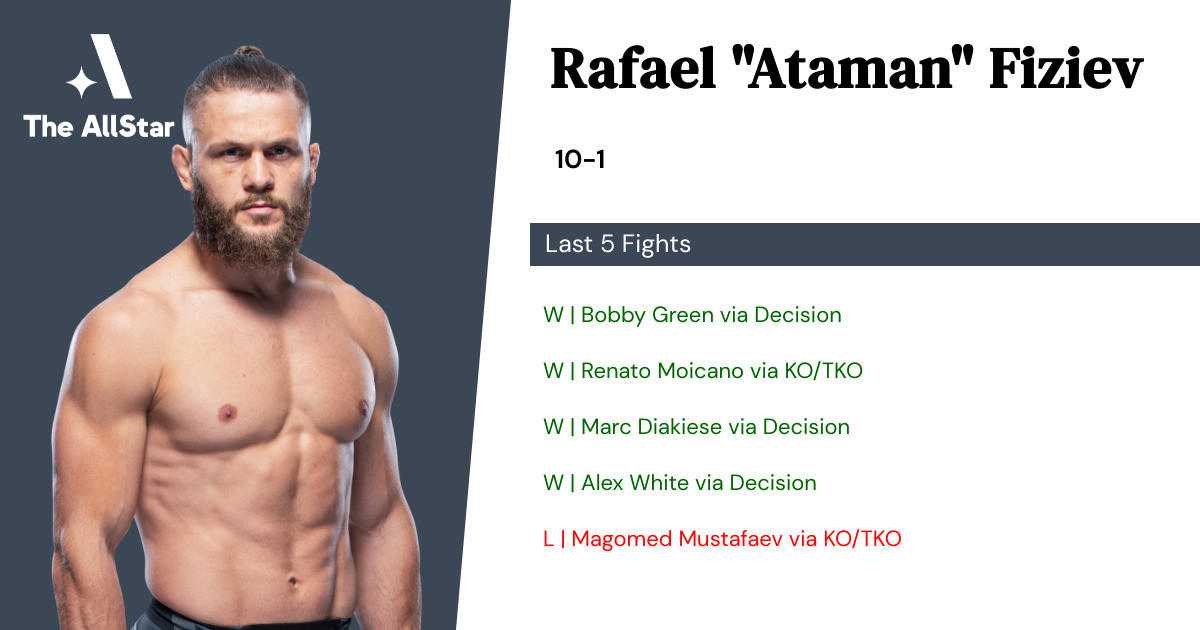 Styles Make Fights
Quake
Riddell does a lot of good things on the feet, particularly with his counters and extended exchanges. Although he does occasionally lead the dance, and does do with solid leg kicks, his best work comes when he draws strikes out of his opponent. He draws those strikes out with some feints, but also largely with pressure and distance management. By pressing his opponent with hit footwork, he gets them to throw first. When his opponent does throw first, he likes to use his lead left hand as the one doing the countering. This works well against fellow orthodox fighters throwing one-two combinations, as he dodges the lead hand and hits his opponent before he can retract and defend.
Apart from the style of which he likes to counter with, there are two things that are important to note in his counter-striking. The first is the fact that he stays in those exchanges for an extended period of time. This allows him to pick up momentum when things are working, but also causes him to get hit. The second is that the countering is consistent. He hardly ever lets a striking attempt go unpunished.
It's not much different when it comes to grappling. Despite being known for his striking, Riddell is an adequate grappler with good double leg takedowns and a jiu-jitsu purple belt to back it all up. Much like his striking style, he does not let his opponent's offense go unpunished. When an opponent like Dober exited his own grappling efforts, Riddell used it as an opportunity of his own. This makes it vitally important to create space when bailing on attempts against Riddell or else it becomes his attempt.
Ataman
In a lot of ways, Fiziev has some of the same strengths that Riddell does, but uses them in a slightly different way. Like Riddell, he has really powerful kicks. However, instead of using them as standalone strikes, he often punctuates his combinations when them. He'll throw kicks to all parts of the body to open up his opponent as well. He also has quick hands, but would much rather use them to lead the dance himself. He likes to be first, land, and then get out of dodge. He is not one to try to extend an exchange any longer than he sees necessary.
While he doesn't like to make exchanges particularly long, that doesn't mean he's significantly more defensively sound than Riddell. In fact, because he ends the majority of his combinations with a kick, he winds up getting countered over the top fairly often on the return. Renato Moicano did this with regularity and was able to stun Fiziev a couple of times in their bout.
Fiziev, like his opponent, also seems to have decent wrestling acumen. When he shoots a takedown, he generally seems to have a good idea of what he's doing. However, the major difference here is that he rarely tries to do so. He has shot just four times in the UFC and did just once in his last two fights. He likes to use those abilities to keep the fight standing instead. He will also occasionally catch a kick and trip his opponent, but often does not even follow him to the ground.
The Clash
I expect the majority of this fight to take place on the feet. The real question is what does it look like when Fiziev throws first? Will Riddell feel confident enough to brave the storm? Will he be fast enough to take advantage of any of the openings that Fiziev leaves? All of this is tough to say as both of them will be the best MMA strikers that the other has seen thus far. It will also be interesting to see if Riddell does much advancing with his footwork. While he has been known to turn up the pressure, doing so to someone so seasoned on the feet can prove to be difficult and/or a mistake.
The other route here that few are talking about is the grappling advantage for Riddell. Although he often prefers to strike, he should have a substantial advantage on the mat. The most difficult part of that should be getting Fiziev down. However, I think the jiu jitsu of Riddell will likely be able to keep the fight there should he be able to finish the attempt and settle in.
Final Verdict
Not only do I feel that the grappling will be an advantage for Riddell, but I think that it will help open up his options on the feet as well. If he gets Fiziev defending that takedown early, it could cause Fiziev to throw fewer kicks. It could also cause him to try to exit exchanges early or enter them more tentatively. As long as Riddell puts that thought in his head early on, I think he will find success in multiple realms and take a decision here.
If you agree with Gumby on UFC Vegas 44's co-main event, you can find Brad Riddell as a slight +105 underdog. If that line tickles your fancy, you can bet on it right here. Drop your predictions in the comments below.