Daniel Vreeland takes a deep dive into one of UFC 269's fights. This week: Raulian Paiva vs Sean O'Malley – a fight which one fighter has deemed for the championship of the unranked fighters.
The Stats
| "Sugar" Sean O'Malley | Raulian Paiva |
| --- | --- |
| 14-1 (6-1 UFC) | 21-3 (3-2 UFC) |
| Helena, Montana | Santana, Amapa, Brazil |
| 5'11" – 72" Reach | 5'8" – 69.5" Reach |
| The MMA Lab | Team Alpha Male |
Sean O'Malley vs Raulian Paiva – Tale of the Tape
The Odds
Leading Up
O'Malley
Sean O'Malley enters the UFC 269 bout on the heels of a two-fight winning streak. After hitting Thomas Almeida with a brutal one-punch knockout, he got the job done a bit differently the next time out. With Louis Smolka dropping out of the fight at the last moment, O'Malley was faced with short-notice replacement and debuting fighter Kris Moutinho. Moutinho proved to be incredibly durable as O'Malley battered him for the entire fight. Eventually, the bout was stopped with just twenty-seven seconds remaining and Moutinho still on his feet. That win marked the fourth win in his last five fights. The only hiccup for the highly touted prospect was a TKO loss to Marlon Vera back in August of 2020. In that fight, he sustained a leg injury and was finished with ground and pound.
Paiva
After a four-fight stint in the UFC's flyweight division, Raulian Paiva recently made his way up to bantamweight. While at flyweight, he lost each of his first two bouts. The first was to Kai Kara-France, a fight he lost by split decision. The second came at the hands of Rogerio Bontorin, which came as the result of a doctor's stoppage due to a cut on the face of Paiva. He would go on to pick up back-to-back wins after that. After going 2-2 and missing weight in his last attempt, it seemed like flyweight was no longer an option for him. However, the change to bantamweight seemed to pay off immediately. In his first UFC bantamweight bout, Paiva took a majority decision over then-ranked Kyler Phillips. The win saw Paiva jump into the rankings himself at #15. Since then he has been bounced due to wins from a number of other bantamweight prospects. A win at UFC 269 could possibly reverse that.
Styles Make Fights
Sugar
Striking is obviously the biggest selling point for the prospects of O'Malley being one of the better bantamweights out there without a number next to his name. It's not just the finishes that he's scored over the likes of Eddie Wineland, Thomas Almeida, and Kris Moutinho – it's how he's going about doing it. His hand speed is elite. He doesn't wind up on his punches at all, yet still manages to generate a lot of power. When combining that with the fact that he is unnaturally long for the bantamweight division (has a 72″ reach), then it makes him a difficult puzzle for any opponent to solve.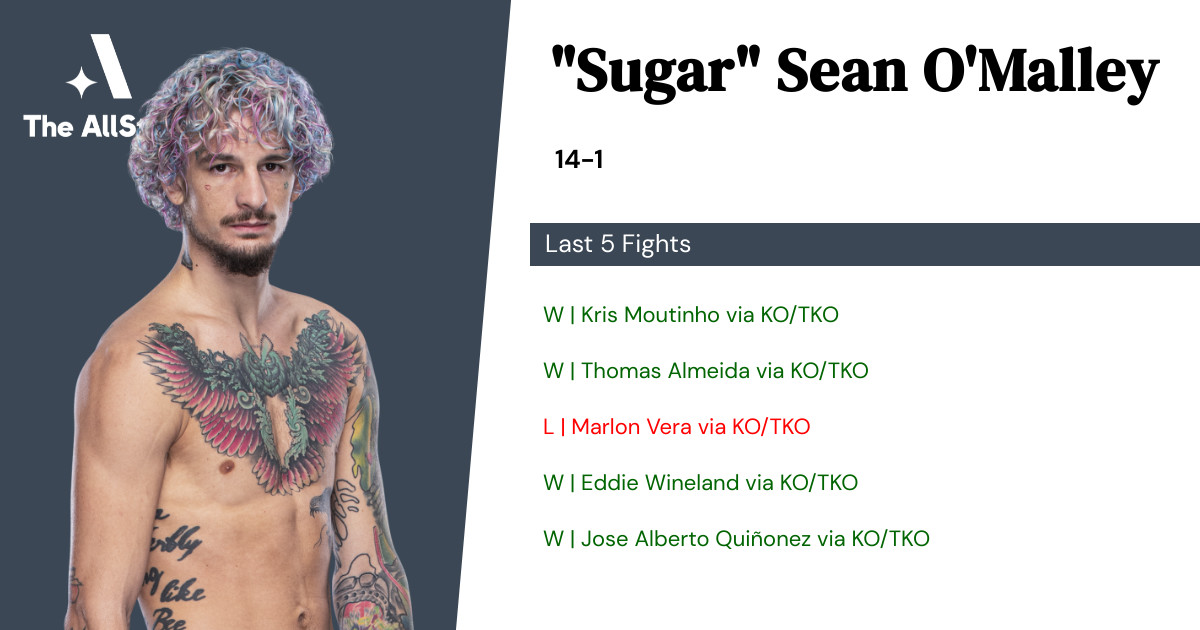 However, it isn't just that he's fast and long that makes him dangerous. His striking is also incredibly nuanced. The best example of this was the aforementioned fight with Eddie Wineland. After throwing a lot of rear hand uppercuts to start combinations, he feinted that same strike before going up top instead. The feint drew Wineland's hands down to his body, which O'Malley had been working over – leaving his head wide open for the knockout blow. It's this type of misdirection and diversity of strikes that had made him difficult for any of his opponents to figure out on the feet.
The ground is a different story altogether though. During his time in the UFC, O'Malley has stuffed just 60% of the attempted takedowns on him. Now, some of this number is a bit skewed by his fight with Andre Soukhamthath. In that fight, O'Malley suffered a late injury to his leg and was barely able to stand. Soukhamthath repeatedly took him down after this, which was due to a combination of O'Malley being injured and also his willingness to be taken down as he couldn't stand. He did also give up a takedown to Thomas Almeida when Almeida caught him mid-spinning heel kick. On the mat, he seemed to have no answers against Marlon Vera, but again, that could be due to injury. We may get a chance to see at UFC 269
Paiva
Raulian Paiva enters just his second bantamweight fight at UFC 269. So while there may be a larger body of work to dissect for Paiva, some of it almost appears irrelevant as he looked much different in a more suitable weight class. Firstly, he looked quite a bit quicker. This may be due to the fact that the weight cut took less out of him, but also may be because, in general, bantamweights are slower than flyweights. The second change is that he appeared to have much better cardio. In his last flyweight bout, he appeared to lose steam against Zhalgas Zhumagulov. That could not be less of the case against Kyler Phillips. After a tough first round, in which one judge gave 10-8 to Phillips, Paiva cruised in the second and third.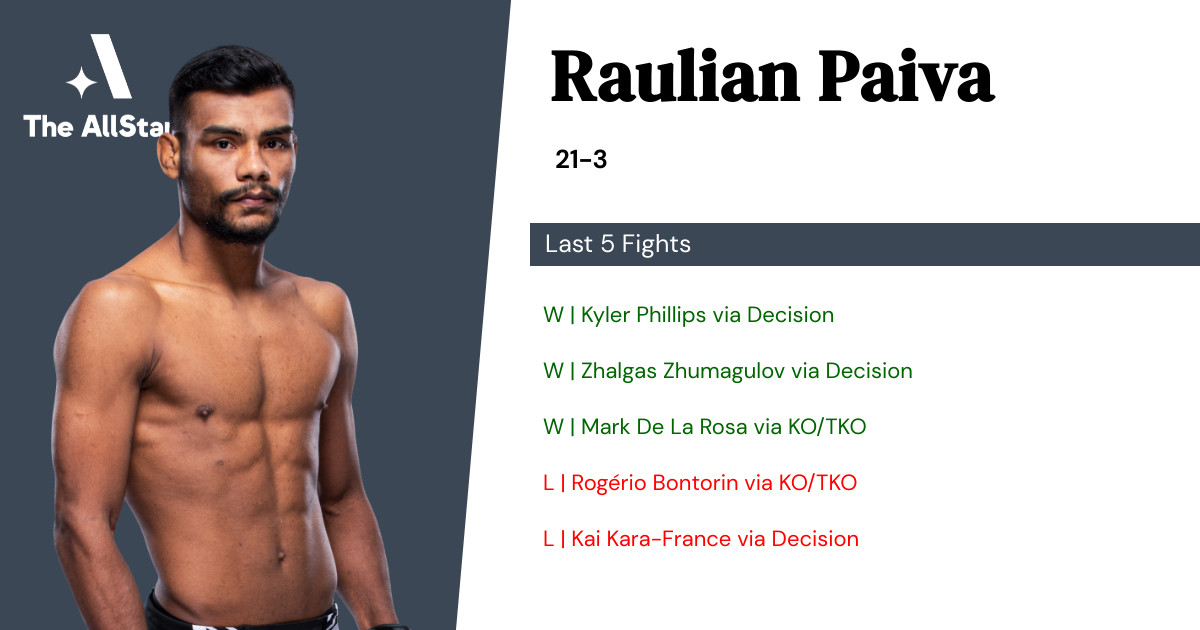 The cardio of Paiva seems to be integral for him now, especially given the style of fight he employs. He does work behind a quality jab and counters nicely. He takes his head off the centerline often, although he does slip on that when he is backing up – which he sometimes does in a straight line. However, the main thing he does well on his feet is working his opponent to the cage. He's a big fan of cage control, even if he doesn't particularly want a takedown at the moment. Against Phillips, he put his opponent there, occasionally landing shots, but mostly wearing them down as well.
But he doesn't just wear on opponents with an artificial consideration of a takedown. He often does intend on getting them. When he managed to get Kyler Phillips to the mat the first time, it was off of a kick attempt. He immediately tried to work to the back and was successful at getting there, but only as Phillips stood up. It's clear that his jiu-jitsu roots do him well, although he often doesn't spend enough time there to get any work done. He may need to at UFC 269 if he wants to take home a win.
The Clash
At UFC 269, the striking advantage will clearly go to O'Malley. He's quicker, longer, and has more depth to what he is trying to do. However, what may play into the result is how competitive Paiva can be here. Will he be durable enough to take O'Malley's best shots? Can he keep his own head out of reach enough so he doesn't even have to absorb the big blow? All of that will be vital to making sure that he can get his own gameplan going on Saturday.
Paiva's own gameplan should be filled with grappling looks. Not only is he a jiu-jitsu black belt, but his time with Team Alpha Male appears to be paying off with the wrestling and submissions. If he is to win this, he'll need to use that to scare off a bit of the striking of O'Malley. He can make use of spinning attacks from O'Malley that leave him in bad fundamental positions to defend a shot. If his jiu-jitsu is as good as we saw in his pre-UFC career, it could sway this fight.
Final Verdict
While everybody is riding high on O'Malley here, I actually like the underdog Paiva. I think he is at a disadvantage in many places, but I do think he can stay away from the big shot. That may be due to solid defense or the use of grappling. Either way, I think he survives fifteen minutes. If he's able to get enough grappling going, I could see him stealing two of three rounds or even submitting O'Malley. Either way, I think with the line as wide as it is, the smart play is Paiva or pass.
Pick: Paiva (+255)
If you agree with Gumby, you can find Raulian Paiva as a huge +255 underdog. If that line tickles your fancy, you can bet on it right here. Drop your predictions in the comments below.