Jada Ketley is about to make history.
On Jan. 16, the Australian will be part of Fairtex Fight Promotions' MMA main event in Thailand's hallowed Lumpinee Stadium. Ketley and her opponent Aphidet Fairtex are the first women mixed martial artists ever permitted to fight in the venue, long considered the mecca of Muay Thai, and which has also spurned MMA until now.
The significance of the moment is certainly not lost on 27-year-old Ketley, the former Muay Thai exponent who now trains at Bangtao Muay Thai & MMA.
"I just feel like the universe works in mysterious ways because I knew I really wanted to compete in Lumpinee but to be the first woman to do it in the sport that I really wanted to stick to it's just amazing," Ketley told The AllStar. "I'm so excited. I can't even tell you."
"When Lumpinee announced [in 2021] they were taking women athletes for Muay Thai, it almost convinced me to make another jump back to Muay Thai," she said. "I just revered this idea of fighting in Lumpinee because it's the sacred stadium of Muay Thai and all the legends fight there. I always had this dream and I actually have it written in a diary somewhere.
"Fairtex ended up announcing that they are doing an MMA show twice a month."
The Lumpinee Stadium event is yet another advance for MMA in the "Land of Smiles." The sport was banned in Thailand until 2013 because the Thai Sports Authority considered it "brutal" and "hurt the image of Muay Thai." Tireless efforts from local promoters like Jon Nutt of Full Metal Dojo and Fight Circus, as well as ONE Championship, have helped to win MMA acceptance in the country.
It has been a long, obstacle-ridden journey for Ketley to get to this point in her career. In her only professional MMA fight, she was submitted by Casey O'Neill at Eternal MMA 46 back in the summer of 2019.
Ketley eventually befriended O'Neill, the current UFC flyweight contender, and they became teammates shortly thereafter in Phuket. This all led her to meet George and Frank Hickman, who convinced her to stick with MMA. 
"I went to watch one of their sparring sessions and there were about a hundred people on that mat," Ketley said about going to observe the Hickman brothers. "It was kinda overwhelming. But I remember just watching George take the floor and the way he had taken command of everything. I saw that he was running everything so smoothly and I just observed him and Frank and I thought those are two guys I can get behind. 
"Waited until after the session, spoke with him a little bit, and then I decided I'm gonna make the move to Tiger Muay Thai. A couple of months later after sorting everything out with [Phuket] Top Team I moved over to train with George and then Covid happened. I was there for about two weeks and the gyms closed."
With the world under attack from a new virus, Phuket shut its doors and the residents on the island were in limbo. The Hickmans later left their head-coaching positions at Tiger Muay Thai. Alongside Ketley, UFC strawweight Loma Lookboonmee, Rizin veteran Top Noi and a few others followed suit and resorted to conducting sessions in jiu-jitsu coach Alex Schild's backyard. 
During this period, Bangtao Muay Thai & MMA came together with the Hickmans and major contributions from Schild and S&C coach Andrew "Woody" Wood. The team moved into the facility while it was still being built and continued grinding and proceeding with training camps on puzzle mats.
"I just think about it all the time like how much I value them," Ketley revealed. "As not just my team but as a family. And I feel this whole experience has made us all really, really close. It shows their faith in me as an athlete. And us blindly following them into the abyss of not knowing what's going to happen shows them the faith we have in them as coaches. 
"Honestly, I'm so grateful to be a part of this journey and to be a part of this experience. And to know that I've been there now from the beginning. From training on the puzzle mats in the yard to training on the puzzle mats in the construction site to now training on the official mats. I adore them. I wouldn't want to be anywhere else, with anyone else."
Ketley now enters a historic moment inside the ring at Lumpinee Stadium with two years of old school training under her belt.
Aphidet Fairtex is "like me," Ketley said. "She's coming from Muay Thai so I think it's going to make an awesome matchup in that sense and a more even one experience-wise.
"I expect to show a completely different fighter. Better grappling skills," she said. "Better wrestling skills. I have a fat cauliflower on my ear at the moment. I didn't get it for nothing. And just a completely different style of standup. George and I have been working that a lot."
"It's going to be a different experience for anyone who's watched me fight before."
Watch this interview on The AllStar's Youtube channel.
---
Fighter profile
Jada Ketley is a female fighter from South Africa with 0 pro wins and 1 losses. Ketley most recently fought Casey O'Neill at Eternal MMA 46 on Saturday July 27, 2019.
Jada Ketley's recent form coming into this matchup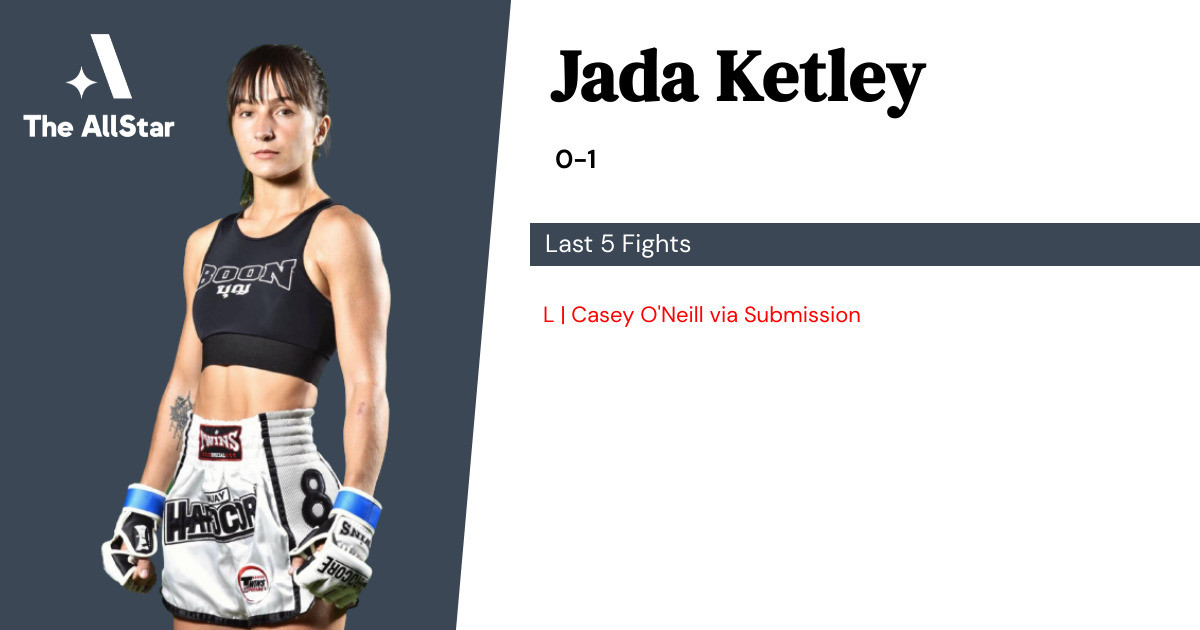 Jada Ketley has gone 0-1 in the last 5 professional MMA fights.
Loss vs Casey O'Neill • Submission R1 2:32 • 2019-07-27