"I didn't know who these guys were."
Such was long-time American Kickboxing Academy associate Mike Swick's reaction to the Eagles MMA team when they arrived at the world-famous gym in 2012.
Swick, now the owner of AKA Thailand, has seen international talent come and go from the gym over his long tenure. Back then, he thought nothing different of the group; he had no idea how much of an impact these young men would have on mixed martial arts.
"I saw they were coming in from Russia," Swick told The AllStar in a recent interview. "I didn't know [it was] Dagestan exactly… They were good."
The Eagles MMA team, spearheaded by a then baby-faced Khabib Nurmagomedov, migrated to AKA in 2012 – soon after Nurmagomedov's second win in the UFC. The connection between Eagles MMA and AKA was forged by Muhammed 'King Mo' Lawal.
Originally, the team didn't have the funds to fly out and take advantage of the offer. Six months later, following Nurmagomedov's win over Gleison Tibau at UFC 148, the Dagestanis reinvested in themselves and relocated to San Jose, California.
Swick remembers the team as an eager and humble bunch of fighters who 'didn't have much' in the beginning.
"They were all living in the hotel behind the gym, shacked up in rooms," he said. "They were barely getting enough money for food."
Daniel Cormier, having travelled to Nurmagomedov's home town, Makhachkala, recalls that "living in Dagestan, he doesn't need much." However, travelling from Russia to the USA to pursue his dream did come with a price tag.
Fight purses don't always go far in the beginning, especially shared amongst an entire squad of hungry athletes. The Eagles team made do with what little gear and money they had.
In the beginning, the Dagestani fighters would show up to practise in track pants and polo shirts. Head coach at AKA, Javier Mendes, once had another student alert him to the fact that Nurmagomedov did not wear a mouthguard or headgear during sparring. The coach convinced the young fighter they were necessary in his gym, and gave him some Everlast headgear to wear – gear that Nurmagomedov used for years.
"He won't get rid of it. He won't spar with anything but that." Mendes remarked in a 2020 interview with The National.
Khabib's grip
It wasn't long after the Eagles team had begun training at AKA that Swick could see Nurmagomedov was something special.
"The thing about Khabib that people don't realise until they fight [is his strength]… then you see it in their eyes the second he grabs them."
Swick went on to explain that the Eagle's grip was a key factor to his success across his 29-fight career, and detailed some of the nuances that make Dagestan-style wrestling difficult to deal with inside the cage.
"When he grabs you, I've never felt someone of his size so strong. He has an enormous grip."
"You know the second they really get a hold of you," The Ultimate Fighter veteran continued. "You have no say in what's going to happen."
Swick went on to allude to Nurmagomedov's expert ground positioning as another deciding factor in his success.
"He puts you in positions of control where he can then strike as well – so he doesn't even utilise all of his limbs to hold you there… and you're still stuck. He's a master of that."
Islam Makhachev
Looking at the heights the now 33-year-old Nurmagomedov reached in the sport, it's hard to imagine the humble beginnings from which the powerhouse team of wrestlers began. Despite one man's success, the takeover isn't finished yet.
'Fathers Plan' (a reference to the goals Khabib's father, Abdulmanap Nurmagomedov, had set out for the team) hasn't been accomplished until Khabib's successor, Islam Makhachev, reigns as champion in the UFC's lightweight division.
In just the last year, Makhachev has rocketed up the division's ladder. He's currently ranked in third place at 155 pounds after two dominant performances in the past four months. Swick warns that Makhachev is a different beast entirely.
"Islam is like Khabib in the same aspect on the ground, but he's got the striking," he said. "He's going to be a different fighter, and just as dangerous."
---
Fighter profile
Khabib "The Eagle" Nurmagomedov is a 33 year old male fighter from Russia with 29 pro wins and 0 losses. Nurmagomedov most recently fought Justin Gaethje at UFC 254: Khabib vs. Gaethje on Saturday October 24, 2020.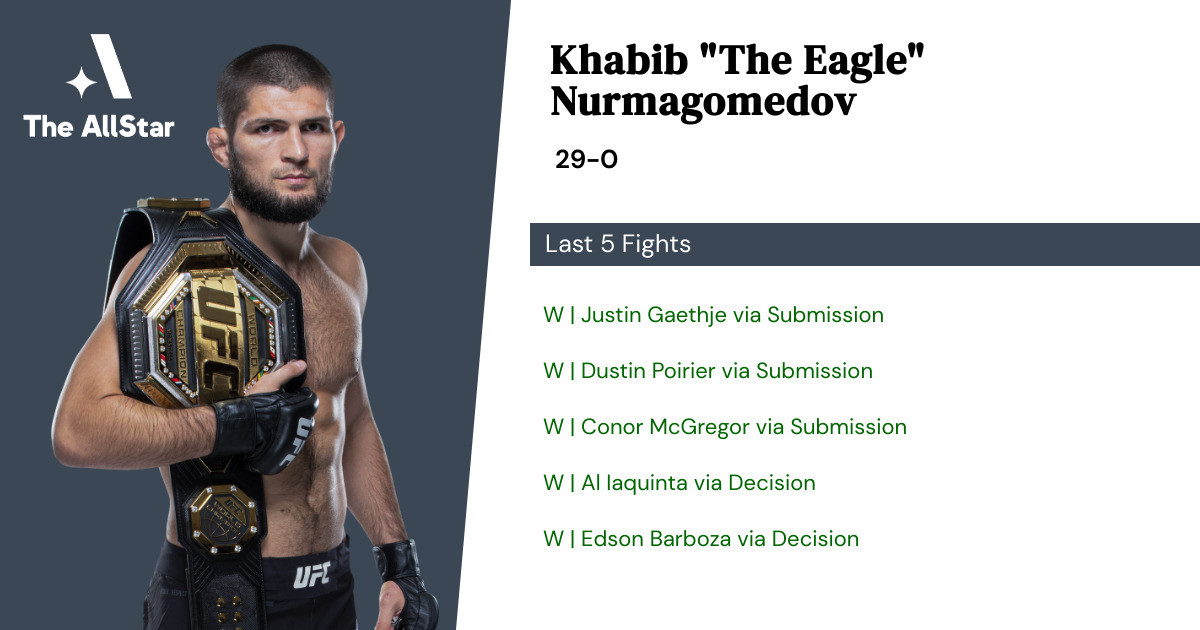 Khabib Nurmagomedov has gone 5-0 in the last 5 professional MMA fights.
Win vs Justin Gaethje • Submission R2 1:34 • 2020-10-24
Win vs Dustin Poirier • Submission R3 2:06 • 2019-09-07
Win vs Conor McGregor • Submission R4 3:03 • 2018-10-06
Win vs Al Iaquinta • Decision R5 5:00 • 2018-04-07
Win vs Edson Barboza • Decision R3 5:00 • 2017-12-30