In her latest column, recently retired UFC fighter Roxanne Modafferi sheds some light on a touchy and often controversial subject: fighter pay.
I've personally never had a problem with my pay as a fighter. This is probably because I didn't expect much.
In 2003 in Japan, I was paid $100 flat for my first pro fight, and $200 for my second fight. I wasn't trying to make a living. I fought for fun, to prove my skills. I was used to paying fees to enter grappling competitions, so not having to pay to fight was amazing! I didn't consider myself an athlete. Fighting sports were hobbies.
On the other hand, my fighting was someone else's entertainment. Fans paid to watch. However, back then, promotions held untelevised events in tiny venues, so they could only afford so much.
In 2009, I was so excited to make $4,000 to fight in Strikeforce. It was the most I'd ever made! It made sense since it was the biggest show I'd ever fought on.
Sponsor logos
The contract was $4,000 to show, plus another $4,000 if I won (in the contract that's written as $4,000 / $4,000). For the next fight, it would be $5,000 / $6,000. If you added up all the money from sponsors to print logos on my clothing, I believe I received a total of $3,330 in sponsorship on top of the $4,000.
At the time, I had Tokyo Five (clothing), Tussle (clothing), Fightchix (clothing), No Gi (rashguards), MMA Rising (website), and Seven Deuce (gear).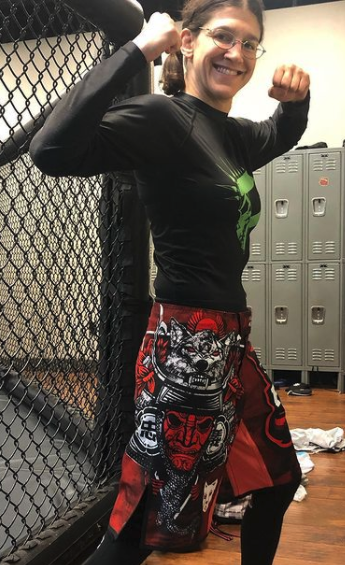 I made $2,000 to fight in King of the Cage in Okinawa after that, and $5,000 to fight in Moosin in Massachusetts in 2010. I was so thrilled to make money in the thousands! I put it away in my bank account for a rainy day because I had a full-time job which paid the rent. I worked as an English teacher 40-plus hours a week and trained once a day for an hour and a half.
Things are different now.
Fighters who want to make it as professional athletes have to commit themselves completely to the lifestyle of training several times a day, while working a part-time job. It seems ironic that those who need the money the most are the ones getting the least. Those up-and-comers need more cash to pay trainers to improve their skills. However, they get paid the least because they have the least draw.
That's how business works, though. When you are successful and popular, you get paid more.
Let's fast forward to 2013. When I fought in the Ultimate Fighter 18 Finale, I got paid UFC minimum wage of $8,000 / $8,000. I lost so I only made $8,000. I remember being excited because they had raised the minimum fighter purse from the previous $5,000 / $5,000. Nowadays it's $10,000.
Of course, some fighters could negotiate higher for their first fight. How could they do that?
Entertainment business
Well, the entertainment business of fighting blew up. More and more people want to watch high-level fighting, so the demand goes up. Fans pay more to the promotion, who can in turn pay the fighters more.
Do you guys have any idea how much it costs to run an event? I had no idea until a few years ago, I interviewed Vegas amateur event president Jeff Meyer about Tuff-N-Uff. I was shocked to learn that it cost him over $20,000 to rent the venue alone!
Then there were various costs associated with set-up, paying staff, vendors, advertising, and anything else you can think of. They didn't even pay pro-fighter's purses because they were amateur, and needed sponsors to help fund the events. Nobody can run events on ticket money alone.
How much does it cost a fighter to survive? Remember, the fighter has to buy healthy food, gear, transportation, and sessions for physical training and technique with coaches. The manager or coach then gets between 10% to 25% of the fight purse they earn.
Bags of ice
When I fought for the UFC, I was spending over $1,000 a month on fees to my trainers. I paid my head coach John Wood for striking lessons, Mike Pyle or John Guns for wrestling and grappling, Lorenzo Pavlica for physical training, and Teri Wallace for massage therapy.
I bought three bags of ice from the gas station every day to take ice baths for recovery. I generally stuck to my diet all year long, but lots of fighters don't, and healthy, fresh food tends to be more expensive than fast food.
The Reebok clothing deal hurt most fighters in the UFC. Some used to make more in sponsorship money than from the promotion itself. It depended on the fighter. Some were helped because $5,000 from Reebok might be more than they could scrounge up to print on their fight clothes.
I am a good example. For one Invicta fight I put at least 15 logos on my clothes and banner, which earned me about $3,000 total. Being handed $5,000 from Reebok as minimum wage was kinda nice.
Upper-echelon fighters protest about not being paid enough. For example, Francis Ngannou has been in the news lately. With star power comes more negotiating power. People REALLY want to see them fight, and will pay. This gives the fighter power.
Conor McGregor
I want to laugh and cry at the same time because I know fighter friends in the UFC who can't afford a car, while others are complaining about making more than two hundred grand a fight.
What's fair? Who knows. We look at what our peers are making, like Conor McGregor, and say, "Hey! Why does he get so much?"
I feel like we don't have enough information. I know some promotions that have gone bankrupt and disappeared because they spent too much. Then nobody gets to fight.
The UFC has been around for so long that they must be doing something right. How many paying viewers are fighters actually bringing? How much does it cost to run the UFC, or Bellator, or any other promotion? Who's getting rich? There is definitely some unfairness in the sport. But MMA isn't a team sport like the NFL.
I've always been pretty happy with my pay. I feel like women are NOT discriminated against, which is wonderful.
I think pay should be based on how much entertainment value you bring to the promotion. That's capitalism. If you want more money as a fighter, try to knock people out, sub them creatively, or talk some smack.