Women's MMA pioneer Roxanne Modafferi offers up her thoughts on MMA rules in her latest column for The AllStar.
Mixed martial arts have grown a great deal over the years, and so have rules.
While most countries now seem to use the Unified Rules that the UFC abides by, there are some promotions around the world each with their own unique rule variations.
Let's start in Japan, where I debuted in 2003. Back then, the "land of the rising sun" played host to the world's only all-female organization – "Smack Girl" – which had a specific rule set.
No elbows strikes were allowed, as well as no strikes to the head of a grounded opponent. If I got mounted, I could only punch the body.
They also had a 30-second ground rule: The girls could only grapple for a total of 30 seconds before the ref had to stand them back up. It didn't matter if someone was caught in a submission. They'd be saved by the bell and the match would be restarted standing.  
No elbows allowed
Female fighting was viewed more as entertainment than sports or athletics back then, so I suppose that rule was to keep it more entertaining and action-packed for fans.
Most Japanese promotions didn't allow elbows. Those in charge wanted to try and avoid doctor stoppage due to blood and cuts, which are a highly likely result of fighting with elbow-strikes. 
I never practiced elbow strikes for the first decade of my fight career because I only trained in Japan, and nobody else there threw them. If I fought in the States, I just chose not to throw them since I didn't know how. By the time I retired this year, I was wearing elbow pads and practising gently tapping my partners with them.
Soccer kicks
PRIDE rules allowed kicks to the head of a grounded opponent. This seems more brutal than elbows, but the rule probably wasn't for the fighters. Soccer ball kicks lead to exciting knockouts.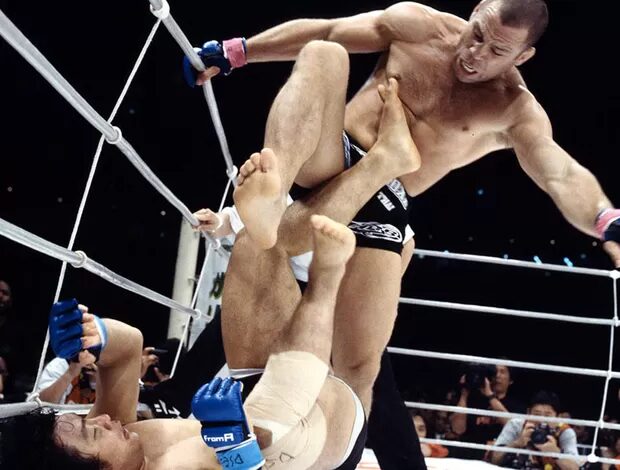 ONE Championship in Singapore allows elbows to standing and grounded opponents, including 12-to-6 elbows. They allow knee strikes to a grounded opponent, something the Unified Rules do not allow. 
Matt Hume, who served as ONE's chief official for a time, felt this would add excitement to the fight because the defending fighter could not just turtle up. Kicks to the head of a grounded opponent are also allowed.
ONE Championship
ONE doesn't use the 10-point system, but rather judges the fight based on the entirety of the fight. Hume said the point system was too reminiscent of boxing. Judging was based off the following criteria in the order of importance:
Was there a near knockout or submission, and how much damage was done?
The quality of striking combinations
Ground control and superior position
Takedowns and takedown defense
Aggression
It's interesting to have different rules. The fighter just has to make sure they are able to train for the rule set of the promotion they are about to fight in.
It was hard for me to prepare for cage fights in the early 2000s in Japan because gyms didn't have cages. If we were lucky, dojo owners would attach pads to walls.  Japan hosted fights in rings, so if I was signed to fight overseas, I basically couldn't train in a cage at all. I'd have to figure it out while I was in there. 
You can fall out of a ring, so you can't really do techniques while leaning against it.  With a cage, you can practice pressuring your opponent into it, or bouncing them off of it to get a takedown.
Missing weight in Japan
The penalty for missing weight also varies between countries. In the US, the fighter who missed has to give the opponent 20% of their fight purse.
In Japan, the fighter who missed loses the chance to win the fight. If it goes to a decision, the other fighter automatically gets the win. If the fighter who missed weight finishes the fight by knockout or submission, the bout is ruled no-contest. He or she who missed also doesn't get paid, and I've heard of a case where the guilty fighter had to pay the promotion money.
I wondered why they would fight at all then, if they wouldn't get paid and couldn't win? I decided it must be Japanese culture: pride and honor. Fans were expecting a fight and they had to give it to them.
I asked a Japanese fighter friend once why she would still fight even after missing weight. She shrugged and said: "I have to. It's already bad enough I missed weight.  It'd be disappointing the fans and embarrassing everyone who supported me."
Unique MMA rules
There are several other events with unique rule sets that deserve mention: 
Team Fighting Championship: originated in Latvia and was held in Europe.  Two teams of five people fight in a huge ring at the same time. It was banned in the US but teams from the US, Russian, Poland, and Brazil participated.  Teams cannot collectively exceed 550 kilograms.

They can't head-butt, kick to the groin, or bite. Sometimes, each fighter picks one person to deal with, sometimes several people jump on one guy on the other team. There are multiple refs monitoring the action. There is no time limit. There are three events recorded during the years of 2015 and 2016, but I'm uncertain as to its current status.
The HIP Show: Originated in Russia, where two teams of two people fight each other in an arena with padded obstacles. They ran around, climbing over blocks, and jumping off padded ledges. They have head gear on, but can punch, kick, throw, and grapple their opponents. That adds a whole new strategy to the sport.
Love them or hate them, rules are so important.
Most fighters are willing to fight under different rule sets but that just highlights the importance of studying the rules and adapting to them. That's a necessary part of developing the best strategy to win fights.