It's not often that a Thai fighter from Buriram finds himself in a UFC cage. Come June 10th, that's exactly what will happen.
Topnoi Kiwram possesses the explosive combination of extreme bravado and knockout power. This is something the Asian market has rarely seen and he intends to capitalize on it.
The 29-year-old became a pioneer for Thai MMA when he traded in Muay Thai gloves for 4-ounce gloves six years ago. He spoke to The AllStar at his home in Phuket to reflect on the journey of bringing his world-class Muay Thai experience to the cage and the golden opportunity to compete in the Road to UFC tournament beginning in June.
"Eventually, I got to Tiger Muay Thai and then was a trainer there for a little bit. And then finally after meeting George Hickman and Alex Schild that was when I decided to try something new for a change and transition to MMA where I definitely didn't know what I was doing at the time," Kiwram on the origins of his conversion to MMA. "But since it involved striking I figured it was okay and it'd be something interesting and new to try."
Kiwram fought around Thailand for his first few fights, winning five of his first six wins with strikes. The regional success eventually landed him in Rizin, Japan's biggest organization, where his results were more mixed facing the country's best fighters on basically two-week training camps which he regrets now.
It's been 20 months since his last fight, and in addition to switching gyms to the newly-formed Bangtao Muay Thai and MMA, Kiwram has also made MMA more of a lifestyle.
"I've since gotten much better and much more disciplined about consistently showing up to training even if a fight wasn't announced or even if I didn't officially have a fight contract signed for a fight," Kiwram said. "It's silly looking back now where I think that two weeks before a fight would be where I'd take training seriously and go to training, whereas now, months ahead, I'm paying attention to how my training's going."
During the pandemic, Kiwram recounts how he became much more concerned with bringing up his grappling and wrestling. The key to bringing the MMA game together for him was to simply have fun with the whole process and channel positive energy.
Countless days of training on makeshift mats with many ONE Championship and UFC veterans as well as helping teammate UFC strawweight Loma Lookboonmee prepare for her fights during that period have had a tremendous impact on his mindset and overall skillset.
Kiwram will fight Yuma Horiuchi in the first round of Road to UFC on June 10th in Singapore, and he couldn't be more grateful for a clear path to the world's most famous cage.
"This opportunity is nothing short of life-changing, and there's a lot of meaning that comes with this opportunity in the sense that it really could take my life in a direction that I really want it to go," Kiwram said.
"So it's- I understand that an opportunity like this doesn't come around often, if ever for some fighters, and so it's something I take very seriously, win or lose, it's something I want to pour my heart and soul into this training camp in the weeks leading up to this fight."
As one of the toughest challenges in the whole Road to UFC experience, Kiwram is fully aware that his match with Horiuchi could produce drastic momentum swings into each fighter's strengths. Kiwram welcomed the prospect of a war: "Both of us really want this opportunity badly. That will make the fight exciting if nothing else."
With a reputation for bringing a big personality and extreme violence in Asia, he will look to take that same vitality and a newfound dedication to the Octagon.
---
Fighter profile
Top Noi is a 29-year-old male fighter from Thailand with 7 pro wins and 3 losses. Noi most recently fought Isaac Pimentel at UAE Warriors 13 on Friday, September 25, 2020.
Top Noi's recent form coming into this matchup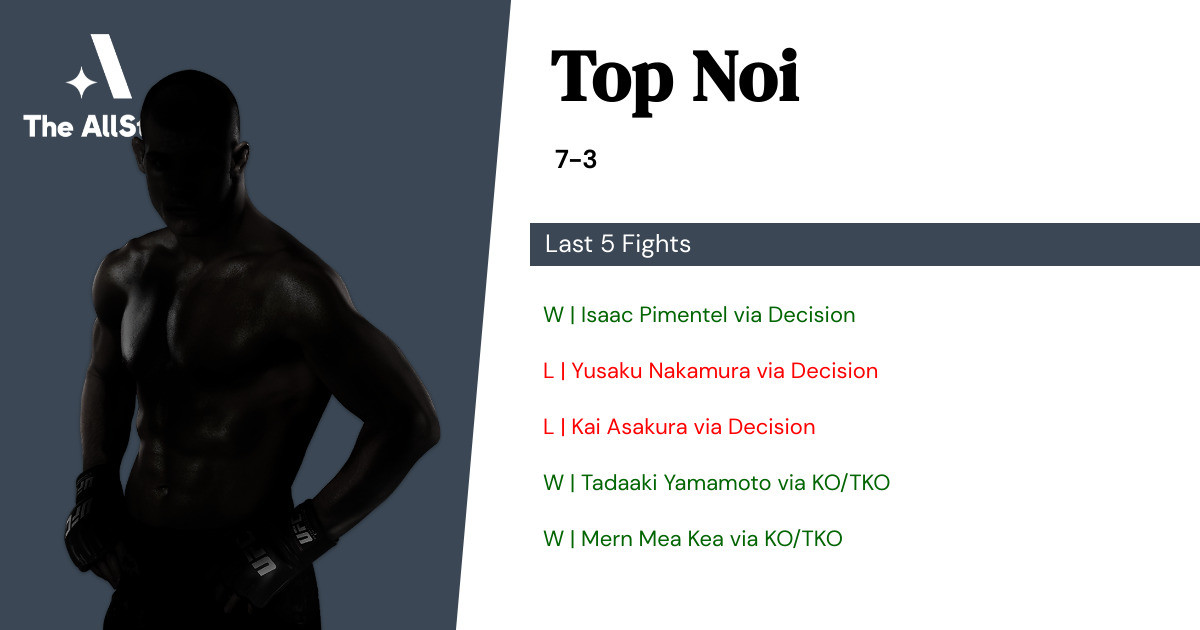 Top Noi has gone 3-2 in the last 5 professional MMA fights.
Win vs Isaac Pimentel • Decision R2 5:00 • 2020-09-25
Loss vs Yusaku Nakamura • Decision R3 5:00 • 2019-06-02
Loss vs Kai Asakura • Decision R3 5:00 • 2018-09-30
Win vs Tadaaki Yamamoto • KO/TKO R1 1:06 • 2018-07-29
Win vs Mern Mea Kea • KO/TKO R2 1:20 • 2017-07-01