When Trey Ogden peered out from behind the curtain, he saw UFC president Dana White seated at a table, as well as his opponent, JJ Okanovich, preparing for battle. Their presence at Fury FC 53 signified the culmination of his lengthy MMA career and a pinnacle moment for the Kansas City fighter.
That positive energy propelled him to dominate the focal challenge of his career and earn a UFC contract.
"I felt so energized and enhanced by the moment," Ogden told The AllStar. "For some reason, it didn't weigh on me at all, it got me up…Finally, there's no filter between me and everything I'm working on and it's just completely in my hands to go do this."
That kind of pressure to perform at his highest potential in front of the most influential man in MMA would definitely overwhelm many fighters with less experience. But for Ogden, "it felt like the moment was really important and it felt like it was really worth doing. It felt like it was such a significant moment in my life, in my career, and my art and everything. So it was just like there was so much meaning in it. Instead of being something that hindered me, it seemed like it really enhanced me."
Ogden will make his long-awaited promotional debut against Contender Series alum Jordan Leavitt at UFC Vegas 51 this Saturday. Although the fight came on just three weeks' notice, it was actually right in his plans.
"I found out three weeks from the fight, but I had asked to have a short notice fight in April, so only the opponent and the date were short notice, but I knew that I was coming up and on deck."
Assessing the 26-year-old Leavitt, Ogden doesn't see anything extraordinary about his abilities. He sees holes that he can exploit when they clash.
"I'm not like overly impressed with anything he does," Ogden said. "I think he's pretty limited. I think there's a lot of openings in the grappling, a lot of space, and I think I should dominate him and put him away pretty early."
At 32 years old and with 19 pro fights behind him, Ogden sets a high bar for his performance in the cage. He believes that the time for making novice errors is behind him in hopes of making a quick rise through the ranks.
"At this point in my career, I want to be fighting pretty much perfect," Ogden revealed. "I want to stay in position, make zero mistakes, keep my opponent out of position, and ultimately dominate them. I'm not looking to be in competitive fights, I'm looking to completely dominate my opponents and make them look like they don't know how to fight even though they're good pros."
---
Fighter profile
Trey Ogden is a 32-year-old male fighter from the United States with 15 pro wins and 4 losses. Ogden is scheduled to fight Jordan Leavitt at UFC Fight Night: Luque vs. Muhammad 2 on Saturday, April 16, 2022.
Trey Ogden's recent form coming into this matchup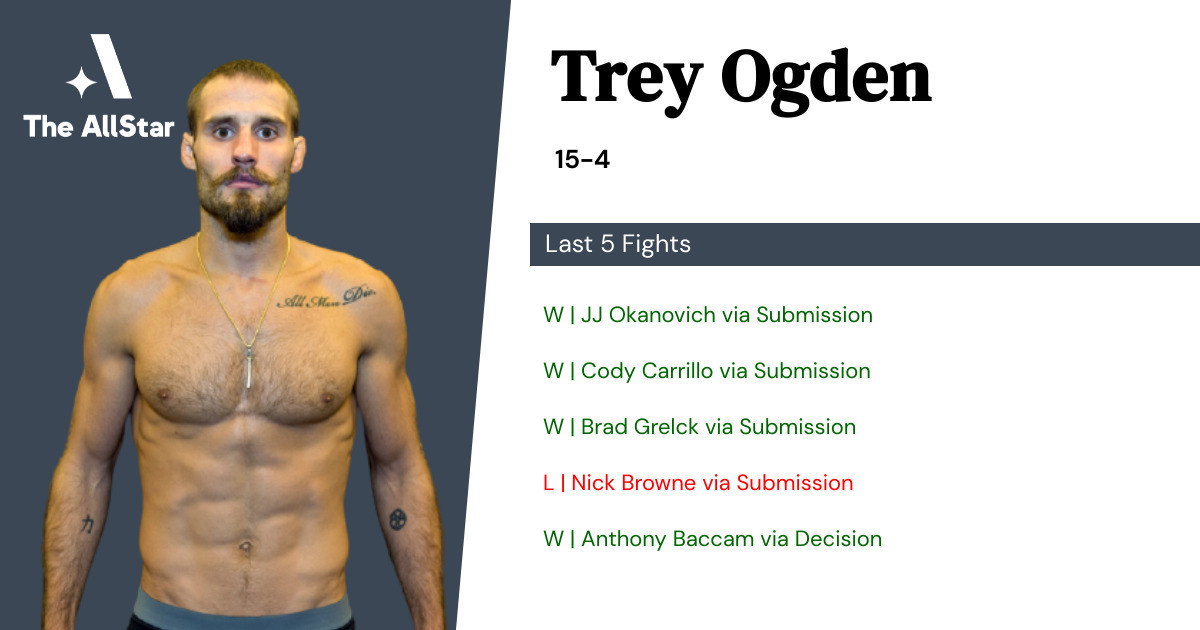 Trey Ogden has gone 4-1 in the last 5 professional MMA fights.
Win vs JJ Okanovich • Submission R2 3:43 • 2021-11-14
Win vs Cody Carrillo • Submission R1 4:30 • 2020-08-14
Win vs Brad Grelck • Submission R2 1:40 • 2019-12-06
Loss vs Nick Browne • Submission R1 2:24 • 2019-09-13
Win vs Anthony Baccam • Decision R3 5:00 • 2019-02-15
Trey Ogden's next opponent: Jordan "The Monkey King" Leavitt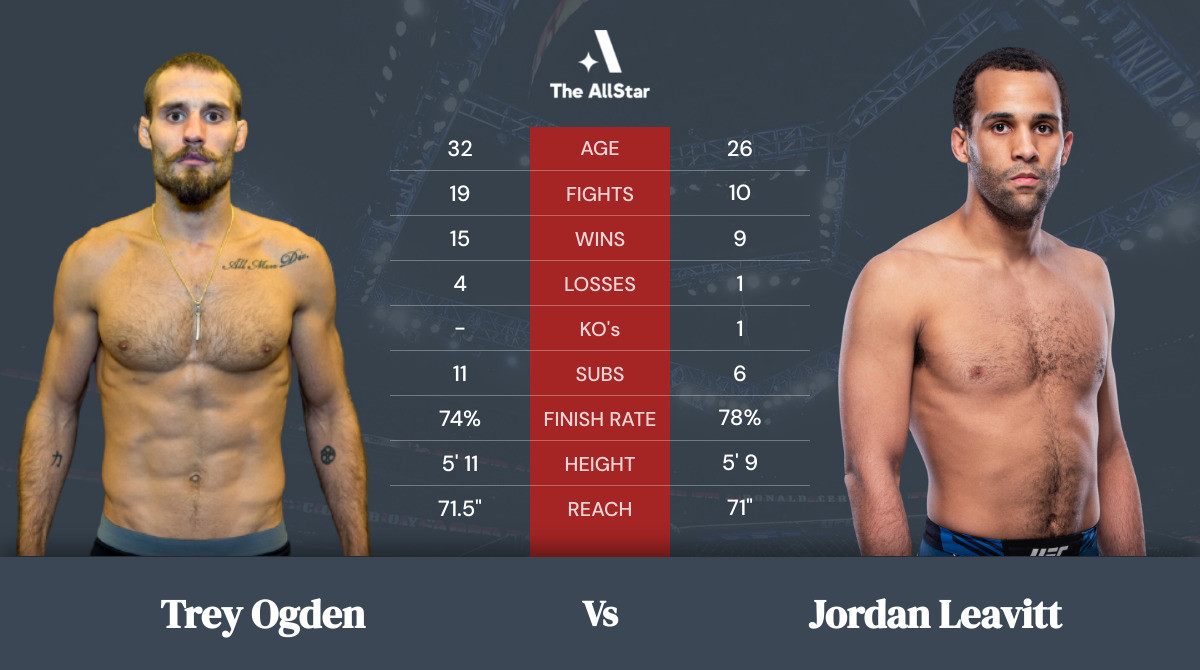 Jordan "The Monkey King" Leavitt's recent form coming into this matchup
Jordan "The Monkey King" Leavitt is a 26 year old male fighter from United States with 9 pro wins and 1 losses. Leavitt is scheduled to fight Trey Ogden at UFC Fight Night: Luque vs. Muhammad 2 on Saturday April 16, 2022.
Jordan Leavitt has gone 4-1 in the last 5 professional MMA fights.
Win vs Matt Sayles • Submission R2 2:05 • 2021-12-18
Loss vs Claudio Puelles • Decision R3 5:00 • 2021-06-05
Win vs Matt Wiman • KO/TKO R1 0:22 • 2020-12-05
Win vs Luke Flores • Submission R1 4:15 • 2020-08-04
Win vs Leivon Lewis • Submission R2 2:01 • 2020-07-17
How to watch and bet on Trey Ogden vs Jordan Leavitt
Keep track of all the latest odds and line-movements at our bout page for this matchup.