How does a fighter react when their opponent doesn't respond to damage?
Tristan Connelly will get the opportunity to test the resolve of Darren Elkins at UFC Fight Night on April 30. Elkins, a veteran of 25 UFC fights, forces an intense pace and has become notoriously hard to take out.
The 36-year-old Connelly fully respects Elkins' durability and relished the moment to fight such a reckless character.
"He's fought everyone and he's the comeback kid," Connelly told The AllStar. "He's got a skillset that he's very good at. Guys underestimate him a lot and that's probably one of the biggest mistakes you can make because Darren's not a guy to take lightly.
"He's maybe not the cleanest guy, but that doesn't mean he's not very good at what he does, that he's not very mentally tough. He's fought the who's who and he's beaten some very high-level guys. Very serious opponent that I'm not looking past in any way."
While Connelly's mind is ready for war against Elkins, before he could make preparations for the fight, his body also had to be primed for action. He underwent his second neck surgery last year to fix a herniated disc, which left him unable to train for several weeks. Neck surgeries have a reputation for risk, but the Vancouver native knew the alleged dangers didn't compare to the freedom a healthy neck would provide.
On his reasoning for opting to get the surgery instead of natural alternatives, Connelly said, "You gotta look at the reason to get surgery and who is it affecting your quality of life. Like, what do you give up by not getting the surgery?
"For me, it was a no-brainer, it wasn't even just fighting like I love martial arts, I love jiujitsu, I love wrestling, and I want to be able to do all these things for years to come and I want to continue to train. So it's not just my career in fighting that I would have lost, I would have been a really unhappy, depressed person without it."
Now completely healed from the surgery, Tristan is happy to report that he feels no pain in his neck during training.
His energy can now be focused on game-planning and sharpening the tools for Elkins on April 30th. He knows his opponent comes in shape and that he's a persistent chain wrestler, and that he's often the most dangerous the moment he looks beaten.
"Don't get too excited looking for the finish, like really think in decisions," Connelly said about his strategy. "Looking for the finish but not getting the finish is how he wins. Everyone hurts him right, and they get excited and empty the tank. He eats it and he comes back and makes them pay…Take my time and pick him apart and look to win literally every second of the fight. Take a finish only when it's undeniable."
---
Fighter profile
Tristan "Boondock" Connelly is a 36-year-old male fighter from Canada with 14 pro wins and 7 losses. Connelly is scheduled to fight Darren Elkins at UFC Fight Night: Font vs. Vera on Saturday, April 30, 2022.
Tristan Connelly's recent form coming into this matchup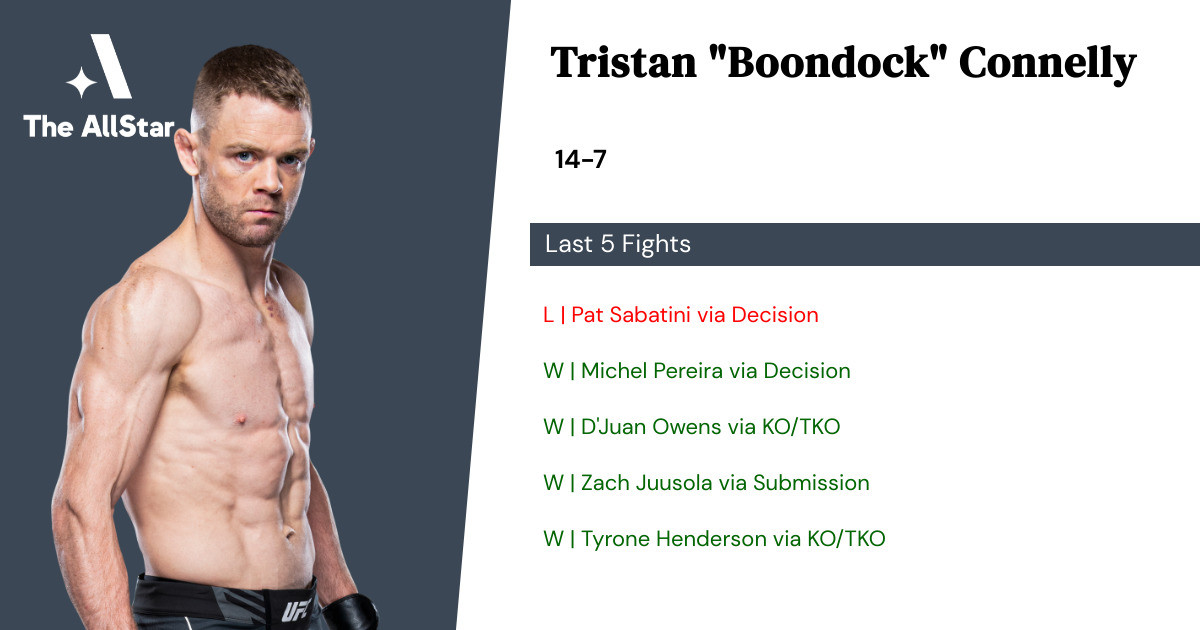 Tristan Connelly has gone 4-1 in the last 5 professional MMA fights.
Loss vs Pat Sabatini • Decision R3 5:00 • 2021-04-24
Win vs Michel Pereira • Decision R3 5:00 • 2019-09-14
Win vs D'Juan Owens • KO/TKO R5 1:56 • 2019-07-27
Win vs Zach Juusola • Submission R1 2:46 • 2019-05-09
Win vs Tyrone Henderson • KO/TKO R1 5:00 • 2018-12-15
Tristan Connelly's next opponent: Darren "The Damage" Elkins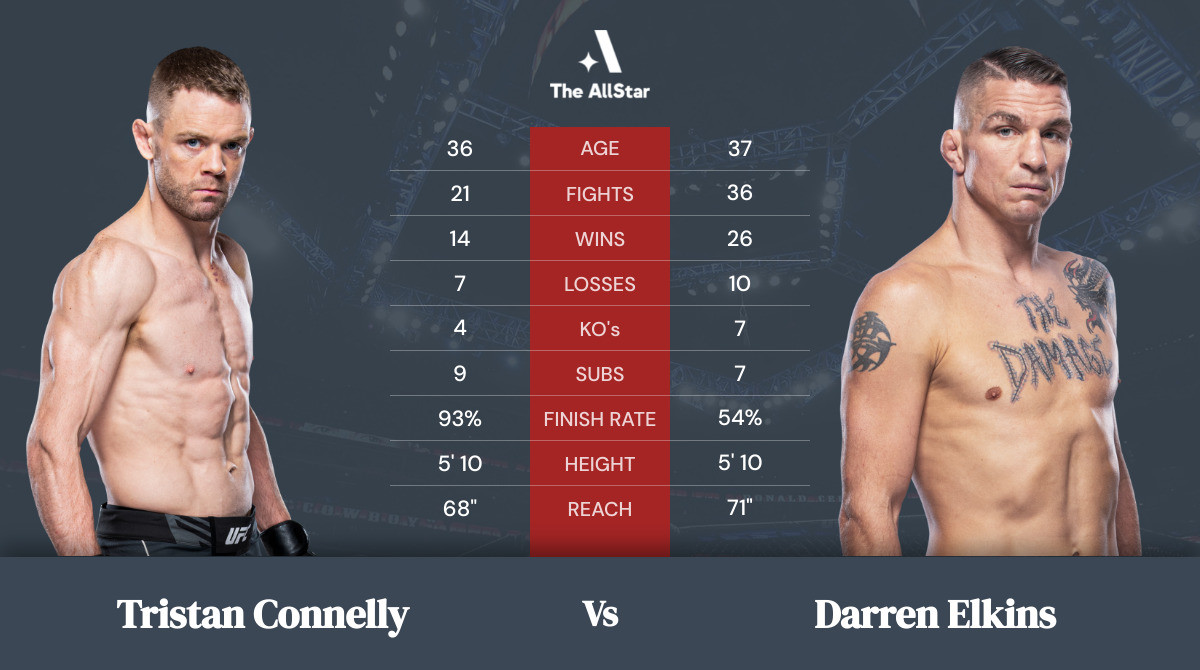 Darren "The Damage" Elkins's recent form coming into this matchup
Darren "The Damage" Elkins is a 37-year-old male fighter from the United States with 26 pro wins and 10 losses. Elkins is scheduled to fight Tristan Connelly at UFC Fight Night: Font vs. Vera on Saturday, April 30, 2022.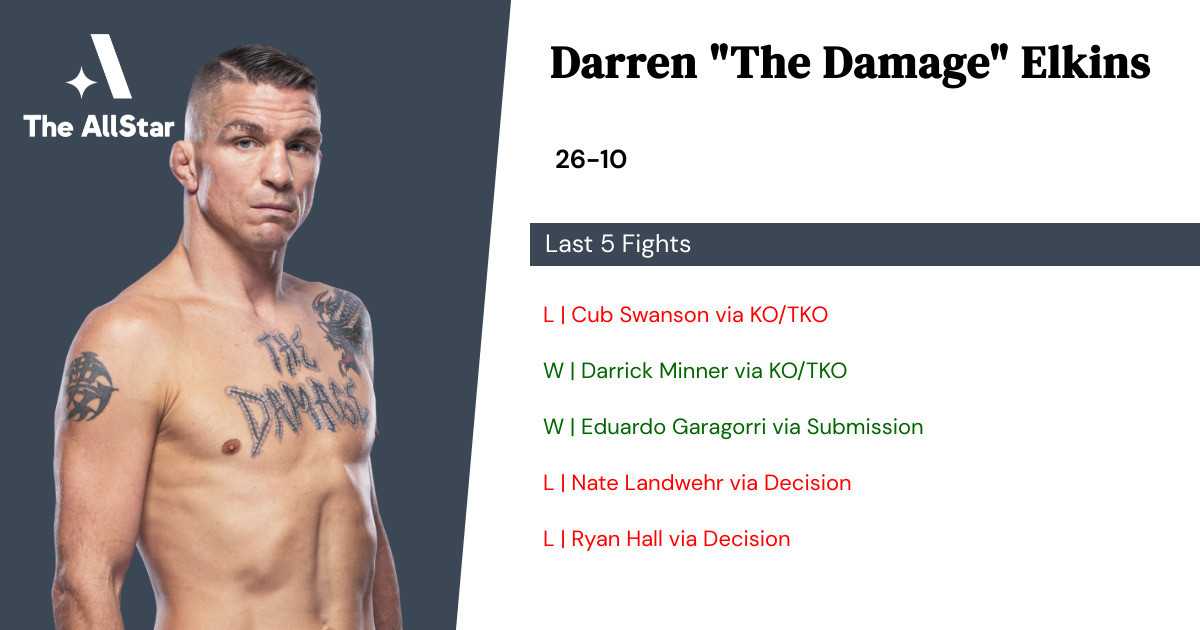 Darren Elkins has gone 2-3 in the last 5 professional MMA fights.
How to watch and bet on Tristan Connelly vs Darren Elkins