It's safe to say that there'll be no love lost between Francis Ngannou and Cyril Gane at UFC 270.
Once training partners at the MMA Factory in France, the pair's relationship seemed to break down when Ngannou left the gym in 2018. Relocating to Xtreme Couture in Las Vegas, "The Predator" has looked rejuvenated as of late, showing more impressive form than previously witnessed.
What makes this matchup interesting is the relationship between Ngannou and his former coach, Fernand Lopez. Footage released earlier this year showed the champion and Gane sparring a number of years back, footage that Ngannou claims was "manipulated" to make him look bad. Lopez fired back, claiming that the round ended with him taking a knee.
Emotions are anything but affable heading into this one, and with a multitude of opinions surrounding the fight, a number of coaches have shared their opinions with The AllStar.
---
---
"Fernand built him"
Muay Thai and MMA Striking coach Sean Madden believes the dynamic between Ngannou and Lopez will play a factor in the fight.
"Coach Lopez I would say knows Francis better than anyone. Probably more so than Eric [Nicksick]. I know Eric knows Francis really well, too. He spent a lot of time with him and built him as well. Kind of refined him, but Fernand built him. I always think those are the most interesting matchups because there is that little X factor. There's probably some things coach Lopez knows that aren't keen to the public or public information that he's going to save for fight night. He knows who Francis is as a person. He knows what Francis does well [and] he knows what he doesn't do well. He knows maybe what causes Francis to get emotional and what his triggers are."
"When you spend the amount of time with someone that a coach and a fighter do, you get to know that person really well; what sets them off, what gets them motivated and what demoralizes them. This is part of the sport and it's fighting. It's the art of war. These things have to be used in the fight especially in the championship level. If you're not using these things, you're at a disadvantage. I know coach Eric is a phenomenal coach. He's going to be aware of this. I'm sure Francis and him have talked about this too. It's one thing to talk about it and it's another thing to be ready for it and react to it in the fight."
"I think there are a couple of different X factors in this fight and I think we're going to see it play out not only in the fight but I think in fight week too. Maybe even some stuff behind the scenes off-camera that we don't get to catch. These are those really small details that go into championship-level fighting that we don't always get to see. And these things can make a difference in the cage."
Clash of styles
With two differing styles, the clash between champion and challenger will answer a variety of questions currently being asked. Can Gane deal with the power? Will Ngannou be forced on the backfoot? Searching for a solution, former fighter and coach Mike Swick weighed in on the bout.
"The thing is Ngannou's got one big thing, his power. But he does get tired [and] he's not as well-rounded. He can't just knock people out forever. We've seen Mark Hunt. How long did that last? I mean, he's a fantastic fighter for knockout power but you can't have your whole career just about knockouts."
"Ngannou doesn't have the sustainability to be a champ for a long time. Even if he stays the champ I don't think he has the sustainability. Someone's gonna be able to outwork him and I think Ciryl can do that. He knows he's got the power, it's no secret. That's the big weapon. Stay away from the power, drag him into the deep water, and beat him. I think he can do it."
MMA Gold Head Coach Jim West also thinks Gane will be too much for the champion.
"I almost have a really hard time picking against Ciryl Gane for some reason. I don't know why, maybe it's just a gut feeling. I don't know if Francis is going to pull it off. I think Ciryl's going to win. I really do."
"I see Cyril having better basics than everyone else in the UFC's heavyweight division. I think that's what is winning him the fights. I don't see him doing anything spectacular. I just see him doing everything pretty well. Whoever has better basics wins and I think Cyril has what I consider advanced basics in all aspects. And I think that's what is going to win him the fight against Francis."
"I don't see Cyril dominate like he did against Derrick [Lewis] but I do see him winning. I do see his basics being better in every aspect than Francis."
While Gane is tipped as the favorite heading into January 22, Joseph Henle feels like his tall stance may be a problem.
"It's one thing to be high if you have three exits. It's another when you only got two. When you can't go backwards that makes the game much different. Because long arm coming here (left) or here (right). If you can duck under and go great but if that's your game. And that's not his game. He really needs to find a way to dictate the pace either staying within the center of the inside ring of the Octagon. I think that's a safe place for him so he still got that stepback. But as soon as he steps back [he's got to] be getting back to that inner ring in order to give [himself] the best possibility to have all his exits and use his feet properly."
---
Fighter profile
Ciryl "Bon Gamin" Gane is a 31 year old male fighter from France with 10 pro wins and 0 losses. Gane is scheduled to fight Francis N'Gannou at UFC 270: N'Gannou vs. Gane on Saturday January 22, 2022.
Ciryl Gane's recent form coming into this matchup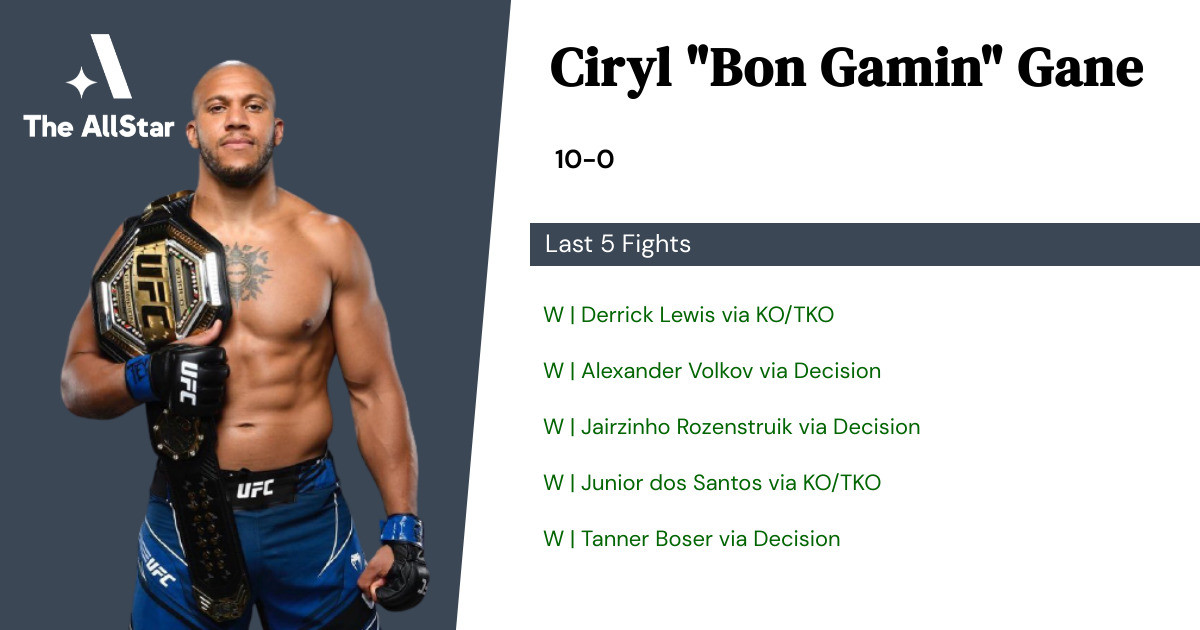 Gane has gone 5-0 in the last 5 professional MMA fights.
Win vs Derrick Lewis • KO/TKO R3 4:11 • 2021-08-07
Win vs Alexander Volkov • Decision R5 5:00 • 2021-06-26
Win vs Jairzinho Rozenstruik • Decision R5 5:00 • 2021-02-27
Win vs Junior dos Santos • KO/TKO R2 2:34 • 2020-12-12
Win vs Tanner Boser • Decision R3 5:00 • 2019-12-21
Ciryl Gane's next opponent: Francis "The Predator" N'Gannou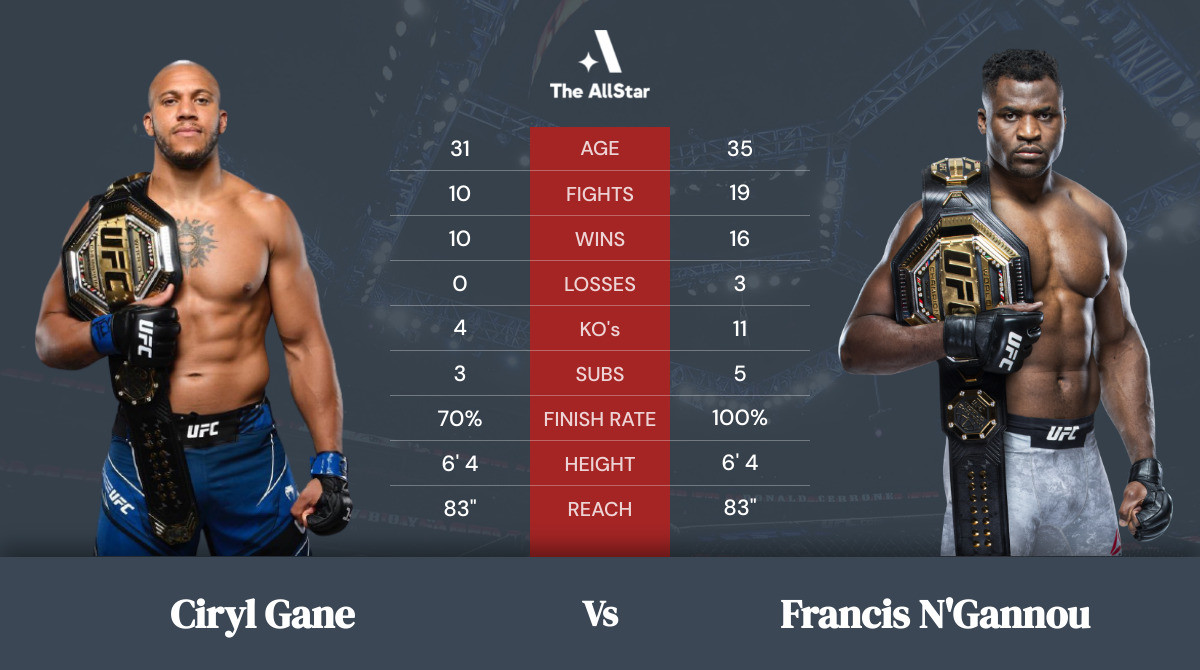 Francis "The Predator" N'Gannou's recent form coming into this matchup
Francis "The Predator" N'Gannou is a 35 year old male fighter from Cameroon with 16 pro wins and 3 losses. N'Gannou is scheduled to fight Ciryl Gane at UFC 270: N'Gannou vs. Gane on Saturday January 22, 2022.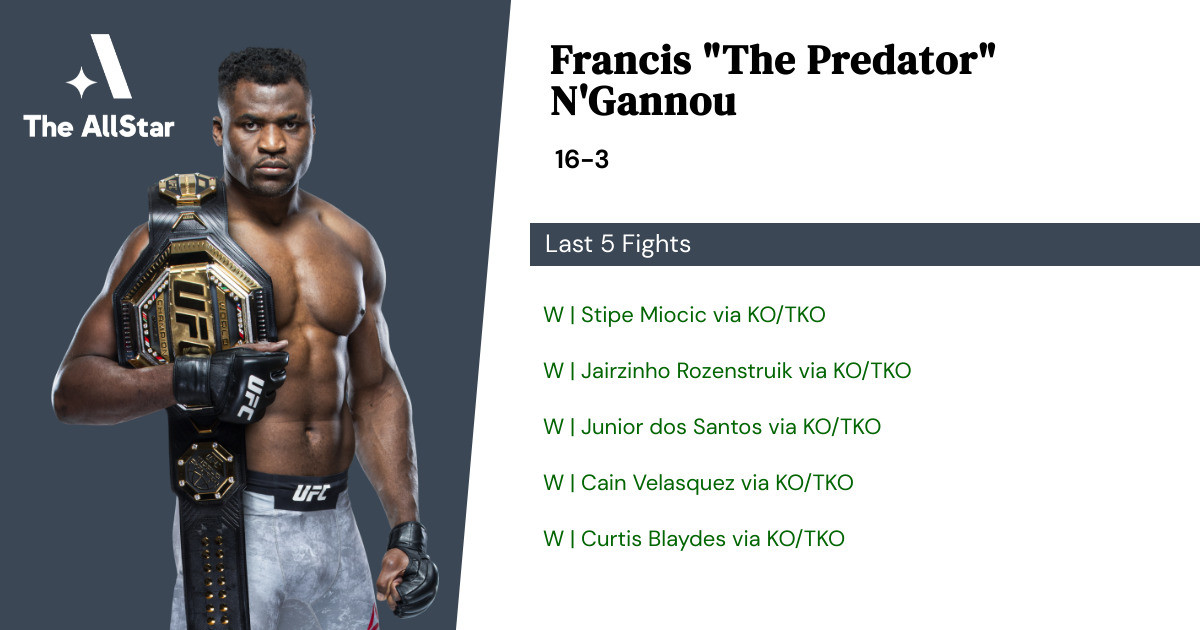 Francis N'Gannou has gone 5-0 in the last 5 professional MMA fights.
Win vs Stipe Miocic • KO/TKO R2 0:52 • 2021-03-27
Win vs Jairzinho Rozenstruik • KO/TKO R1 0:20 • 2020-05-09
Win vs Junior dos Santos • KO/TKO R1 1:11 • 2019-06-29
Win vs Cain Velasquez • KO/TKO R1 0:26 • 2019-02-17
Win vs Curtis Blaydes • KO/TKO R1 0:45 • 2018-11-24
How to watch and bet on Ciryl Gane vs Francis N'Gannou
Keep track of all the latest odds and line-movements at our bout page for this matchup.