Daniel Vreeland, who is on the UFC ranking panel, previews and offers his predictions for the UFC 270 card. UFC 270: Ngannou vs Gane takes place on Saturday, January 22nd, 2022. The prelim card begins at 6:30 PM EST with main card starting at 10:00 PM EST.
Never placed a bet on MMA before? Check out The AllStar's guide on How to bet on UFC fights in 2022.
---
Francis Ngannou vs Cyril Gane
The Skinny
This UFC 270 heavyweight unification fight brings together two very distinct striking styles. The interim champion Gane brings a more technical approach to striking. He favors work from the outside and more selective punches. Ngannou, on the other hand, is known for his big power that comes from his hooks and his uppercuts. He's shown that a single blow could end the fight at any time.
An interesting development leading into this fight is the fact that Ngannou appeared to shift somewhat towards Gane's style. While he still landed a big powerful blow on Stipe Miocic that ended the fight and won him the belt, he was selective with his shots early and even landed some leg kicks to set things up. Whether he'll be able to do so against someone with such solid kickboxing remains to be seen.
The Final Word
The narrative for most people picking Gane is that they believe he can stay out of range early in the right, and play smart defense while he waits for Ngannou to tire. I worry about that for two reasons. Firstly, staying out of Ngannou's range is not early with his enormous reach. Secondly, it supposes that Ngannou will not have the gas tank to go deep into a fight when the only time we've ever seen him tired was after repeatedly being taken down. With both of those factors in play and plus-money coming back on Francis, I think the smart play is on 'The Predator'.
---
Brandon Moreno vs Deiveson Figueiredo
The Skinny
For the third straight time, we're about to see Moreno and Figueiredo square off. In their first fight, we saw the Brazilian jump out to a huge lead, seemingly dominating the fight. However, an illegal strike or two and a late rally left the fight a draw and forced a second bout. The second bout provided none of the same back and forth as the first one. Moreno looked sharper on the feet by a wide margin. And, once he had Figueiredo down, it was a done deal.
The question we have to answer in order to determine where our money lies, is why such a change between two fights that happened just about half a year apart? Was it that neither had a full camp for the first one? Could Moreno have made large gains in such a short time? Is it possible that Figueiredo underestimated what Moreno could do?
The Final Word
My best guess for why this happened is that the second fight provided a better example of where the fighters were actually at. In the first bout, they had both fought less than a month prior. With full camps for one another, Moreno looked better. This is why I think Moreno will retain his belt at UFC 270.
---
Michel Pereira vs Andre Fialho
The Skinny
Michel Pereira is an absolute enigma. In some fights he seems far more interested in doing a WWE-style moonsault then he is in picking up a victory. In some fights, like the one with undersized Tristan Connelly, that costs him the fight. Other times, he implements a perfect game plan than involves a balanced approach and taking the power away from a scary opponent like Khaos Williams. Which Pereira we'll get seems to be a question that nobody
can really answer.
The newcomer Fialho is a bit easier to get a grasp on. He steps in for Muslim Salikhov, just eleven days prior to the fight. However, Fialho is not the typical late replacement. While he has no UFC experience, he has beaten the likes of James Vick and Stefan Sekulic – who both previously fought in the UFC. He, like Pereira, has big power in his hands, but is much more selective about when he lets it loose.
The Final Word
The late replacement is always a tempting option to bettors. The lines are always wide and we've seen some guys step in and make big names for themselves – like Chris Curtis or Terrance McKinney. However, I'm not tying my horse to Failho at UFC 270. While I think there are fights he'll win in the UFC, he had difficulty with some side kicks from James Vick early on in their fight. His power is there, but the nuance to close the distance does not seem to be. Against someone like Pereira with virtually no preparation, that issue should be compounded ten-fold.
---
Cody Stamann vs Said Nurmagomedov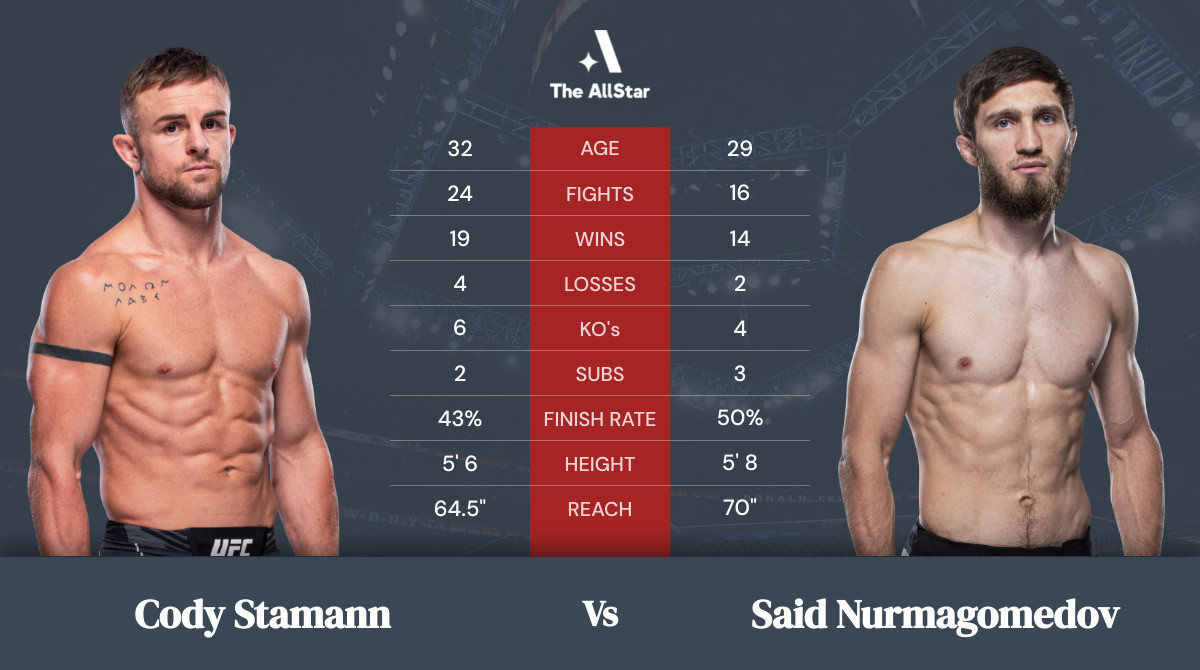 The Skinny
Cody Stamann has been kicking around the bantamweight division for nearly five years now. He made a huge jump in the rankings with a win over Bryan Caraway in just his third fight, but since then has faced setbacks against some of the other ranked fighters he's faced. Some of these struggles come from when he can't get his bread and butter, his wrestling, going to the full extent. In those instances, his short reach winds up making it harder for him to keep up
in the striking department.
His opponent, Said Nurmagomedov (no blood relation to Khabib), is quite a bit different from what we've come to expect with someone with that last name. He prefers to strike and has a great and diverse kickboxing game. Conversely, he's actually dropped a few fights in his career when he was taken down repeatedly. Raoni Barcelos was the last to do this to him back in 2019.
The Final Word
Although I think the massive reach advantage for Nurmagomedov may spell problems for Stamann, I think his wrestling would be a big equalizer at UFC 270. As long as he mixes it in early, it should deter some of the kicking game of Nurmagomedov. Additionally, I think Stamann's wrestling game may be enough to hold Nurmagomedov dowwn and win round there. With plus-money odds on the American here, I think he's the obvious play.
---
Rodolfo Vieira vs Wellington Turman
The Skinny
After a wild submission loss to Anthony Hernandez, Rodolfo Vieira got back to his winning ways his a submission win over Dustin Stoltzfus. The legendary grappler not only used the suffocating top control that he's known for, but showed off a much more polished striking game too. This is most likely the result of tiring in the Hernandez fight and needing to diversify his attack. Credit Vieira for both seeing the need and making the adjustments.
Wellington Turman presents some interesting issues for Vieira and perhaps even more need for him to lean on those new skills. He has never been submitted during his professional career, and he hasn't been taken down since he came to the UFC. Some of this can be attributed to his black belt in jiu jitsu. Some of it could also be attributed to the strength of opponents, particularly when it comes to wrestling.
The Final Word
They both have black belts in jiu jitsu, but not all black belts are created equal. While I am impressed that Turman has managed to keep his feet in every one of his UFC bouts, he likely will not be so lucky against Vieira. Rodolfo is an ADCC champ and a five-time world champion. I think he possess the skills to take Turman where he hasn't been before and exploit weaknesses at UFC 270.
---
Tony Gravely vs Saimon Oliveira
The Skinny
Tony Gravely went into his last fight with Nate Maness riding a two-fight winning streak. Despite having Maness nearly unconscious at the end of round one, he lost the fight by TKO in the second. That fight sort of exemplifies what makes Gravely so frustrating. He looks so powerful and imposing early in fights. Similar to the Maness fight, he was looking decent early against Brett Johns before being submitted in the third.
Saimon Oliveira is yet another Contender Series graduate making his debut this weekend. Although he's quite a bit different than Gravely in terms of style and physical make-up, he does have a lot of submission finishes as well. In fact, three of his last five fights have ended with a submission and he was close to another on the Contender Series thanks to three takedowns.
The Final Word
Although Olivieira was able to get some of his grappling going on Contender Series, it's hard to imagine that he'd be able to do the same against Gravely. His three takedowns took quite a bit of effort and were paired with four that he whiffed on. Gravely is a lot more adept at stuffing attempts than Jose Alday is, and in addition, I think he'll give Oliveira more trouble on the feet as well.
---
Ilia Topuria vs Charles Jourdain
The Skinny
After originally being scheduled to fight fellow undefeated prospect Movsar Evloev, Topuria now gets late replacement Charles Jourdain. The fight is a huge departure from his original opponent. Not only is Jourdain unranked and with more than a few blemishes on his record, but he's also an entirely different style from what Topuria had been preparing for. As is always the case with these late replacements, it'll be interesting to see if he sticks to his original game plan, or varies it for the change in opponents.
As mentioned above, Jourdain is much different that Evloev. For one, you're not likely to see him wrestle at all. He prefers a distance striking match and has shown a real ability to stop people with his hands. He's coming off a wild fight with Andre Ewell, that happened just a month prior to this UFC 270 fight. He won that by unanimous decision.
The Final Word
Ilia Topuria has shown some absolutely scary power in his last two fights. Just pitted in a striking match with Jourdain, I still think I might pick Topuria. When you add in the fact that he should have a massive advantage if he tried to take the fight to the ground, I think there's little chance we see Jourdain win this fight. The odds are pretty steep in this one, but I still like the line on Topuria.
---
Jack Della Maddalena vs Pete Rodriguez
The Skinny
Jack Della Maddalena was part of one of the very best fights on this season's Contenders Series. He and Ange Loosa went to war on the feet, but the speed and ability to cut angles really was the difference maker for the Aussie. That's been his story on the regional circuit as well, expect the results have been much faster. During his ten-fight winning streak, Loosa is the only opponent to make the third round, nevermind see the judges' scorecards.
Pete Rodriguez is a stranger to the judge's scorecards as well. In just four professional fights, he hasn't made it even half of a round before knocking his opponents out. His extensive time as an amateur wasn't much different. Although there were some blemishes in the early going, only one of his victories made it out of the first.
The Final Word
Although Rodriguez is undoubtedly dangerous, he is a little too reckless to be successful against a guy like Della Maddalena. When Rodriguez starts an exchange, his hands leave his chin, never to return. So while he has some real power, he leaves himself wide open to counters. With Della Maddalena being a fighter with great footwork and an easy ability to cut angles for counters, he should be able to hand Rodriguez his first professional loss.
---
Raoni Barcelos vs Victor Henry
The Skinny
During his five-fight winning streak and six-fight UFC career, Barcelos has had some really bad luck with opponents. He's had a slew of last second changes and fight camps with multiple opponents. This fight was originally supposed to be against Trevin Jones in December and, since being switched to Victor Henry, has been canceled twice. Some people have pointed to this as a reason why he hasn't looked as sharp in some of his bouts.
The newcomer Henry is a lot more experienced than the standard debutant. With twenty-six professional fights and wins over UFC veterans Albert Morales and Kyler Phillips, Henry has been around the block a bit. Most of his wins come from his heavy hands and overly aggressive style. He often overwhelms the defense of his opponent and, on occasion, is able to wear them down.
The Final Word
The thing about Henry's game when it comes to fighting someone like Barcelos, is that Barcelos has dealt with that aggression before. He's also easily dealt with higher level strikers than Henry – guys like Said Nurmagomedov. I think he should be able to use that aggression against Henry by catching kicks and ducking under shots for takedowns. Expect Barcelos to spend a lot of time in top control here and win a decision.
---
Michael Morales vs Trevin Giles
The Skinny
Although Jack Della Maddalena may have had the most exciting fight, Michael Morales may have come out as one of the top prospects off of the past season of the Contender Series. The twenty-one year old Ecuadorian prospect showed off not only a high-level of skill, but off the charts athleticism. We saw him not only beat a tough prospect in Nikolay Veretennikov, but do so by repeatedly throwing him to the mat with relative ease.
After being knocked out in his last bout, Trevin Giles looks to start anew down a weight class at welterweight. Some of this is likely due to some size and power discrepancies that appeared to exist up at middleweight. Dricus Du Plessis took him down several times before knocking him out cold. While his takedown defense is a respectable 75%, he had been taken down in four of his last five fights.
The Final Word
Moving down a weight class very well could help revitalize Giles' career. The problem is that I think Morales is the worst kind of opponent for him to be facing in his first try at this. Morales is so fast and athletic that I think the advantages Giles may get from moving down in weight will be negated. Not to mention he's going to be working against a five-inch reach disadvantage at UFC 270, which is a lot for a fighter like him to overcome.
---
Silvana Gomez Juarez vs Vanessa Demopoulos
The Skinny
The debut for these two women did not go the way either had envisioned. Some of that is due to the fact that both took their bouts on short notice. Juarez fought Loopy Godinez on short notice (although she was scheduled to fight on Contender Series the following Tuesday). She lose that fight by submission. Demopoulos had just four days to prepare for JJ Aldrich up a weight class. She'd lose that fight by unanimous decision.
What this fight revealed about both fighters really depend on how much you put into that short notice aspect. On one hand, Demopoulos looked out of her element against JJ Aldrich. That becomes a question of whether or not it was just too much of a step up, or she was out-sized and under-prepared. While the undersized aspect is not there for Juarez, the massive change in style may have affected her.
The Final Word
When it comes to betting this UFC 270 fight, there are a lot of unknowns, which is generally one to steer away from. However, I lean towards Demopoulos here as a pick because of the issues I've seen with Juarez being pushed back against the fence. Demopoulos for sure would like to make this a grind, and I don't know that Juarez has the tools to prevent that.
---
Matt Frevola vs Genaro Valdez
The Skinny
Matt Frevola has hit a bit of a rough patch. After running into a top prospect in Arman Tsarukyan, who not only neutralized the wrestling of Frevola, but took him down a ton as well, he then got knocked out in just seconds against Terrance McKinney. Those two fights are hardly a good case study of what he's capable of. Frevola is a solid wrestler in his own right, who appears to be making significant gains with his hands.
Valdez was a surprising contract off of the Contender Series. He faced an underwhelming opponet in Patrik White, but struggled with him a bit. The fight turned into a bit of a brawl. While Valdez won the fight, it wasn't a banner performance against someone he was a -510 favorite over.
The Final Word
Although Valdez looked pretty bad his last time out, I attribute a lot of that to changing his style to match what he believes Dana was looking for. At his best, Valdez is actually a very strong grappler and has some pretty dangerous top game. Even if he's unable to get the fight to the floor at UFC 270, he's shown that his hands are dangerous and he should be able to handle Frevola there as well.
---
Kay Hansen vs Jasmine Jasudavicius
The Skinny
Kay Hansen is another fighter who is changing weight classes for UFC 270. However, unlike Trevin Giles, Hansen will be going up in weight to flyweight. It'll be interesting to see how this affects her, as her best attributes have often been her physicality and her grappling skills. Those things tend to play down when moving up, but it obviously could be evened out by an increase in cardio from the reduced weight cut.
Jasmine Jasudavicius is quite a long fighter. She'll be five inches taller than Hansen and have five inches of reach as well. That's been the case for a lot of her career, but it is only recently that she's figured out the best ways to use it. Her jab has become more consistent as of late and she's used opponents trying to hastily rush into range as an opportunity to score more ground control.
The Final Word
Although I think moving up in weight may not work for Hansen against some of the opponents she'll face, I don't think Jasudavicius is the right opponent to exploit those issues. Hansen will still have an advantage if it hits the ground at UFC 270 and will likely be quite a bit stronger than Jasudavicius. The striking may be an issue early on, but not enough to shy me away from the line on Hansen here.
---
Most of the odds for these fights are razor close – so if you like any of these fighters, get it on them right away. You can also get the best odds for these fights at Bovada, Cloudbet, and Stake.