Life is literally better now for Jasmine Jasudavicius.

The 32-year-old Canadian is not only making her promotional debut at UFC 270, she's doing it at flyweight, rather than at strawweight where she competed in the past. The big difference? She gets to eat more.
Training and fighting at 115 is "exhausting mentally, physically," Jasudavicius told The AllStar. Her life consisted of counting calories, dieting her way through training camps in which she tried to sustain heavy workouts with little fuel in the tank.
"Going to practice after just eating like 200 calories. It sucked. But winning is worth it so that's why you do it," she said. "Fighting at 125 is nice. I feel good. I have energy during practice. I feel good outside of practice. I'm not just thinking about when's the next time I can eat. It's way more healthy.
"You got more in the tank because you're actually full. You have enough nutrients in your body to be able to sustain a two-hour workout. You can't really sustain a two-hour workout on 200 calories."
She'll need the extra energy on Jan. 22 for her upcoming opponent Kay Hansen. Ten years her junior, Hansen has already had two UFC appearances. The American had been on a four-win streak before dropping a decision to Cory McKenna in November 2020.
Jasudavicius feels for her opponent, having lost a fight in August of that year in the same fashion. It's her only loss from seven professional MMA fights and she followed that up with two straight wins.
"I've been on the wrong side of a split decision so I know how it feels," Jasudavicius said. "I know her coming back, she's gonna have that fire in her belly. I remember when I was coming back after a loss, it was different so I'm looking forward to it. I know she's tough. I know it's going to be a good fight but I'm ready to bring it."
---
Fighter profile
Jasmine Jasudavicius is a 32 year old female fighter from Canada with 6 pro wins and 1 losses. She is scheduled to fight Kay Hansen at UFC 270: N'Gannou vs. Gane on Saturday January 22, 2022.
Jasmine Jasudavicius's recent form coming into this matchup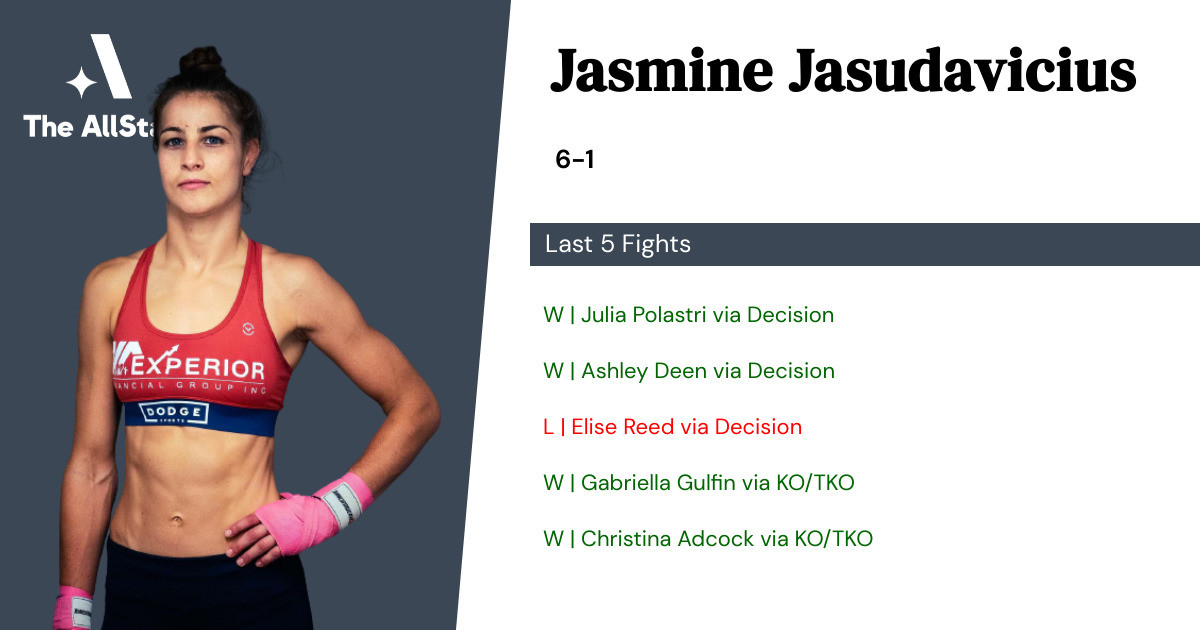 Jasudavicius has gone 4-1 in the last 5 professional MMA fights.
Win vs Julia Polastri • Decision R3 5:00 • 2021-09-14
Win vs Ashley Deen • Decision R3 5:00 • 2021-03-12
Loss vs Elise Reed • Decision R3 5:00 • 2020-08-13
Win vs Gabriella Gulfin • KO/TKO R1 1:37 • 2020-02-01
Win vs Christina Adcock • KO/TKO R1 0:52 • 2019-11-30
Next opponent: Kay Hansen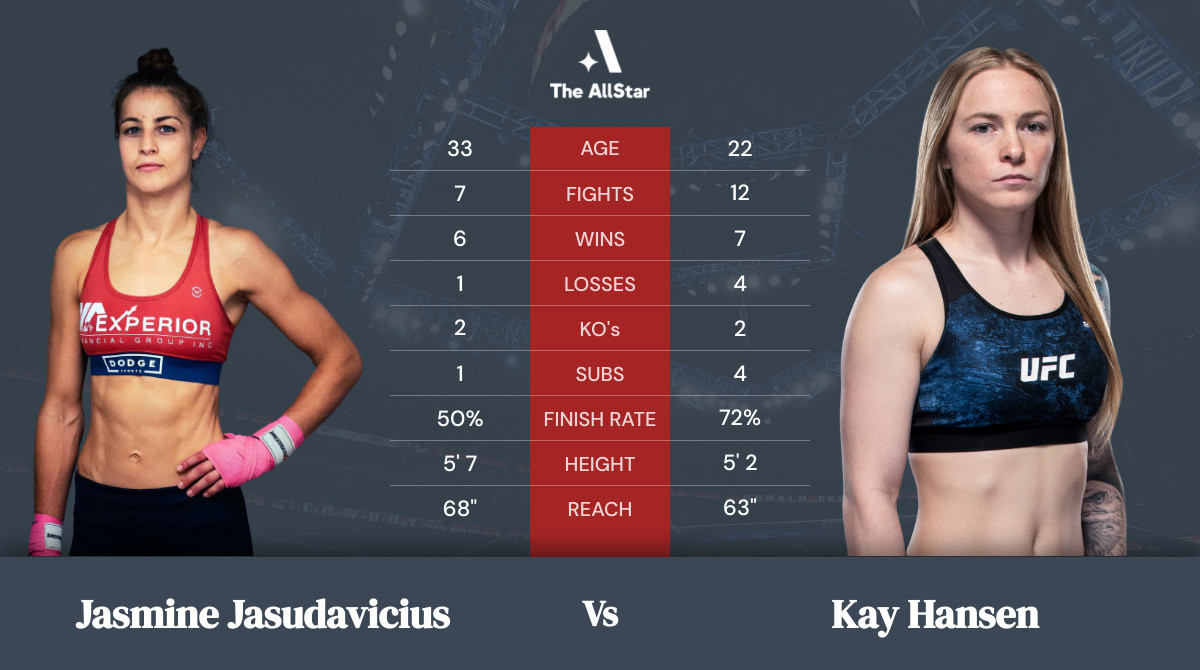 Kay Hansen's recent form coming into this matchup
Kay Hansen is a 22 year old female fighter from United States with 7 pro wins and 4 losses.
Kay Hansen has gone 4-1 in the last 5 professional MMA fights.
Loss vs Cory McKenna • Decision R3 5:00 • 2020-11-14
Win vs Jinh Yu Frey • Submission R3 2:26 • 2020-06-27
Win vs Liana Pirosin • Decision R3 5:00 • 2020-03-06
Win vs Nicolle Caliari • Submission R3 1:14 • 2019-10-04
Win vs Carolina Jimenez • Decision R1 5:00 • 2019-09-06
How to watch and bet on Jasmine Jasudavicius vs Kay Hansen
Keep track of all the latest odds and line-movements at our bout page for this matchup.