When the name Blood Diamond flashes across the screen during the UFC 271 broadcast this weekend, expect fans to be instantly intrigued.
Some question the experience and skillset of a fighter making his UFC debut after just three pro MMA fights. What's more, this is a man who prefers to go by his ring moniker rather than his birth name of Mike Matheta. 
The 33-year-old Diamond is not oblivious to the naysayers and skeptics. But he's also wary of jumping to conclusions on a fighter's record, having been proven wrong once before.
"The best example I can give is Joseph Valtellini," Diamond told The AllStar. "He ended up being Glory kickboxing champion. But when he started I'm very sure his record was close to mine. And he just started lashing people up. Fought well against top fighters.
"One of my favorite fights to watch in kickboxing is him versus Nieky Holzken. And Nieky has been there for like…he's got a big record, he's a legend in the game. Watching them fight together I was like wow. I had the same reaction when I first saw him jump into Glory for the first time. This guy? With this amount of record? Doubted him. I'm guilty for doubting him.
"But that's when I learned that lesson. Don't judge a book by its cover. He had put in the work way before. He got enough time to train, hone his skills, and then he showed [everyone]. I've done this. I've been training MMA for a while and me getting this opportunity to fight in the UFC, it's my time."
The City Kickboxing prospect did not leave any stone unturned during his preparations. Alongside his teammates UFC middleweight champion Israel Adesanya and light heavyweight Carlos Ulberg, Diamond pushed training camp to the absolute limit.
All three are bound together as former King of the Ring champions. The tournament is a one-night, eight-man kickboxing contest held in Auckland, New Zealand multiple times a year.
"We just keep pushing each other and we always remind each other," he revealed. "We always have each other's backs. We always checking up on each other and just making sure everything is going good.
"Since this is my first [UFC] camp, I've got those two to ask. Three of us all basically have the same background. We all have fought in China, all three of us are kings, and we are all fighting on the same show. Just this energy that we are sharing. I just can't really explain it. Something exciting."
The Zimbabwean-Kiwi will debut against powerhouse Jeremiah Wells in a welterweight clash. To introduce himself to the world, he is determined to have the crowd standing and cheering when the fight is over.
"I'm not much of a visual person but ideally, I just want to put on a show," he said. "I just want to continue that Blood Diamond legacy I've been having all this time. Giving people a show. I'm an entertainer so that's what I want to do, I want to entertain.
"I know he's bringing his A game, I'm definitely bringing my A+ game so it's going to be exciting."
How do you see Blood Diamond performing at UFC 271 against Jeremiah Wells?
---
Fighter profile
Blood Diamond is a 33 year old male fighter from New Zealand with 3 pro wins and 0 losses. He is scheduled to fight Jeremiah Wells at UFC 271: Adesanya vs. Whittaker 2 on Saturday February 12, 2022.
Recent form coming into this matchup
Blood Diamond has gone 3-0 in the last 5 professional MMA fights.
Win vs Dimps Gillies • Decision R3 5:00 • 2020-02-22
Win vs Hyun Min Hwang • Submission R1 3:53 • 2018-07-21
Win vs Jo Van Duin • KO/TKO R2 • 2017-05-06
Next opponent: Jeremiah Wells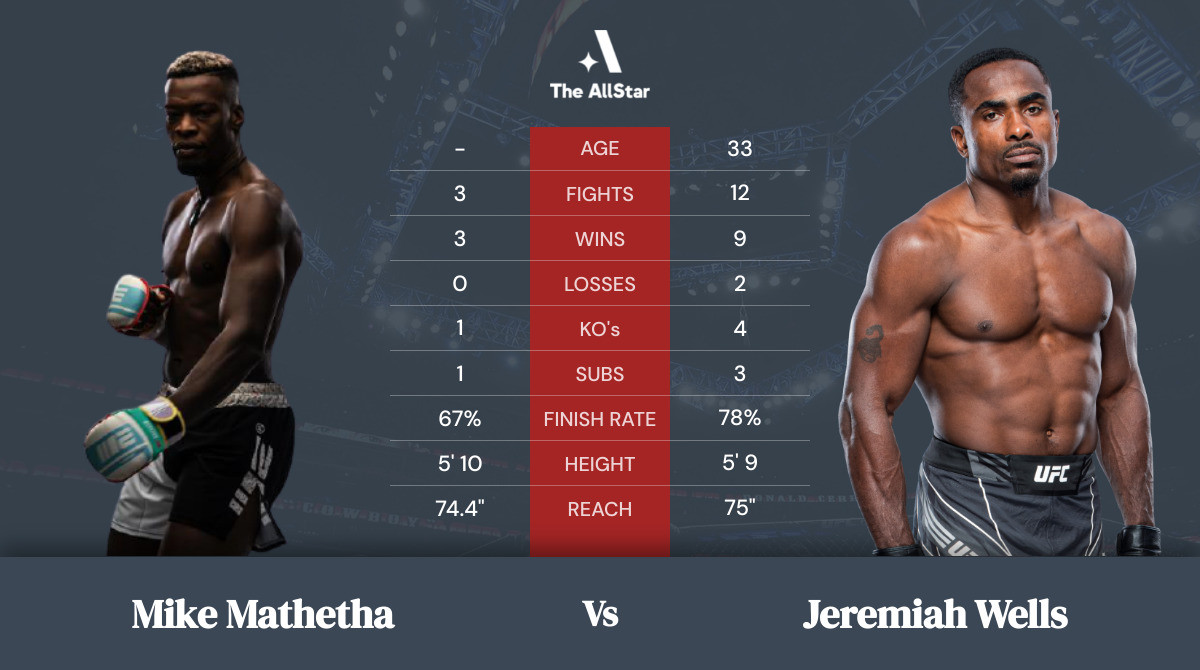 Recent form coming into this matchup
Wells is a 35 year old male fighter from United States with 9 pro wins and 2 losses.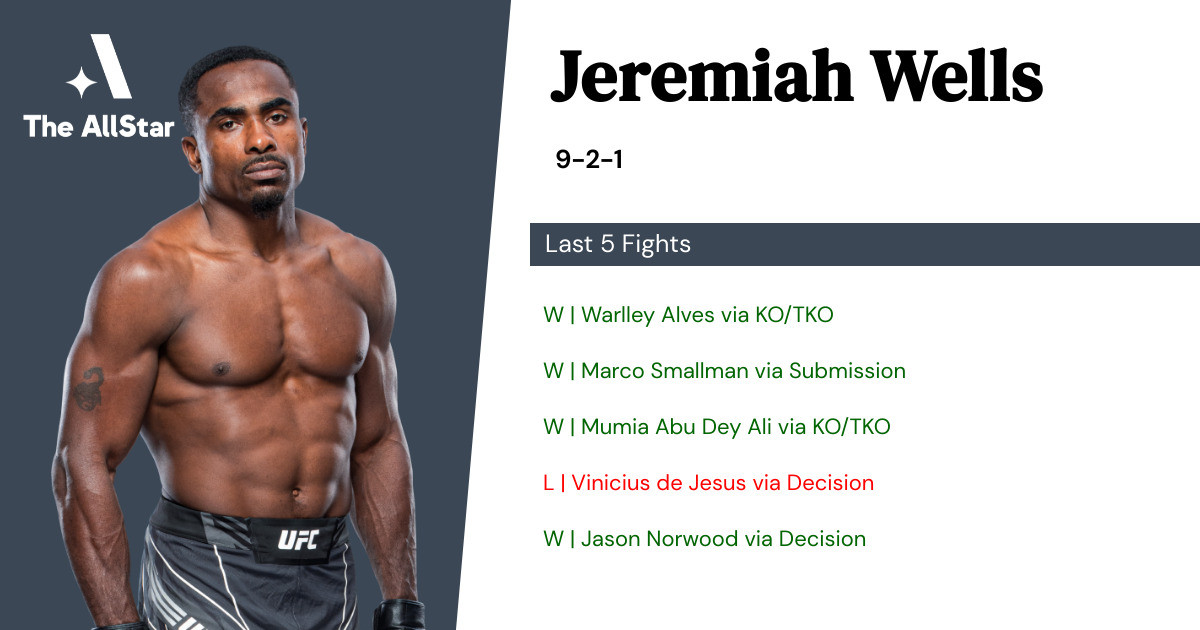 Jeremiah Wells has gone 4-1 in the last 5 professional MMA fights.
Win vs Warlley Alves • KO/TKO R2 0:30 • 2021-06-26
Win vs Marco Smallman • Submission R2 2:51 • 2019-09-21
Win vs Mumia Abu Dey Ali • KO/TKO R1 0:22 • 2019-06-14
Loss vs Vinicius de Jesus • Decision R5 5:00 • 2019-03-29
Win vs Jason Norwood • Decision R5 5:00 • 2018-08-17
How to watch and bet on Blood Diamond vs Jeremiah Wells