Dustin Jacoby tests skills with Michal Olekslejczuk on March 5th at UFC 272. This light heavyweight affair goes down at T-Mobile Arena in Las Vegas, Nevada. Jacoby has much love for the fans and looks forward to again feeding off of their energy.
Following a win at the world's most famous arena, Madison Square Garden, when he bested John Allan via unanimous decision at UFC 268, Jacoby seems galvanized leading into this explosive clash.
The Factory X product is noticing the divisional rotation at the upper tier. This bodes well for a 205 pounder who is unbeaten across his last seven MMA contests.
"With Jon Jones gone, to me, it's wide open," Jacoby told The AllStar. "Then you have injuries. Jan (Blachowicz) just got injured, he had to pull out of his fight. My homeboy Anthony Smith. He had the surgery and the staph. I think he's back to health and looking to fight April or May. He's gonna have a stab here at the title, I think, in the next fight or two.
"It's a revolving door. I feel like it's wide open, man. It's up for grabs. Just to get a piece of that a couple of times is life-changing. That's my goal, man. I really think I can with the right timing. Like you said, everything's timing."
Jacoby's last fight saw him accept the bout straight off the mountain. This contest presents a possible chance to climb a figurative mountain as he vies for a strong ranked spot.
Jacoby sees Olekslejczuk as someone with that durability and toughness underpinning their resolve. But in confluence with a high level of overall fight technique.
When the idea of if he can be the first to knock out his Polish opposition in the Octagon was posited, Jacoby's confidence resonated with a broader consideration for other possible outcomes outside of a standup context.
"I certainly see that happening. I'm working on that. Got a few techniques that I'm really drilling. Preparing some counter moves that he leaves himself open for. Also, my ground game is underrated. I'm never gonna be the guy to go in and take you down. I've got good wrestling defense. If it does go down, I've got good scrambles to get back up. Maybe catch you with a slick submission."
The bitcoin enthusiast would not be averse to getting compensated for fights that way.
A huge surge in his cryptocurrency profile could potentially come via a coveted post-fight bonus; something that has curiously eluded Jacoby so far in his UFC endeavors.
"I've got long arms. So a couple of nice chokes that always work and are always my go-to in good scramble situations. I just think I'm better everywhere, man. I think he's going to come out, push the pace, and I'm going to check hook him a couple of times. We'll see, man.
"Of course, I might drop him right out the gate. I've not won a fight bonus yet, man. So my eyes are on that fight bonus. It takes two to tango. He's the type of guy you can get one with."
Fighter profile
Dustin "The Hanyak" Jacoby is a 33 year old male fighter from United States with 16 pro wins and 5 losses. Jacoby is scheduled to fight Michał Oleksiejczuk at UFC 272: Covington vs. Masvidal on Saturday March 5, 2022.
Dustin Jacoby's recent form coming into this matchup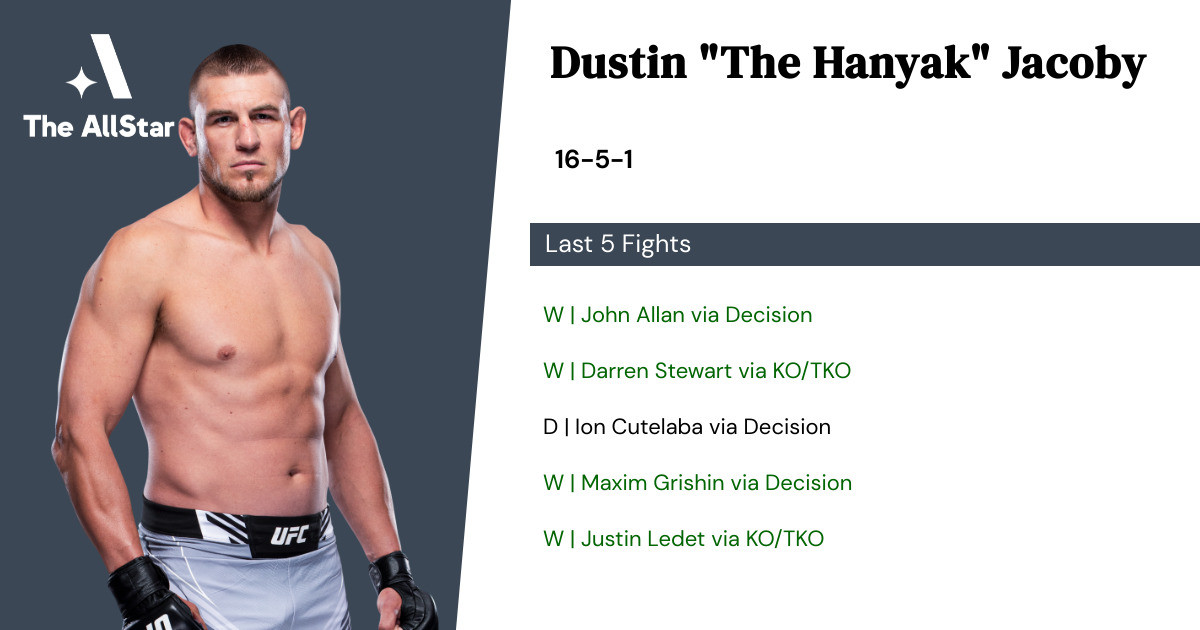 Jacoby has gone 4-0-1 in the last 5 professional MMA fights.
Win vs John Allan • Decision R3 5:00 • 2021-11-06
Win vs Darren Stewart • KO/TKO R1 3:04 • 2021-08-28
Draw vs Ion Cutelaba • Decision R3 5:00 • 2021-05-01
Win vs Maxim Grishin • Decision R3 5:00 • 2021-02-27
Win vs Justin Ledet • KO/TKO R1 2:38 • 2020-10-31
Dustin Jacoby's next opponent: Michał "Lord" Oleksiejczuk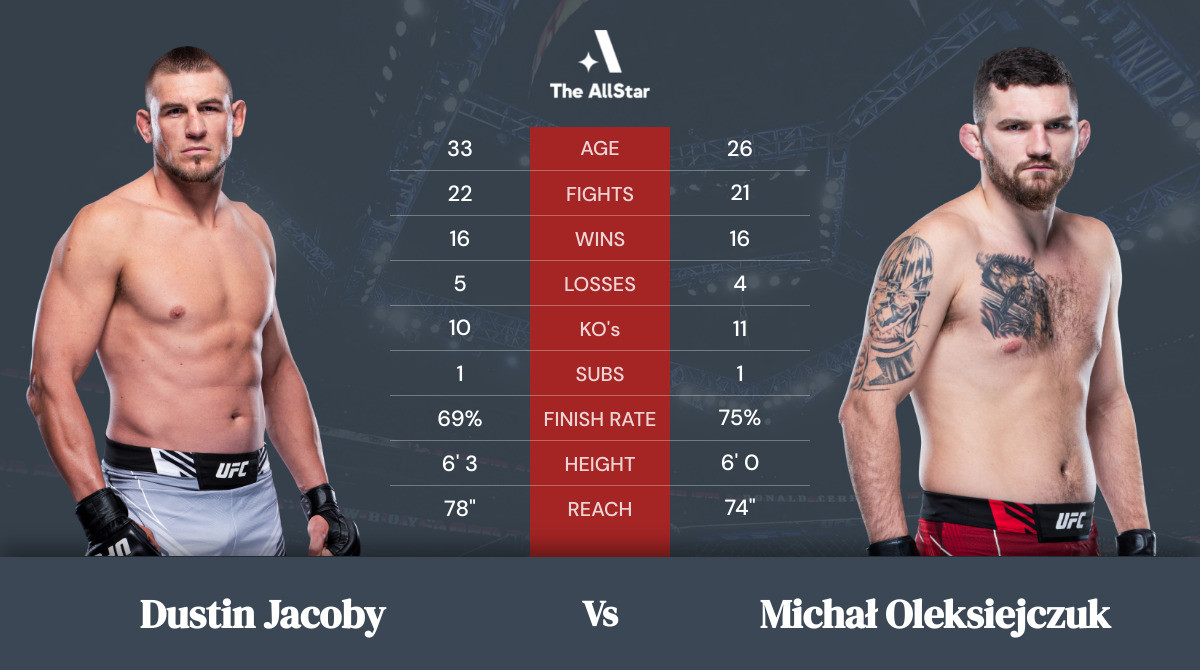 Michał "Lord" Oleksiejczuk's recent form coming into this matchup
Michał "Hussar" Oleksiejczuk is a 26 year old male fighter from Poland with 16 pro wins and 4 losses. Oleksiejczuk is scheduled to fight Dustin Jacoby at UFC 272: Covington vs. Masvidal on Saturday March 5, 2022.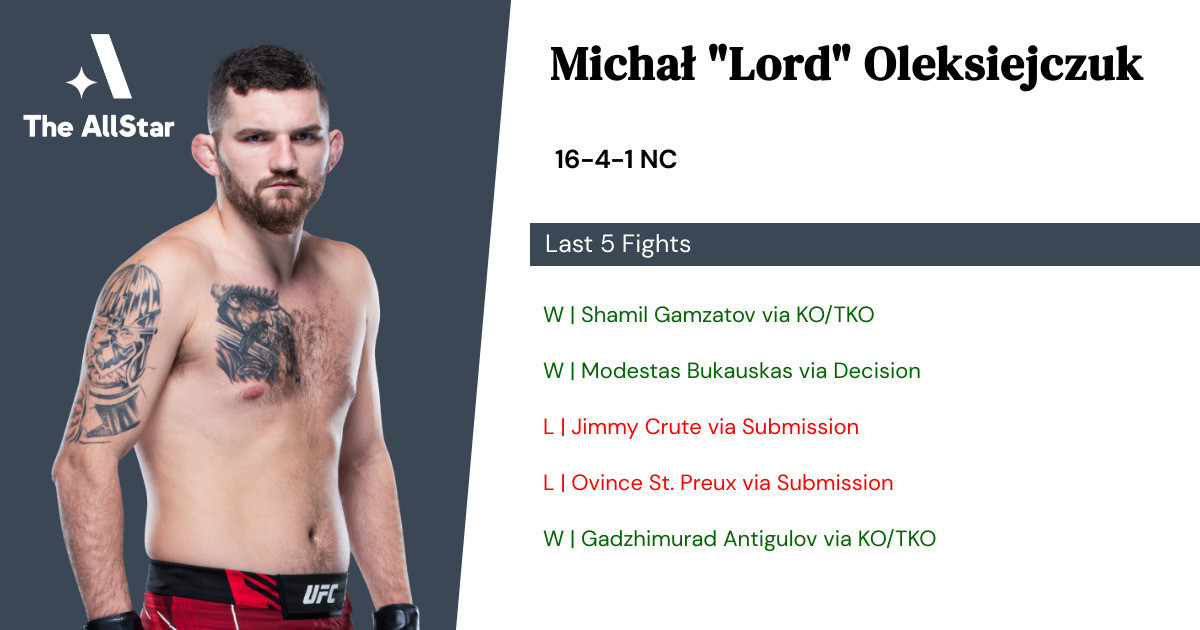 Michał Oleksiejczuk has gone 3-2 in the last 5 professional MMA fights.
How to watch and bet on Dustin Jacoby vs Michał Oleksiejczuk
Keep track of all the latest odds and line-movements at our bout page for this matchup.