Jalin Turner returns to action early next month at UFC 272 opposite Jamie Mullarkey. The 'Tarantula', a proud owner of three straight finishes in the lightweight division, is confident ahead of his March 5th bout and excited to get back in the cage.
"Jamie, he's a tough guy," Turner told The AllStar. "[He's] really durable, comes forward a lot, a lot of pressure. [He has a] decent ground game and okay striking… It's going to be a fun fight. It's going to be a good fight for me."
Looking back on Mullarkey's last two trips to the Octagon, Turner believes the Australian's opposition were not at their best during fight night, "Khama [Worthy] got a little [too] comfortable… probably underestimated him a little bit; and I feel like Devonte [Smith] just broke under the pressure… I feel like he didn't fight to his full potential either," Not one to underestimate his peers, however, Turner added "That's not taking away anything from Jamie, he came in there [and] got the job done, made it look spectacular both times… Hats off to him… He's not somebody to sleep on."
The 26-year-old Turner, five months removed from his last excursion to the cage, feels that the pay-per-view bout opposite highly touted Serbian prospect, Uros Medic, showcased his evolution as a mixed martial artist, "As a whole, you got to see my improved ground game, my takedowns."
The collective of individuals behind that evolution inside the cage is many of the same people Turner has been working with throughout his UFC career.
"I don't really switch stuff up too much," Turner in reference to his training camp. "…I've been training at Millenia, I've been training at RVCA… Carlson Gracie Riverside… I'm doing my thing."
Turner went on to praise the variety of styles and bodies on the mats at Millenia Gym, explaining "Millenia's always been like a middle-ground for us to work with different gyms, different people [and] different styles." Confident in the importance of that diversity in training partners, Turner claimed he's ready for anywhere this fight goes "I feel solid, bulletproof… I can't wait to go do my job… Execute my gameplan, even if the gameplan don't work, I got plan A, B, C, D; all the way until I get my hand raised."
One of the key driving forces behind Turner's desire to evolve, he recalls, was his loss to Matt Frevola, a fighter he believes he beats nine times out of ten.
"That was my turning point where I was like, I lost to somebody I feel like I shouldn't have lost to, I fought Injured, there was just so much stuff, mentally, physically going on in my life outside of just a fight," Turner revealed.
"It made me reassess my whole career like 'you know, if you're going to do this, do it with conviction… put all your focus into this… you want to be a champion, you want to get that title shot, you want to fight for the belt one day, so you gotta do it now. Leave no stone unturned.' So at the end of the day, when it's all said and done, [I] did everything [I] could."
Having already prepared to face Mullarkey once before in 2020, previous to the Australian being forced out of the bout due to injury, Turner believes aids in his preparation heading into fight week, explaining "Mentally it added a lot of value because I've already studied him, I watched his tape, I watched his style, I've followed his career as he's been in the UFC… it just makes everything that much easier."
With both fighters currently streaking, garnering momentum and hype behind them after bumpy entrances into the promotion, it's easy to imagine the winner of this upcoming bout catapulting toward a ranked opponent in the lightweight division.
"It will open a huge door for the winner." Turner shared. "That's how I've been looking at it, that's how I've been treating it… He plans on cracking the top 15… and I plan on doing that a little bit sooner than him."
---
Fighter profile
Jalin "The Tarantula" Turner is a 26 year old male fighter from United States with 11 pro wins and 5 losses. Turner is scheduled to fight Jamie Mullarkey at UFC 272: Covington vs. Masvidal on Saturday March 5, 2022.
Jalin Turner's recent form coming into this matchup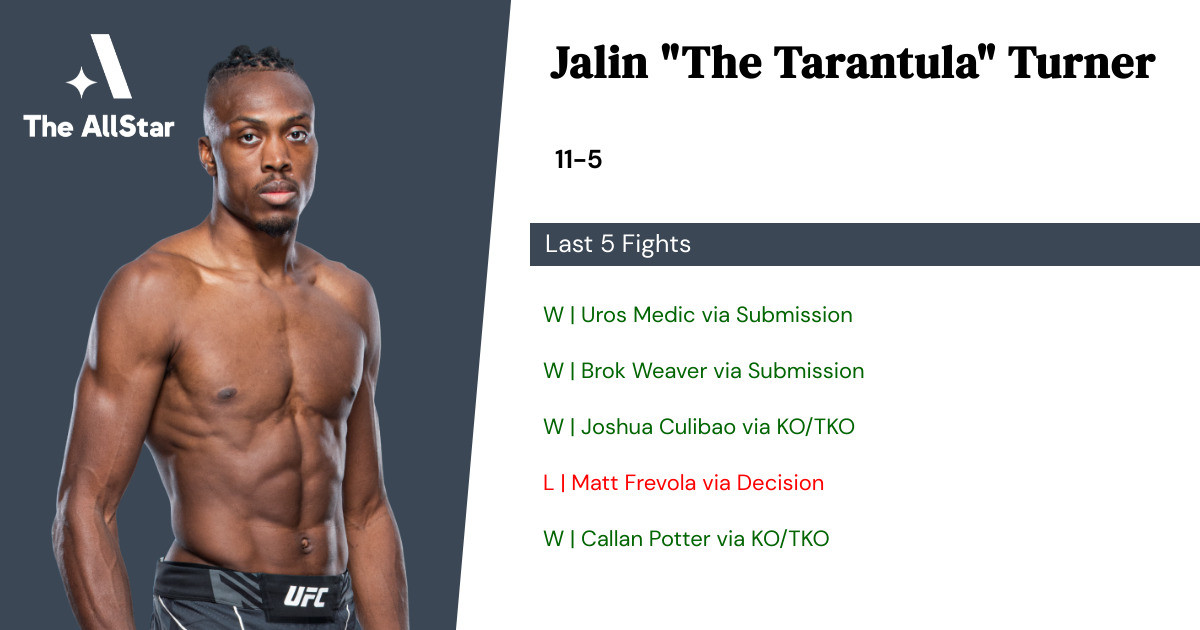 Jalin Turner has gone 4-1 in the last 5 professional MMA fights.
Win vs Uros Medic • Submission R1 4:01 • 2021-09-25
Win vs Brok Weaver • Submission R2 4:20 • 2020-09-12
Win vs Joshua Culibao • KO/TKO R2 3:01 • 2020-02-22
Loss vs Matt Frevola • Decision R3 5:00 • 2019-04-13
Win vs Callan Potter • KO/TKO R1 0:53 • 2019-02-09
Jalin Turner's next opponent: Jamie Mullarkey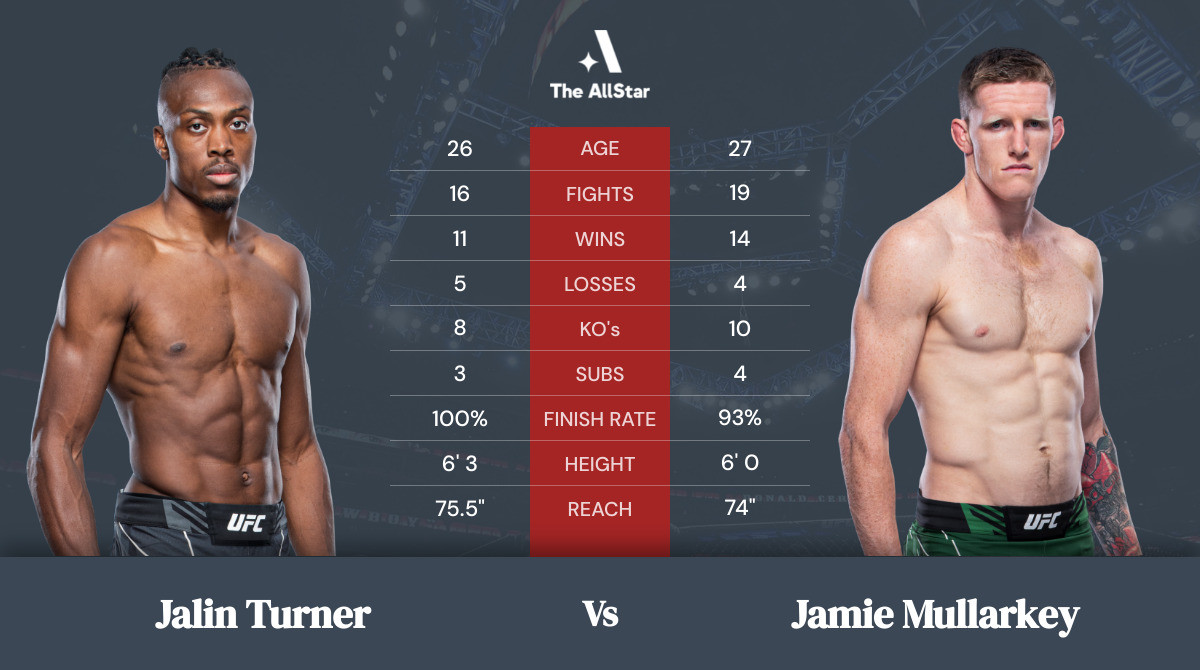 Jamie Mullarkey's recent form coming into this matchup
Jamie Mullarkey is a 27 year old male fighter from Australia with 14 pro wins and 4 losses. Mullarkey is scheduled to fight Jalin Turner at UFC 272: Covington vs. Masvidal on Saturday March 5, 2022.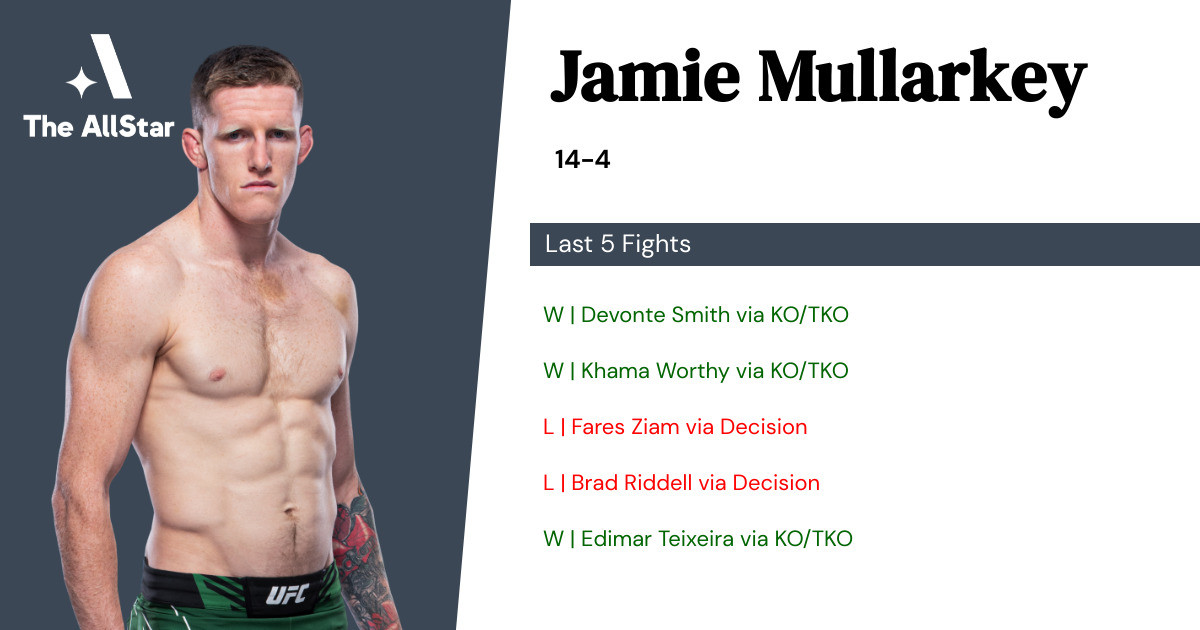 Jamie Mullarkey has gone 3-2 in the last 5 professional MMA fights.
Win vs Devonte Smith • KO/TKO R2 2:51 • 2021-10-02
Win vs Khama Worthy • KO/TKO R1 0:46 • 2021-03-27
Loss vs Fares Ziam • Decision R3 5:00 • 2020-10-17
Loss vs Brad Riddell • Decision R3 5:00 • 2019-10-05
Win vs Edimar Teixeira • KO/TKO R2 5:00 • 2019-05-03
How to watch and bet on Jalin Turner vs Jamie Mullarkey
Keep track of all the latest odds and line-movements at our bout page for this matchup.