Inactivity is something that affects the majority of athletes in sport at one point or another, however, Vinc Pichel has placed a whole new meaning on the word.
Following a defeat to Rustam Khalibov in 2014, he was sidelined for three years due to a torn labrum and bicep. If this wasn't unfortunate enough he'd be on the operating table once again in 2019, undergoing hip surgery. The adversity and tribulations faced by Pichel throughout the years are nothing short of both painful and demoralizing, yet on April 9, he'll be making his tenth promotional appearance.
"March 9 was actually my ten-year mark of being in the UFC," he told The AllStar.
"I've had a lot of time off due to injuries and life stuff but I could've been cut like anyone else for whatever reason, but I wasn't. I appreciate the UFC for sticking with me and letting me deal with my life stuff."
Now at the age of 39, you may assume that Pichel surpassed his prime a number of years ago. Yet he believes his skillset and physicality have never been better, owing a lot of this to renowned gym Factory X.
"I'm only getting better," Pichel stated. "I had that one camp at Factory X when I fought [Austin] Hubbard and people already saw big improvements in my footwork and stuff. I already had pretty good footwork but it got that much better. I've been working on that a lot and adding a bunch of little things too. When I fight [Mark] Madsen you guys are gonna see an even more evolved fighter.
"I've been working a lot on my footwork and a lot on my wrestling. Those are the two things I've been putting an emphasis on here at Factory X. It's not that I'm not a good wrestler, I'm pretty decent, but it's definitely my weakest link in the 'Bermuda Triangle' of MMA out of striking, jiu-jitsu and the wrestling. Wrestling was definitely my weakest link but I've been working on it a lot and it's looking really good. I'm actually competing with guys who are actual wrestlers, so I'm super confident in my skills and where I'm going."
Wrestling is an aspect of MMA that'll be frequent in his upcoming fight at UFC 273 when he'll meet Olympian Mark Madsen.
Currently undefeated as a professional, Madsen enters the bout with a heap of hype and holds a record of 11-0.
"I wanna take that 0 from him, I wanna be his first loss," Pichel adamantly said. "I want his wrestling credentials – I want to beat him and show I can deal with these wrestlers because my only two losses are to wrestlers. One guy was a Greco/sambo guy and the other is Gregor Gillespie. I've definitely got something to prove in this fight.
"The first UFC [PPV] I was on was UFC 173 so here I am 100 UFC's later and I'm gonna fight Madsen. It's a huge opportunity for me so I'm super excited to go out there and take what's mine."
Though his opponent's wrestling is a tool that must be respected, Pichel feels he's the better all-around martial artist. Whether they're striking or grappling, he trusts in his abilities to not only hang with Madsen but get the better of him.
"This dude is a one-trick pony," Pichel said. "He's got wrestling and that's it. His striking is amateur, he's not really a threat in jiu-jitsu. He's got a tougher fight than I do. He's just a one-trick pony while I'm a jack of all trades. I'm well rounded [and] have skills everywhere, whether that's on my back or standing up. I'm gonna knock this dude's head off.
"[I'm] just gonna punch him in the face until he can't take it anymore. I'm expecting him to try and wrestle me and come in like a drone like he did against Guida. That's basically his thing. And this douche made a [social media] post and tagged me in it, something about throwing me around or throwing my mustache around or something. I just told him to stay healthy because he's not getting away from me.
"I think I'm top 15/10 already. I've got no problem fighting whoever they want me to fight and Madsen's in my way right now, so I've just got to knock him over [and] get past him."
---
Fighter profile
Vinc "From Hell" Pichel is a 39-year-old male fighter from the United States with 14 pro wins and 2 losses. Pichel is scheduled to fight Mark Madsen at UFC 273: Volkanovski vs. Korean Zombie on Saturday, April 9, 2022.
Vinc Pichel's recent form coming into this matchup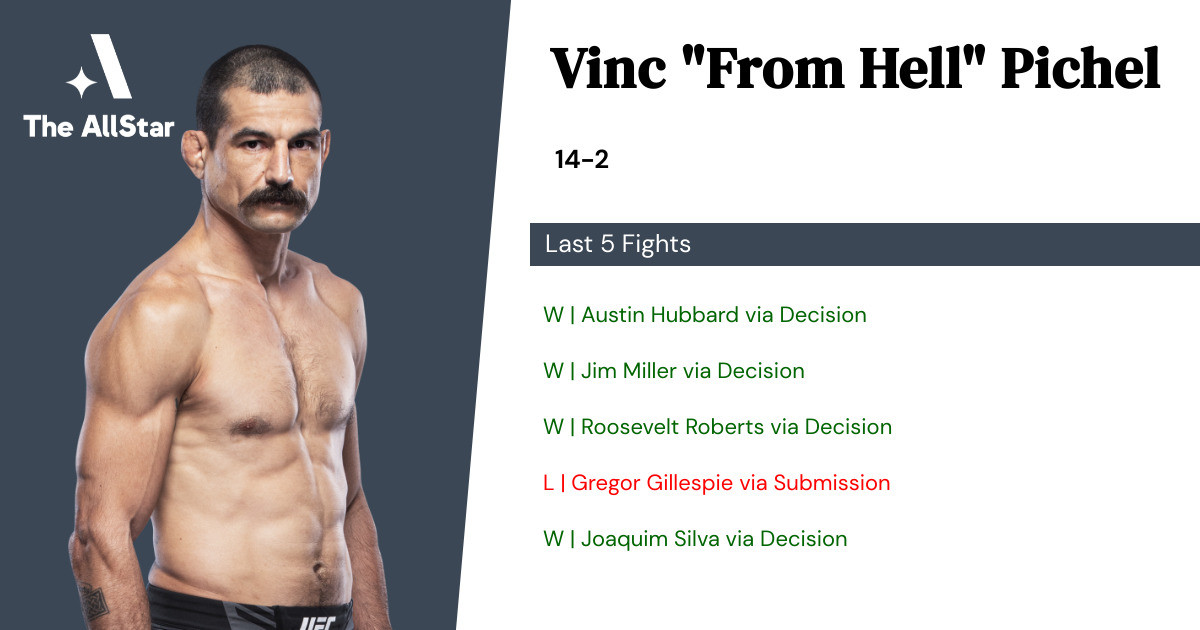 Vinc Pichel has gone 4-1 in the last 5 professional MMA fights.
Win vs Austin Hubbard • Decision R3 5:00 • 2021-08-21
Win vs Jim Miller • Decision R3 5:00 • 2020-08-15
Win vs Roosevelt Roberts • Decision R3 5:00 • 2019-06-29
Loss vs Gregor Gillespie • Submission R2 4:06 • 2018-06-01
Win vs Joaquim Silva • Decision R3 5:00 • 2018-01-27
Vinc Pichel's next opponent: Mark O. "The Olympian" Madsen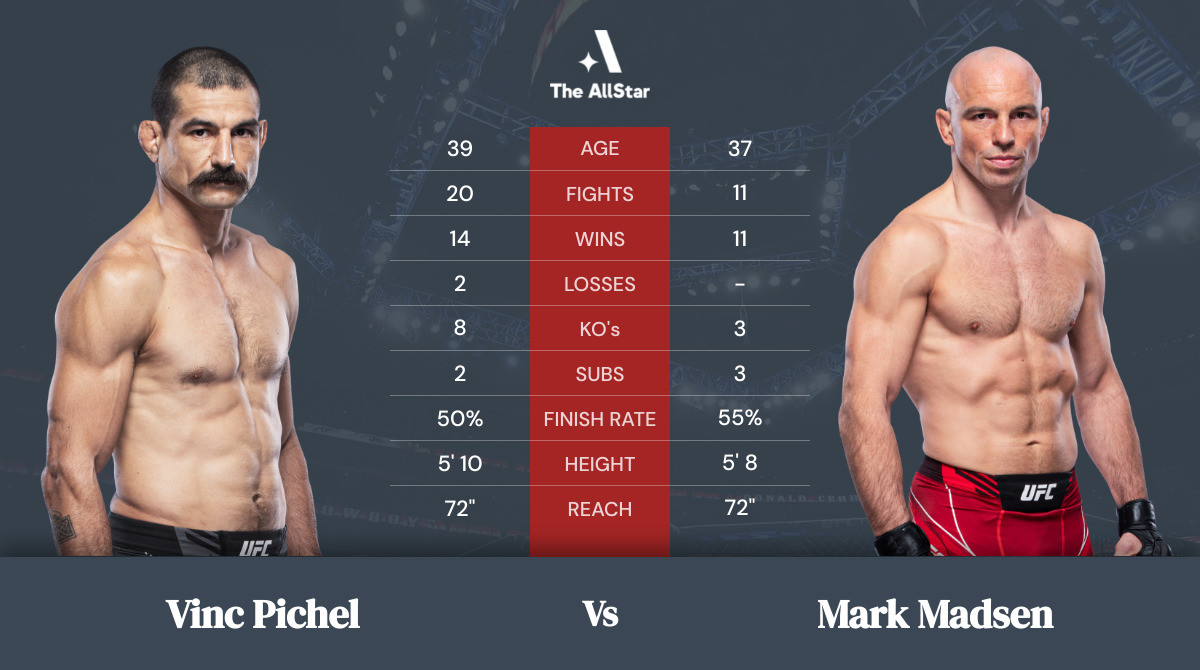 Mark O. "The Olympian" Madsen's recent form coming into this matchup
Mark "The Olympian" Madsen is a 37 year old male fighter from Denmark with 11 pro wins and 0 losses. Madsen is scheduled to fight Vinc Pichel at UFC 273: Volkanovski vs. Korean Zombie on Saturday April 9, 2022.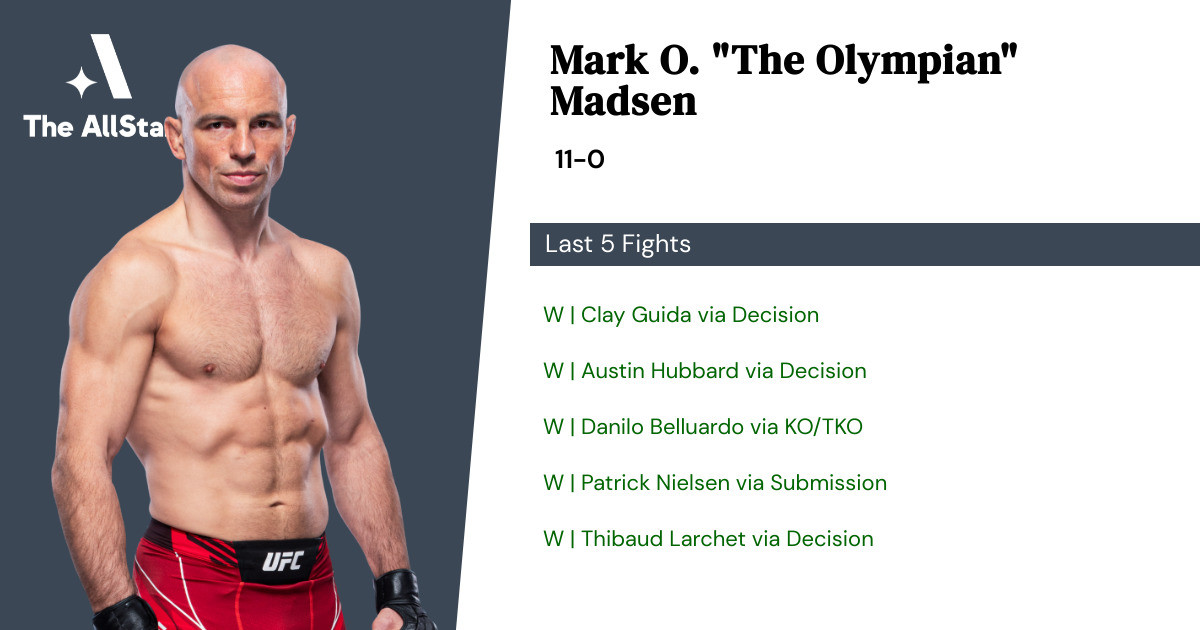 Mark Madsen has gone 5-0 in the last 5 professional MMA fights.
Win vs Clay Guida • Decision R3 5:00 • 2021-08-21
Win vs Austin Hubbard • Decision R3 5:00 • 2020-03-07
Win vs Danilo Belluardo • KO/TKO R1 1:12 • 2019-09-28
Win vs Patrick Nielsen • Submission R1 2:47 • 2019-06-08
Win vs Thibaud Larchet • Decision R3 5:00 • 2019-03-09
How to watch and bet on Vinc Pichel vs Mark Madsen
Keep track of all the latest odds and line-movements at our bout page for this matchup.