Australian knockout artist Jack Della Maddalena is prepared for a new level of competition in his sophomore UFC appearance.
After a stellar debut in January that resulted in a first-round knockout over late replacement opponent Pete Rodriguez, 'Della' wants to show he has the skills to hang with the best in the welterweight division. He'll get his chance at UFC 275 in Singapore, opposite 'the toughest fight of his career', one Ramazan Emeev.
"It's a big step up in competition – which is exactly what I'm after," the 25-year-old told The AllStar in a recent interview, confident in his preparedness to compete at the highest level.
"I just trust my ability, I trust my skills, and I trust my team and the coaching around me."
Upon receiving the offer to face the wrestle-heavy Emeev, Maddalena jumped at the opportunity to prove himself against a battle-tested grinder. He noted that the Russian's extensive experience in full 15-minute fights adds an interesting complexity to the bout.
"[He's] a big strong wrestler, and he's been around the game a long time… He's been through many three-round fights – [and] this is a three-round fight, so he's gonna be well-conditioned to go [the distance]."
Maddalena went on further to commend his dance partner's well-rounded skill-set, noting that even his striking is 'pretty' good; but the Aussie suspects Emeev's rudimentary footwork will ultimately be his downfall come June 12.
"I think he's too flat-footed for my sort of style," 'Della' posited, expecting his own 'stick and move' approach to give his opponent trouble.
"I reckon it's gonna be a bit too much for him."
As far as Maddalena's game plan goes – with nine of his eleven wins coming via KO – he admits it doesn't really change from fight to fight.
"I want to do damage and I want to bust my opponent up pretty badly…"
"Obviously I don't want to be taken down and stuck on my back," The striking standout continued. "but that's the same as every fight."
Quizzed on whether he'd be 'bonus hunting' in his next scheduled outing after his previous knockout performance failed to garner him an extra $50,000 on top of his pay-check, Maddalena stated the number one goal is to win, but added;
"I see a finish – I really want to get the finish and I'm gonna be gunning for [it] from the start."
---
Fighter profile
Jack Della Maddalena is a 25-year-old male fighter from Australia with 11 pro wins and 2 losses. Maddalena is scheduled to fight Ramazan Emeev at UFC 275: Teixeira vs. Procházka on Saturday, June 11, 2022.
Jack Della Maddalena's recent form coming into this matchup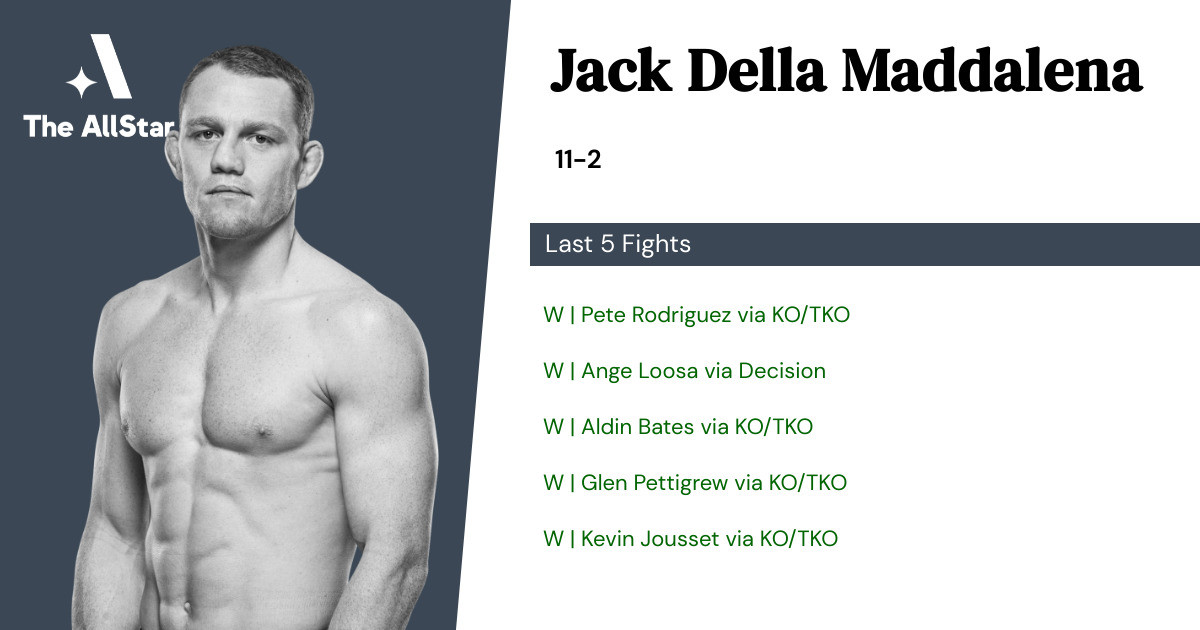 Jack Della Maddalena has gone 5-0 in the last 5 professional MMA fights.
Win vs Pete Rodriguez • KO/TKO R1 2:59 • 2022-01-22
Win vs Ange Loosa • Decision R3 5:00 • 2021-09-14
Win vs Aldin Bates • KO/TKO R1 1:12 • 2020-10-10
Win vs Glen Pettigrew • KO/TKO R2 1:55 • 2020-02-29
Win vs Kevin Jousset • KO/TKO R2 5:00 • 2019-10-04
Jack Della Maddalena's next opponent: Ramazan "Gorets" Emeev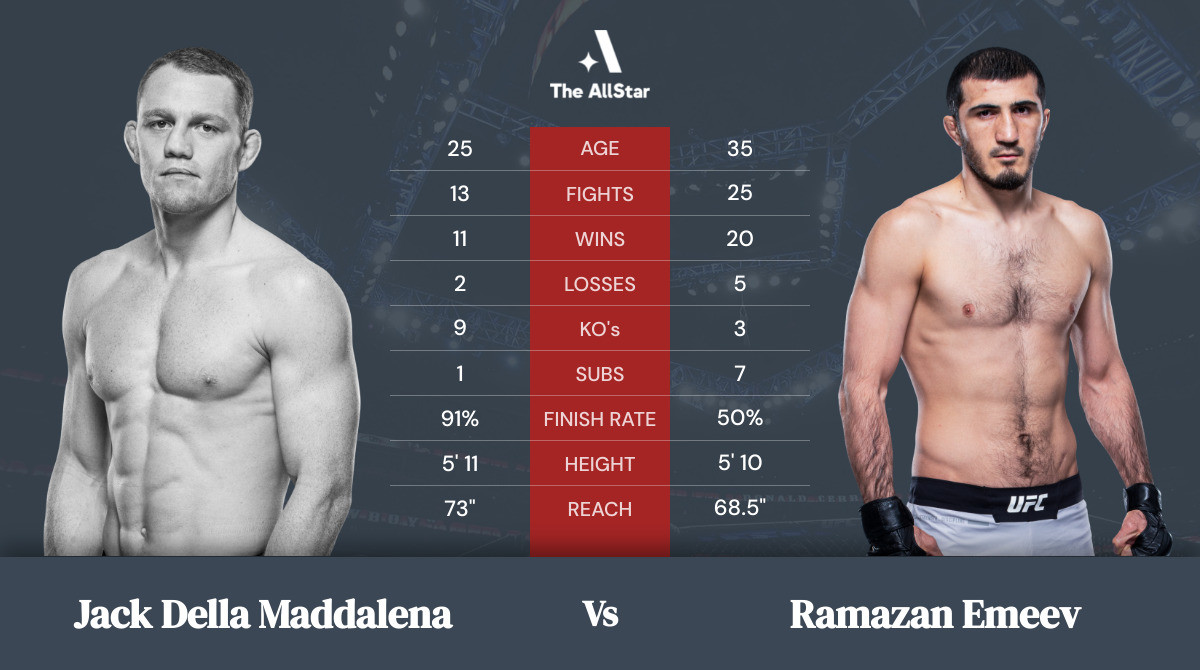 Ramazan "Gorets" Emeev's recent form coming into this matchup
Ramazan "Gorets" Emeev is a 35-year-old male fighter from Russia with 20 pro wins and 5 losses. Emeev is scheduled to fight Jack Della Maddalena at UFC 275: Teixeira vs. Procházka on Saturday, June 11, 2022.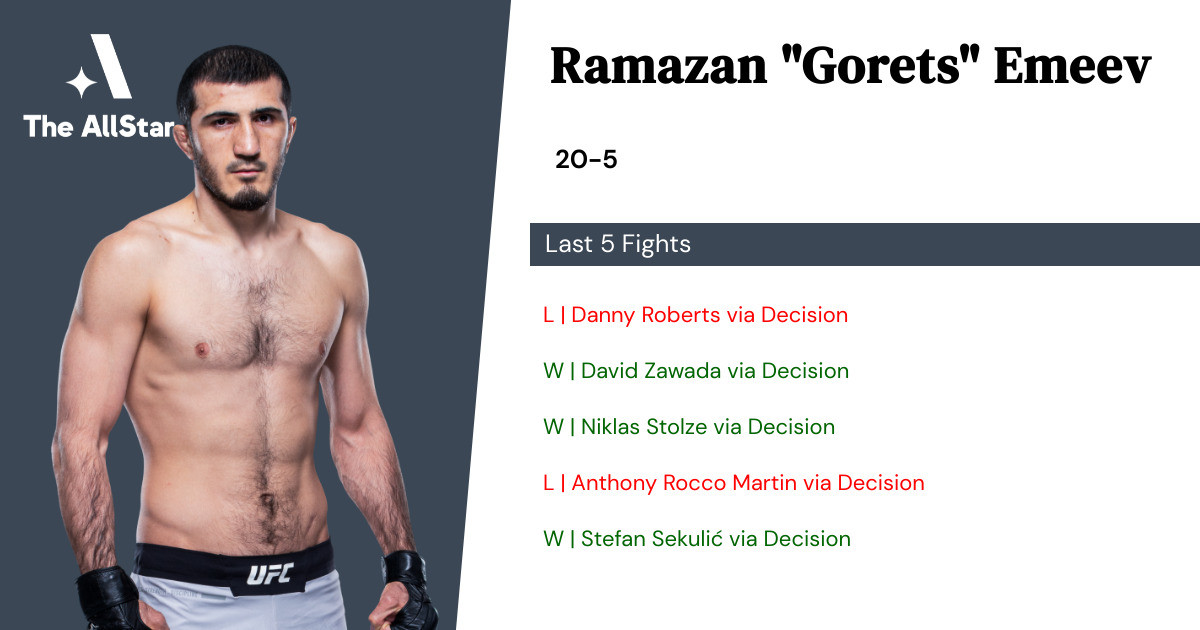 Ramazan Emeev has gone 3-2 in the last 5 professional MMA fights.
How to watch and bet on Jack Della Maddalena vs Ramazan Emeev
Keep track of all the latest odds and line-movements at our bout page for this matchup.