The AllStar's John Hyon Ko covers the media day for UFC 275 live from the Mandarin Oriental in Singapore. All times are local. Click here for the schedule.

5:00 pm – and that concludes our coverage for today.
4:09 pm Valentina Shevchenko
Valentina appreciates every opportunity to fight for the UFC, especially in this historic event in Singapore.
Shevchenko is ready to go to bantamweight and fight for the title against anyone. She doesn't need motivation.
"Everyone is not perfect. But that is what every opponent has said."
She says a drop to strawweight is not impossible. It just means a hard weight cut which seems like she would not enjoy.
She says it is motivating and inspiring that every young fighter wanting to dethrone her.
"Finish as soon as I can."
3:45 pm Glover Teixeira
Glover states that life hasn't changed since winning the belt and has been enjoying fight week as the champion.
He is ready to prove that he is a real champion against the highly-touted Prochazka. Jiri changing his approach could be a good or bad thing. "Who knows?"
"I'm feeling great, I'm feeling good."
He is living in the moment and not thinking about retirement. Teixeira doesn't want to be like Henry Cejudo and retire then try to fight people afterward. He states he is not talking shit.
"Never believe your enemy."
"At the end of the day, you can't change that much. I think it will be the same Jiri."
Who could be next? "I don't choose opponents. That's not my job."
"If you don't like to do this, go find something else." Advice for fighters.
"We building champions." Glover on his team at Teixeira MMA & Fitness.
Glover believes that Israel Adesanya will likely find a way to not fight Alex Pereira since he lost to him twice previously.
3:27 pm Zhang Weili
Zhang says the second fight with Joanna will be very exciting. She loves that the winner gets a title shot.
Zhang thinks Joanna will pick up the pace since it will be a three-round fight rather than a five-rounder. She says no matter what kind of strategy Joanna uses the stronger fighter will win in the rematch.
The two losses against Rose Namajunas have not affected her confidence. She looks at it as life experience and learning. It is an example of what MMA is. Anything can happen in this sport.
Although flyweight is an option, she is focused on this fight and the 115lb title next. Then she will look at that division.
3:16 pm Rogerio Bontorin
Bontorin has much respect for Manel Kape. He said that he is focused on this fight and not thinking about the title picture.
He is preparing for what he has seen from Kape recently, not what he has done in the past.
Although Kape has a fanbase in Asia, Bontorin is not concerned with a home crowd for him. He says the crowd sways depending on the fight.
"Truthfully I love being the underdog." His thoughts on the betting odds.
It's going to be striking and taking him to the ground."
3:06 pm Seung Woo Choi
Choi says that he is excited to be a part of the first PPV card in Asia.
On being underrated, Choi said he doesn't think about that. He is chasing the Top 10 and the featherweight belt. He adds he doesn't have a timeline for the title he will try his best.
His thoughts on the Korean fighters competing on Road to UFC. "I support all the Korean fighters and respect all of them."
Choi mentally prepares to go the distance in every fight.
Losing via rear-naked choke has made him work on his submission game and feels he will never lose that way again.
The last time he fought he had a fighter he wanted to call out but this time around that is not in his mind.
2:40 Joanna Jedrzejczyk
Joanna and her coach Mike Brown lost their luggage but they recovered it a few days later.
She has been at American Top Team for training camp for many months and she revealed a lot of tears, sweat, and sacrifice. She is really looking forward to the fight and is ready for anything and everything.
"I'm not surprised," She said about Dana White stating in a previous interview that the winner of this upcoming with Zhang will get the next title fight.
Joanna loves fighting but emphasizes that life is full of options and you never know how much time you have on this earth so take advantage.
"I'm a hustler" on her break from the sport.
"My very proud of myself, my team."
Some advice for fighters, "Look at the big picture."
"It's going to be the toughest fight of my fighting career," Joanna said about the Zhang rematch.
On her legacy, she said
"There hasn't been born a girl that can tie my record in the strawweight division."
1:40 pm Josh Culibao
When asked about training with Alex Volkanovski, he said the man leads by example.
Culibao says Choi is tall, rangy, and has that knockout power. It will be Fight of the Night. He adds featherweights can beat any featherweight on any given day.
"I don't feel like Choi is going away easy."
1:31 pm: Josh Culibao should be next.
12:50 pm Manel Kape
Kape believes this fight is another step toward the title fight.
Touching on the USADA situation, he says he doesn't know what happened. It was a pre-workout that he has been taking for a while and never came up on any test. He has been tested all the time. He was very upset that his last fight was canceled, but it all works out because he is fighting in Asia where he is a big star.
On Deiveson Figueiredo, Manel states the current flyweight champ is ungrateful for complaining about his situation.
He says Rogerio Bontorin is a better fighter than most of the guys in the Top 15. But he will show that he is better than him.
"I'm the better fighter. I'm a complete fighter."
He has been through two training camps ahead of this fight and his speed and precision have been surprising.

12:45 p.m. Talia Santos
Santos says Valentina is close to being a perfect fighter but nobody is unbeatable.
Being the underdog in most of her fights, Talia thinks it is a good thing. She is comfortable in that role.
She is not predicting anything for the fight but she says to watch Saturday and you will find out.
12:26 p.m. Jiri Prochazka
Prochazka says he feels in the best shape in his life heading into the UFC light heavyweight title fight. He mentions that earlier in his career it was an important fight often so his layoff has been beneficial.
He has focused on changing his reaction to wrestling and grappling while mixing them with his striking style. He is confident he can wrestle with Teixeira.
"Ground and pound and find the finish."
Prochazka said it was a huge honor hearing GSP call him a future champion. He called GSP a true warrior.
Asked again about his game plan, Jiri kept his strategy close to his chest.
Jan Blachowicz will be cageside at UFC 275 but Jiri is not paying attention to who is next. He is focused on Glover and that is all.
Jiri is zoned in and looking determined. He is a star in the making. Just his aura is amazing.
12:20 pm: Still waiting

12:05 pm: Waiting to begin
We're all settled in and waiting for Jiri Prochazka to join us.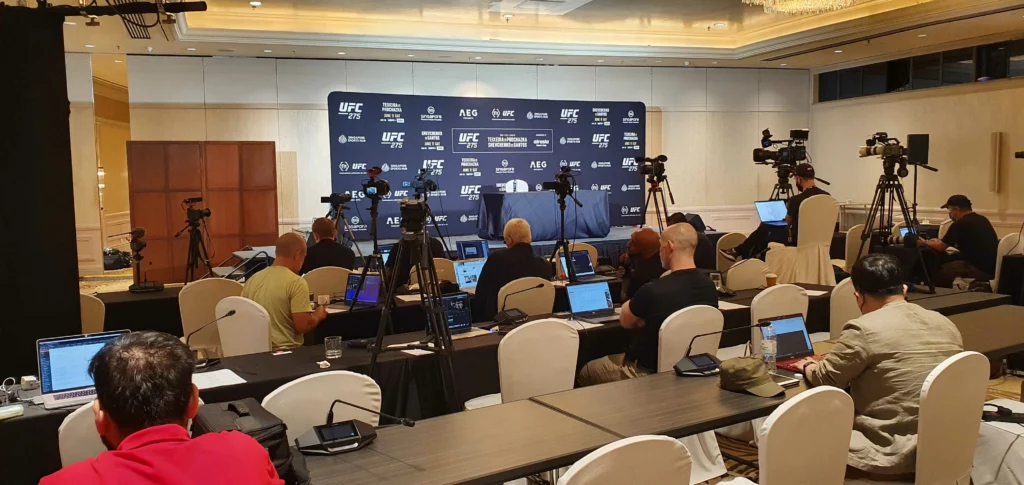 11:55 am: The schedule:
| | |
| --- | --- |
| Time | Fighter |
| 12 p.m. | Jiri Prochazka |
| 12:15 pm | Taila Santos |
| 1 pm | Manel Kape |
| 1:45 pm | Josh Culibao |
| 2:15 pm | Seungwoo Choi |
| 2:30 pm | Joanna Jedrzejczyk |
| 3:15 pm | Rogerio Bontorin |
| 3:30 pm | Glover Teixeira |
| 3:45 pm | Zhang Weili |
| 4 pm | Valentina Shevchenko |
| 4:15 pm | Face-Off – Teixeira vs. Prochazka, Shevchenko vs. Santos, Weili vs. Jedrzejczyk |