City Kickboxing prospect Blood Diamond is set to return to the Octagon for his sophomore performance after injury forced him out of his last scheduled bout.
The Zimbabwe-born fighter looks to take on Orion Cosce, a Dana White's Contender Series alum, at UFC 277 in Dallas, Texas. It's a fight that's been scheduled twice before (originally as Blood's opponent for his UFC debut), but due to withdrawals on both sides, failed to materialize until now.
"Life happens," the 34-year-old Diamond said of the prior cancellations and injuries while talking to The AllStar. He implied the down-time was frustrating, but the universe has a way of working itself out – and after a third rebooking, he feels the pairing "was just meant to be."
"Hopefully third time's the charm."
What's the former kickboxing standout hoping to showcase in this, his second fight with the organization?
"Patience."
A first round submission loss to Jeremiah Wells in his promotional debut was a bitter pill to swallow for Blood – far from the grand entrance he'd envisioned. Looking back now, he can clearly identify what went wrong in that fight, and chalked it up to nerves getting the better of him under the bright lights of a world stage.
This time, he plans to embrace the feeling.
"For me, [the goal is] just to enjoy it… I know last time I was just like more – I needed to treat it like any other fight. But at the end of the day, like, there was a part of me which would be just like 'it's your first UFC fight'…"
"[it] put a little bit of pressure on myself. [I've] just gotta keep the same energy, you know, keep the same mindset I've been having all these years… The same thing that got me to the dance."
Turning his focus toward his opponent, Blood admitted Cosce is a "dangerous man."
In a total of seven wins since the American's 2018 professional debut, none have gone the distance. The CKB affiliate therefore has no delusions of the upcoming welterweight clash resembling a walk in the park.
"He's pretty well rounded. He can stand and bang, he can grapple," Diamond said of his dance partner.
"[but] to be honest," he continued. "I try not to pay too much attention to it because, again, the way he performed in those particular fights is because of the kind of style of opponent he was dealing with. So yeah, I'd just rather focus on what I can do, really."
The long-time New Zealand resident added that he's looking forward to performing on the same card as Kai Kara France as he challenges for an interim title, claiming the pair "bounce off of each others energies" – giving him further motivation to perform to the level he knows he can.
With injuries now in the rearview, Blood is intent on staying as active as possible inside the Octagon.
"Not being able to get back into the gym and all that just [gave me] a bigger hunger… Hopefully after this coming fight we do well, and try and get another one before the end of year."
---
Fighter profile
Blood Diamond is a 34 year old male fighter from Zimbabwe with 3 pro wins and 1 losses. Diamond is scheduled to fight Orion Cosce at UFC 277: Peña vs. Nunes 2 on Saturday July 30, 2022.
Blood Diamond's recent form coming into this matchup
Blood Diamond has gone 3-1 in the last 5 professional MMA fights.
Loss vs Jeremiah Wells • Submission R1 4:38 • 2022-02-12
Win vs Dimps Gillies • Decision R3 5:00 • 2020-02-22
Win vs Hyun Min Hwang • Submission R1 3:53 • 2018-07-21
Win vs Jo Van Duin • KO/TKO R2 • 2017-05-06
Blood Diamond's next opponent: Orion "Galaxy" Cosce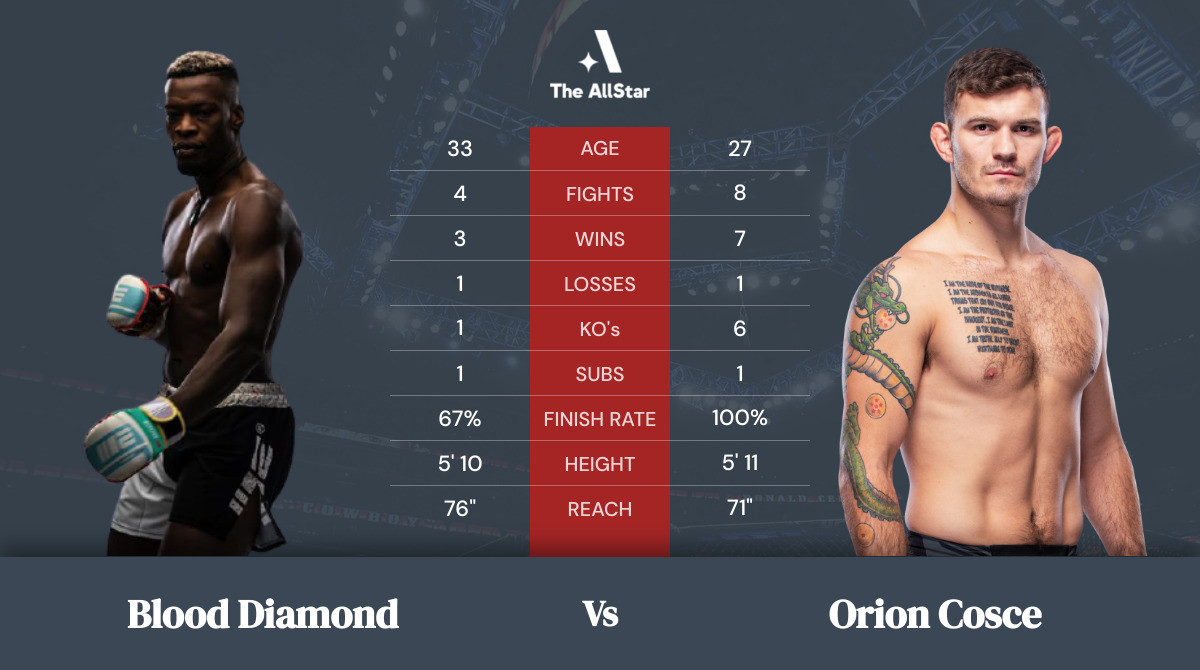 Orion "Galaxy" Cosce's recent form coming into this matchup
Orion "Galaxy" Cosce is a 27 year old male fighter from United States with 7 pro wins and 1 losses. Cosce is scheduled to fight Blood Diamond at UFC 277: Peña vs. Nunes 2 on Saturday July 30, 2022.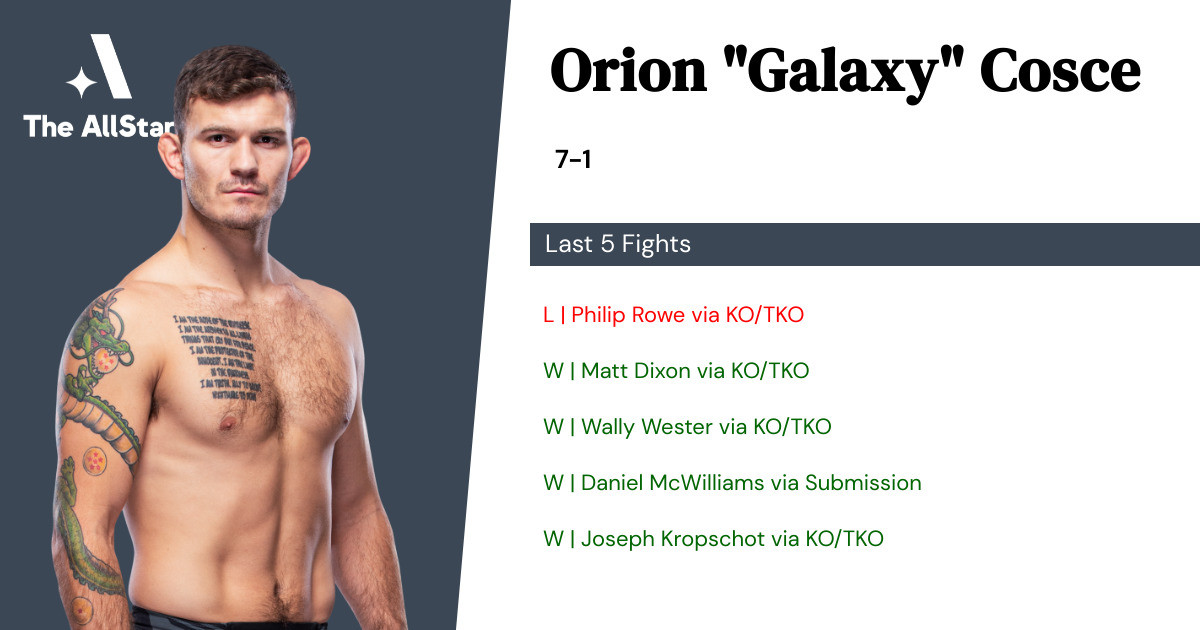 Orion Cosce has gone 4-1 in the last 5 professional MMA fights.
Loss vs Philip Rowe • KO/TKO R2 4:21 • 2021-07-31
Win vs Matt Dixon • KO/TKO R3 4:42 • 2020-08-18
Win vs Wally Wester • KO/TKO R3 2:36 • 2020-01-25
Win vs Daniel McWilliams • Submission R1 1:44 • 2019-08-31
Win vs Joseph Kropschot • KO/TKO R3 3:28 • 2019-08-10
How to watch and bet on Blood Diamond vs Orion Cosce
Keep track of all the latest odds and line-movements at our bout page for this matchup.