UFC lightweight Arman Tsarukyan has predicted that Islam Makhachev will defeat Charles Oliveira in their UFC lightweight championship fight at UFC 280 on October 22 in Abu Dhabi.
Tsarukyan fought Makhachev in 2019 and he notably gave the 31-year-old one of the most difficult fights of his UFC career.
This perhaps makes him better placed than most to give a breakdown of how the bout between Oliveira and Makhachev will play out.
Tsarukyan believes that Makhachev's elite-level wrestling will give him the advantage in this contest and that he could utilize it in a manner that is not the most entertaining. Makhachev is on a 10-fight win streak and has dominated opponents with his marauding, Combat Sambo-based wrestling style. His approach has drawn people to make comparisons to his mentor and close friend, former UFC lightweight champion Khabib Nurmagomedov.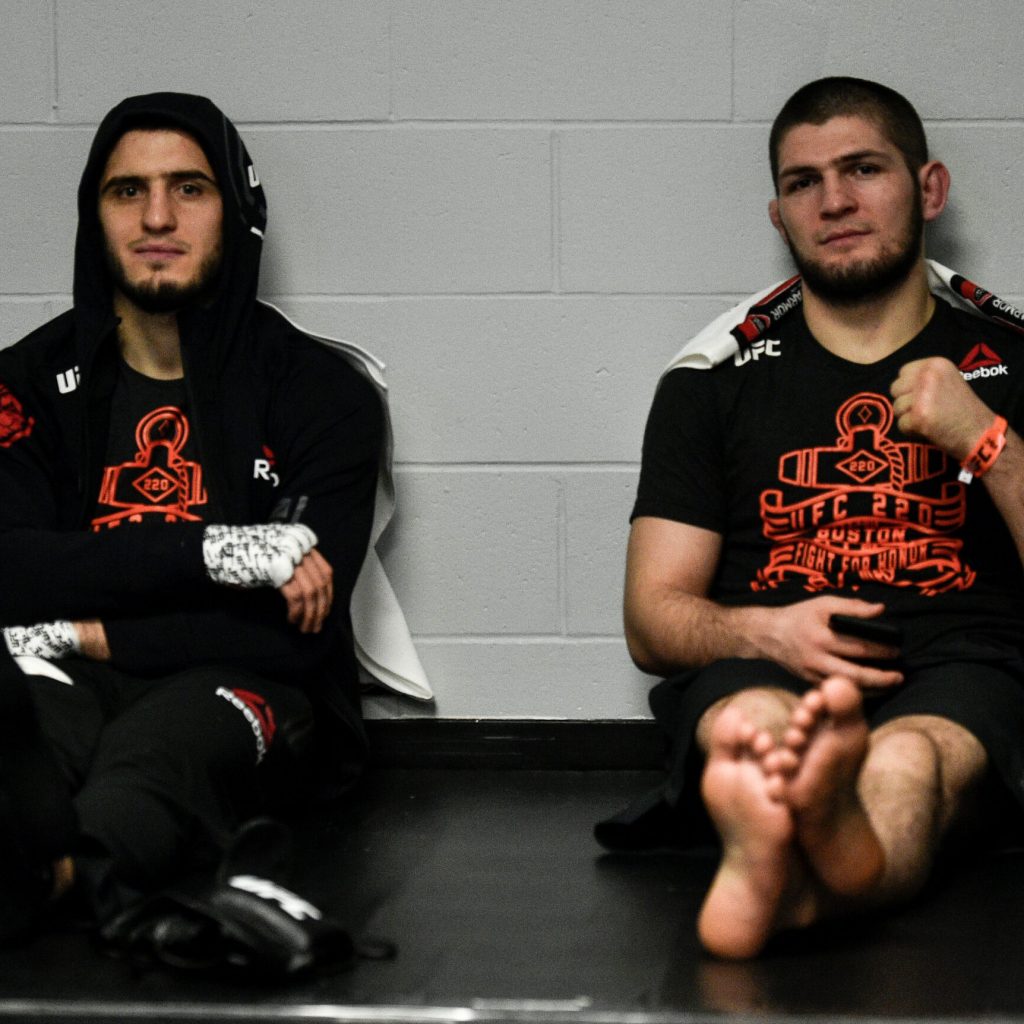 Oliveira is on an 11-fight win streak and is widely regarded as one of the pound-for-pound best fighters in the world. He was the UFC lightweight champion heading into his last fight against Justin Gaethje but was stripped of the title after missing weight. He proceeded to submit Gaethje in the first round to maintain his standing as the best lightweight in the world, despite not holding the title.
In spite of Oliveira's success, Tsarukyan says that Makhachev is a bad stylistic matchup for the Brazilian and that he could win with a strategy that is not crowd-pleasing.
"I think Islam's skills are much better. He has good striking, good freestyle wrestling, and control," Tsarukyan told The AllStar.
"I think it's going to be a boring fight. Islam is going to take him down and hold him for all rounds, make him tired and maybe he can stop him in the late rounds."
---
Another factor that led to Tsarukyan favoring Makhachev is the fact that Oliveira has been knocked down and hurt several times in his career.
The 33-year-old was dropped in his last two fights, against Justin Gaethje and Dustin Poirier, and was also hurt by Michael Chandler. Oliveira showed resilience to come back and win these contests but Tsarukyan believes his lack of punch resistance could cost him against Makhachev.
"I don't like his chin. Oliveira's chin is not good too. I think Islam can knock him out."
Tsarukyan did not completely write off Oliveira's chances of securing the victory. He gave Chute Boxe disciple credit for his success against the upper echelon of the sport.
"Charles is a strong guy, he fought with the best guys in the world and he beat almost everybody. Maybe Charles can knock him out, it's MMA you never know."
Fighter profile
Islam Makhachev is a 31-year-old male fighter from Russia with 22 pro wins and 1 loss. Makhachev is scheduled to fight Charles Oliveira at UFC 280: Oliveira vs. Makhachev on Saturday, October 22, 2022.
Islam Makhachev's recent form coming into this matchup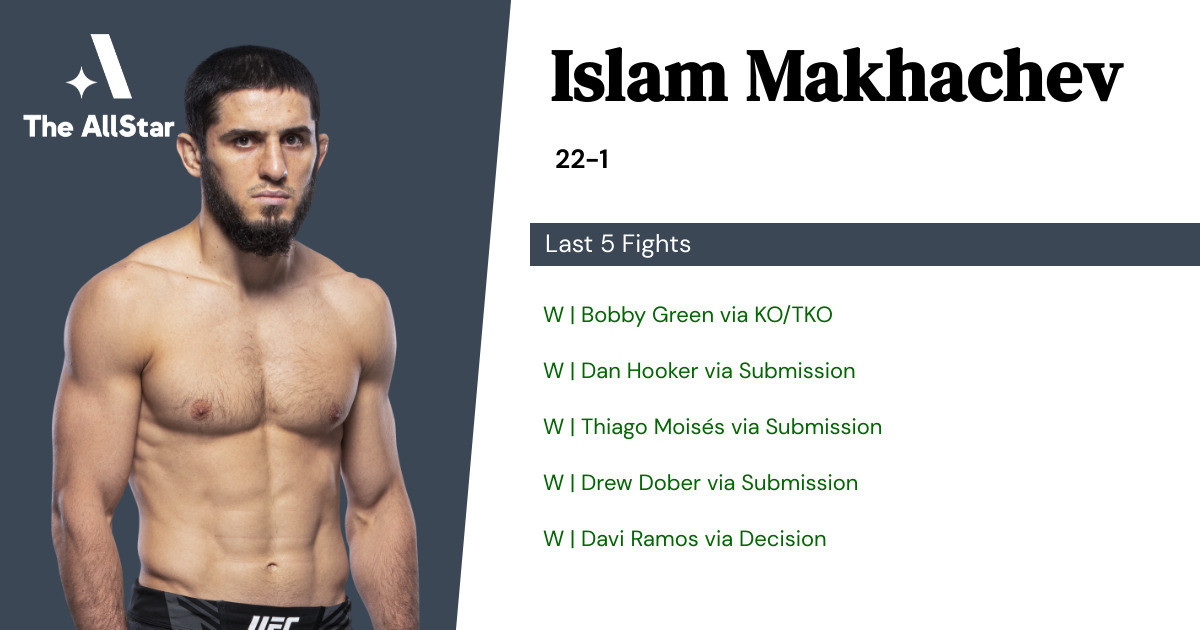 Islam Makhachev has gone 5-0 in the last 5 professional MMA fights.
Win vs Bobby Green • KO/TKO R1 3:23 • 2022-02-26
Win vs Dan Hooker • Submission R1 2:23 • 2021-10-30
Win vs Thiago Moisés • Submission R4 2:38 • 2021-07-17
Win vs Drew Dober • Submission R3 1:37 • 2021-03-06
Win vs Davi Ramos • Decision R3 5:00 • 2019-09-07
Islam Makhachev's next opponent: Charles "do Bronx" Oliveira
Charles "do Bronx" Oliveira's recent form coming into this matchup
Charles "do Bronx" Oliveira is a 33-year-old Male fighter from Brazil with a 33-8-0 record. Oliveira is scheduled to fight Islam Makhachev at UFC 280 on Saturday, October 22, 2022, in a Lightweight bout.
Charles Oliveira has 33 wins with a 91% finish rate, including 9 by knockout, 21 by submission, 3 by decision.
Charles Oliveira is currently riding a 11 fight win streak.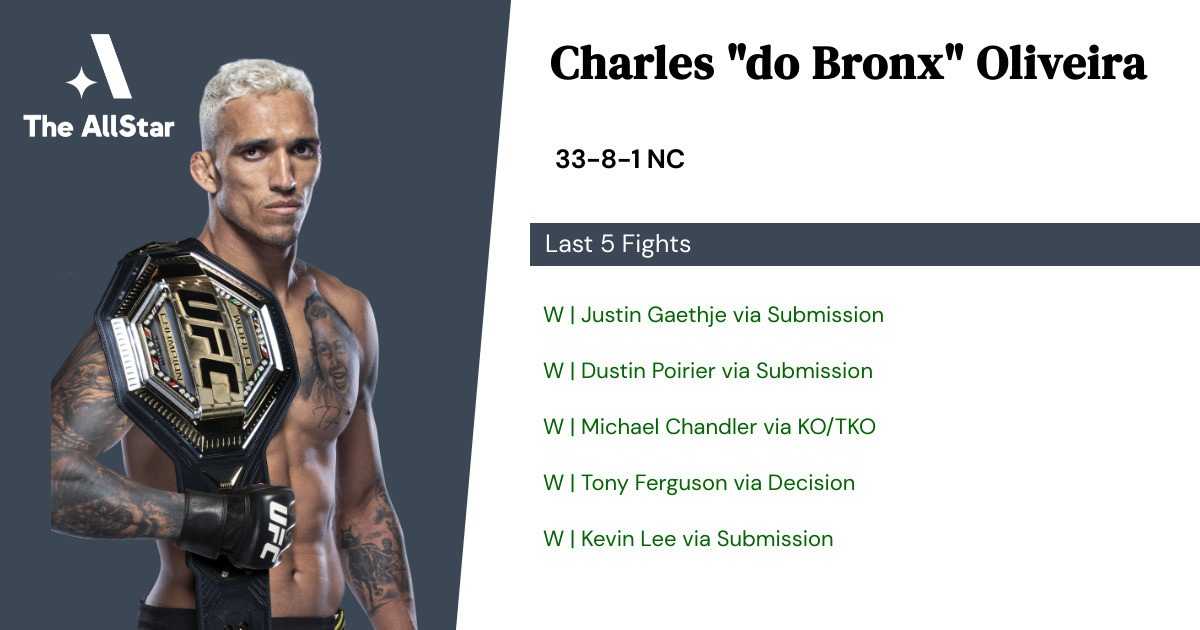 Charles Oliveira has gone 5-0 in the last 5 professional MMA fights.
Win vs Justin Gaethje • Submission R1 3:22 • 2022-05-07
Win vs Dustin Poirier • Submission R3 1:02 • 2021-12-11
Win vs Michael Chandler • KO/TKO R2 0:19 • 2021-05-15
Win vs Tony Ferguson • Decision R3 5:00 • 2020-12-12
Win vs Kevin Lee • Submission R3 0:28 • 2020-03-14
How to watch and bet on Islam Makhachev vs Charles Oliveira