Vicente Luque is 'more of a stand-up guy'.
When he's ingesting his fix of MMA, he much prefers it taking place on the feet. It's not that the welterweight contender hates the idea of utilizing wrestling to secure a win; it just doesn't excite him – a take he tends to have in common with a large portion of the casual fan base.
But when it comes to the looming UFC 280 lightweight title fight between Charles Oliveira and Islam Makhachev, which is all but guaranteed to hit the canvas during the allotted 25-minute time limit, Luque declared it 'can't miss TV' on October 22nd.
"It's definitely a fight that excites me when I think about grappling between [Islam] Makhachev and Charles Oliveira," the 30-year-old told The AllStar. "That's gonna be a crazy grappling match if they go to the ground."
"When you've got two guys like that, I get excited for that. I think that that's when grappling really shines… Whenever two guys can grapple, can try to submit each other, and can have exchanges and scrambles like I imagine that these two are capable of – That really excites me. That's the grappling we're looking for as a fan. That's the kind of grappling I want to watch."
Luque himself has a close read on Makhachev, having trained alongside him in the past. Being a welterweight, it was difficult for 'The Silent Assassin' to give a relevant assessment of the 155-pounder's strength. What did translate between weight classes, however, was the Dagestani's overall pressure and positional awareness.
"What I felt is his pressure and his adjustment of position. So he has really good control. It's not only strength, but it's the way you put the positions. It's the way you control. The way you anticipate the movement. So he's two steps ahead, he knows what you're gonna do before you do it."
"He makes you waste a lot of energy, and that's what I think that kinda makes these guys feel like they're super strong – it's because they make you get tired. They tire you out, you waste energy using wrestling, and at the end of the day when you waste energy you become weaker, and the guy that is not getting tired is just getting stronger and stronger. That's what I felt when I trained with him."
It says multitudes about Luque's opinion of Oliveira then, that he's tipped the Brazilian to take the belt home with him from Abu Dhabi.
"But then you've got Charles Oliveira with that style. He finishes everybody – be it standing up, be it on the ground; and now, I think more than ever, he knows how he has to fight. He knows he has the confidence to go out there and just be himself, just enjoy that night, do what he has to do, put himself in danger if he needs to, but still can overcome that and get amazing finishes."
"It's gonna be definitely an amazing fight. I think that, right now, I don't know. I would put Charles as the favorite by a little bit. I have him as a favorite."
"I think that he is the most dominant in the division right now, but Makhachev definitely is a guy that can put him in danger."
---
Fighter profile
Charles "do Bronx" Oliveira is a 32-year-old male fighter from Brazil with 33 pro wins and 8 losses. Oliveira is scheduled to fight Islam Makhachev at UFC 280: Oliveira vs. Makhachev on Saturday, October 22, 2022.
Charles Oliveira's recent form coming into this matchup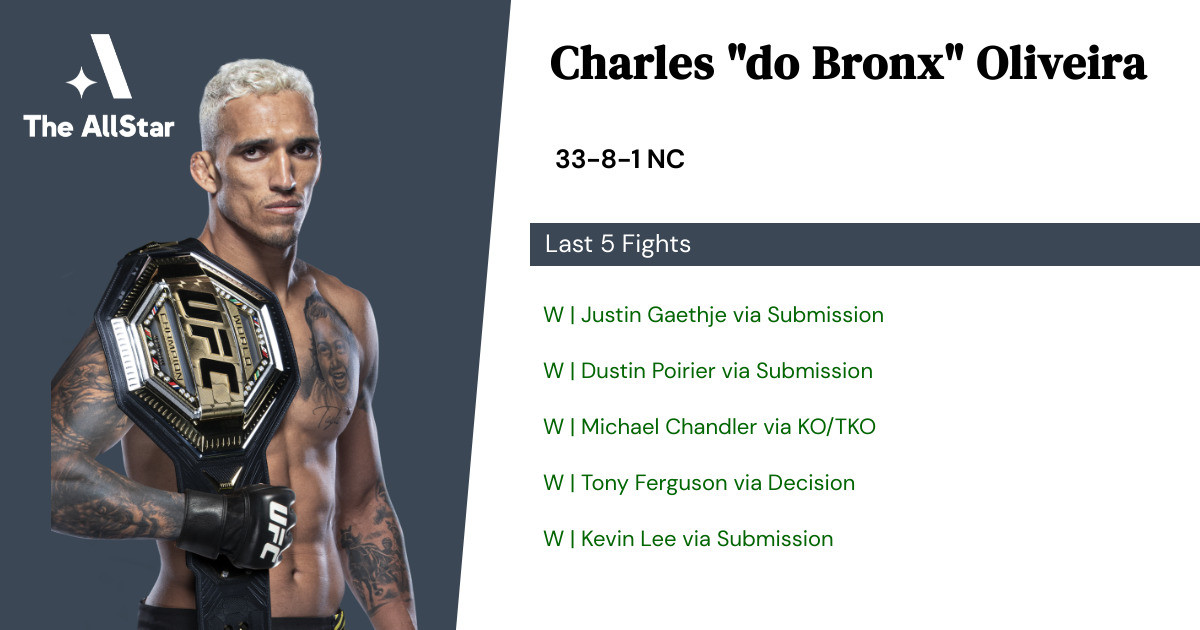 Charles Oliveira has gone 5-0 in the last 5 professional MMA fights.
Win vs Justin Gaethje • Submission R1 3:22 • 2022-05-07
Win vs Dustin Poirier • Submission R3 1:02 • 2021-12-11
Win vs Michael Chandler • KO/TKO R2 0:19 • 2021-05-15
Win vs Tony Ferguson • Decision R3 5:00 • 2020-12-12
Win vs Kevin Lee • Submission R3 0:28 • 2020-03-14
Charles Oliveira's next opponent: Islam Makhachev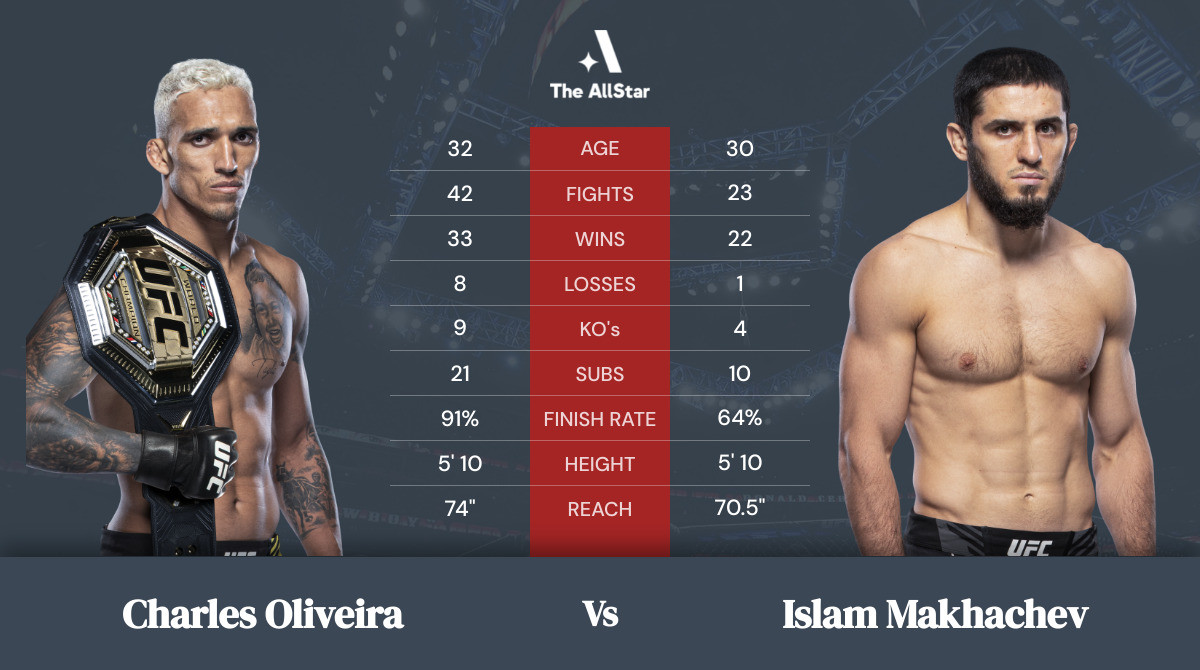 Islam Makhachev's recent form coming into this matchup
Islam Makhachev is a 30-year-old male fighter from Russia with 22 pro wins and 1 loss. Makhachev is scheduled to fight Charles Oliveira at UFC 280: Oliveira vs. Makhachev on Saturday, October 22, 2022.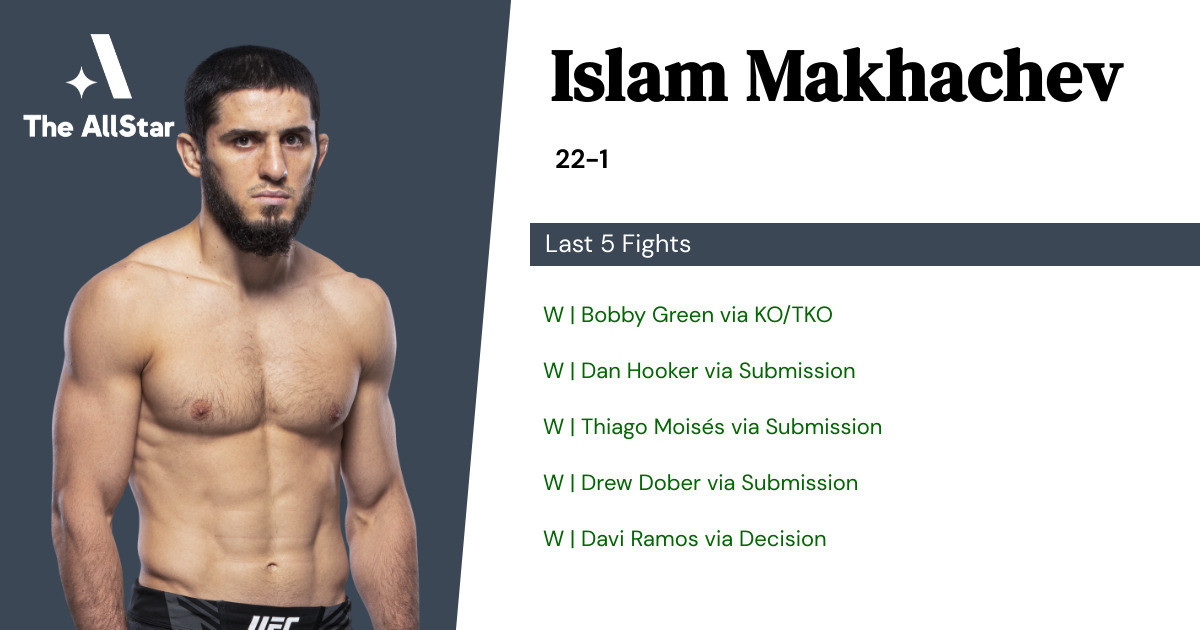 Islam Makhachev has gone 5-0 in the last 5 professional MMA fights.
Win vs Bobby Green • KO/TKO R1 3:23 • 2022-02-26
Win vs Dan Hooker • Submission R1 2:23 • 2021-10-30
Win vs Thiago Moisés • Submission R4 2:38 • 2021-07-17
Win vs Drew Dober • Submission R3 1:37 • 2021-03-06
Win vs Davi Ramos • Decision R3 5:00 • 2019-09-07
How to watch and bet on Charles Oliveira vs Islam Makhachev