The Covid pandemic years have not been kind to Dan Hooker.
Harsh New Zealand lockdown laws and short-notice fights were the norm during what was the worst five-fight stint of The Hangman's eight-year UFC career. It's a period he's labeled "reckless" and is keen to put behind him.
After a March loss to Arnold Allen at featherweight, Hooker is now looking to reboot his career with a return to the lightweight division in UFC 281 on Nov. 16. After a rough two years, the 32-year-old brings with him a wealth of hard-earned knowledge and a more mature attitude toward his career, as he shared with The AllStar recently ahead of his clash with Claudio Pulles at Madison Square Garden.
One big change: He's removing the distraction of management. After years of representing himself, Hooker's teamed up with AP Management to allow him to focus solely on competing. Having managers also limits the emotional aspect of his decision-making process when accepting a fight – something he admits has been detrimental of late.
"I can obviously just push all of that [aside]," Hooker said. "A lot of the stuff I knew was a dumb decision at the time as well – but just being a fighter and being bull-headed, you just kinda make the wrong decisions. You base your decisions off of emotions."
"And you can ask any successful businessman walking the face of the Earth," he continued. "You don't make smart decisions basing them off emotions."
Heartbreak
But there are no regrets, regardless of the heartbreak or how it's affected his record. Each loss is a chance for reflection and growth.
"I don't take back any of the things that happen, or the decisions that have been made because I wouldn't have like reached the level of maturity that I have now."
"I wouldn't be the fighter I am today without those struggles, and I feel like I've made a lot of changes behind the scenes and a lot of changes in just my mentality and just maturing as a person overall – so not even in like pure martial arts, but just like myself. I feel like I'm a more improved version of myself."
Authorities in New Zealand have now eased Covid restrictions, meaning fight camps may proceed unhindered. Hooker now has every one of his coaches at his side, a joy that he's been robbed of this past two years.
What's more, he'll be fighting on the same card as four of his City Kickboxing teammates, including Israel Adesanya, who will be contesting the main event.
"We've been pushing it to the absolute limits. Having all of our coaches in the building, getting to work with these guys one-on-one, just being able to train completely uninterrupted, and having the right people around – it's just a small circle of very trustworthy people and it's, yeah, we just carry that over to the States."
"I'm just looking forward to it, I can't wait."
---
Fighter profile
Dan "The Hangman" Hooker is a 32 year old male fighter from New Zealand with 21 pro wins and 12 losses. Hooker is scheduled to fight Claudio Puelles at UFC 281: Adesanya vs. Pereira on Saturday November 12, 2022.
Dan Hooker's recent form coming into this matchup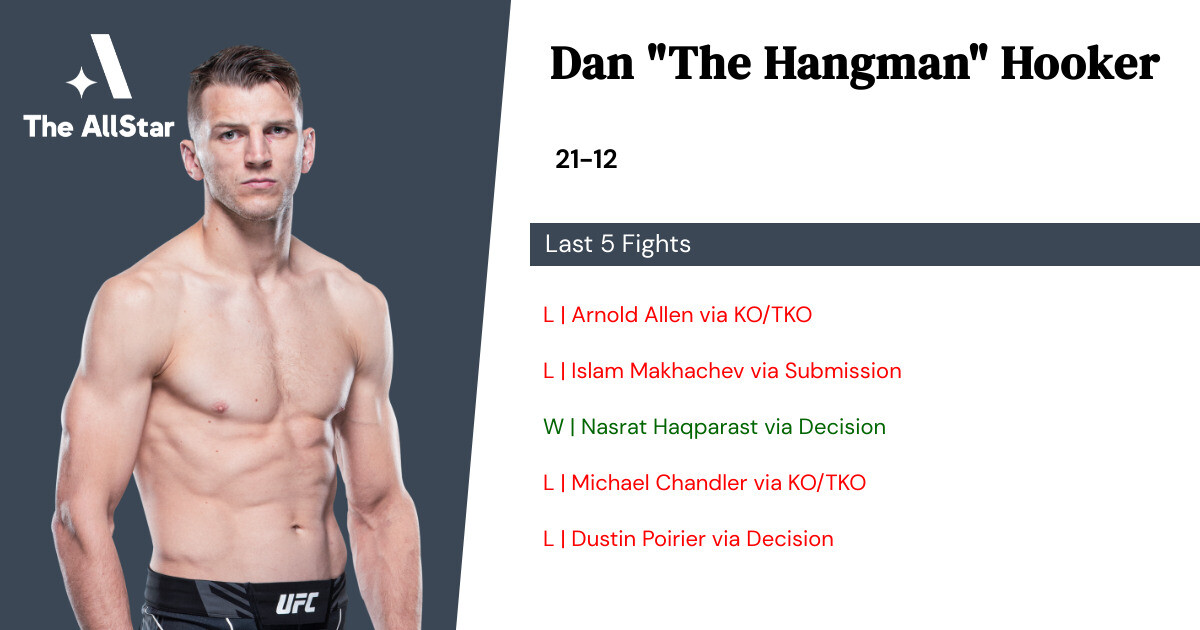 Dan Hooker has gone 1-4 in the last 5 professional MMA fights.
Loss vs Arnold Allen • KO/TKO R1 2:33 • 2022-03-19
Loss vs Islam Makhachev • Submission R1 2:23 • 2021-10-30
Win vs Nasrat Haqparast • Decision R3 5:00 • 2021-09-25
Loss vs Michael Chandler • KO/TKO R1 2:30 • 2021-01-23
Loss vs Dustin Poirier • Decision R5 5:00 • 2020-06-27
Dan Hooker's next opponent: Claudio "El Niño" Puelles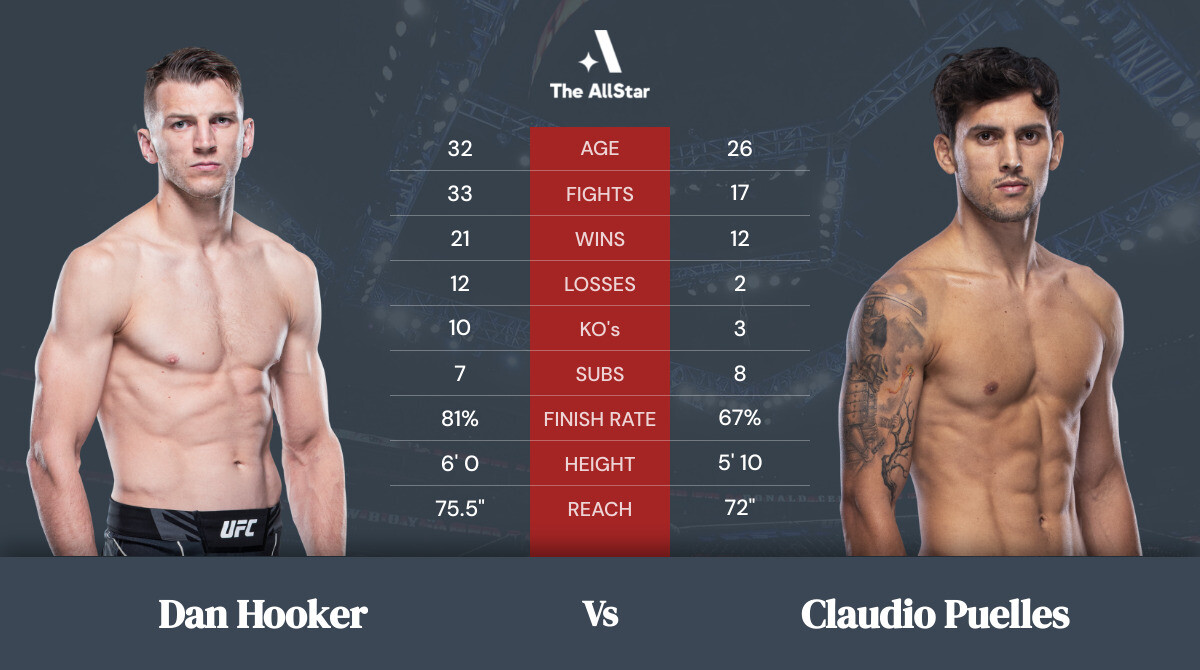 Claudio "El Niño" Puelles's recent form coming into this matchup
"Prince of Peru" Claudio Puelles is a 26 year old male fighter from Peru with 12 pro wins and 2 losses. Puelles is scheduled to fight Dan Hooker at UFC 281: Adesanya vs. Pereira on Saturday November 12, 2022.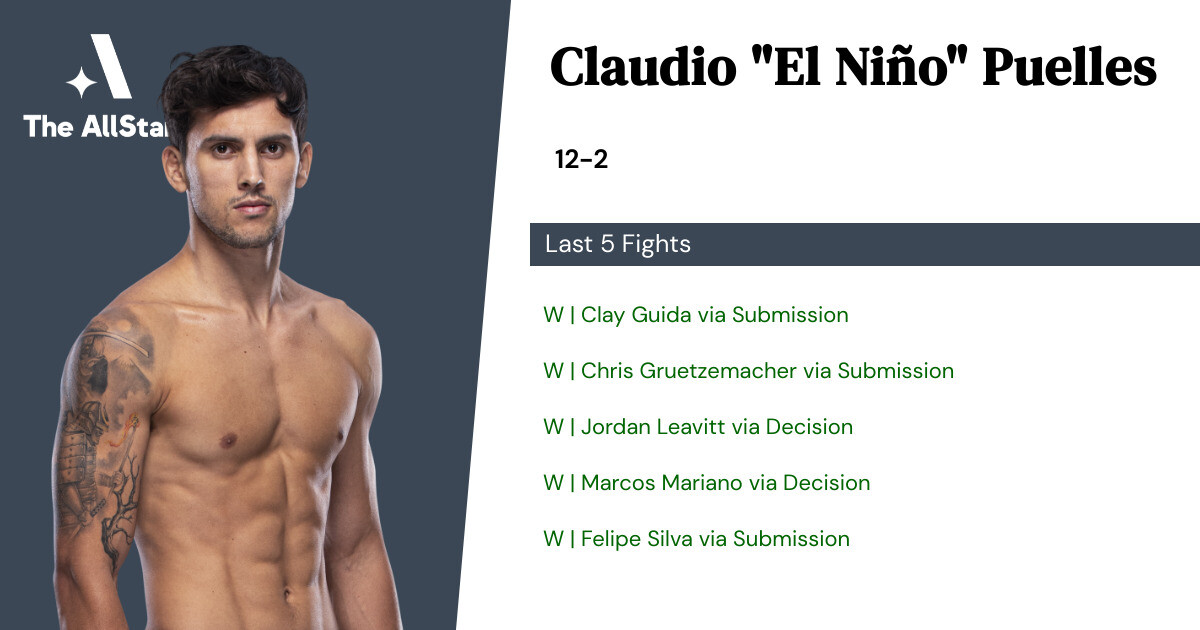 Claudio Puelles has gone 5-0 in the last 5 professional MMA fights.
Win vs Clay Guida • Submission R1 3:01 • 2022-04-23
Win vs Chris Gruetzemacher • Submission R3 3:25 • 2021-12-04
Win vs Jordan Leavitt • Decision R3 5:00 • 2021-06-05
Win vs Marcos Mariano • Decision R3 5:00 • 2019-09-21
Win vs Felipe Silva • Submission R3 2:23 • 2018-05-19
How to watch and bet on Dan Hooker vs Claudio Puelles