UFC featherweight kingpin Alexander Volkanovski is on holiday in Thailand, but it's clear what's on his mind at the moment.
Fresh off his third title defence, the champ is searching for fresh challengers, in a somewhat stagnant division in which the Australian has already dismantled most of the ranked contenders. He's been publicly pleading with leading featherweights to stake their claim as legitimate challengers to his reign.
His ideal scenario? A title defence at home Down Under, and preferably against the currently injured Max Holloway later this year, `Volk' told The AllStar's John Hyon Ko in an interview this week.
Volkanovski has so far won two fights in close contests against the Hawaiian. The long-anticipated third fight between the two featherweights at UFC 272 in March was called off after Holloway aggravated an old injury.
"I'll talk to my managers and see what we can do, and see if we can really push that," Volkanovski said. "I wanna defend that belt in Australia, get that win on home soil, let the crowd go wild and celebrate big afterwards.
"Another ruby, big pay check, good pay-per-views – we laughin'. That's the perfect world baby."
Still, his preference would be to get a fight in before the trilogy bout.
"I want to fight regularly… but I mean, if it doesn't really make sense and I have to wait, I will wait," he said.
The champ, currently on vacation in Phuket with his family, is taking the chance to indulge in some needed rest and relaxation, as well as check out Bangtao Muay Thai & MMA, the new training facility he and head coach Joe Lopez have partnered in.
Victory lap
This getaway comes after a week's long press tour of the USA, following Volkanovski's title defense against Chan Sung Jung at UFC 273. `Volk' was grateful for that opportunity to take a victory lap.
"I haven't been able to do [one] because of covid. Obviously [with] the restrictions and the quarantines, and everything was locked down. So it was a pretty bad time to be champion – people forget that."
The 33-year-old admitted building his brand in MMA has been tough, especially living on the other side of the world during a pandemic.
"Ever since everything's opening up," he added, "obviously, everything's starting to happen now."
Top contender
He began feeling a surge of momentum behind him when the UFC came to him, for the first time, to ask who he'd like to face next. Given that choice, he echoed coach Lopez's sentiments and believes the number one contender's spot is currently up for grabs.
"I'm pretty easy going, man… First in best dressed. You take the number one spot you're getting it."
Volkanovski has been vocal about the order of merit in regards to earning a title shot and believes a solid win from one of his lower-ranked peers would set them apart. He referenced Calvin Katter, Yair Rodriguez, Josh Emmett, Bryce Mitchell, and Arnold Allen all by name.
"I'm just trying to tell these guys in my division 'just fucking do something'," he said. "Go out there, smash someone and let everyone scream your name, so I can beat your ass and get another ruby."
Bad blood
The Aussie mentioned hearing whispers of a supposed bout between Rodriguez and Brian Ortega, adding that he's keeping a close eye on Rodriguez in that fight, should it happen. He took issue with the manner in which the Mexican fighter called for a title shot upon hearing of Holloway's withdrawal from their March fight.
Unsure if Rodriguez's now-deleted Twitter tirade was the product of a 'heat of the moment' hiccup, or a manager getting hold of his social media accounts, the out-of-character online rant caught Volkanovski off guard.
"The way he went about it was surprising to me, and it just made me think 'what a fucking piece of shit, who do you think you are?' I'm just gonna give you a title fight coming off a loss?"
"People think [trash talk] is the blueprint, that it's the only way. It ain't. Take out the number one guy and you fucking get it, especially with me."
---
Fighter profile
Alexander "The Great" Volkanovski is a 33 year old male fighter from Australia with 24 pro wins and 1 losses. Volkanovski most recently fought Chan Sung Jung at UFC 273: Volkanovski vs. Korean Zombie on Saturday April 9, 2022.
Alexander Volkanovski's recent form coming into this matchup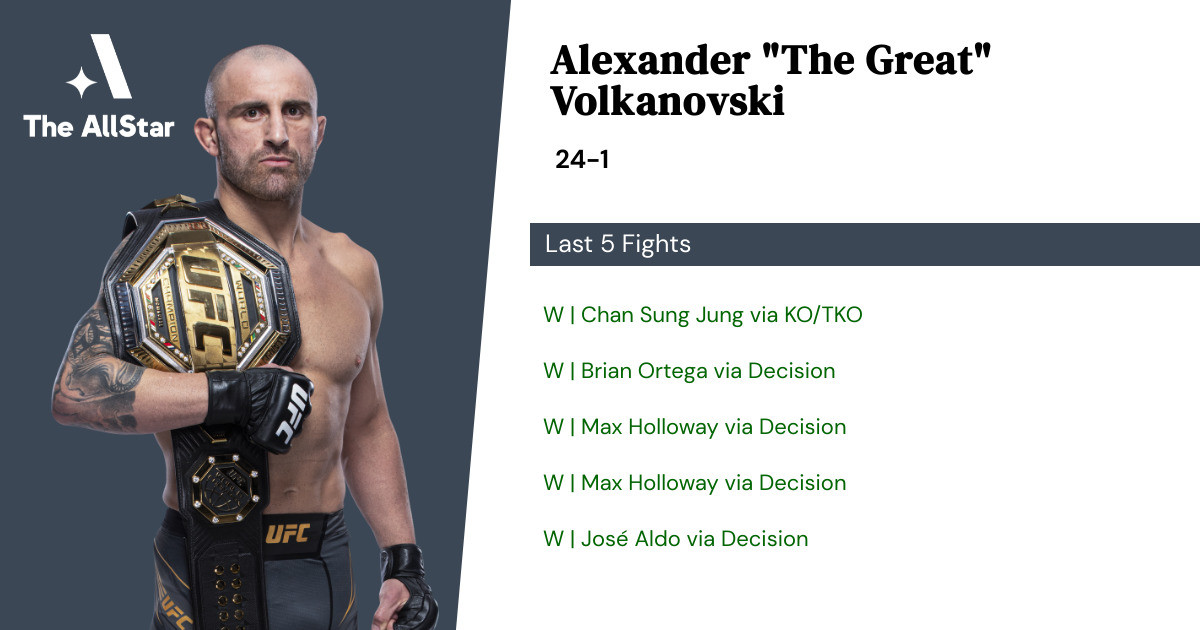 Alexander Volkanovski has gone 5-0 in the last 5 professional MMA fights.
Win vs Chan Sung Jung • KO/TKO R4 0:45 • 2022-04-09
Win vs Brian Ortega • Decision R5 5:00 • 2021-09-25
Win vs Max Holloway • Decision R5 5:00 • 2020-07-11
Win vs Max Holloway • Decision R5 5:00 • 2019-12-14
Win vs José Aldo • Decision R3 5:00 • 2019-05-11