Following in the footsteps of former UFC light heavyweight champion Lyoto Machida, Bruno Souza looks to be the next young fighter poised to show karate's potency.
However, even for master tacticians like Souza and Machida, adapting the art form for MMA is a studious process. There are some common pitfalls karate fighters can hit when transitioning.
"I'm starting to understand, how do you separate the good part from the bad part [of karate technique], you know, because as anything in life there is a good part and a bad part," Souza told The AllStar. "In karate there is a lot of things for example, we can tend to punch and stop. Because that's how I grew up in karate competition- that's how to score right- so then we don't follow through with the punches."
Learning to change his perspective from karate's point-fighting system to finishing fights was a key learning moment for the 26-year-old, one that he says he's constantly improving on. Throwing longer combinations and following his opponent to the ground is a mental switch that comes with time.
While perspectives on winning fights are an adjustment, one area that Souza believes karate is way ahead of the rest of the sport is footwork.
"I'd say that right now that distance control is the biggest thing for me," Souza said. "I don't see many UFC fighters doing actual footwork- not necessarily karate, like even boxing footwork- you usually just walk and fight. And that's a little criticism from myself on this because I think the footwork can open a handful of opportunities."
He believes that emphasis on always being in the right position will be the key to beating Luis Saldana, his next adversary on March 26 at UFC Columbus. Saldana owns a three-inch reach advantage, but Souza is confident in his ability to navigate a longer opponent.
"A fight with me and him would have a lot of movement because he likes to keep the distance, I like to keep the distance a lot, so it would be interesting," Souza said.
"He's a little bit longer, he's a little bit taller, he likes to be in the long distance but I believe because of the karate I can control the distance a little bit better. I have a little better notion that of what is close, what is far, what is that inch in between…so I think that distance control it's what's going to be take the key for the fight."
---
Fighter profile
Bruno "The Tiger" Souza is a 25 year old male fighter from Brazil with 10 pro wins and 2 losses. Souza is scheduled to fight Luis Saldaña at UFC Fight Night: Blaydes vs. Daukaus on Saturday March 26, 2022.
Bruno Souza's recent form coming into this matchup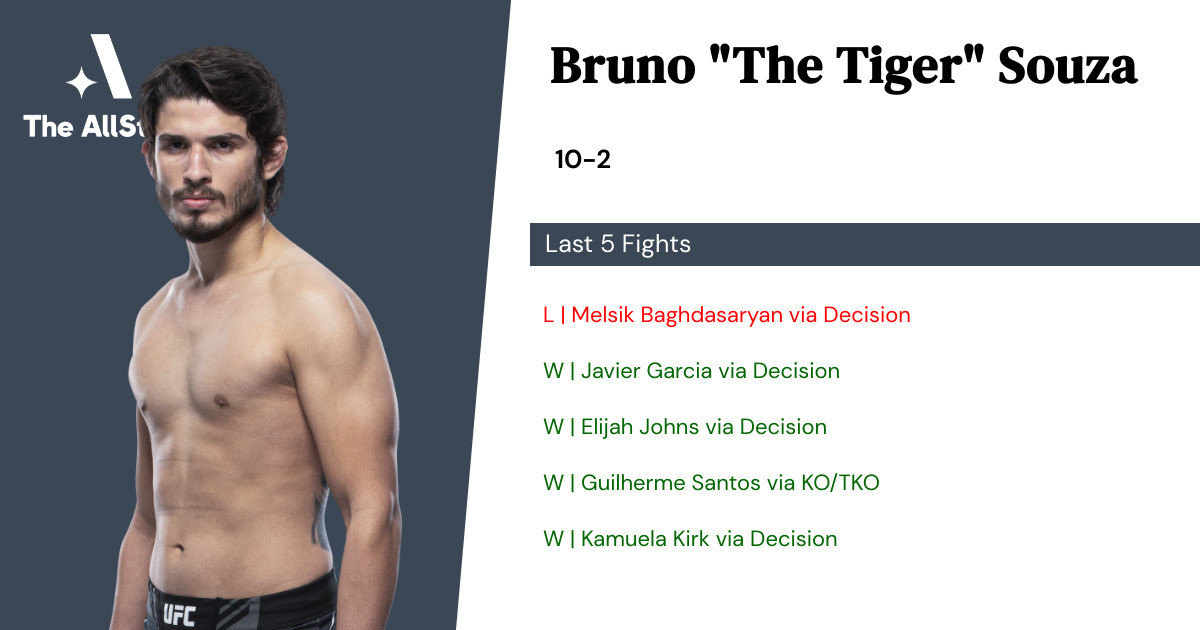 Bruno Souza has gone 4-1 in the last 5 professional MMA fights.
Loss vs Melsik Baghdasaryan • Decision R3 5:00 • 2021-11-06
Win vs Javier Garcia • Decision R5 5:00 • 2021-08-27
Win vs Elijah Johns • Decision R3 5:00 • 2021-03-19
Win vs Guilherme Santos • KO/TKO R2 2:16 • 2020-11-20
Win vs Kamuela Kirk • Decision R3 5:00 • 2020-07-10
Bruno Souza's next opponent: Luis Saldaña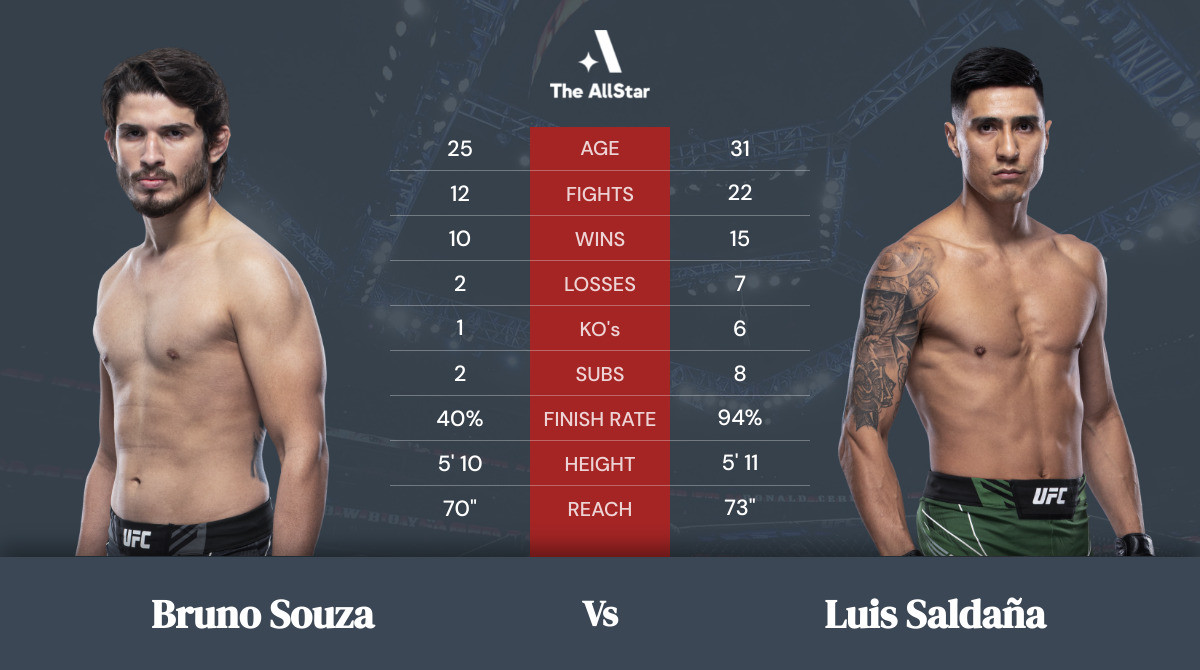 Luis Saldaña's recent form coming into this matchup
Luis Saldaña is a 31 year old male fighter from United States with 15 pro wins and 7 losses. Saldaña is scheduled to fight Bruno Souza at UFC Fight Night: Blaydes vs. Daukaus on Saturday March 26, 2022.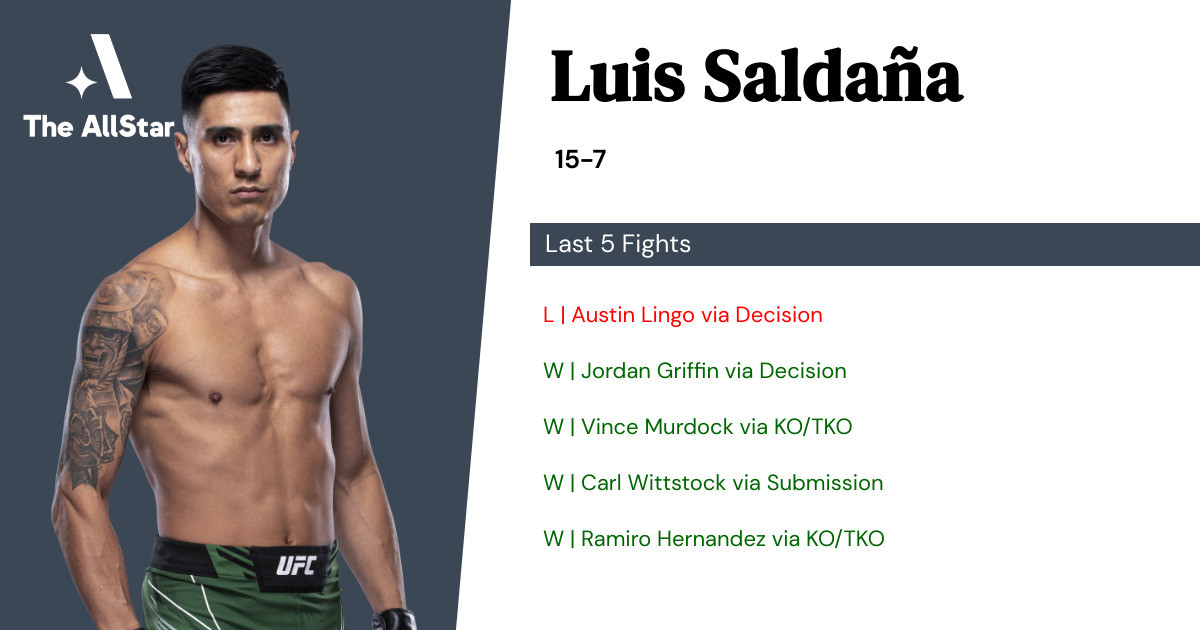 Luis Saldaña has gone 4-1 in the last 5 professional MMA fights.
Loss vs Austin Lingo • Decision R3 5:00 • 2021-08-21
Win vs Jordan Griffin • Decision R3 5:00 • 2021-04-10
Win vs Vince Murdock • KO/TKO R3 0:44 • 2020-11-04
Win vs Carl Wittstock • Submission R2 4:38 • 2019-02-15
Win vs Ramiro Hernandez • KO/TKO R2 5:00 • 2018-05-18
How to watch and bet on Bruno Souza vs Luis Saldaña