---
A UFC debut is often seen as a 'make or break' moment for fighters, one that determines the trajectory of their career for years to come. Though this has been the case before, there are a number of examples proving a failed debut means nothing; a sole defeat can be rallied back from and used as a learning curve.
This is the case with bantamweight Jesse Strader, who hopped into the UFC on just a week's notice last March. Not only was the 30-year-old given insufficient time to prepare, but he'd also be fighting one of the divisions slickest outside the top 15 in Montel Jackson.
"Honestly with that fight, I still feel like I'd take it again. I love that fight. But some little mistakes were made and I paid the price for it," he told The AllStar.
"I love this game and love the lessons I get taught, [including] how much better I get after [losing]."
Initially expected to return to the cage in August, Strader was ruled out with a knee injury. He explained what went wrong when rehabbing his injury and the eventual surgery that was required.
"I tore my knee. I basically rehabbed it back myself – I was taking collagen, doing rehab exercises, CBD, and icing it. We finally got a call for that fight [in August] and I thought we could make it."
"The knee just wasn't holding it up. It was giving out every chance it had. I had to get a quick little surgery and they just cleaned me up a little bit. Now I'm back healthy and feeling really good about it."
Sporting a positive mentality and clean bill of health, Strader's keen to right his wrongs on February 19. There, he'll meet Canadian Chad Anheliger in the preliminary portion of the card.
Anheliger rides a nine-fight win streak heading into UFC Fight Night 201, meaning he's in the best form of his professional career. Though a dangerous opponent, Strader believes he matches up well with his foe.
"He's tough and he's got some slick stuff up his sleeve that we're preparing for as best we can. That was a strange fight to watch (on the Contender Series). It was pretty close in my opinion. I had a lot of guys come up to me and say the same thing. [But] if you earned it you earned it – I'm just excited to test myself against this guy. He's on a nine-fight win streak so I'm looking forward to it."
"I love to box man, I'm a big fan of boxing. This is why I say it's a good fight for the fans. It's one that's gonna have a lot of action for sure. And I think I matchup really well with him because I don't think he's boxed somebody with boxing before. I know he's fought good [and] tough guys, but I come from a boxing-heavy gym and background. It's gonna be a fun one."
Just over a year ago, he ran into Pete Cunningham, a hall-of-fame Kickboxer with over seven world titles to his name. Known for his technique and high fight IQ, Strader was eager to seek wisdom from the man they call "Sugarfoot"; 12 months on, the pair have grown closer than he could ever imagine.
"Man, I've been working with him for about a year now. Pete 'Sugarfoot' Cunningham, he's like an eight or nine-time world [kickboxing] champion, he's something like 50-0-1, something crazy. I added him [to my team], I got lucky. He just happened to be at the gym I was training at a year ago and he was like 'this kid's got some hands'. Since then we've just been working. My striking has definitely reached new levels with him."
With the addition of one of the finest kickboxers to his team, Strader feels like the experience he's gaining working with one another is invaluable.
"The thing he brings to the table is being a guy who's competed at the highest level and maintained his record [there]. He's still humble enough to go 'we've got to take from this guy', 'we have to take some boxing from this guy' or 'we have to take some combos from Ernesto Hoost'."
"He's a guy who has every right to say 'we're doing it how I say it', but still [he wants] to take from all the best guys in the world. The best thing he's brought to my game is my mentality of just taking everything that works. That Bruce Lee mentality: take what works, throw out what doesn't."
"I'm expecting 'Performance of the Night' for sure. I'm coming in shape, prepared in all areas and I'm really looking to put a mark on [the division]. I didn't really get my chance to represent myself like I wanted to in that first fight so I'm really excited to get in there and have a fight. [To] have a fistfight, get physical and make a show for the people, UFC fans and fight fans around the world."
Fighter profile
Jesse "Sui Generis" Strader is a 30-year-old male fighter from the United States with 5 pro wins and 2 losses. Strader is scheduled to fight Chad Anheliger at UFC Fight Night: Dos Anjos vs. Fiziev on Saturday, February 19, 2022.
Jesse Strader's recent form coming into this matchup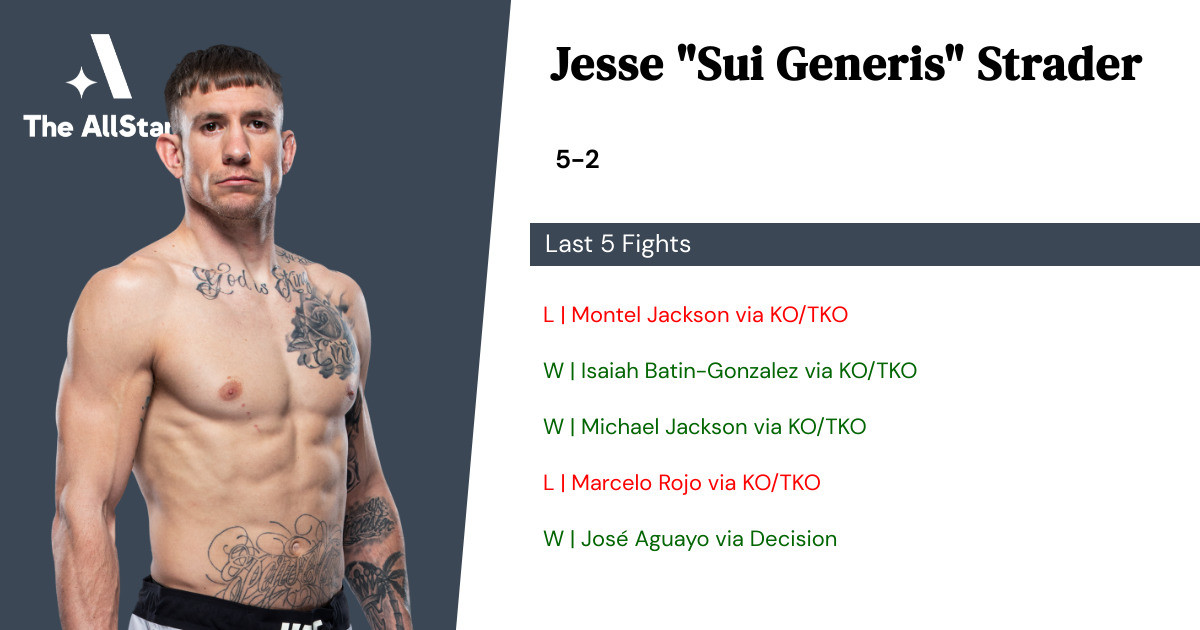 Strader has gone 3-2 in the last 5 professional MMA fights.
Loss vs Montel Jackson • KO/TKO R1 1:58 • 2021-03-20
Win vs Isaiah Batin-Gonzalez • KO/TKO R1 1:56 • 2019-08-02
Win vs Michael Jackson • KO/TKO R2 4:41 • 2019-04-26
Loss vs Marcelo Rojo • KO/TKO R1 4:13 • 2018-10-26
Win vs José Aguayo • Decision R3 5:00 • 2018-05-11
Jesse Strader's next opponent: Chad "The Monster" Anheliger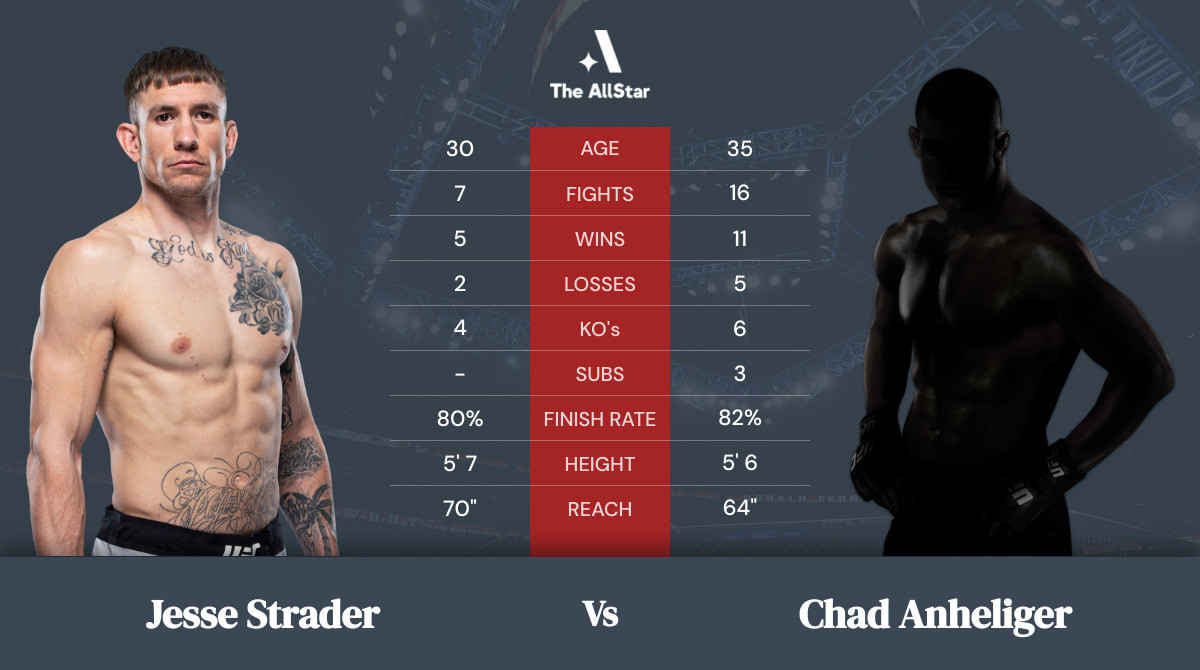 Chad "The Monster" Anheliger's recent form coming into this matchup
Chad "The Monster" Anheliger is a 35 year old male fighter from Canada with 11 pro wins and 5 losses. Anheliger is scheduled to fight Jesse Strader at UFC Fight Night: Dos Anjos vs. Fiziev on Saturday February 19, 2022.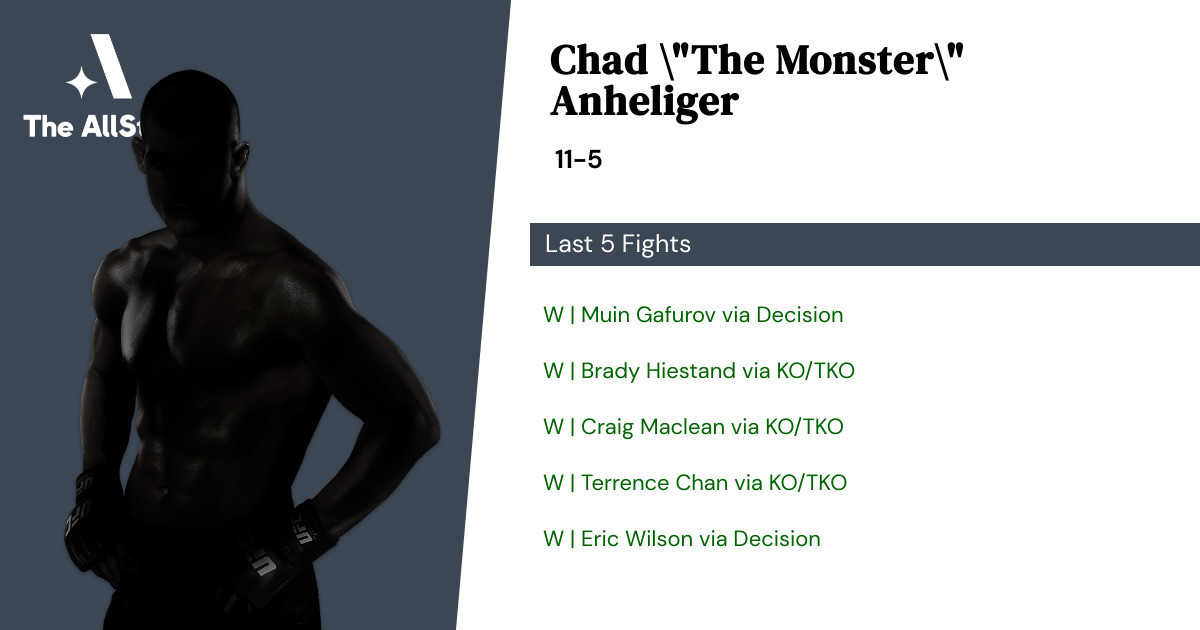 Chad Anheliger has gone 5-0 in the last 5 professional MMA fights.
Win vs Muin Gafurov • Decision R3 5:00 • 2021-09-07
Win vs Brady Hiestand • KO/TKO R3 0:37 • 2019-11-30
Win vs Craig Maclean • KO/TKO R3 1:29 • 2019-04-13
Win vs Terrence Chan • KO/TKO R1 3:22 • 2018-11-30
Win vs Eric Wilson • Decision R3 5:00 • 2018-02-23
How to watch and bet on Jesse Strader vs Chad Anheliger
Keep track of all the latest odds and line-movements at our bout page for this matchup.