MMA streams are white whales in the sports pirating world. Most people aren't looking for legal streams when they're googling "MMA live streams." Let's be clear: If you're looking for illegal streams of UFC events and pay-per-views, this is not the place.
Dana White has been adamant about going after people that are illegally streaming live UFC events.
"We've been working on piracy since day one. It's one of the things we focused on. It's an important thing to stop in this business, so we've spent tonnes of money on this stuff. We just got some real important legislature done on piracy this year."

Dana White on pirated UFC streams, ahead of McGregor vs Poirier 2
This article will give you some info about MMA streams, and where you can watch MMA events legally, including some free streams.
How to watch MMA Streams
Every major fight organization has legal ways to watch its streams.
UFC Live Streaming
Most non-pay-per-view UFC events are available in the USA on ESPN and ESPN+, but for the rest of the world, nearly every non-PPV UFC event is available on UFC Fight Pass. Click here for a guide on how-to watch UFC live streams.
How to watch Live Bellator Events
Watching Bellator Live streams is simpler. Check out the infographic below to see where to watch in your country. In the USA, you can watch all the Bellator events on Showtime. If your country isn't listed below, check out their Youtube channel.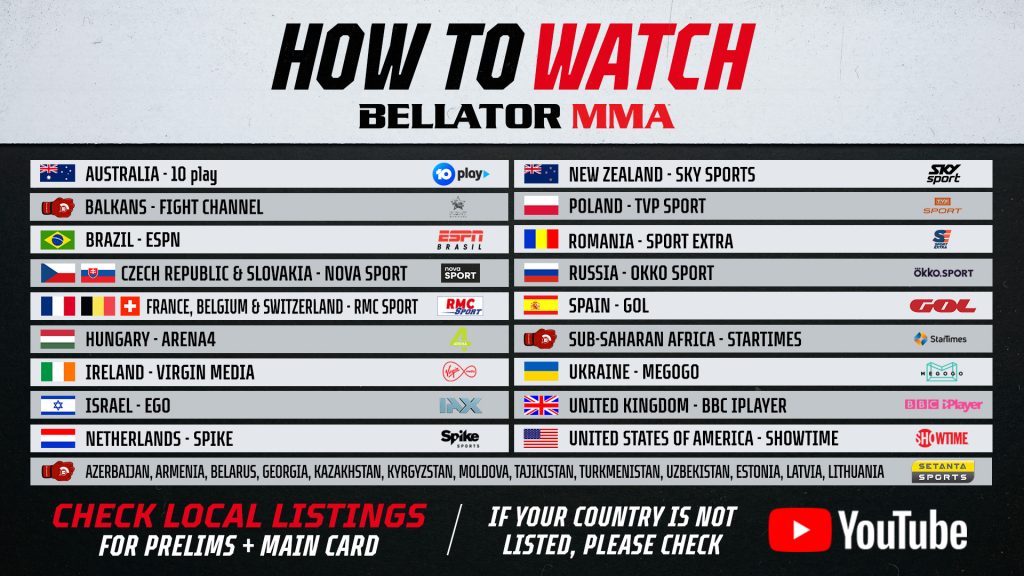 How to watch Live PFL Streams
Check out PFL's helpful "How to watch" guide. In the US, you can watch PFL Regular Season events on ESPN and ESPN+. If you're having trouble finding an event, then check out PFL's Youtube Channel. You can live stream events there if you are outside of the USA.
How to watch ONE Championship
ONE Championship streams most of their events for free from their Youtube Channel, so most of their live streams are 100% free, and in HD.
How to stream MMA fights for free
You can reliably watch most Bellator, PFL, and ONE Championship events for free on Youtube.
How to stream UFC fights for free
Unfortunately, the UFC doesn't put out free live streams. However, the UFC regularly puts out free fights on its youtube channel in the weeks leading up to a fight, so you can binge full free Conor McGregor fight highlights. Highlights and post-fight clips are often made available on the UFC official twitter account too. And if you run out of highlights to watch, there's always the Joe Rogan experience to keep you entertained.