With UFC London only days away, debuting flyweight Charles Johnson has seen this day approaching for a long time.
Johnson has been one of the best flyweights outside the UFC for a long time, so his inclusion in the ranks of the elite is beyond welcome. However, by the time he enters London's O2 Arena on Saturday, he'll have already made a few enemies in the building.
That's because of the passionate fanbase of his opponent, Muhammad Mokaev. In an interview with The AllStar, Charles Johnson gave a glimpse into the lead-up to his highly-anticipated clash with Mokaev, along with the fan response: "Imma be real with you, I've been getting a lot of troll-ass motherfuckers sending me messages, 'Muhammad gonna kill you brotha, he gonna slit your throat' and shit like that so like, it ain't been the best of fans but you respect that you know. It is what it is".
And while there's no bad blood personally between Johnson and Mokaev, that doesn't mean there isn't still a history between the two. Both flyweights trained at Tiger Muay Thai in Phuket, Thailand, years ago.
At that time, Muhammad was just a teenager, but Johnson could tell that there was already a buzz about him. Johnson said, "He came in with some guys from the UK and you could tell he had some buzz about him. The coaches were more like cheery and chipper with him and kinda like did some pad-holding for him so I knew he had some importance to him".
The two weren't overly close during their joint time at Tiger Muay Thai, but Johnson was impressed with his grappling at the time. When Mokaev made his UFC debut last March against Cody Durden, Johnson wasn't surprised by anything that he saw: "I saw the same fighter you saw as an amateur, if you're familiar with him, he has a lot of confidence, he's gonna come forward, he does a lot of explosive movements, and he's a wrestler. So he's not afraid to do anything in boxing [range] because he knows he can fall back to his wrestling".
Johnson sees their fight playing out as everything a fan could want in a fight, both with thrills and a high level of technique: "It's gonna be very similar Joaquin Buckley's recent fight, you know with [Albert] Duraev. You know, for me it's more of a sprawl and brawl type fight, but bodies being flyweights it's gonna be a lot more technical, lot more scrambling, so it's gonna be very exciting for fans…I really feel like I'm gonna hurt this kid. He's strong-willed but…he's gonna run into something."
Charles believes that at the end of the day he will absorb part of the fanbase of Mokaev: "The great thing is, all these opponents, I get their fans, I get these bad things, but I always tell them I'm gonna make you a fan".
---
Fighter profile
Charles "InnerG" Johnson is a 31-year-old male fighter from the United States with 11 pro wins and 2 losses. Johnson is scheduled to fight Muhammad Mokaev at UFC Fight Night: Blaydes vs. Aspinall on Saturday, July 23, 2022.
Charles Johnson's recent form coming into this matchup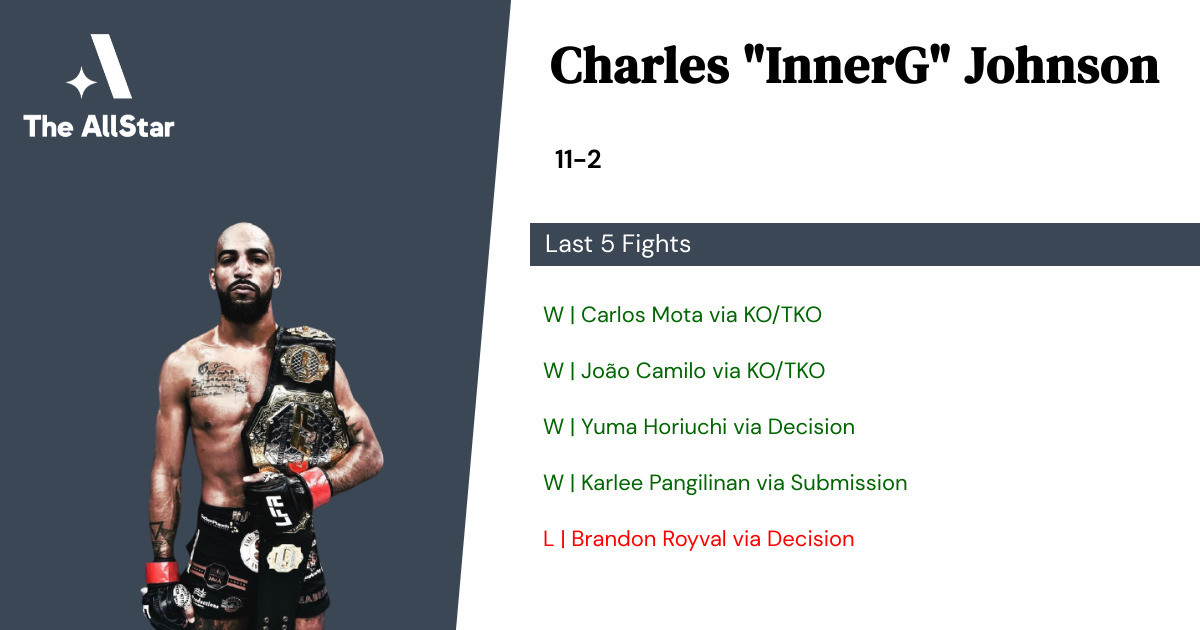 Charles Johnson has gone 4-1 in the last 5 professional MMA fights.
Win vs Carlos Mota • KO/TKO R5 0:45 • 2022-01-21
Win vs João Camilo • KO/TKO R2 4:07 • 2021-08-27
Win vs Yuma Horiuchi • Decision R5 5:00 • 2021-07-02
Win vs Karlee Pangilinan • Submission R2 1:41 • 2021-02-19
Loss vs Brandon Royval • Decision R3 5:00 • 2018-09-07
Charles Johnson's next opponent: Muhammad "The Punisher" Mokaev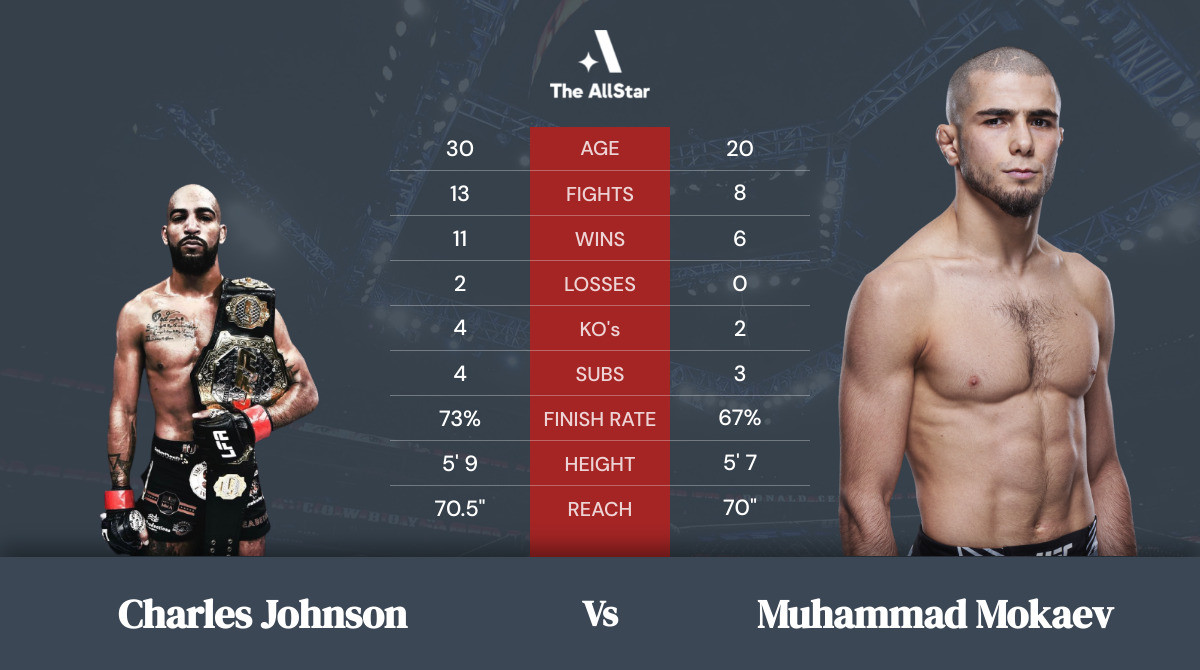 Muhammad "The Punisher" Mokaev's recent form coming into this matchup
Muhammad "The Punisher" Mokaev is a 21-year-old male fighter from the United Kingdom with 6 pro wins and 0 losses. Mokaev is scheduled to fight Charles Johnson at UFC Fight Night: Blaydes vs. Aspinall on Saturday, July 23, 2022.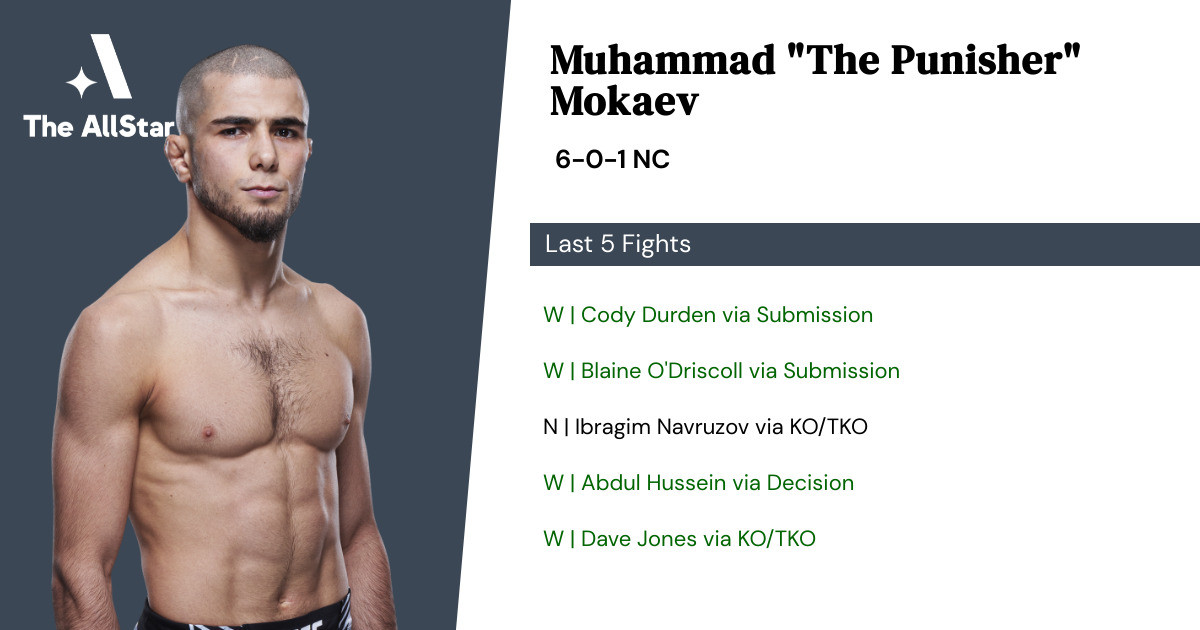 Muhammad Mokaev has gone 4-0 in the last 5 professional MMA fights.
Win vs Cody Durden • Submission R1 0:58 • 2022-03-19
Win vs Blaine O'Driscoll • Submission R2 1:36 • 2021-09-25
No Contest vs Ibragim Navruzov • KO/TKO R1 2:34 • 2021-06-04
Win vs Abdul Hussein • Decision R3 5:00 • 2021-03-25
Win vs Dave Jones • KO/TKO R1 1:27 • 2020-11-22
How to watch and bet on Charles Johnson vs Muhammad Mokaev
Keep track of all the latest odds and line-movements at our bout page for this matchup.