---
Tai Tuivasa finds himself the underdog again, but it's okay it makes him work that much harder.
It has been an incredible 19 months for the western Sydney native. Incredible might even be an understatement. On the brink of being cut from the UFC and being a major bust for the organization, Tuivasa took some time, retooled, and got better. The result is a five-fight win streak, in which he knocked everyone out and got himself a No. 3 ranking in the heavyweight division.
The hard work and restart of his UFC career have led Tuivasa to headline the UFC's first Paris card against the hometown favorite and No. 1 ranked heavyweight Ciryl Gane.
The 29-year-old Tuivasa is excited about the opportunity and matchup.
"It's gone down, so I'm very excited. He's a great athlete. Look at him. Good fighter, great athlete. He's good enough to be fighting all the way up there [in the rankings], but I'm right there on his ass," Tuivasa said during an episode of Fine Dining with Fighters.
"I'm pumped. I've never been to Europe before and haven't done Paris and stuff like that. So I'm excited. Obviously, I'm excited for it to be an event that's never been done there, you know what I mean? I think it's great for Ciryl; it's great for his country. And it's great for MMA."
One of the numerous reasons Tuivasa is excited about the fight is that he knows Gane will strike with him.
As of now, Tuivasa is a +250 underdog, which he doesn't mind. In his last fight against Derrick Lewis, he was also an underdog, and he put his lights out. "Bam Bam" welcomes the underdog role because he has become accustomed to it.
"I've been an underdog many times in my life, and it's something that I don't mind being. It is something that kind of makes me feel good. It makes me push harder," Tuivasa said. So at the end of the day, it's gonna be a fight. I come to fight regardless, so I'm looking forward to it."
The heavyweight division is being reborn with new contenders and prospects. One of the names that were being thrown around was Tom Aspinall. In fact, after Aspinall's main event win at UFC London in March, he called for a fight with Tuivasa.
Tuivasa said Aspinall was offered, but the timing didn't work for him as it was too early of a return. He does know that he will eventually fight him as they are the future of the division.
Guys like me and Aspinall and Gane, I think we're gonna be around for a little bit. So regardless, I think we're all gonna fight each other. That's our job," Tuivasa said.
---
Tai "Bam Bam" Tuivasa is a 29-year-old male fighter from Australia with 15 pro wins and 3 losses. Tuivasa most recently fought Derrick Lewis at UFC 271: Adesanya vs. Whittaker 2 on Saturday, February 12, 2022.
Tai Tuivasa's recent form coming into this matchup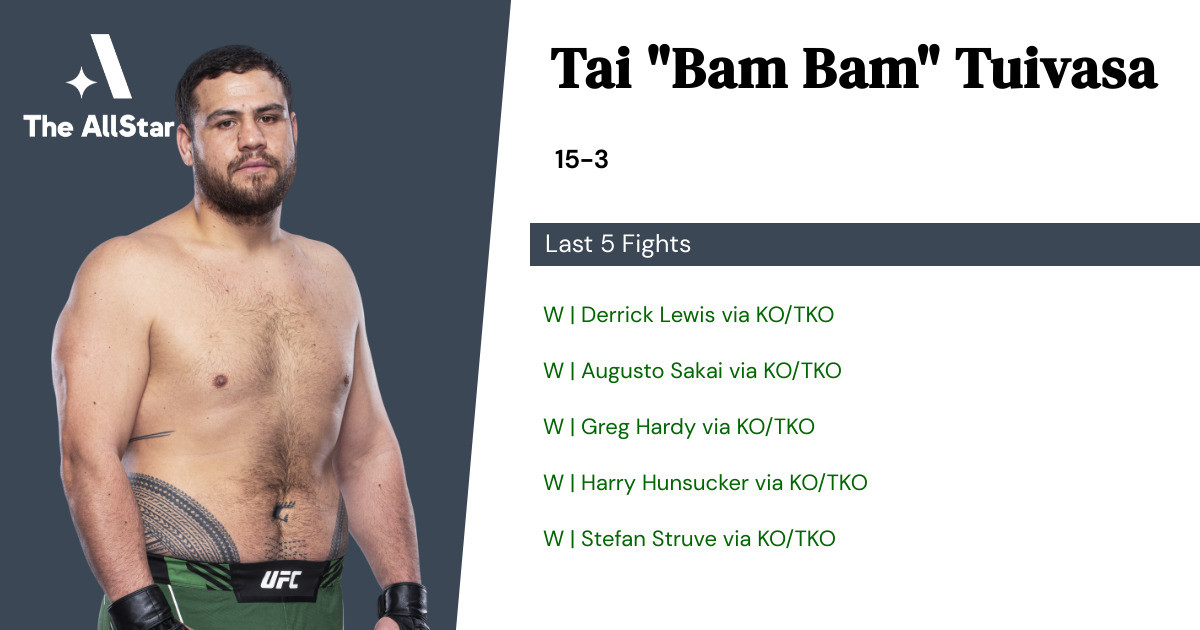 Tai Tuivasa has gone 5-0 in the last 5 professional MMA fights.
Win vs Derrick Lewis • KO/TKO R2 1:40 • 2022-02-12
Win vs Augusto Sakai • KO/TKO R2 0:26 • 2021-12-11
Win vs Greg Hardy • KO/TKO R1 1:07 • 2021-07-10
Win vs Harry Hunsucker • KO/TKO R1 0:49 • 2021-03-20
Win vs Stefan Struve • KO/TKO R1 4:59 • 2020-10-24