The world's leading MMA promotion is back with another event this weekend. This Saturday at the UFC Apex, we have UFC Vegas 39 Dern vs. Rodriguez going down. The card features 10 fights in total, including five main card fights. Below, check out our main card preview here at The AllStar.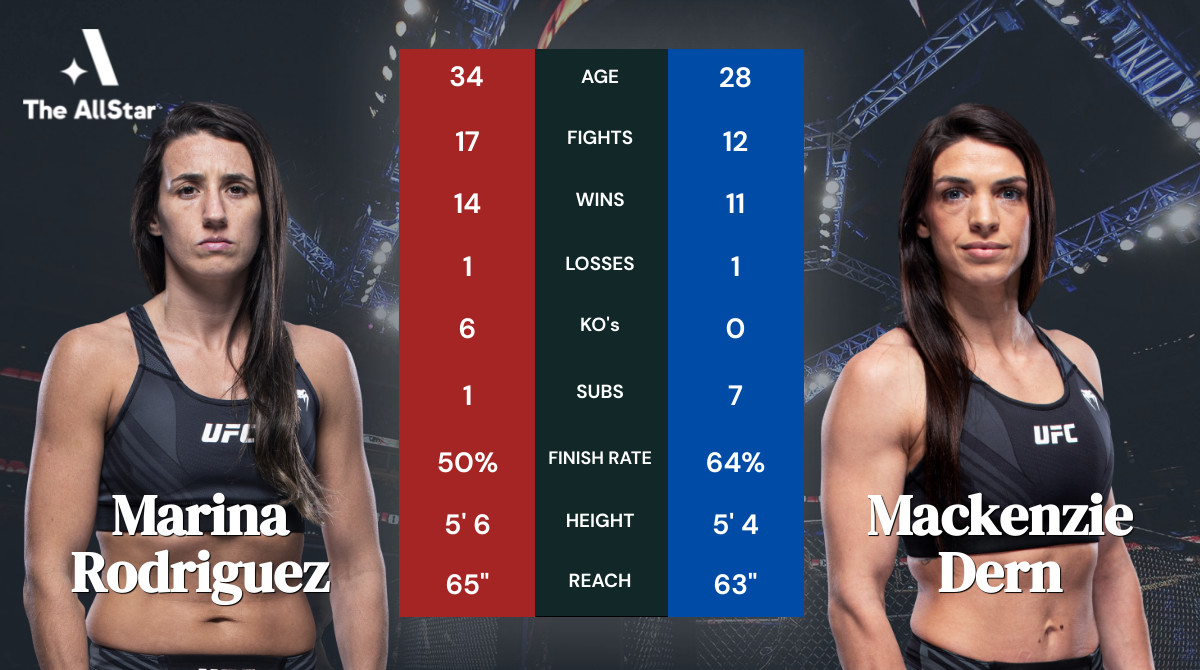 Dern is the No. 4 ranked fighter in the women's strawweight division. A highly-decorated Brazilian jiu-jitsu black belt, the 28-year-old Dern made the transition to MMA in 2016. So far, the results have been splendid for her. Since joining the UFC in 2018, Dern is 6-1 overall and she has won her last four fights in a row. In her last outing, she defeated Nina Nunes by submission for her biggest win yet. Dern has incredible submissions and improving striking skills, making her one of the most impressive young talents in the 115lbs weight class.
Rodriguez is the No. 6 ranked fighter in the women's strawweight division. A Muay Thai practitioner by trade, the 34-year-old Rodriguez has been a pro since 2015. The Brazilian joined the UFC in 2018 and since then she has put up a 4-1-2 overall record in the Octagon. Her notable victories so far include a KO win over Amanda Ribas and decision wins over Michelle Waterson and Tecia Torres. Rodriguez is an incredible striker but historically she has struggled with the takedown. Against Dern, she will need to be on point with her grappling if she wants to win this fight. If Rodriguez can keep the fight standing, then she can win it.
Total Rounds (2.5): Over -115 vs. Under -125
The total rounds for this fight have been set at 2.5 with the odds essentially a coin flip. If you like Dern, you'll probably favor the under. Rodriguez backers, meanwhile, will favor the over.
This should be a fantastic fight between two of the best fighters in the UFC women's flyweight division. It's a striker vs. grappler matchup, so whoever is able to get the fight to their realm will win. Although Dern is amazing at submissions, her wrestling is not great. Rodriguez's takedown defense hasn't historically been all that good, but she has fought some very good wrestlers in her career. I'm banking on some improvements from Rodriguez in the grappling department as she keeps this fight on the feet and outstrikes Dern to win a decision.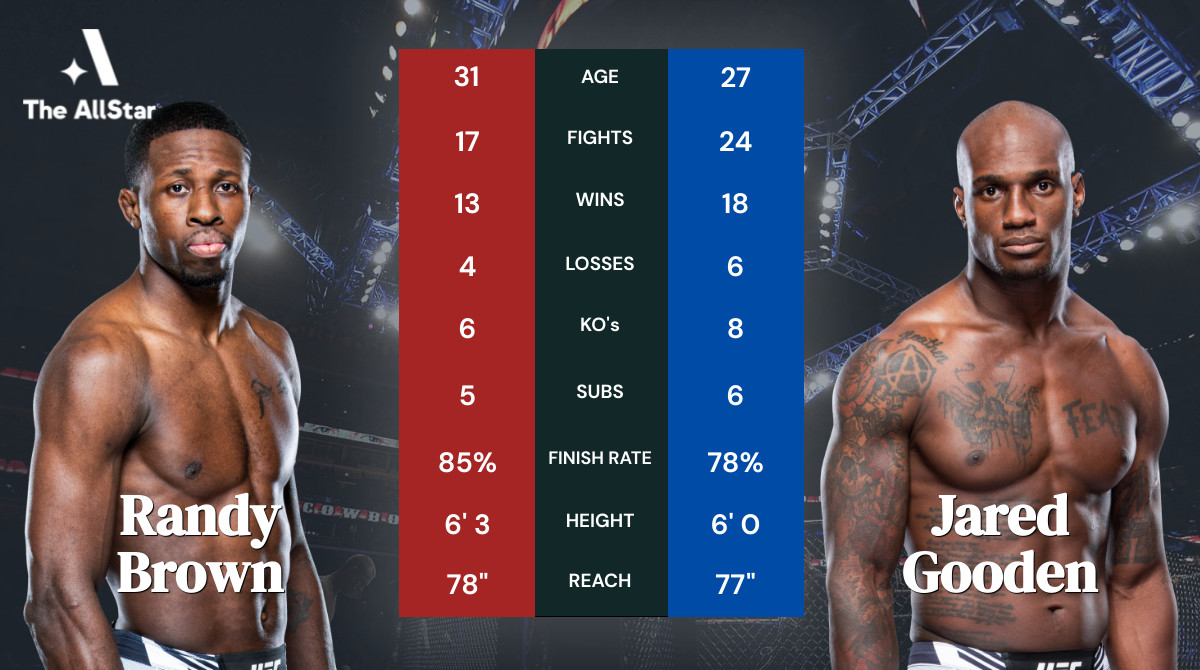 The co-main event is a welterweight bout between Randy Brown and Jared Gooden. Brown has been in the UFC for five years and he has a 7-4 overall record. While he has been inconsistent at times, Brown has been in fine form as of late. He's won three of his last four fights by stoppage, including a submission win over Alex Oliveira in his last fight. Brown is dangerous both standing and on the ground, making him one of the most well-rounded welterweights on the UFC roster. However, his durability is questionable with three stoppage losses in the UFC. Provided he doesn't get stopped, however, Brown is very tough to beat.
Gooden started off his UFC career with back-to-back losses to Alan Jouban and Abubakar Nurmagomedov before bouncing back with a big KO win over Niklas Stolze. Gooden certainly has excellent striking skills and big-time KO power, but the rest of his game is a question mark. He can be taken down and he can also be outstruck on the feet. His knockout power always makes him a wild card, but Gooden still needs to round out his game more.
Brown's chin makes this a bit of a sketchy matchup, but overall he is the more talented fighter and he should be able to win this fight. Give me Brown to win a decision on points.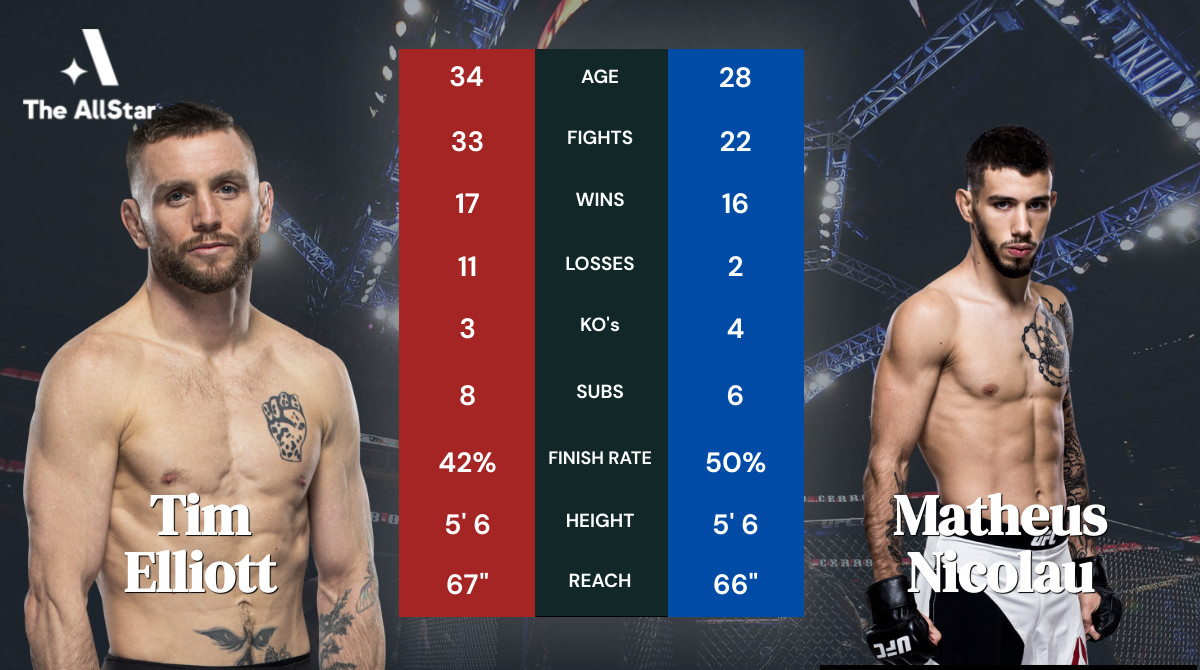 In flyweight action, No. 11 ranked fighter Matheus Nicolau takes on No. 9 ranked Tim Elliott. Nicolau returned to the UFC earlier this year and he picked up an upset decision win over Manel Kape. It was a competitive fight but he convinced the judges he did more with his striking and grappling. Overall, Nicolau is a very well-rounded MMA fighter. He has won four fights by knockout, five fights by knockout, and seven fights by decision. He is also coming off of a three-fight win streak and he has won nine of his last 10 fights overall. At age 28, Nicolau is in his prime and a win over Elliott would help push him up the rankings. Overall, he has a 4-1 record in the UFC which shows you he can win fights at this level.
Elliott is also in his second stint in the UFC. The first time he was on the roster he went just 2-4 but was brought back after winning "The Ultimate Fighter." Since re-joining the UFC in 2016, Elliott is 4-5, for a total UFC record of 6-9. To be fair to Elliott, he has generally fought the best fighters in the division, and he's often done quite well. He has excellent wrestling and sets a pace that is hard to beat in this division. At age 34, though, he could be slowing down in a division that favors younger, faster fighters. Elliott's wrestling will keep him in most fights, but his poor submission defense and mediocre striking mean that he's beatable.
I'm going with Nicolau to win this fight. I just think he's more in his prime right now and is the more dangerous, well-rounded fighter. He's never been taken down in the UFC and I'm not sure Elliott's wrestling will be effective in this fight. So give me Nicolau by decision.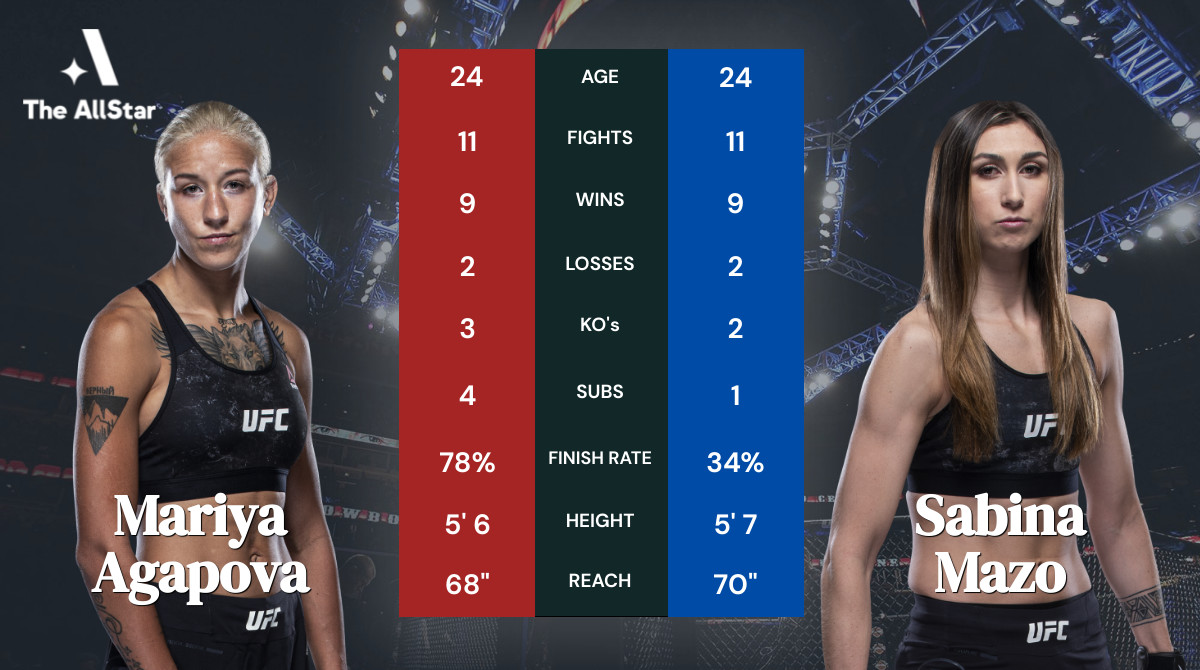 Also on this card is a women's flyweight bout between Sabina Mazo and Mariya Agapova. Mazo is moving back down to 125lbs after she moved up to 135lbs against Alexis Davis and badly struggled in her last fight. At 24 years old, Mazo should be able to thrive back down at 125lbs as long as she can safely make weight. She's 3-1 overall at flyweight in the UFC and her striking and grappling skills have been more effective at that weight class. I'm still waiting for Mazo to get a head-kick knockout like she did on the regional scene. Perhaps this is the fight.
Agapova had an amazing UFC debut last year when she finished Hannah Cifers in the first round. She appeared to be well on her way to beating Shana Dobson in her second UFC fight, but after a dominant first round, she completely gassed out and lost in the second. It was the biggest upset in UFC history and Agapova has not fought in over a year since then. She used to train at American Top Team but was kicked out due to alleged drug issues and she now trains at MMA Masters. While Agapova is a devastating finisher in the first round, I still have serious question marks about her cardio after that last fight. Until I see Agapova has improved that aspect of her game, I can't pick her to win, though I know she's dangerous.
Agapova has about five minutes to win this fight, but once the first round is over, she's toast. As long as Mazo survives the first round, she should be able to take over late and win a decision. There is also a chance that Mazo could finish this fight by late stoppage, too.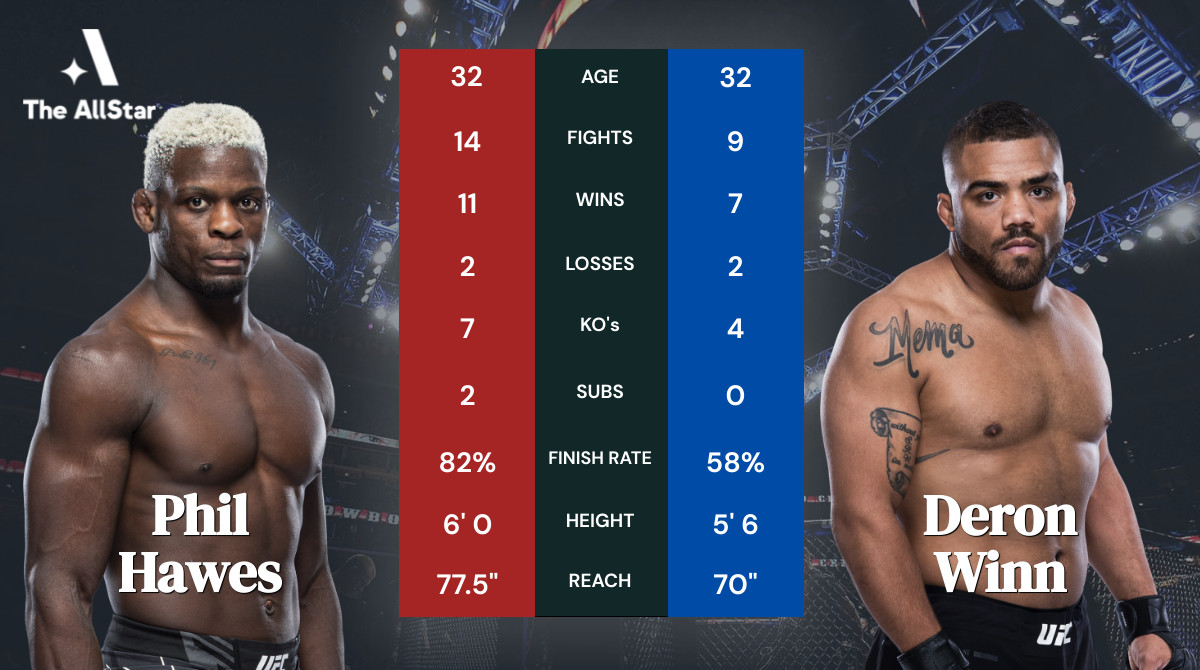 Kicking off the UFC Vegas 39 main card is a middleweight bout between the surging Phil Hawes and the always-game Deron Winn. Hawes is a sizeable favorite to win this fight, and it makes sense based on his recent form. Hawes has won seven straight fights, including his last three in a row in the UFC. His wins over Kyle Daukaus, Nassourdine Imavov, and Jacob Malkoun have aged quite well given how well those fighters have been performing, too. Given that Hawes is 32 years old, he is arguably in the prime of his career right now. Training at Sanford MMA, you know that Hawes is going to come into this fight with a great game plan. With solid wrestling to go along with improving striking, Hawes is a fighter on the rise.
Winn is also 32 and he has been in the UFC for three years, going 2-2 overall in the Octagon. A strong wrestler, Winn landed 12 takedowns in his last fight against Antonio Arroyo. That was an impressive win, but given Arroyo is no longer on the UFC roster, it doesn't look as good as it once did. Moreover, Winn is still facing the issue of being one of the shortest fighters in the division at just 5'6″. While he's been able to beat taller fighters who have poor takedown defense, going up against another wrestler in Hawes seems like a tough matchup. Given Hawes neutralizes Winn's biggest strength, and Winn doesn't have much striking ability to rely on, this looks like a fight that Hawes should be able to control.
Look for Hawes to dictate where this fight takes place and either win a decision or perhaps become the first person to knock Winn out.